Addicted to creating great apps
Select Page ...
5 stars on App Store
Tattoo YouApp Store5
Now you can use your iPhone or iPad to get a new Tattoo
Trade in the ink gun for your iPhone and turn normal photos of yourself into tattoo riddled masterpieces today! Download Tattoo You and add some spice into any of your mobile photos by adding in virtual tattoos with the click of a button right now!
About Tattoo You
Tattoo You is a recreational photo editing tool that allows users to digitally super impose life-like tattoo artwork onto any part of their photos' subjects in seconds. Whether you want to add in a heart onto someone's shoulder, a tribal design onto their bicep, or one of many other inspired designs anywhere, this app is just the ticket to do so. Tattoo You includes over two hundred and fifty unique pieces of tattoo artwork – sixteen of which are offered immediately once the user downloads this app, while the remainder are offered via in-app purchase should users want to access them.
Whether you want to see what a tattoo would look like on yourself or if you simply want to play a joke on your friends, Tattoo You is the perfect app for you!
Built for entertainment, this app features an extremely intuitive user interface that makes moving, sizing, and placing tattoo illustrations throughout saved photos a process so quick and easily that even the most novice users will have no trouble mastering it. To select photos to use users can either browse through their photo library or take a new photo right through the app as well. Once users have finished editing photos they are free to share them with friends and family via social networks including Facebook and Twitter, as well through email. This can all be done in mere seconds from directly within the app.
"I love how you can use your own pics and change the angle and size of the design. Great for those who are nervous about getting a tattoo and want to see how it will look!!"
otownsonogirl
Easy to use
Load A Photo
Load a photo from your photo album, use one of our sample model photos or take a new photo using the built in camera on your device
Add Tattoos
Browse the the different tattoos tap the one you would like to add to your photo. Once added to the photo you can adjust the size, rotation and placement of the tattoo to match your photo perfectly. Use tools such as Erasers, Opacity and Color to fine tune the tattoo.
Save & Share
When you are done with your photo hit the save button and you can save the photo to your photo album on your device or share it via email, facebook and twitter.
App of the Week
Recently Good Day Sacramento named Tattoo You "App of the Week" watch the clip here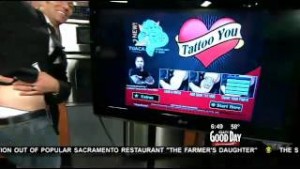 App Features
Universal iPhone/iPad App with Retina Support
30 free tattoo designs and one full font pack (entire alphabet); 700+ total designs available via in-app purchase.
Text Type – Now when you choose a font pack (there is a sample font pack included for free) you can type what you want your tattoo to say. Then the tattoo is created as one image so you can easily move and adjust the whole word.
Easy to use interface
Adjust the size, rotation and location of the tattoo to place anywhere on the photo
Advanced Editing tools – Eraser, Opacity, Color and Flip
Purchase the "All Packs" in app purchase and get every Tattoo, PLUS get new packs up to 1 week before anyone else. Currently we have 15 packs available
Load a photo or take a new one using the camera on your device
Twitter, Facebook and Email integration

A Universal iOS App
This app is designed for both the iPhone and iPad
Reviews
"I think its fun, especially if thinking of getting a real one…good practice.lol.
Get it, Even if you rarely use it…It's still a joy to play with, Very user friendly"
RadarBoy
"people actually believe I have the tattoo & it gives me ideas on tattos too c:"
Pimpcess(;
Screen Shots
Comment, Request & Bug Report
Connect & Share
Copyright © 2012 Appdicted.com. All Rights Reserved
ШОКИРУЮЩИЕ НОВОСТИ
Related News
Passport photos in crawley
Download all instagram photos at once
How to view photos from my pc on my ipad
Botanical names of flowers with photos
Indian old coin photo
Malaysia airlines photo gallery