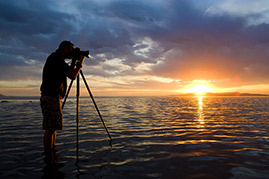 Digital Infrared Photography Workshops are a great way to learn about this fabulously strange photographic technique for making surreal photos. But to gain the creative mastery you really need to create award winning digital infrared images , you need to get very hands-on! Try the shots, play with exposures and be privy to the secrets of award winning photographers.
In response to your numerous requests, our new 3 day Digital Infrared Workshop/Bootcamp will give you not only a deep understanding of the techniques, but a complete tool-kit of methods , tips, trouble shooting tactics, and individual recipes for the most requested infrared styles and effects.
While landscapes are often the most satisfying subjects for infrared photography, it is also dynamite for portraits, nudes and human-based abstracts . If you're a portrait or wedding photographer and want to vapourize your competition , you've got to see how seductive invisible skin can be!
You can make digital infrared images just like this by attending our digital infrared photo workshop.
In this workshop we will cover:
DAY 1: Making your images:
Introductions, Overview and Orientation to IR Photography
What is infrared and why does it make such surreal images
What are the best digital cameras to use for digital infrared photography?
How to uncover your camera's infrared potential
The tools of the trade – knowing your equipment
The counter intuitive nature of infrared exposures, and how to work this to maximize your shooting schedule
DAY 2: Shooting skills and Techniques for Infrared Photography

Review
Shooting techniques, exposure, camera settings
Shooting IR at various locations
A variety of shooting exercises to refine your skills
Image assessment
Image preparation
Day 3: Post processing – using Photoshop & Nikon Capture NX (if you shoot Nikon):
Black & white post processing
False colour post processing
Creative Digital Infrared post processing
Photoshop recipes
Show & Tell – show us your best images
Slideshow, contest, critique
Wrap up
Day 1 includes the theory of infrared, the equipment, exposure procedures, special compositional considerations, and an afternoon of shooting depending on whether you're attending the week day or weekend session.(weather permitting).
Day 2 + 3 takes place in our state-of-the-art computer lab, where we will get hands-on with some of the most advanced Photoshop post processing techniques for enhancing digital infrared photographs. Includes shooting time outdoors (weather permitting). Work on you own images or the images provided under the direction and guidance of your instructor, award winning infrared photographer, and Canadian Photographic Artist of the Year – 2009, Alexandra Morrison; and create images beyond your imagination!
Dates:
Dates for 2013 will be announced in January 2013. Please call us for more details. ( August 2012 NOTE: Our venue at Delta Marsh has sadly been destroyed beyond repair by last spring's flood. The University announced that the Field Station was badly damaged and will probably be mothballed. We are in active pursuit of a new venue for our Infrared Workshop!)
Shooting days are weather dependent and so may change if mother nature does not cooperate, classroom days will remain unchanged.)
COST: Full program, including lunches, and refreshments:$TBA CAD early registration. Regular registration $TBA CAD.
If you're a subscriber to my newsletter, or have signed up to be on the workshop mailing list, watch inbox for the IR Workshop survey sent the week of December 3, 2012.
There will also be a special group dinner on Monday evening. 🙂
Is this workshop for me?
While this is a Pro/Advanced amateur level workshop , you'll get the most from this experience if you have some basic camera and computer skills. You MUST be knowledgeable using your camera and understand concepts such as white balance , and bracketing , and be able to set them in your camera. You must know how to set your aperture to achieve certain effects.
In the lab, you should be familiar with Photoshop CS, and navigating its interface, as well as using basic photo editing such as color balance, histograms, levels, and Adobe Camera RAW. Familiarity with other RAW processors such as Nikon Capture is an asset but not required.
You MUST have any infrared capable camera, an IR filter or converted camera, plus a tripod for this workshop. We will also have some equipment for you to try, as well, we will provide you with a series of infrared images to work on.
You do not need to shoot RAW for these workshops but I recommend you do. You do not need a digital SLR for this workshop, certain digital point & shoot cameras work just as well, if not better, as long as you have the necessary filters for them!
The Participants at a previous workshop at Delta Marsh, Manitoba, Canada
The historic Mallard Lodge at the U of M Delta Marsh Field Station, (above) has been "mothballed" because of the damage to the rest of the filed station by the flood in 2011 – the University of Manitoba is deciding on how to proceed.
Registration in this digital infrared photography workshop is limited to 15 participants.
Fill in the form below to be added to the "Interested List." This is not a registration form , it's only for getting you in out database so we can let you know more about the workshop as we finalize the details.
Name:
Email:
City:
Country:
website:
Questions-comments:
I'm interested in:
The WOW Shots Class
Infared Workshops
iPhone (iPad, iPod) Photography
Photoshop
Lightroom
Weekend Photo Bootcamps
Weeknight Workshops
Weekday Workshops
Newsletter
ШОКИРУЮЩИЕ НОВОСТИ
Related News
Emmett till photo gallery
Photo gallery kitchen designs
Digital photo frame that you can send photos to
Pocket pc photo viewer
Photo editor photo frame
Turn photo into disney cartoon
Worlds most amazing photographs
Photos of special fried rice disease