AVAILABLE FOR CHRISTMAS AND NEW YEARS - OPEN YEAR ROUND

SEE OUR BRAND NEW WEB SITE AT WWW.AwesomeCottage4Rent.ca
and our NEW VIDEO at https://www.youtube.com/watch?v=afaiwoFJiUU&feature=youtu.be
To receive a prompt quotation, please copy and paste this into your browser. HTTP://WWW.AwesomeCottage4Rent.ca/BOOKING/
PLEASE NOTE: HAPPYNEST IS OPEN ALL YEAR ROUND INCLUDING:
Thanksgiving, Christmas, New Years, Family Day, Reading Week, March Break, Easter, Victoira Day, Canada Day and Labour Day Long Holiday Weekends and of course summer weeks for 2015.
USE OF HOT TUB AND SAUNA, Wi-Fi, MOTOR BOAT, CANOE, PADDLE BOAT
PRICES TO FIT SMALLER GROUPS TOO
PLEASE NOTE: Sorry, our availability calendar ON THIS OLD WEB SITE IS NOT WORKING BUT IS WORKING ON THE NEW WEB SITE AT www.AwesomeCottage4Rent.ca
The person who developed our original web site is no longer able to look after it so please see our new web site www.AwesomeCottage4Rent.ca to show the NEW RENOVATIONS AND MANY UPGRADES to Happynest since the photos on our original web site were taken.
Family reunions welcome - family fun for ALL
If you scroll down to the bottom of this web page
you can view 60 pictures of our cottage
and read up on amenities and activities available to you,
plus you can see the cottage floor plan,
read comments from our visitors,
and see a map of the lake.
www.cottage.ca - Parry Sound District, Ontario, Canada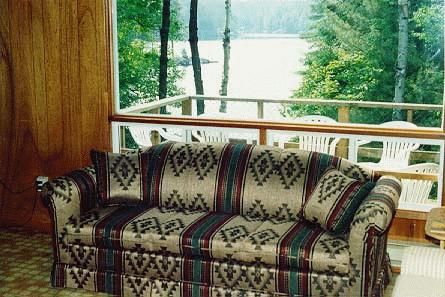 A great cottage for rent on a beautiful lake
Many luxury features
Spring, summer, fall, or winter
Week or weekend
Catering to family reunions, office groups and wedding parties
OR
Quiet country get-aways for two or more
Happynest is a dog friendly cottage
Our gift certificates are great for birthdays, anniversaries, Christmas, etc.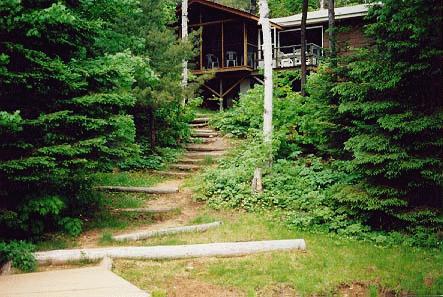 We have a new, five bedroom, fully winterized, wheelchair accessible cottage with fireplace for rent in the north Parry Sound Area. It is situated on a one acre wooded lot with a 140 foot lake front, great swimming, and southern exposure.
Our cottage includes the following features:
fireplace
use of sauna
use of whirlpool hot tub spa
digital satellite television
colour television
VCR and DVD player
two electric refrigerators with freezers
new stove with self-cleaning oven
dishwasher
microwave
gas BBQ
hot running water
two bathrooms
laundry facilities
new comfortable beds - enough for 18 or more people
a dining table large enough to have everyone together at mealtime
wheelchair ramps for cottage and dock
a pet friendly environment
We also supply:
dishes
five small appliances
utensils
Also available:
boat with brand new outboard motor
canoe
paddle boat
water skiing
wind surfer
snowmobiles (we can refer you to local rentals)
guided fishing or canoe trips (we can refer you to guides/outfitters)
We recently purchased all new living room furniture which includes two matching couches and a love seat, end tables etc. plus new bedroom furniture as well.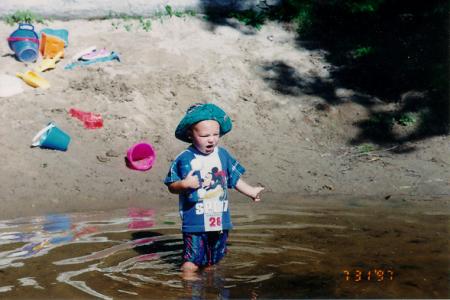 "Our two families have vacationed together for 7 years in a row and Happynest has been by far the best." --Tim and Joan Edginton, Toronto, Ontario, August 27, 2003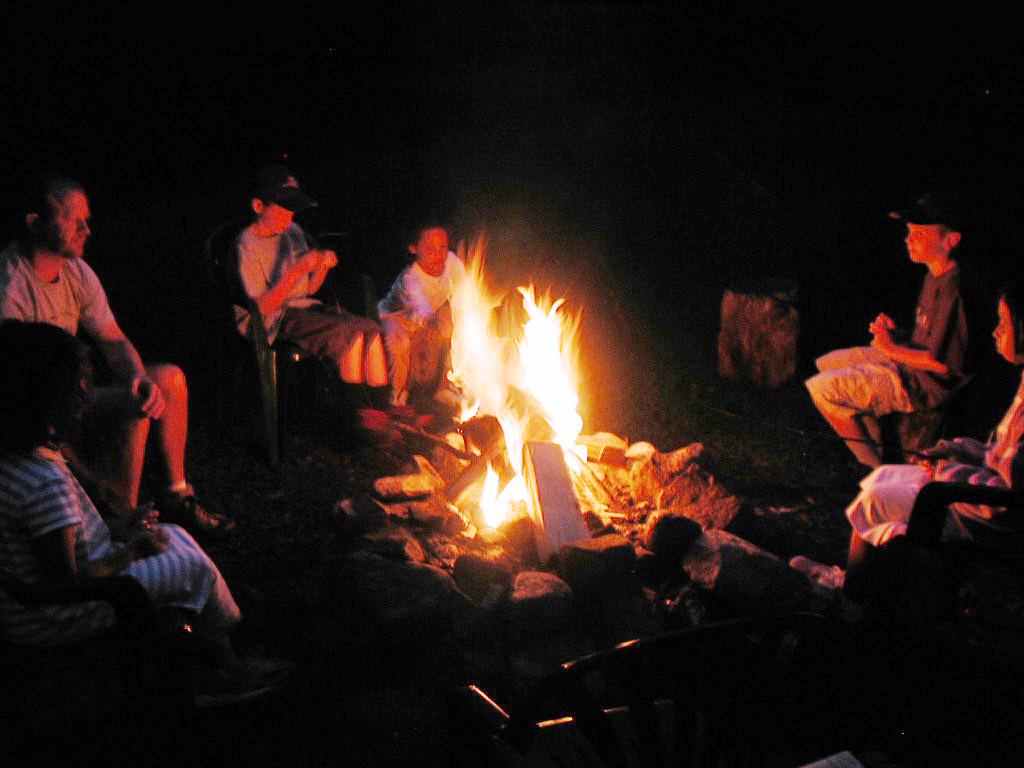 "The best of our six bi-annual Family Reunions - by far! A delightful week." -- Bill Goetz, Linden, Alberta, September 25, 2002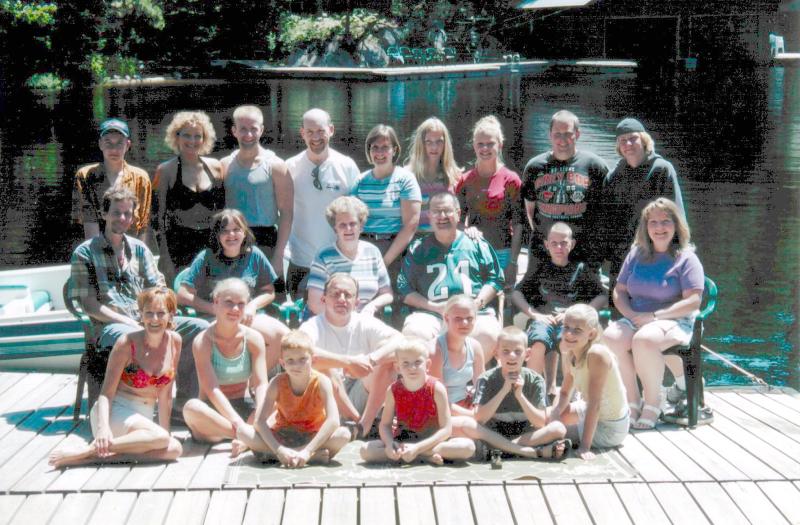 Intro | | | | | | | |
Copyright © 1997-2010 by Martin Muc.
This cottages rental went online 1997 04 14 at 02:55.
This Ontario cottages page was updated 2010 05 16 at 17:47.
Ontatio cottage rentals: one of the nicest rentals among Ontario cottages. This rental features 5 bedrooms, 2 bath, fireplace, sauna, spa, bbq, laundry, wheelchair access. Boat rentals, sailboat rentals, canoe rentals, snowmobile rentals, guided fishing or canoe trip, can all be arranged.
www.cottage.ca
- accommodation near Lost Channel on Kawigamog Lake, District of Parry Sound, Ontario, Canada
We call it Happynest (some call it Happy Nest or Happiness Cottage) Ontaroi, cotttage, Onatrio, Onatario, cabin, chalet, or Ontartio, ontariocottage, cottageontario, cottagerental, rentalcottage, rentalontario. Although this is one of the most complete private cottages in Ont., it can be rented for cheap in the off season, or cheap per person if you bring a large group. Our cottages in the northern Parry Sound district, cottagr, north east of Parry Sound (town), north of Muskoka, west of Haliburton, north west of the Kawarthas, west of Algonquin Park (Algonquin Provincial Park), southwest of North Bay, southeast of Sudbury, east of French River, east of Grundy Lake Provincial Park, between Grundy Lake and Algonquin Parks, about 3 hours north of Toronto (measuring from Canada's Wonderland, i.e. just north of highway 400 and highway 407). These are private rentail cottages for rent by owner and are pet friendly i.e. dog friendly cottage rentails. Nowhere near kenora, Windsor, about 3 or 4 hours from Ottawa, not close to Niagara Falls, Kitchener, London, Guelph, Kingston.

Related News
Kevin sparrow photography uk
Princess diana death photos dead
Photo of bathroom interior
Black toenail melanoma photos
Deepika padukone with family photos