STATISTICS for 2008-May 2016 (CALIE.ORG website only):
Over 168 MILLION HITS!!!
Over 300,000 "Pages Viewed" per month...

Publishing Corner:


Indian Community:



Science & Wonder


Indian Heros:







California Indian Art:


ETHNOGRAPHIC ART
CAVE ART
MUSIC
CALIE Library:




Academic Financial Aid:

Tribal Governments:
TRIBAL COURTS


TRIBAL DIRECTORY
Indian Gaming:
INDIAN CASINO FORUM

REAL-TIME Unique Daily Visitors to date (2008-present)
TOP 10 GREATEST INDIAN CHIEFS
California Indian Education's tribal resource is being compiled to introduce young Native American Indian students to a few of their nations' most famous Indian chiefs of North America, brave tribal leaders and warriors who have left their mark on the recorded history of our great lands — please do your own research to learn more in-depth facts, tribal biographies and their most noteworthy quotes about these famous Native American Indians.
The California Indian Education website's "Top Ten" Indian chiefs is not so much about listing the top 10 chiefs of all time (which will forever be debatable), but our Indian guide is about beginning a study resource to familiarize students with some of the most important and influential Native American leaders of the recorded history.
FAMOUS INDIAN CHIEFS LEADERS WARRIORS QUOTATIONS SPEECHES
INDIAN CHIEFS, WARRIORS, LEADERS

Mangas Coloradas
Apache
c. 1793-1863


Cochise
Apache
1812-1874

Red Jacket
Seneca
c. 1750-1830

Shacknasty Jim
Modoc
c. 1851–1881

Red Cloud
Lakota
1822–1909

Standing Bear
Ponca
c. 1834-1908

Chief Pontiac
Ottawa
1720-1769

Osceola
Seminole
1804-1838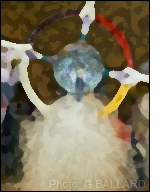 Upon suffering beyond suffering:
The Red Nation shall rise again and it shall be a blessing for a sick world; a world filled with broken promises, selfishness and separations; a world longing for light again.
I see a time of Seven Generations when all the colors of mankind will gather under the Sacred Tree of Life and the whole Earth will become one circle again.
In that day, there will be those among the Lakota who will carry knowledge and understanding of unity among all living things and the young white ones will come to those of my people and ask for this wisdom.
I salute the light within your eyes where the whole Universe dwells. For when you are at that center within you and I am that place within me, we shall be one.


, Oglala Lakota Sioux (circa 1840-1877)
Crazy Horse is quoted as saying while he sat smoking the Sacred Pipe with Sitting Bull for the last time — Crazy Horse was killed four days later by US Army soldiers in a hand-to-hand scuffle as they attempted to imprison him. There are no known photographs of Crazy Horse, he would not permit anyone to take his picture, presumably, Crazy Horse believed a photograph stole or unnaturally held the soul of the person(s) pictured.
FAMOUS NATIVE AMERICAN CHIEFS ON HORSES WEARING CEREMONIAL FEATHERED WAR BONNETS HOLDING TRIBAL STAFFS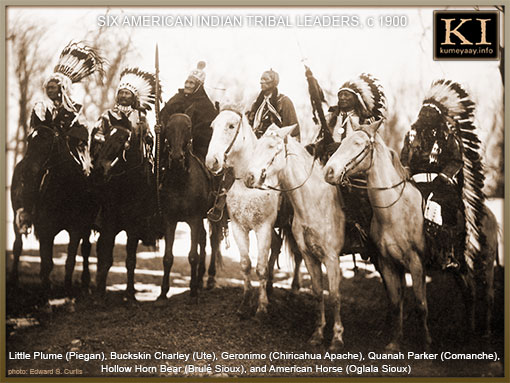 SIX 19TH CENTURY NATIVE AMERICAN LEADERS ON HORSEBACK (l-r) — Little Plume (Piegan), Buckskin Charley (Ute), Geronimo (Chiricahua Apache), Quanah Parker (Comanche), Hollow Horn Bear (Brulé Sioux), and American Horse (Oglala Sioux). Photo: Edward S. Curtis, circa 1900.
— LEGAL BASIS: The Constitution of the United States, U.S. Supreme Court, federal and state laws, as well as historical treaties all support the federally-recognized Native American tribes' present-day legal rights to self-government and certain forms of limited tribal sovereignty....
HELP CONTRIBUTE to this section
To help CALIE build this inspirational leaders page please to contribute your favorite Indian leaders or articles for publication.
Produced by , Soboba tribal member.
Made in America Research & Design: Gary Ballard, San Diego blogger.
ШОКИРУЮЩИЕ НОВОСТИ
Related News
2018 dodge dart photos
Lodge at vail photos
123 photosynthesis song lyrics
Write a word equation for photosynthesis
Prince rogers nelson photo gallery