Making Gluten-Free Gravy
How to Make Gluten‐Free Gravy
Two Parts:
Rich, savory brown gravy is one of the most beloved parts of any holiday feast. If you happen to be among the growing number of people that can't or don't eat gluten, however, you might be left with a dry plate. Flour, and a lot of it, is used to thicken the roux that serves as the base for the gravy, so omitting it from the recipe and still ending up with gravy that's worth eating can be a tricky feat. Luckily, making a thick, flavorful gluten-free brown gravy that nonetheless tastes the way grandma's Thanksgiving dinner always did is easier than you might think. The key is to select the right gluten-free ingredients, then make sure you're handling and cooking them correctly so that the end result is indistinguishable from its gluten-packed counterpart.
Ingredients
2 1/2 tablespoons unsalted butter or olive oil

2 1/2 tablespoons gluten-free flour or cornstarch

2-2 1/2 cups low sodium chicken or turkey stock or rendered turkey drippings

Salt, pepper and other herbs and spices (to taste)
Steps
Making the Roux
Choose your gluten-free ingredients.

In order for the gravy to turn out the way it's supposed to, you need to have a way of thickening it. For this purpose, any alternative to wheat-based starch will work just as well. Sweet rice flour, King Arthur gluten-free multi-purpose flour, or simple cornstarch are all good choices, and will result in a rich, smooth gravy with no noticeable differences in taste.

Many gluten-free chefs praise the smooth texture of sweet rice flour for making gravies, soups and sauces. You can also use white rice flour if it's what you have on hand.
If you decide to use cornstarch, you can skip the roux-making phase altogether, as it will thicken the stock on its own.

Melt the butter for the roux.

Place about 2.5 tablespoons of unsalted butter in a small saucepan and begin heating it at a medium-high temperature. Coat the entire bottom of the saucepan to keep the flour from sticking later on. The butter will serve as one half of the base of the roux, which should be equal parts fat and starch in order to set up and flavor properly.

Unsalted butter will have less of an influence on the saltiness of the gravy, giving you more control over how it's seasoned.
Substitute olive oil if you have eaters that are dairy-free.

Add the gluten-free flour.

Use a measuring cup to portion out roughly 2.5 tablespoons of sweet rice flour, gluten-free multi-purpose flour or cornstarch. Sprinkle the gluten-free flour into the melted butter, stirring as you go. When combined, the two ingredients will begin to form a thick paste.

Stir in the flour as you pour, rather than dumping it all in at once.
Remember to keep the ratio of flour to butter equal.

Whisk the roux to smooth it out.

Stir the mixture constantly at a gentle speed to break up clumps and make sure the flour and butter are distributed evenly. Due to the characteristics of their grains, certain gluten-free flours will thicken differently, so don't worry if your roux seems a little gummier than it should be. You'll be able to thin the gravy out when it comes time to incorporate the stock.

A perfect roux is smooth, creamy and all one color and consistency.
Whisking the roux also helps expose it to air, which will prevent it from burning or becoming dense and gelatinous.

Cook the roux until it begins to brown.

Undercooked gluten-free flour can have a somewhat raw, starchy taste, interfering with the flavor of the gravy. To counteract this, heat the roux until it becomes a deep tan color. This will break down the starch a bit so that it's not as noticeable in the finished gravy.

Your roux doesn't need to get too dark. You should end up with something resembling a blonde gravy that's slightly lighter in color than the regular variety.
Be careful not to overcook the roux. If it gets too brown, the gravy may have a burnt, unpleasant taste.
Adding the Stock and Simmering the Gravy
Grab a flavorful chicken or turkey stock.

If you're short on time or making gravy from scratch before the meal, a package of store-bought stock will be perfectly fine. The stock will even out the consistency of the gravy and give it its salty, savory base flavor. Look for low- or no-sodium varieties so that you can season the gravy yourself to the desired saltiness once it's ready.

Check to make sure the store-bought stock you're buying doesn't contain traces of gluten.
You could also make your own homemade stock weeks or months in advance and freeze it until you need it to make gravy.

Use the drippings from the turkey.

For a more traditional approach, you can also collect the rendered fat and juices from the turkey you've roasted, if you prefer to fix your gravy the old fashioned way. Scoop up about a 1 ½ cups of dripping in a measuring cup, making sure you get some of the tasty fat that's floating on top. With real turkey drippings, the gravy will have a more authentic, homespun flavor.

Reusing the turkey drippings may make for deeper, more complex gravy, since you'll also be able to taste hints of the herbs and spices used to season the turkey.
Be sure to taste the drippings to see how much salt you'll need to add later.
Discard your drippings altogether if they're burnt.

Mix the stock into the roux gradually.

Slowly pour about a cup of the stock or turkey drippings into the browned roux, whisking as you go. After smoothing out any clumps or inconsistent spots, pour in the rest of the stock or drippings and stir it all together. Adding the stock a little at a time will help you avoid lumpy gravy.

2—2 ½ cups of stock or drippings will make enough gravy to feed most crowds.

Heat and stir to thicken.

Your gravy now just needs to simmer for a few minutes. If it feels too thick, feel free to give it another splash of stock or drippings. Watch for the gravy to start bubbling in the center when it's ready.

The gravy just needs to cook long enough for all of its individual flavors to mingle.
It's better to add the stock in increments so that you don't accidentally make the gravy watery. If it gets too thin, there's no good way to thicken it up without the risk of altering the flavor.

Season and serve the gravy.

Sample your gravy to test how salty it is. Throw in a little kosher salt as needed, then add coarse-ground black pepper, or a dash of parsley, thyme, sage or a couple whole bay leaves until you achieve the desired flavor. Stir thoroughly to fully incorporate the seasonings. Transfer the gravy to a separate dish and announce to your guests that dinner is served!

The stock, drippings and butter all contain a little bit of salt, so you may not need to add much extra to get the gravy adequately seasoned.
Because of the way the starch ingredients react, gluten-free gravy may not reheat well. Make smaller batches so that you don't end up having to throw too much away after the meal is over.

Finished.
Community Q&A
Ask a Question
200 characters left
Include your email address to get a message when this question is answered.
Make sure your kitchen is clean and uncontaminated before you attempt to prepare gluten-free foods.
There's next to no difference flavor-wise between regular gravy and the gluten-free version, making it safe for those with special dietary needs and suitable for picky non-gluten-free eaters.
Serve this gravy with your favorite holiday dishes, or special gluten-free offerings like mac and cheese, stuffing and rolls.
Make a quick batch of flourless gravy if you know you'll be having gluten-free guests over to eat. No one should have to go without gravy for a big holiday dinner!
Add some diced onion, celery, or garlic to your gravy and whisk it in the blender for more intense notes of veggies and herbs.
Warnings
Prepare your gravy fresh just before you serve the meal. The gluten-free flour may cause it to clump up or turn gummy the longer it sits.
It can be extremely dangerous for people with Celiac disease to ingest even trace amounts of gluten. Choose naturally gluten-free ingredients and read package labels carefully to ensure that the food you serve is uncontaminated and prevent any unfortunate accidents.
Video: GRAVY gluten free
How to Make GlutenFree Gravy images
2019 year - How to Make GlutenFree Gravy pictures
How to Make GlutenFree Gravy recommend photo
How to Make GlutenFree Gravy images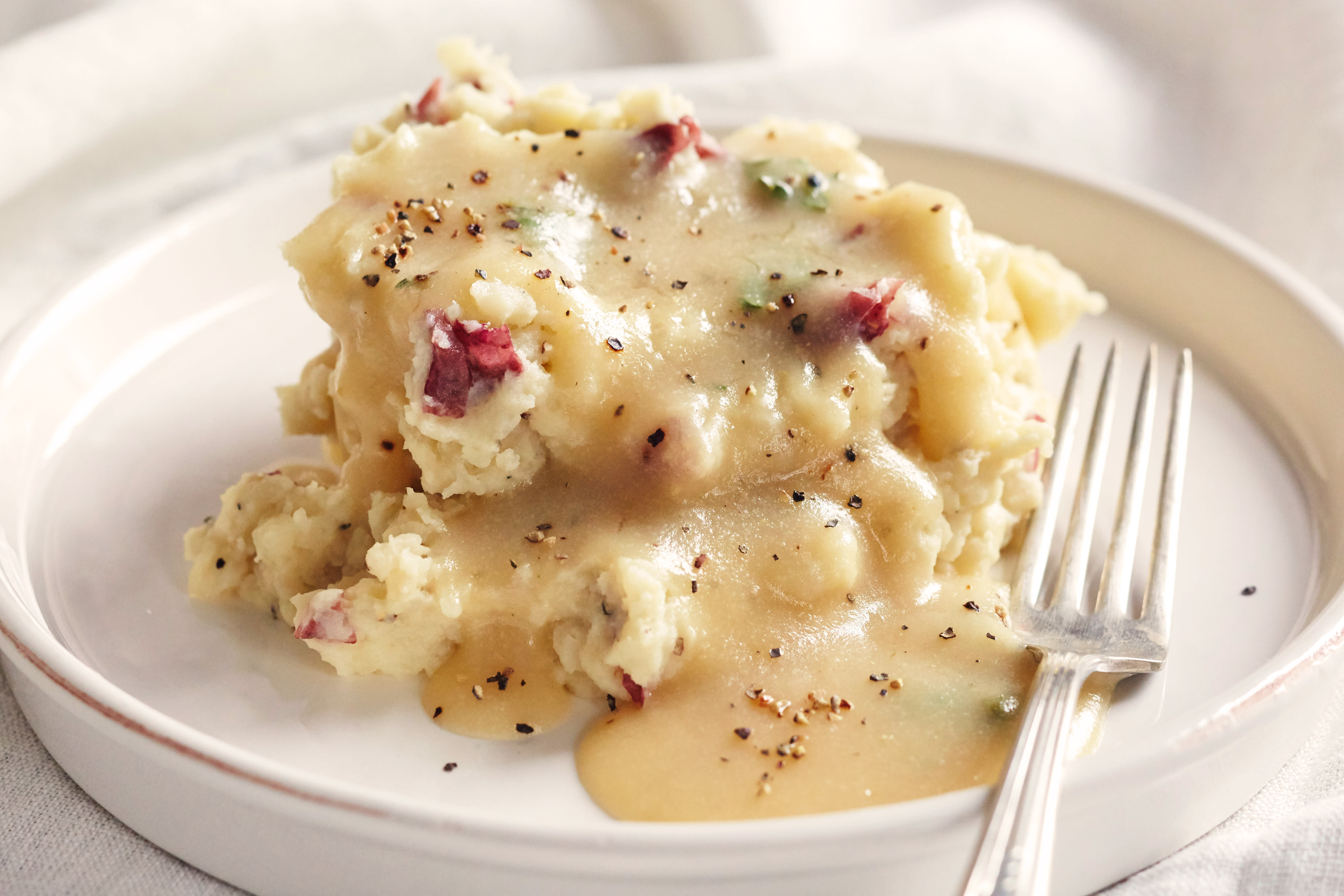 How to Make GlutenFree Gravy new foto
picture How to Make GlutenFree Gravy
Watch How to Make GlutenFree Gravy video
Forum on this topic: How to Make GlutenFree Gravy, how-to-make-glutenfree-gravy/ , how-to-make-glutenfree-gravy/
Related News
Gym Etiquette: Simple Dos and Donts
Oprah on rumors of a 2020 presidential run: I dont have the DNA for it
Mini Cheesecakes with Sugared Pecans
Breaking news: the G-spot may not exist
The five greatest trash talks of all time
How to Start a Healthy Diet
Style Tips: Red Dresses
Vintage Hairstyles
Jill Stuart Sweets Couture Spring 2019 Makeup Collection
5 Clever Uses for Drinking Straws
How to Convert Microsoft Money Files to Microsoft Excel Files
Sarah Jessica Parker And Rihanna Turn Designers For Fendi
How to Deal with Puppy Deaths During Birth
How to Call Iraq from the United States
Date: 09.12.2018, 06:09 / Views: 62361
---