The 3rd Annual Iron Mountain Trial was held on September 16, 2018 in Mission, BC. It was sponsored by Cascade Motorsports who supplied lunch and snacks along with some soggy sections. Two weeks ago there was 6 inches of powdery dirt in the forest. After a week of rain and with rain on the day, it was a whole different story. The Experts had enough after 1 loop and Alex Walton held a good lead at the end. Ted McDowall and Cam Collie had some good rides to win Senior 45 and Advanced respectively. Bryce Gauer won Intermediate and Bob Clark took some points but had a healthy lead in Sportsman. Greg Patrick brought out an old Fantic to win Junior. I think it was nice to ride around in the woods with nice people and a bit of rain just made it more interesting.
Results are posted
-Don Doerksen
To minimize the fire danger risk, Ioco is closed to riding when the Fire Danger Rating for the area is Extreme (Level 5). Check the page before you head out to ride. If the rating for the UBC Research station is at Level 5, do not ride. Please respect the closures and help keep our riding area safe.
CMA National and FIMNA event:
Results of the FIM/CMA National Championship are posted
Transmission Line Work at Ioco is now completed. Thanks for your cooperation with BC Hydro.
The Honda Centre CMA Trial:
A lovely sunny day greeted the riders at the Honda Centre Trial at Ioco, BC on May 27, 2018. 54 riders showed up to ride sections that took very few points from some of the class winners but took plenty from the rest of the entry. Thomas Cordner came over from the Island to win the Expert class with only 7 points over 33 sections. Ted McDowall did even better losing only 3 points to win Senior 45. Brandon Schmidt brought out the electric trials bike he has been making over the winter and showed the Advanced riders how to take the fewest points. Bob Clark had the low points for the day though with zero points to win Sportsman handily. Russel Skiver topped the Intermediate class and Dave Seifert took only 5 points to win Junior. Thanks to Ted, Brian and Pierce for some great sections and thanks to The Honda Centre in Burnaby for their sponsorship.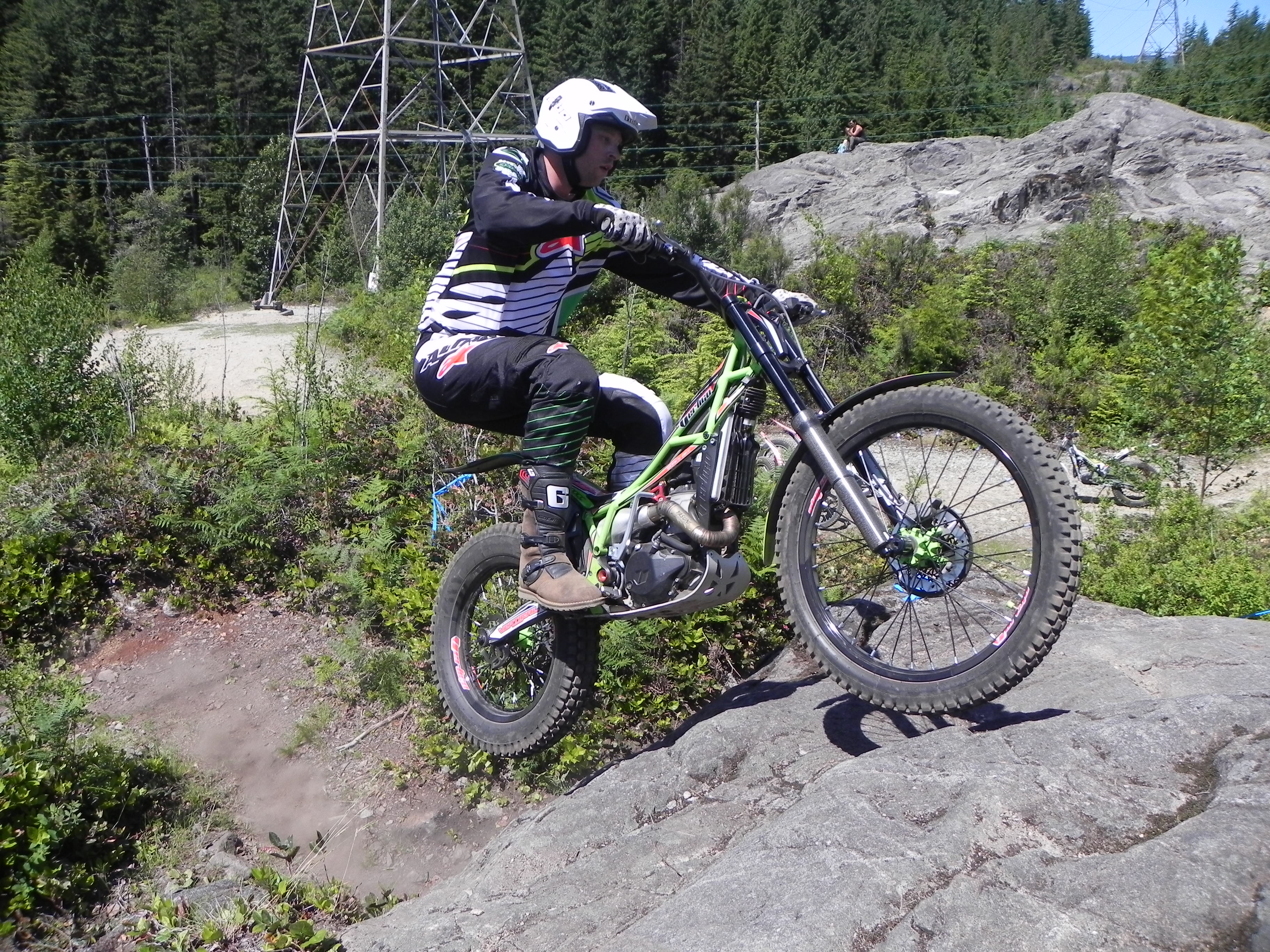 Expert winner Thomas Cordner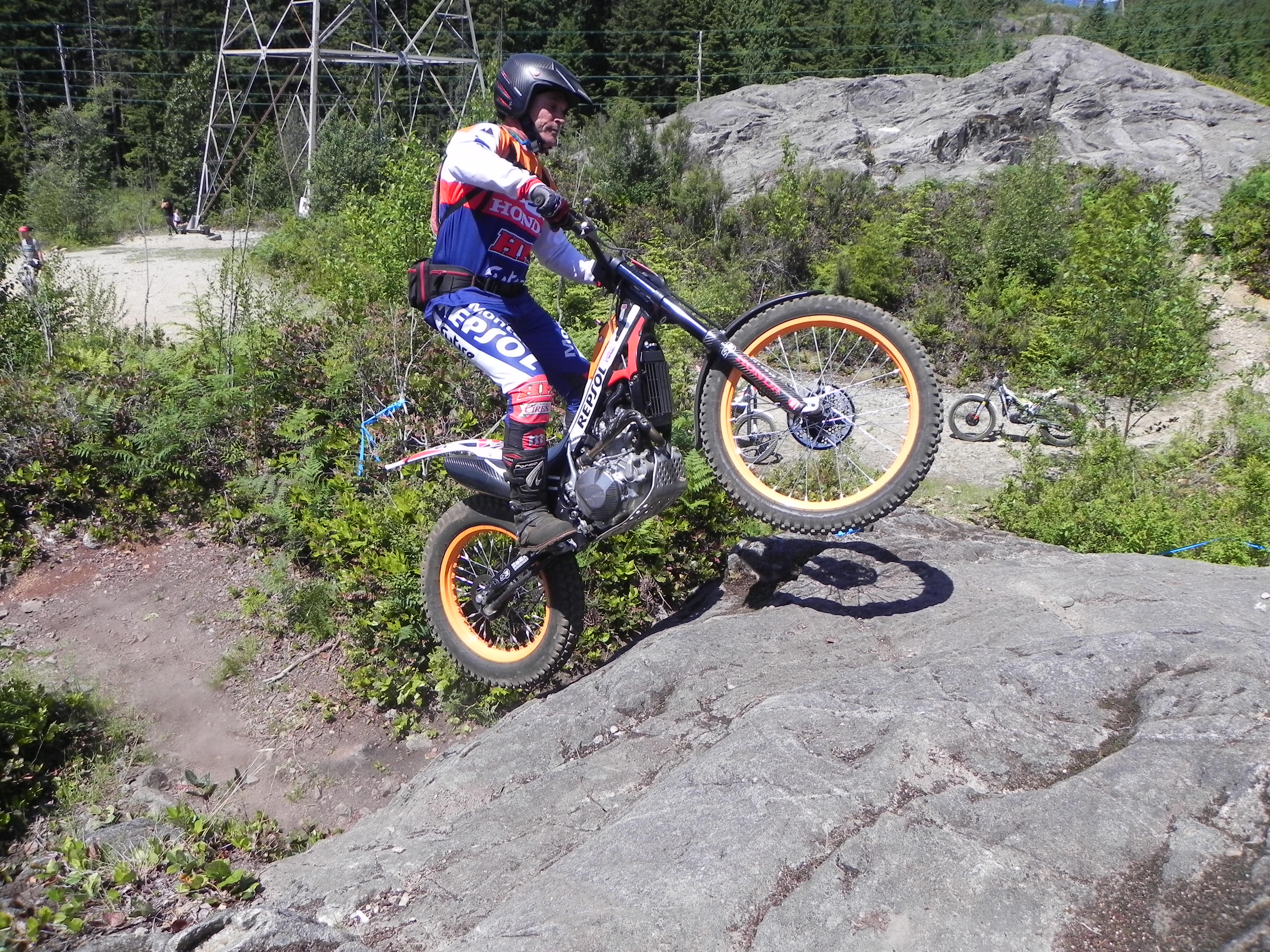 Bernard showing good form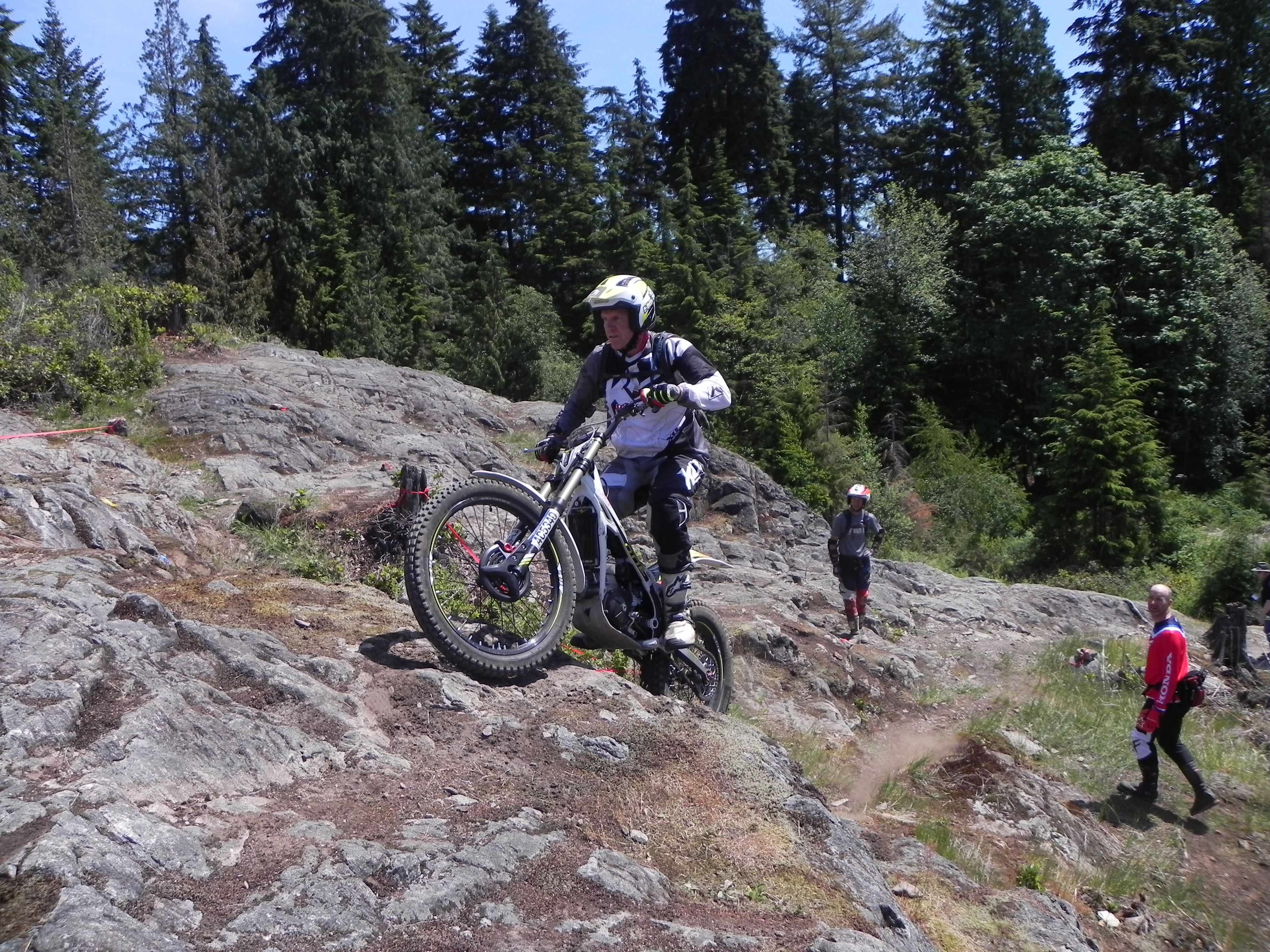 Clerk of the Course Ted McDowall
Photos by Jeff Green. Results are posted
-Don Doerksen
2018 Team Squid Outlaw Trial at Ioco:
The CPTA presented the 2018 Team Squid Outlaw Trial on April 15, 2018 at Ioco. 44 riders showed up to contest the event which was kindly sponsored by Outlaw Trialsport and Accessories based in Vernon, BC. The overnight rain stopped for the day and left lots of soggy sections. It was 19 sections twice for Advanced and Expert which made for a long, tiring day that took a fair few points and left some tired riders in its wake. Sean Bird was the class of the Expert class with about half of the points of the next rider. Ted McDowall and Cam Collie won Senior 45 and Advanced. Dave Fair snuck over from Vancouver Island to put in two 5 point loops and win the highly contested Sportsman class. Russell Skiver rode well to win Intermediate, and Dave Seifert is keeping up his domination of the Junior class. This event was also the first round of the Outlaw series and next up is the May long weekend at Scotch Creek.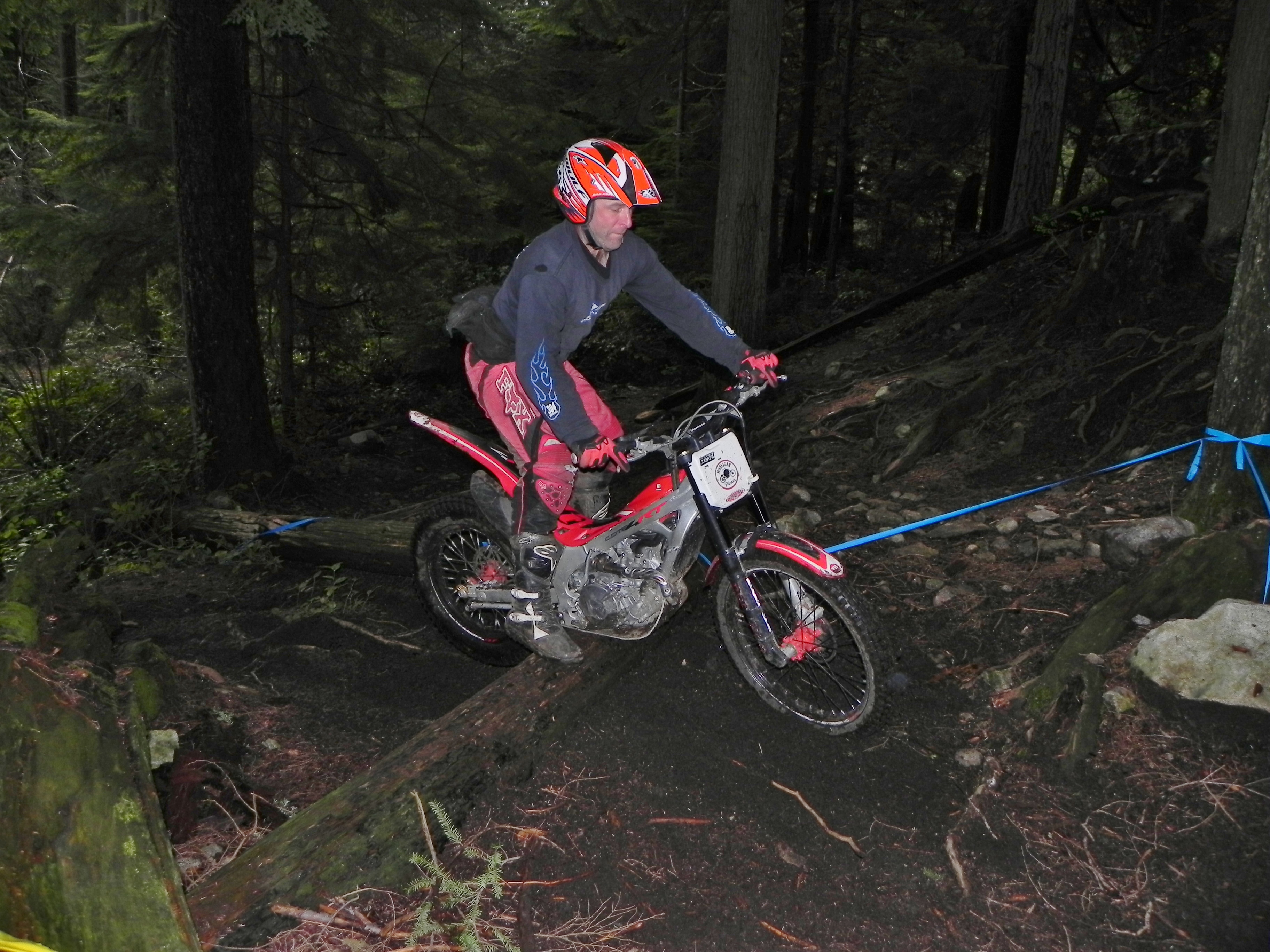 Jay Colley came all the way from Ymir to leave some footprints at Ioco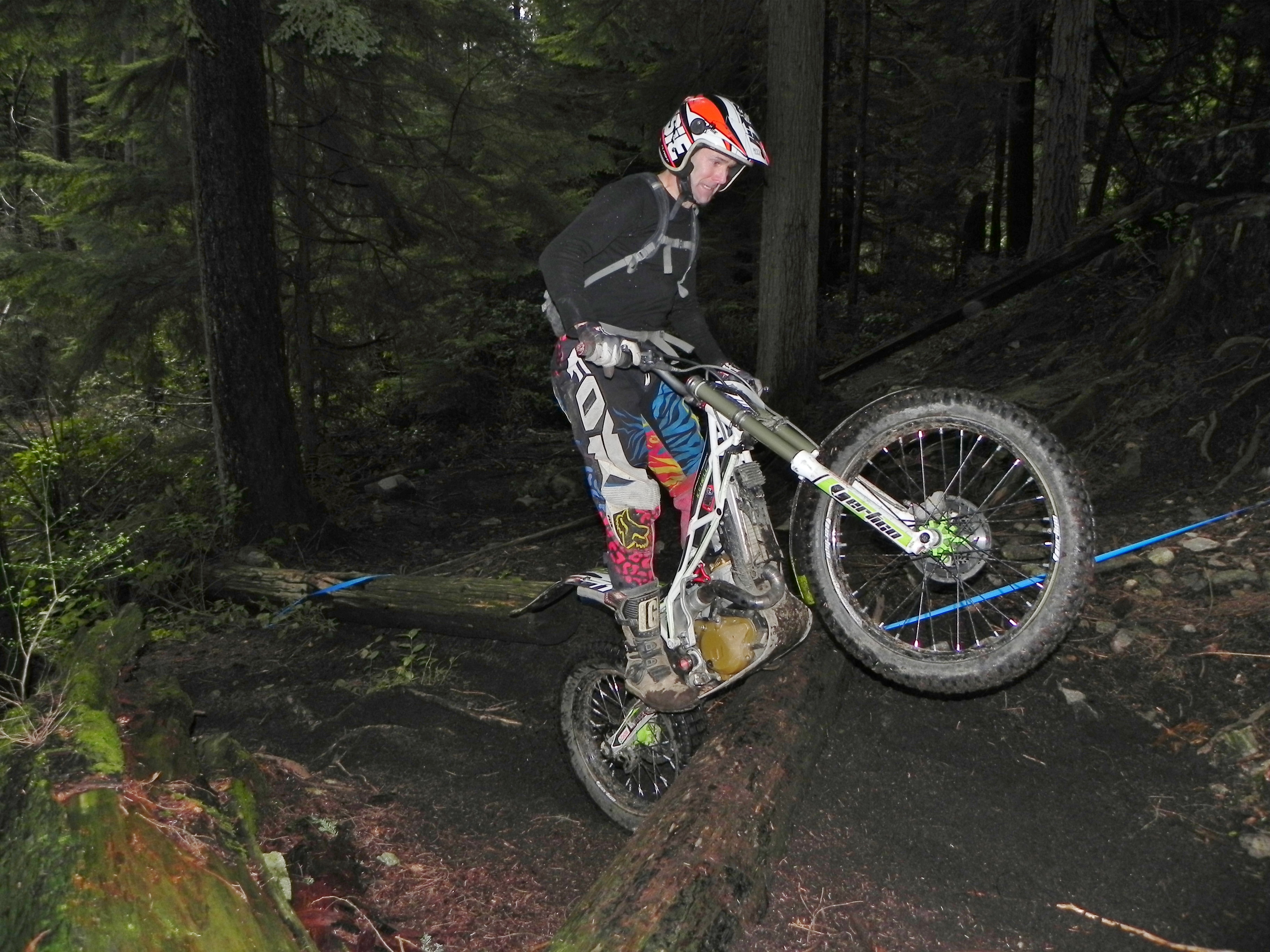 Advanced winner Cam Collie looking determined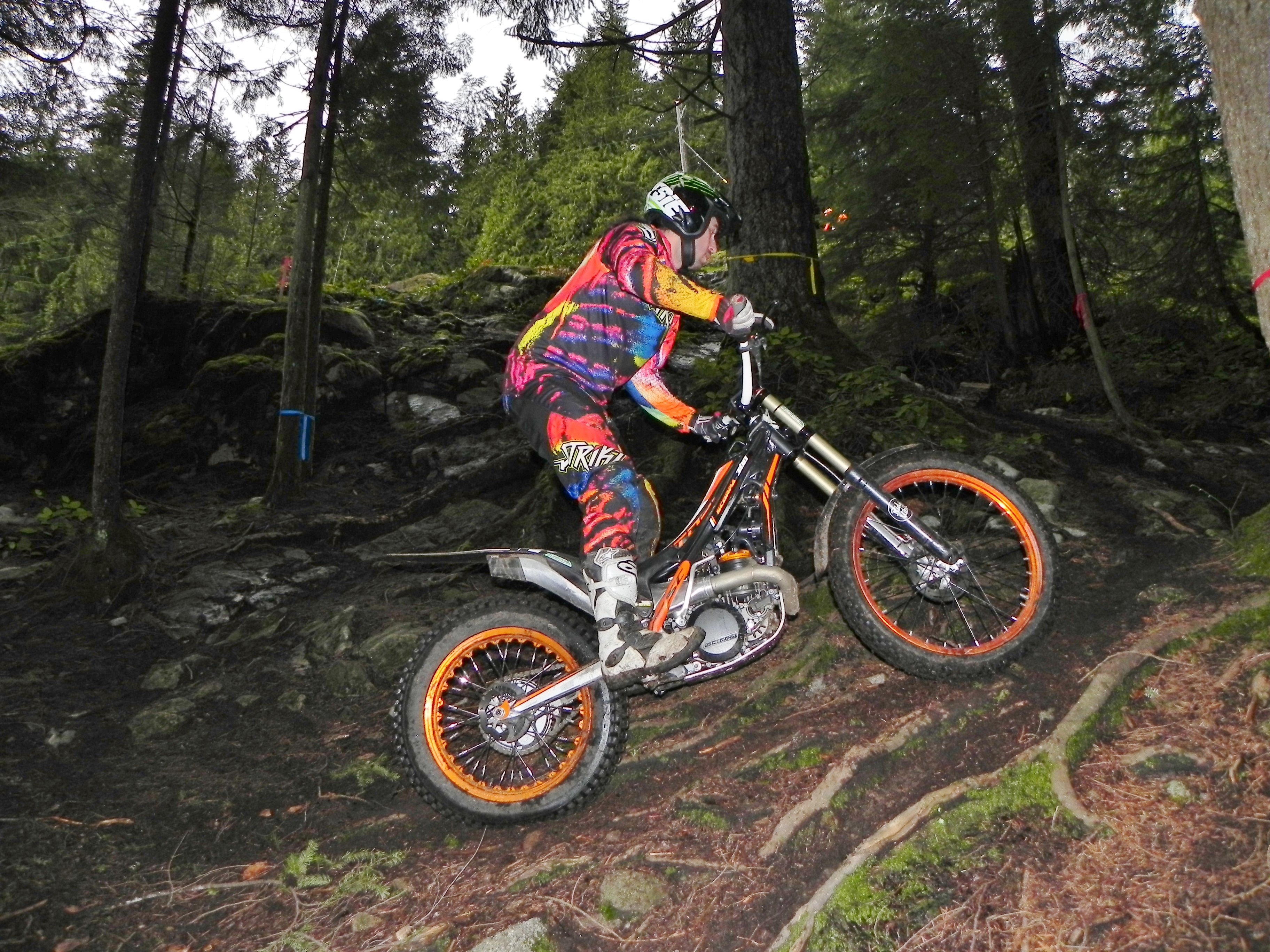 Expert winner Sean Bird Brightening up the woods
Photos by Jeff Green. Results are posted
-Don Doerksen
Spring Classic Trial:
It was perfect classic trials weather for the CPTA Spring Classic trial on April 8, 2018 at Ioco BC. That means that there was enough rain to slick some things up and make those big old flywheels worthwhile. Sections 3 and 4 were a sub-section up a rocky bed and were perhaps the most entertaining section. At least you felt the exercise by the end of that section and a double clean was worth celebrating. Section 9 had a tight spot between a very large tree and a very large rock and you can see that we took a lot of points there. Thanks to Dave Craig for a good workout and a good event. Yours truly managed to win the Classic A on the Purple People Eater (it threw the chain twice in sections and I proceeded backwards down the hill rapidly). Greg Patrick borrowed a Majesty to win Classic B and Paul Brodie won Sportsman and had an impressive 1 point last loop. Tim Wright was the sole Intermediate but it looks like he exerted some effort with a lot of points taken. Dave Seifert led the Juniors by quite a margin in what looks like a high scoring event for them.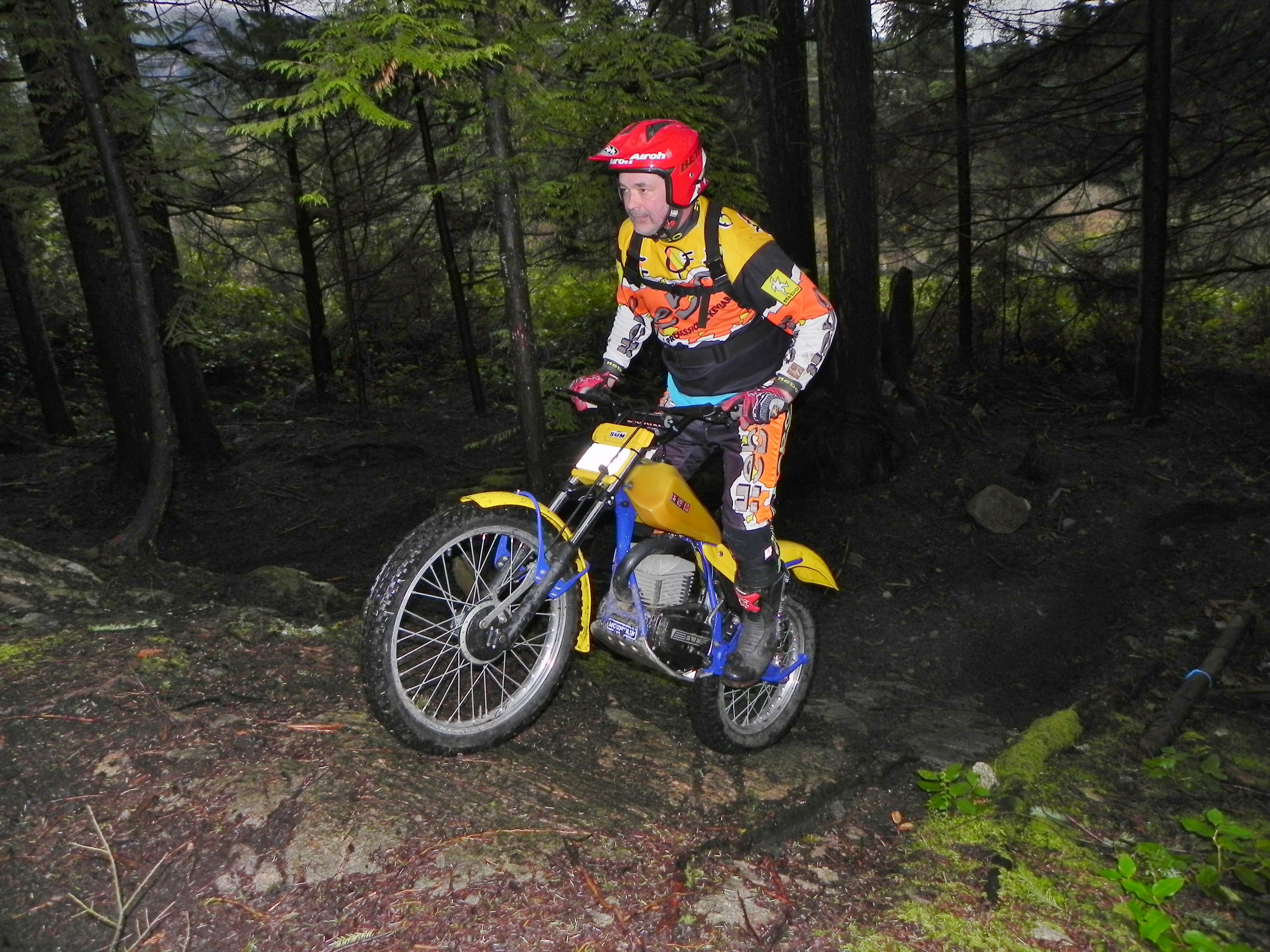 Bob Clark looking Canary in the Woods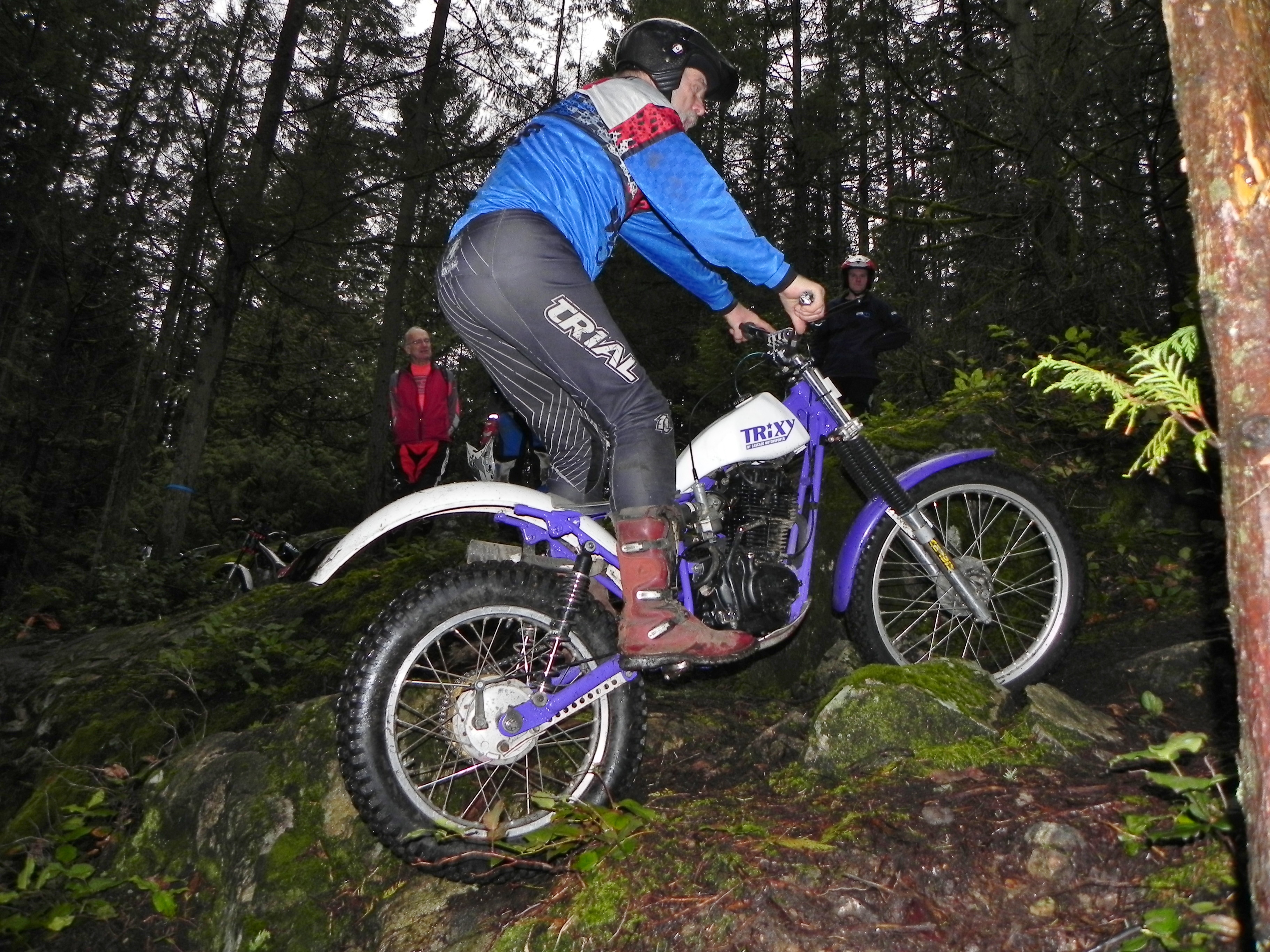 Purple People Eater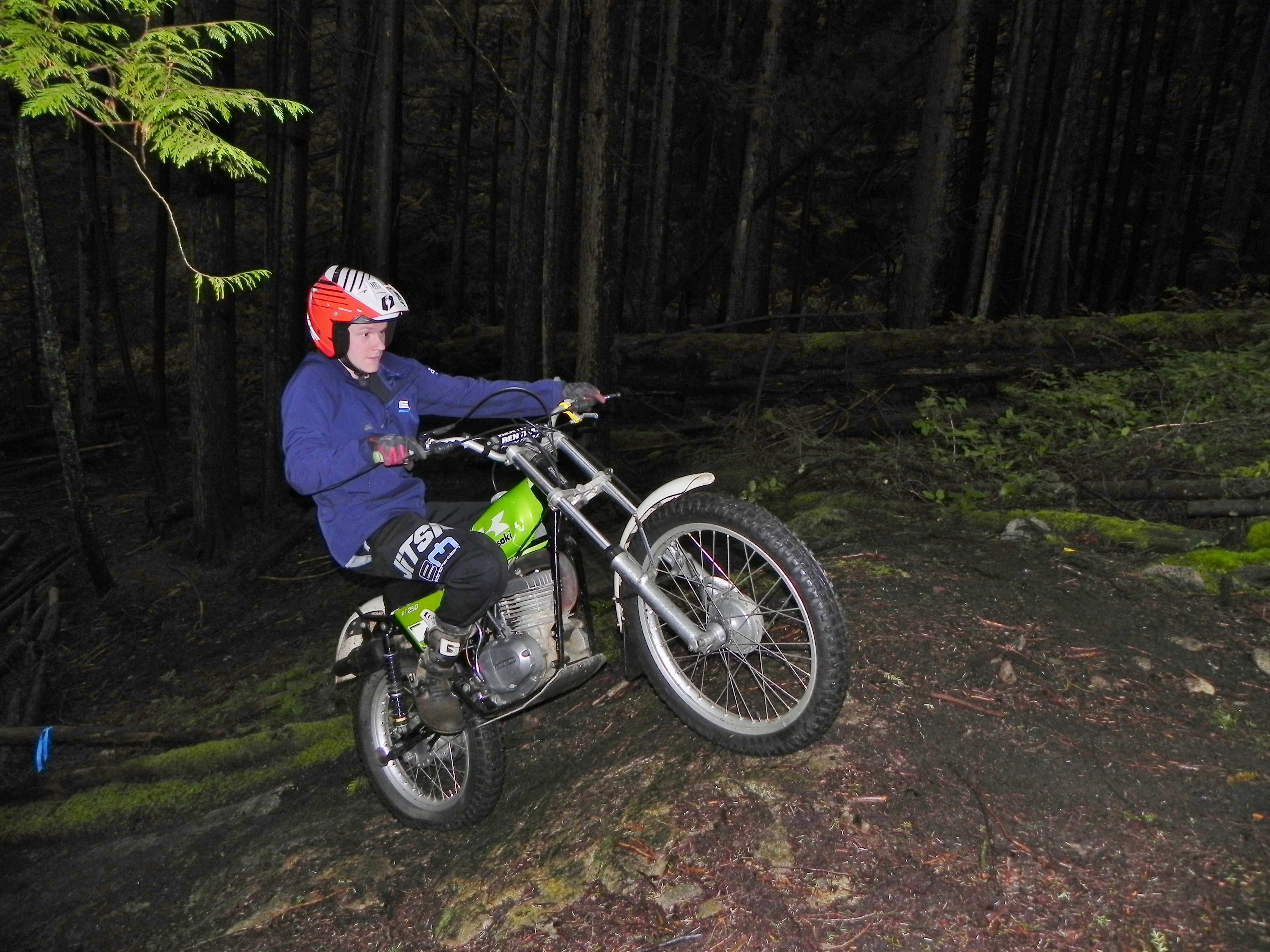 Brandon Schmidt - "Let the Good Times Roll"
Photos by Jeff Green. Results are posted
-Don Doerksen
Electronic Payment of Membership Fees:
Payment of membership fees via e-transfer is now available! See the updated for instructions.
TRS Motorcycles Trial:
It looked like a misty, rainy day as we made our way to the TRS Motorcycles Trial at Ioco on March 18, 2018. Half of last month's trial had been cancelled because of snow that made the Exp/Adv sections too dangerous. But any fears about a miserable rainy day disappeared right after the riders' meeting. The rain stopped, leaving perfect trials weather and some damp ground to keep a fellow honest. The Expert class was as tight as can be with just one point separating the winner, Alex Walton, from Sean Bird. The new Expert Support class had a good ride with just enough challenge and Ted McDowall leading the way. The Advanced and Senior 45 classes took quite a few points with Cam Collie and Carl Muller coming out on top. Intermediates and the Sportsmen rode the same lines, with Bob Todosychuk coming up with an amazing clean last loop to win Sportsman and Ian Carlson handily winning Intermediate. It was nice to see 5 Juniors out and Dave Carlson won in a high scoring event. It turned out to be a great day for a ride. Our next event is the Work Party on April Fools Day. That reminds me of my definition of trials: "It is how to look foolish at 5 miles an hour". See you there! Results are posted
-Don Doerksen
Beta Canada Trial Results:
On a snowy day in February, the Canada Pacific Trials Association managed to put on half of the Beta Canada Trial. Upon arrival at Ioco, it was rapidly determined that the 4 or 5 inches of snow was going to make it positively dangerous to attempt to ride the Advanced/Expert sections. So they were postponed. The Junior/Intermediate sections did not look too bad so those classes went off to ride. You can see by the scores that they took a fair few points at first but things got much better as the lines in the snow got broken in. Jason Miller had the low score for the day as his scores got better each loop in the Intermediate class. Bob Clark had just a few points more to win Sportsman and Jan Luedecke won Junior by a wide margin. The weather never did improve enough in the next few weeks to use the Adv/Exp sections so they were held over to be used in the March 18th trial. Our thanks to Beta Canada for their kind sponsorship of this event. Results are posted
-Don Doerksen
Beta Canada Trial Cancelled for Advanced/Expert Riders:
Due to the continued icy conditions at Ioco and the narrowing time frame for setting up the next trial, it has been decided that the Beta Canada Trial for the Advanced/Expert riders will be cancelled. Kirk's sections will be used for the TRS Motorcycles Trial on March 18.
2017 Club Championship:
Congratulations to the 2017 CPTA club champions: Alex Walton - Expert Roy Anderson - Advanced Don Doerksen - Senior 45 Sawyer Collie - Intermediate Bob Clark - Sportsman Dave Seifert - Junior Dave Bloxham - Vintage The standings are posted
The 32nd Annual Graham Jackson Memorial Trial:
Well, I have not had a trial day like this one in a long time. The 32nd edition of the Graham Jackson Memorial Trial took place on November 19, 2017. It was kindly sponsored by Mountain Motorcycle, the importer of TRS Motorcycles and a dealer for Beta. It took place on the Wet Coast at Ioco. And boy was it wet!! We have been blessed with good weather for our trials for a long time and this day was a bit of a surprise. There were even rivulets of water appearing out of the ground as we rode some sections. It looks like the cream still rises to the top though as Alex Walton came out 19 points ahead of 2nd place. Andrew Allen had a great ride to set the bar for the Advanced classes with Ted McDowall 10 points behind to win Senior 45. There were lots of dabs taken in the Sportsman class but Bob Clark managed to stay 2 points clear of Dave Fair and Dustin Labby took Intermediate honours. Dave Seifert won Junior again and Dave Bloxham had a decent ride on the Majesty to take Vintage.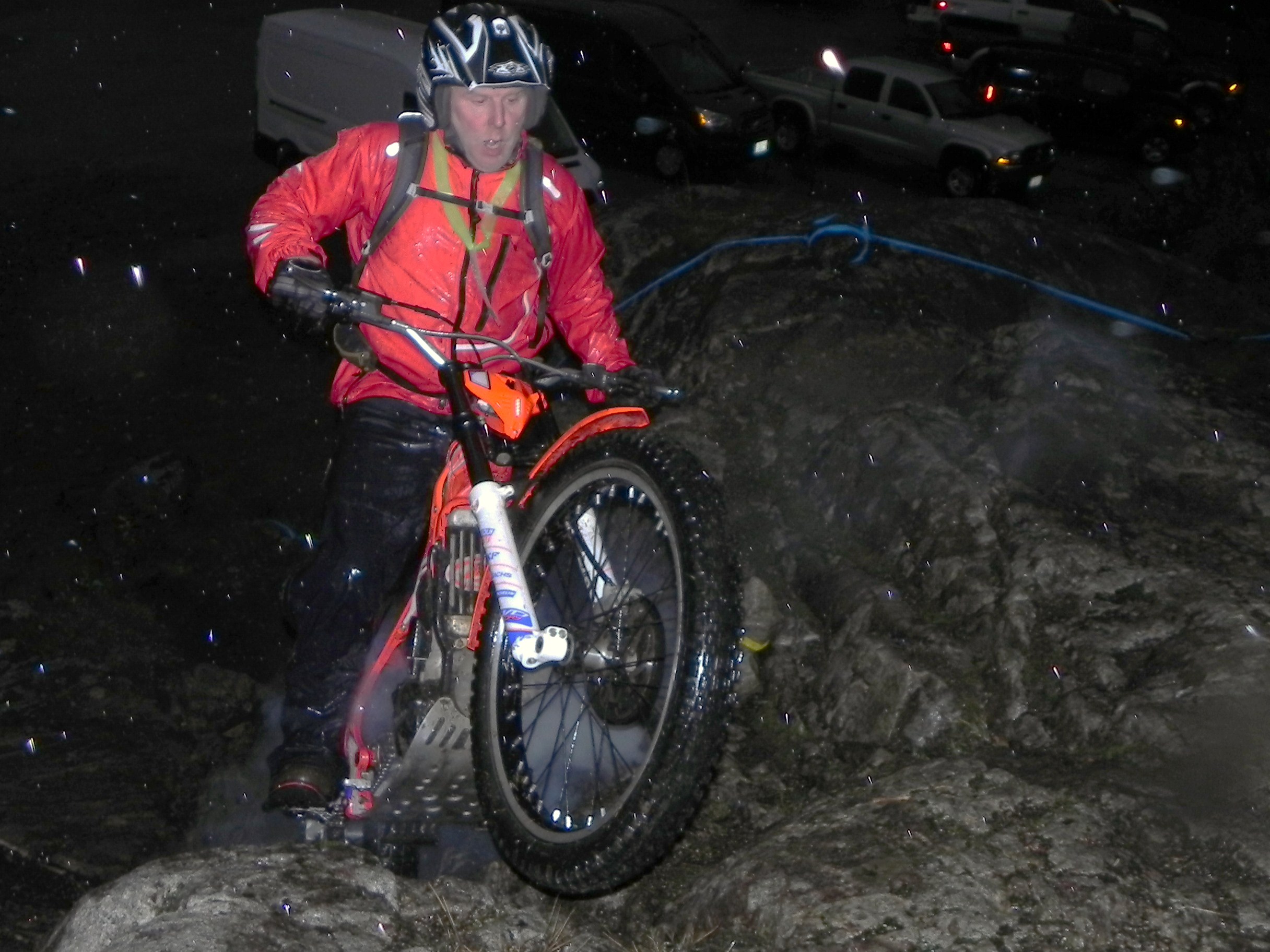 This picture of Ross Rathbone (long way to come for a rainy day) shows the difficulty of taking pictures on a dark and rainy day. It looks like he is riding at night in a snowfall but it is broad daylight and raining.
Photo by Jeff Green. Results are posted
-Don Doerksen
The MotoTrials West CMA Uhuru Trial:
The Uhuru Trial took place on October 15, 2017 at Ioco under beautiful sunny skies with 37 riders fortunate enough to get out for a ride. It was sponsored by MotoTrials West and our thanks to Dave Fair for that. The event was on the easy side for the Experts so any mistake was noticeable in the placings and Matt Fracy had a very steady ride to win with only 8 points. Carl Muller put in 2 consistent loops to win Advanced and Don Doerksen won Senior 45 with 2 consistent but larger loop scores. It seems that it was tougher for the Intermediate and Sportsman classes with some high scores for the average rider. Bob Clark won Sportsman again and Sawyer Collie is making a habit of winning Intermediate. Dave Seifert brought in 3 low loop scores to win Junior. results are posted
-Don Doerksen
The Honda Centre Fall Classic Trial:
The 2017 Fall Classic was put on by the CPTA on October 1, 2017. It was sponsored by The Honda Centre and the owner of The Honda Centre even made it out to watch. It was a beautiful sunny day and conditions were perfect for a ride in the woods. After the first loop it looked like the sections were on the hard side, but they were all cleaned eventually so I think Clerk of the Course Dave Craig got it just right. Bobby T won the Classic A by one point with a good steady ride. Classic B survivor and winner was Vic Castleton when his opposition had to retire with a back problem. Brett Clark got better as the day went on to pick up the Sportsman win and Brian Dye had 3 consistent low scoring loops for the Junior win.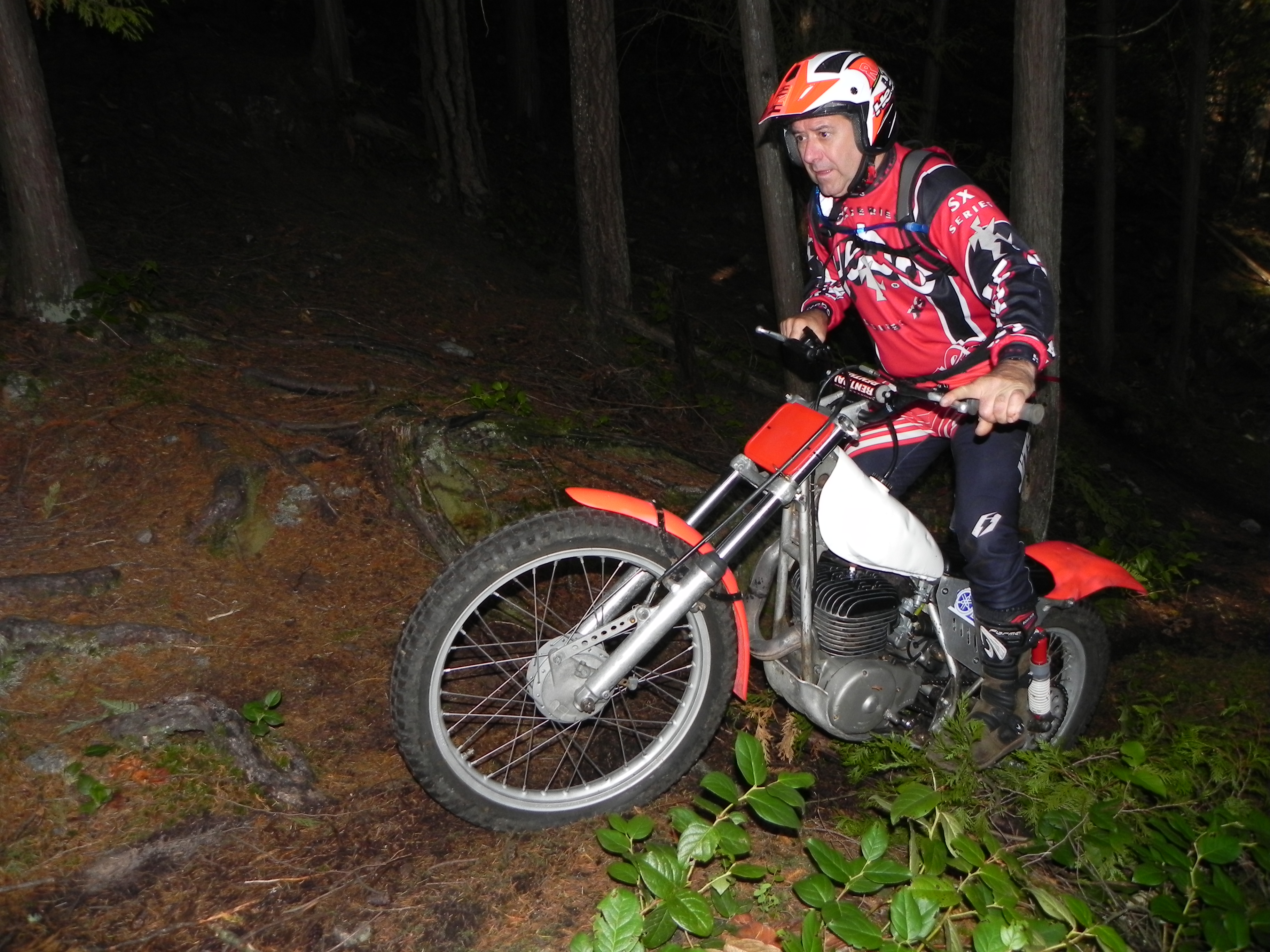 Bobby T on his Yamaha TY250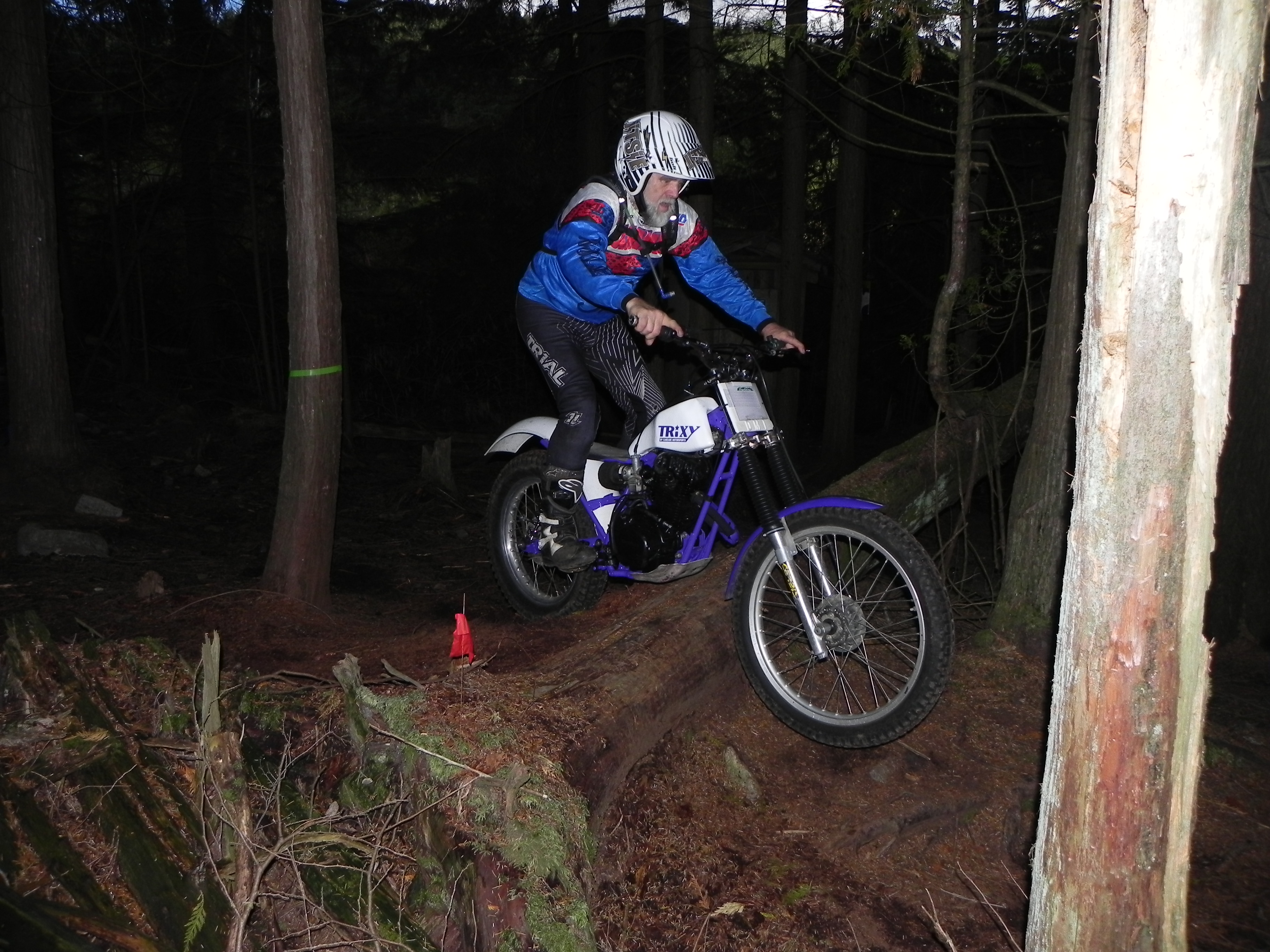 Don D on Trixy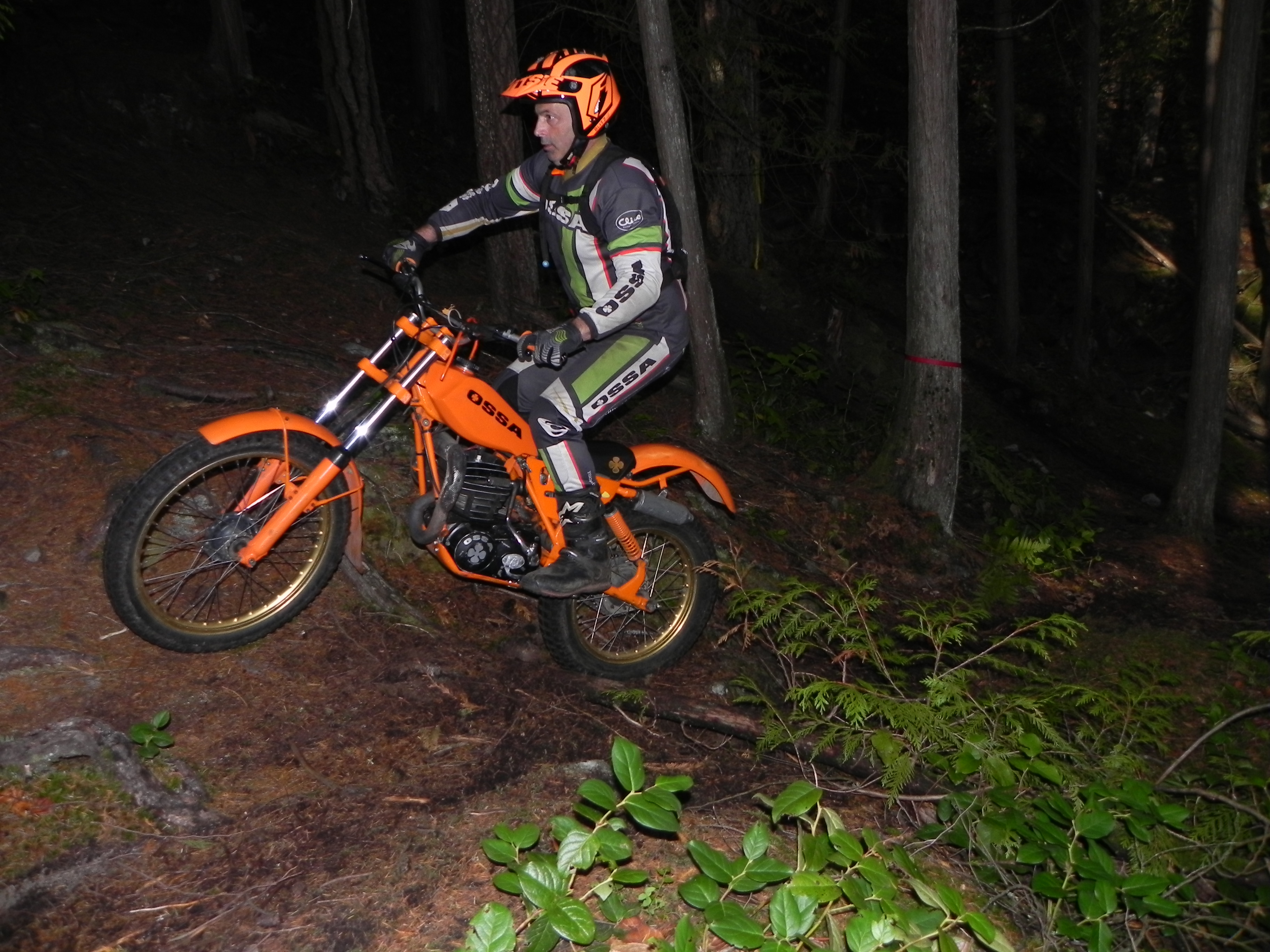 Krash on a 1982 Ossa
Photos by Jeff Green. Results are posted
-Don Doerksen
Cascade Iron Mountain Trial:
The CPTA held the Iron Mountain Trial in Mission, BC on September 17, 2017. The event was sponsored by Cascade Motorsports, who also supplied lunch to the riders halfway through the trial out in the woods. It started to rain just as the last riders finished, so the weather was just perfect on the day. The layout of the trial was a little unusual as all classes rode 20 sections and then rode the first 4 or 7 sections again, depending on which class they rode. Section 13 was closed for the Experts after the Advanced riders stirred up a wasp's nest, but I think that was the only danger of the day. Alex Walton continues to win in the Expert class but there was a tie on 23 points each for 2nd between Sean Bird and Stan Bakgaard that Sean won by one clean. Cam Collie had a great run in the last 7 sections to win Advanced and Ted McDowall was the class of the Senior 45 class. Sawyer Collie put the 125 to good use as he won Intermediate and Bob Clark beat his brother to take Sportsman. Peter Capstick came out after a long time away and won the Junior class. Big thanks go out to Mike Crumly for untold hours of trail work and to his girlfriend Laurie who made the lunch in the woods. Results are posted
-Don Doerksen
IOCO CLOSURE:
Ioco is closed to riding when the Fire Danger Rating is at Level 5 (Extreme). Check the rating for the before planning your ride.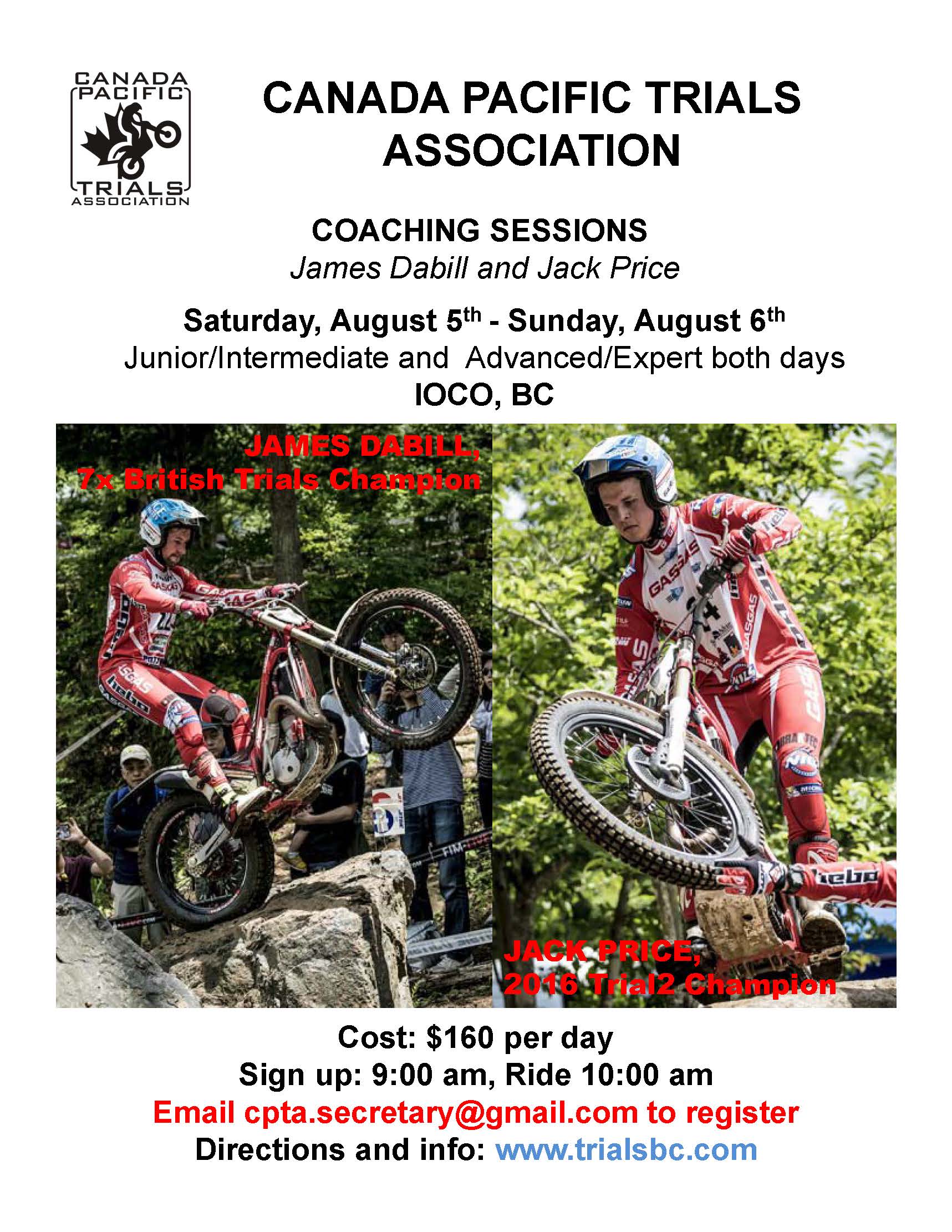 The Honda Centre CMA Squamish Trial:
The CPTA put on the 2017 Squamish Trial on May 28 in Squamish, BC. This event was kindly sponsored by The Honda Centre, a Honda/Montesa dealer in Burnaby, BC. It was a beautiful sunny day in the beautiful setting of coastal BC and 41 riders showed up to ride 9 interesting sections on a short loop. Section difficulty looks to have been just right and finally having dry (dusty) sections instead of mud was a nice change for the first time this year on the Wet Coast. Alex Walton was chased closely by Sean Bird but won the Expert class and Todd Nordin hardly bothered to put a foot down in Senior 45. Two Andrews ended up just one point apart with Andrew de Boer taking Advanced class. Brian Dye won Intermediate class and Bob Clark squeaked a win by one point in the Sportsman class. Starla Smeeth carried on her winning ways in Junior with a score less than half of that of her nearest competitor. It was a great day to ride and thanks to Spencer and the Squamish gang. Results are posted
-Don Doerksen
Team Squid Outlaw Trial at Ioco:
The CPTA held the Team Squid Outlaw Trial on April 23, 2017. The event was sponsored by Outlaw Trialsport and was the first in the Outlaw Series this year. The rain stopped just before the start of the trial and held off until near the end. There was lots of slippery available and scores did not generally improve on the 2nd loop. There were 2 loops of 19 sections for the Adv/Exp riders and 2 loops of 15 for the Jr/Int. That is a lot of sections to lay out and a big thanks goes out to Steve, Melissa and Dave. Alex continued his winning ways in Expert, Brandon did great on the EM in Advanced, and Todd showed up for the first time this year in the Senior 45 class and smoked us all. There was a high attrition rate in the Intermediate classes as many riders elected to do only one loop, but Greg and Bobby T. won Intermediate and Sportsman respectively. Starla Smeeth and Dave Bloxham were the only entrants in Junior and Vintage and finished the day to win their classes. 41 riders showed up for what proved to be a tough but good day's ride. results are posted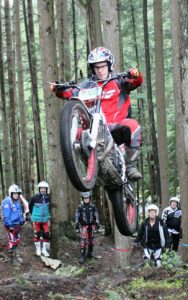 Andrew Allen catching some air on his Beta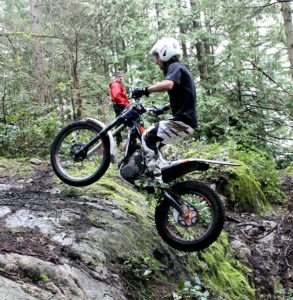 Stan Bakgaard making a clean exit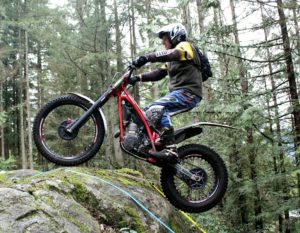 Billy D staying calm and collected
Photos by Dale Coull.
-Don Doerksen
Spring Classic Trial at Ioco:
The Canada Pacific Trials Association held the 2017 Spring Classic Trial on April 9, 2017. The day started out looking gray but the sun came out and the temperature and conditions were great. 23 riders showed up with 10 of them on vintage bikes. Only one of the vintage bikes failed to finish with a mechanical problem. I think that is above odds for a bunch of 30+ year old bikes that usually only get dragged out and ridden once or twice a year. The Junior, Intermediate and Sportsman riders rode their modern bikes on the same sections and, from the look of the scores, found enough places to take points. Bob Todosychuk was the class act of the day with a clean last loop to take Classic A. Vic Castleton had 3 low loops to win Classic B. Sportsman had the largest number of riders and Roy Anderson managed the low score in that class. Sawyer Collie was the sole Intermediate rider and Dave Seifert won Junior handily. Results are posted
-Don Doerksen
TRS Motorcycles Trial:
The second annual TRS Motorcycles Trial was held at Ioco on March 19, 2017 and was sponsored by TRS Motorcycles Canada. 40 riders showed up on a sunny day that started quite cool but warmed up very nicely. The sections dried out a little bit as the day went on but could easily get a few points if you did not concentrate. Alex Walton was back from the shows in China and a new bike was not a handicap as he won Expert. Roy Anderson and Don Doerksen won Advanced and Senior 45 respectively in sections that needed that concentration. Cam Collie improved enough as the day went on to win the Intermediate class (and beat his son). Bob Todosychuk looks like he is finally getting the hang of the TRS after a few years on the Yamaha twin shock as he won Sportsman with a few points to spare. Dave Seifert won the Junior class and Vic Castleton coaxed the Bultaco to the finish in preparation for the Classic Trial coming on April 9th. All in all it was a good day and it was really great to stand around in the sunshine afterwards. We actually had a winter here this year and it is nice to see Spring coming. Results are posted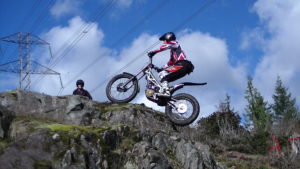 Steve Day getting a little air on the new Vertigo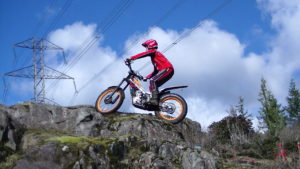 Christy Richards looking bright and colourful as she warms up to defend her US Womens title in a few weeks
-Don Doerksen
Demo Day:
Sunday, March 12 is the annual Trials Demo Day at Ioco. Anyone with prior experience riding a motorcycle is welcome to come out to the club and demo a trials motorcycle on a short loop of trail. Riders must bring their own riding gear (at minimum a helmet and boots that cover their ankles; gloves, knee pads and elbow pads are recommended). The event starts at 10 am and will run until about 3 pm. It is recommended to show up early as this event has been very popular in the past! Demo rides are by donation to the club (minimum is suggested). All riders must sign the club's waiver in order to participate. Mountain Motorcycle, Cascade Motorsports, and GasGas Pacific/MotoTrials West will be providing the demo bikes. Riders are responsible for any damage caused to the motorcycles - please ride within your ability. For a map to Ioco, go to the Club Info page.
-Melissa Andrist
2017 February Trial:
The CPTA held its first trial of 2017 on February 19 at Ioco, BC. 41 hardy souls turned out on a drizzly day for a hurriedly put together event. The area was under snow the previous weekend and the clerks of the course did a great job of laying out the event. Some of the sections got a little slipperier as the day went on so the scores did not really improve on the later loops. Bill Sparks appeared after many months away and showed the other experts what to do. Roy Anderson was many points clear of 2nd place in Advanced and Don Doerksen was chased home by Billy D but managed to win by 6 points in Senior 45. Just 2 points separated 1st from 2nd and 2nd from 3rd in the Intermediate class that Brian Pegg won. Bob Clark and Dave Fair tied on 2 points with 2 single dabs each and had to be separated on furthest clean in Sportsman. 5 Juniors and 2 Beginners showed up and Andy Blacker was the best of the Juniors while Roger Teggier was the survivor in Beginners. All in all a great day and hopefully a good end to winter.
-Don Doerksen
2017 Membership Fees:
Please note that effective for 2017, CPTA membership fees have increased to (Single Membership) and (Family Membership). The updated membership application form is available for download on the Club Info page.
2016 Championship Standings:
The results are now posted. Thanks to everyone for a great year of competition!
31st Annual Graham Jackson Memorial Trial:
The 31st annual Graham Jackson Memorial Trial, sponsored by Mountain Motorcycle, was held at Ioco on November 20, 2016. Thirty five riders showed up on a day that promised rain. In fact the rain held off until late in the afternoon and just got the slowpokes that took too long to finish. The sections seemed to get slipperier as the day went on as many of the loop scores got higher instead of better. Alex Walton was in a class of his own with Expert scores that defy belief. Dave Nunn cruised to the Senior 45 win and Mike (Krash) Crumly held on to lead Advanced. Vic Roberts had 3 consistent loops to win Intermediate and Bob Clark took Sportsman with only 5 marks lost. Dave Seifert took 6 points to win Junior and Colin Yarrow proved that you have to show up and finish to win in the Vintage class. All in all it was a great way to spend a day in November and now we can look forward to the Annual General Meeting and potluck dinner on Saturday, December 10.
-Don Doerksen
MotoTrials West Uhuru Trial:
T'was a grey and cloudy day in October when the CPTA put on the Uhuru Trial at Ioco, BC. This event was sponsored by MotoTrials West, the Canadian importer of Vertigo and a dealer for Gas Gas and Scorpa on Vancouver Island.
Uhuru
is the Swahili word for freedom. In this case it means feel free to slip, slide and push a little. Sections got harder in some cases as the mud came out and anyone who lowered their score on later loops was working for it. Alex Walton continued his winning ways in Expert. Brandon Schmidt and Dave Nunn were the Adv and Sr Adv winners and Greg Patrick and Bob Clark were looking good in the Intermediate and Sportsman classes. The Smeeth girls were the class of the Junior class with Amalina taking only 1 point on the last loop. Dave Bloxham on the Majesty had a nice quiet day out as the only Vintage rider. This event was also the final CMA provincial event and those riders who are CMA members should be able to look up their final standings in a few days.
-Don Doerksen
CPTA Fall Classic Trial:
The Canada Pacific Trials Association put on the Fall Classic Trial on October 2, 2016. A nice sunny day greeted the 25 riders that dusted off the old bikes or rode modern bikes on the same sections. Bobby T started taking points on Section 3 with a 5 but only took one other point on the day to win the Classic A. Mike Crumly had a ride on the Orange Ossa and won Classic B as the only rider. Bernard Vaillancourt had a near perfect ride to win Sportsman with only 3 points. Intermediate Vic Roberts took 27 points to win and Clinton Wong beat Erin Evans by only one point to take Junior.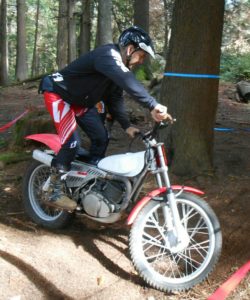 Classic A winner the "Old Pro" Bobby T.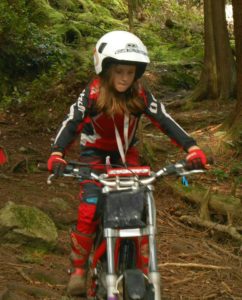 Junior Starla Smeeth concentrating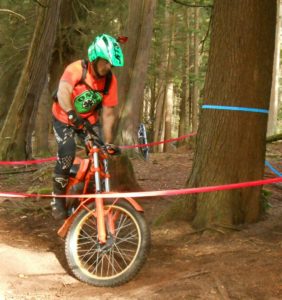 "Krash" Crumly looking orange (it is pumpkin month!)
Photos by Dale Coull.
-Don Doerksen
Cascade Iron Mountain Trial:
The Iron Mountain Trial took place on September 18, 2016 at a new location for trials in Mission, BC. It was sponsored by Cascade Motorsports, the importer for Scorpa in Canada. The weather turned out perfect as the sun shone on a day that was sandwiched between two very rainy days. Juniors was won by Amalina Smeeth. She took less than half the points of the 2nd place rider for a total of 14 points. Ryan Dey won Intermediate on a new-to-him Ossa, and Bob Clark led the Sportsman class. The Advanced/Expert loop was not too far around but was energy sapping. Especially if you had to push your way up the hill climb (Section 2), which some of us did! Brandon Schmidt won Advanced on the EM5.7. Dave Nunn showed off in Senior 45 with a 4 point last lap (3 of which were on that hill climb). Alex Walton cleaned up in Experts as he took less than half the points of the others. Melissa Andrist gets the Crash of the Day Award. I thought I would get that after going rump over tea kettle and landing on my head but she was going home with blood on her face and that trumps me.
-Don Doerksen
Fire Danger Rating and Ioco Closures:
This is a reminder that with the recent hot, dry weather to please keep an eye on the fire danger rating before you plan to ride at Ioco. When the fire rating is at 5 (Extreme) for the Coquitlam station, we ask that you do not ride at Ioco.
You can check the fire danger rating by clicking on the link below and scrolling down to COQUITLAM (GVRD): CPTA Squamish Trial and Round 1 of the CMA Provincial Championship Series:
The 2016 Squamish Trial was held in Squamish, BC on May 15, 2016. It was both a CMA Provincial event and a CPTA club trial. The riders were treated to perfect spring weather which was dry and not too warm. The Experts had 10 very challenging sections on large granite slabs with dry (fortunately) moss in places. Alex Walton had 2 consistent loops to easily take the Expert win. Andrew Allen and Ted McDowall took the Advanced and Senior 45 classes with low scores that belied the "interesting" sections laid out for them. The tightest scores of the day were in the Sportsman and Intermediate classes. Bob Clark and Bob Todosychuk were tied on 2 points each and had to be separated by who went furthest clean in the Sportsman class. Then Roy Anderson and Ted Blow had to go to "ones" to separate them for third place. AJ Taylor won the Intermediate class by 2 points over Steve Foreman, but 3rd place had 3 people tied on 14 points with Jason Miller taking 3rd by 2 cleans.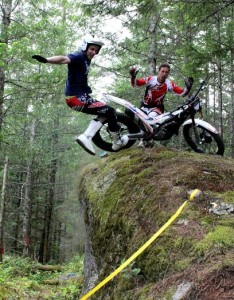 Matt Fracy not quite making the splat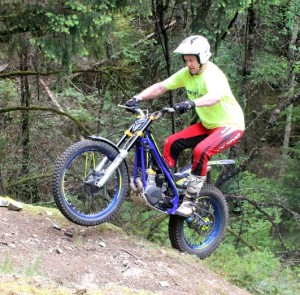 Steve Fracy out for a rare appearance in a trial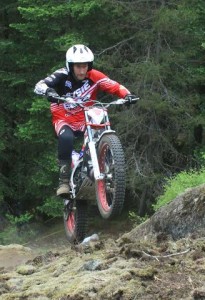 Alex Walton gets some air on a mossy uphill rock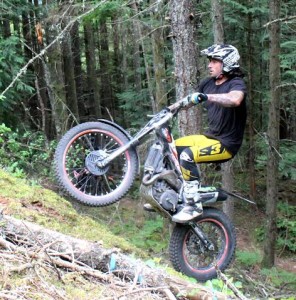 Sean Bird looking ahead
Photos by Dale Coull.
-Don Doerksen
WTC Team Squid Outlaw Trial at Ioco:
The WTC sanctioned/Outlaw Trialsport sponsored Team Squid Trial took place on Sunday April 17, 2016 at Ioco, BC. It feels like summer has come early this year and we had a very warm and sunny day. After the cool and rainy days that we are used to, the weather was a pleasant surprise. I just have to remember to drink more! The Advanced/Expert loop was 19 sections twice and some of the sections were quite challenging. It was very close in the Expert class with only 2 points separating the winner, Brandon Wince from Alex Walton. In Advanced class, Todd Nordin was only 3 points better than Ricky Styles at the end. Ten riders showed up for the Senior 45 class and it was not a close result there. Dave Nunn was 20 points better than 2nd place. Sportsman had 12 riders and Bob Clark made it look easy with 2 clean loops and one 5 to complete the day. Koltan Morrison and Sawyer Collie handily won the Intermediate and Junior classes. It was back to being a tight contest in the Vintage class where Vic Roberts claimed the win by 3 points. A total of 50 riders showed up, with 20 from Washington State, the BC interior and Vancouver Island for a great day of riding and a good start for the Outlaw Series.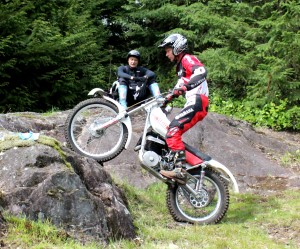 1st place Vintage winner Vic Roberts on the Yamaha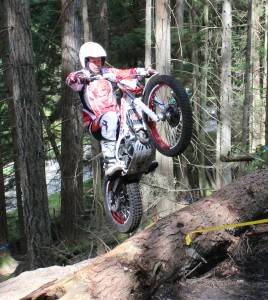 Expert winner Brandon Wince launching over a log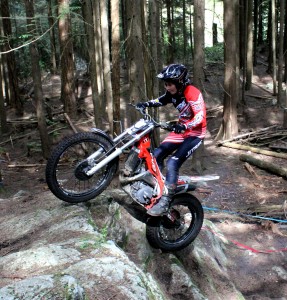 Melissa Andrist cresting a rock face
Photos by Dale Coull.
-Don Doerksen
Spring Classic Trial at Ioco:
The CPTA put on the 2016 Spring Classic Trial on April 3rd at Ioco. It was a perfect sunny day and Guy Smeeth and his daughters did a great job of making it interesting but not too hard. In Classic A, Greg Patrick was well in the lead after 2 loops but had a horrible 3rd loop and came 2nd behind the Old Pro Bob Todosychuk. Dave Bloxham had a great day on the Majesty with single digit loop scores to take Classic B by a wide margin. Cam Collie rode with the Sportsmen and got half the score of his nearest competitor and Cam's son Sawyer had a tight battle in Junior to take 2nd place. Jason Miller took Junior with his 1st loop being the only clean loop recorded on the day.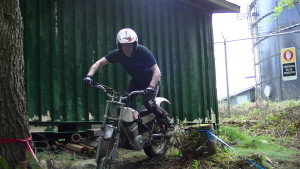 Classic B winner Dave Bloxham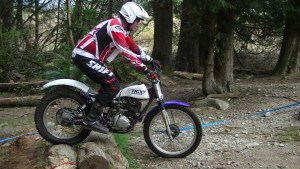 Robert Trottier came all the way from Penticton to ride Trixy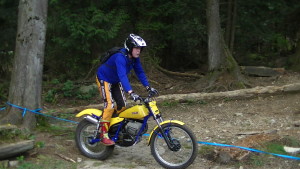 Ron Walsh exercising his nicely restored SWM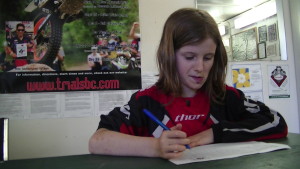 Starla Smeeth checking scores!
Photos by Dale Coull and others.
-Don Doerksen
1st Annual TRS Motorcycles Trial at Ioco:
The TRS Motorcycles Trial was put on by the CPTA and sponsored by TRS Motorcycles Canada on March 20, 2016. It was a rainy day at Ioco and some of the sections became very slippery. Alex Walton won the Expert class quite handily as his main competition had a very difficult first lap. Christy Richards has been riding the Expert class in order to get ready for the US Nationals and she had a pretty good ride on a tough day. The Advanced class was given a lesson in what smooth and consistent riding looks like as Kirk McDowall only took 2 points all day. Brandon Schmidt did well to finish 3rd with a damaged left footpeg. In Senior 45, Carl Muller was really only troubled by the last section on his way to the class win. The sections seemed to have been very difficult for the Junior and Intermediate riders as some rather large scores were tallied. Bob Clark won the Sportsman class to give the only TRS motorcycle in Canada its first win. The Juniors elected to ride only one lap and Jason Miller came out on top there. The Vintage riders that often ride the Intermediate sections wisely decided to use Junior lines this time and Greg Patrick purred around to take the win on his Honda Reflex.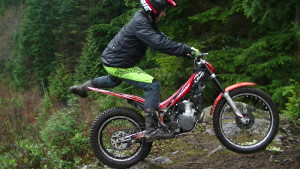 Kirk McDowall styling his way out of the last section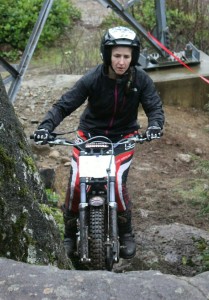 Christy looking determined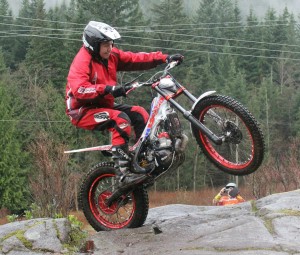 Bill Sparks cresting a step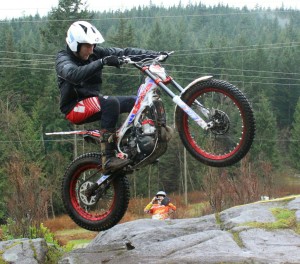 Alex Walton flying up a step
Pictures courtesy of Dale Coull.
-Don Doerksen
Trials Demo Day at Ioco:
The annual Trials Demo Day is this Sunday, March 13 at Ioco. Sign up starts at 10 AM. Don't forget the clocks move ahead 1 hour on Saturday night. A number of local dealers will be at the event with different models of bikes to try out. Riders must have some type of motorcycle riding experience and bring their own helmets (motorcycle helmet preferred but bicycle helmets are ok) and boots that cover their ankles. Gloves and elbow and knee pads are also recommended. Demo rides are by donation to the club (a minimum donation of is suggested) and all riders will have to sign a waiver to ride the bikes. Minors will require a parent's or guardian's signature. A closed loop of easy trail will be marked for riders to follow. We will also have a BBQ at the event - food and drinks by donation. Proceeds will be split, with half going to the club and half supporting Jeff Anderson's trip to compete in the UCI Bicycle Trials World Cup and World Championships in Europe. If you have motorcycle riding experience and are interested in trying a trials bike, come out to this event! Be sure to get there early - this is the CPTA's 4th year hosting this event and it gets more and more popular every year. For anyone unfamiliar with the riding area, a map to Ioco is available on the Club Info page. Follow the signs to Belcarra Park and then take the turnoff to the Burrard Thermal Plant - the yellow gate to the staging area is on the left and will be open to the public.
-Melissa Andrist
February Trial:
The Canada Pacific Trials Association put on its first event of 2016 on Feb. 21. It was a nice spring like day with dry, almost sunny weather to start that turned to windy and rainy for those that were a little slower to finish. Matt Fracy laid out 10 sections for the Expert/ Advanced riders. Only one section was not cleaned (on the Exp. loop) so the tantalizing possibility for the clean was always there. Alex Walton put in a good first loop score that carried him through for the Expert win. Brandon Schmidt got the Adv. win on the Electric Motion and Don Doerksen just sqeaked a win in the very competitive Senior 45 class. Scores were low in the Sportsman class with Bernard Vaillancourt winning by one point with a score of three! The Junior riders had the benefit of a minder riding with them for the first loops and Sawyer Collie only took one point all day. After the trial, Dave Fair stayed around and offered test rides on the new Vertigo for those that still had some energy left.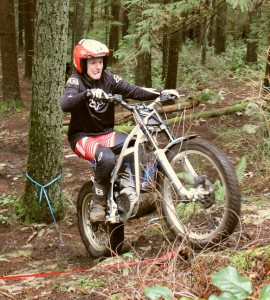 Brandon Schmidt looking very determined on his way to a first electric trials bike win at Ioco.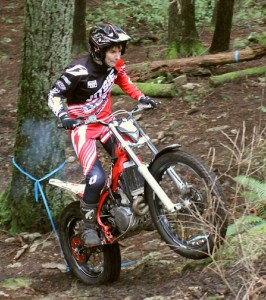 Melissa Andrist looking stylish on her first ride in the Advanced class.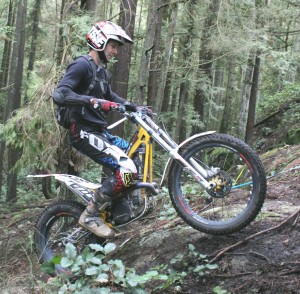 Cam Collie smiling on a nice days' riding.
Photos by Dale Coull.
-Don Doerksen
Mountain Motorcycle 30th Annual Graham Jackson Memorial Trial:
Mountain Motorcycle sponsored the CPTA's Graham Jackson Memorial Trial on November 15, 2015 at Ioco. There was a good turnout of 34 riders and the sun came out for a perfect day after several days of heavy rain. That meant that the sections were slippery and could surprise you in a few places. Bill Sparks showed that he was still the best in those conditions, winning the Expert class by 6 points. Oliver Blow and Dave Nunn came over from Vancouver Island to win the Advanced and Senior 45 classes. Pat, Melissa, and Brent laid out the Jr/Int sections and had fairly close scores in Intermediate. The Sportsman class had 12 riders, but Skip Parker almost forgot to put his feet down to win the class handily. The tightest contest was in the Junior class that was decided on cleans. According to his Dad, Sawyer Collie was determined to win, and so he did with 7 more cleans than Dave Seifert. Check out his form in the picture by Dale Coull.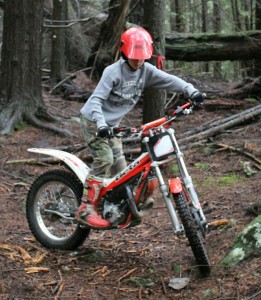 Sawyer Collie in Section 5
-Don Doerksen
Uhuru Trial and CMA Provincial - Bill de Garis and Brandon Schmidt:
The Uhuru Trial happened on October 18, 2015 as a combined CMA and CPTA event. It was the final event in the CMA Provincial Championship. It was a cool but dry Fall day to start but as we rode and got warm, there was a light misting of rain to keep us cool and make the sections more interesting. The Juniors had relatively easy sections that rewarded concentration and consistency. Kyle Tremblay won with only one dab. Melissa Andrist and Bob Clark were best on the Intermediate sections in their respective classes. The scores after them were very close with just a point apart or tied and needing to go to cleans. Christy Richards smoked everyone on the Advanced lines and Carl Muller was smooth and consistent to win the Senior 45 class. Of note in the Senior 45 class is that Bill de Garis placed third on the day after his 74th birthday (Christy made cupcakes). The news in the Expert class was that Thomas Cordner did not win. It all came down to the last section in the parking lot which had a large rock face that most experts splattered. Alex Walton won by 2 points.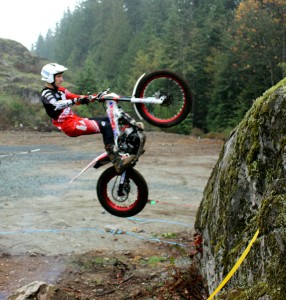 Alex Walton in flight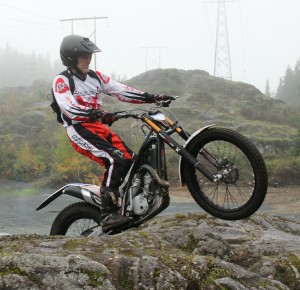 Birthday boy Billy D
Pictures by Dale Coull.
-Don Doerksen
Fall Classic Trial - Dave Craig:
The Canada Pacific Trials Association put on the Fall Classic Trial on Oct. 4, 2015 in beautiful sunny weather at Ioco B.C. The Classic Trial is for air cooled twin shock bikes in the classic classes and Intermediate and Junior riders on modern bikes. There were 11 sections to be ridden 2 or 3 times depending on the class. A few clean loops were recorded in various classes and I think that the level of difficulty was just right. The scores were only 1 point apart for the first 3 places in Classic A so every point really counted. Vic Roberts only took 3 points all day to win the Classic B class. Pat Greenan and Skip Parker were only 1 point apart riding the same lines and winning their respective classes. Starla Smeeth soldiered on for 3 loops as the only Beginner to ride. Results are posted to the Results page.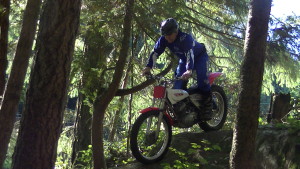 Classic A winner Bob Todosychuk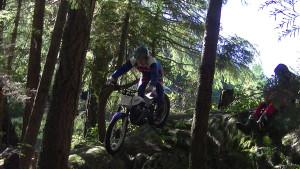 Don Doerksen on Trixy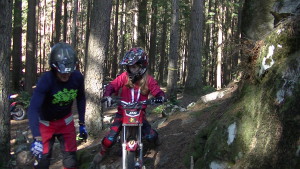 The hard-working Starla Smeeth and Coach Dad
Photos courtesy of Dale Coull.
-Don Doerksen
Cascade Motorsports Blue Mountain Trial - Don Doerksen and Ted Blow:
The 2015 Blue Mountain Trial, sponsored by Cascade Motorsports, took place in Maple Ridge on September 20th. It was a grey and rainy day to start but dried out as the day went on. I put up the ribbons for the sections on the previous Monday and it was all dry and looked like it was going to be a low scoring event. Then came a few days of rain and wind, so it was like being a 5 year old boy again. Get your boots full of water and go stomping through the puddles. When we got to section 7 we had to get out the bush saw and cut through two trees that had fallen down. I think that the rocky sections were actually easier to ride than when they were dry but green. But the sections with moss and dirt were much more slippery. Bill Sparks showed that he still knows how to put in a nice smooth ride as he won the Expert class. Guy Smeeth just squeaked a win on cleans on the Advanced lines. Bob Clark was pushed to the end by Bob Todosychuk on the old Yamaha twinshock but managed to win the Sportsman class by 3 points. Roy Anderson won Intermediate by 3 points and Greg Patrick took a very consistent 2 points a loop to win in Vintage. Nice day if you don't mind a few puddles!
-Don Doerksen
Sunday, September 27 - Annual Junior / Intermediate Trials School and Social at Ioco
Hosted by Ron Walsh. The trials school is free for club members and by donation to the CPTA for non-members. Practice sections will be set up in the staging area and some of the CPTA's more advanced riders will be providing informal instruction to Novice/Junior/Intermediate riders. Osets will be available for kids to try out courtesy of Popkum Motor Park. Kids will need to bring their own helmet and boots. All riders will be required to sign the CPTA waiver. Sign up starts at 9 AM and the riders' meeting is at 10 AM. This event is for you if you would like some tips on the trials basics like turning, peg weighting, body positioning, and choosing lines. This is a social event as well - come out and spend the day at Ioco! Friends, family members, and kids welcome. ---------------------------------
Hey trials riders!
The Blue Mountain trial is this Sunday, September 20 in Maple Ridge. The trial will be hosted by Don Doerksen and Ted Blow and is sponsored by Cascade Motorsports. Sign up is at 9 AM and the riders' meeting is at 10. Ted has set the Junior and Intermediate sections on two separate loops with one shared section. Junior sections are marked in red and Intermediate sections are marked in black. Riders will merge onto the same trail for parts of their loops.
Beginner / Junior riders:
You will be riding a short loop (about 1.5 km) of 8 sections. Riders will complete 2 or 3 laps depending on timing. The loop is the same as last year's but run backwards. Sections will focus on the basics, so practice your turns! Beginner riders will ride the same sections as Juniors but only have to go through the In and Out gates, taking any line in between regardless of ribbons.
Intermediate / Sportsman / Vintage riders:
You will complete 2 laps of 9 sections on a longer (3-4 km) loop. Ted has built some brand new sections, and nothing should be too difficult.
Advanced / Senior 45 / Expert riders:
Don's loop has 10 sections, to be ridden 3 times. About half of them are rocky creek-type sections. The loop is short and Don figures it should be a low-scoring trial.
Directions:
Take Dewdney Trunk Road into Maple Ridge and turn onto 256 St heading North (you'll see a sign for the Fraser Correctional Center). We will be set up in the industrial complex at 14301 256 St. You can either park inside the complex or on the street. Link below to Google Maps:
Cascade Motorsports:
Don's shop is located at 32851 London Ave. in Mission (across the highway from Mission raceway). Cascade is an official dealer of Kymco, Midwest, GasGas, Scorpa and Montesa and can provide parts, service, and accessories for most brands of bikes. Here's a link to the website: To ensure we do our part to protect the riding areas we are so fortunate to enjoy, we ask that all members and guests refrain from riding gas-powered motorcycles during those times that the BC Wildfire Hazard is rated as
EXTREME
(Level 5). Conditions can change daily so all members are asked to check with BC Wildfire before you head out. You can find the current conditions at > (Coquitlam region) or simply click on the attached map to view the most recent update.
So remember
, if the BC Wildfire danger rating is
EXTREME
for the Ioco area,
DO NOT GO RIDING
. Thank you for your understanding and cooperation.
BC Wildfire Hazard Ratings
2015 Staging Area Improvement Project:
Our major staging area improvement project is now complete. The road is much improved and there is significantly more parking space available so no reason to park on the road. There is still some hand work to be done here and there so if you feel inclined, there are tools and a wheelbarrow in the club house. Many thanks to Wilson Craig for helping out in a big way. Try to keep the donuts down to a minimum.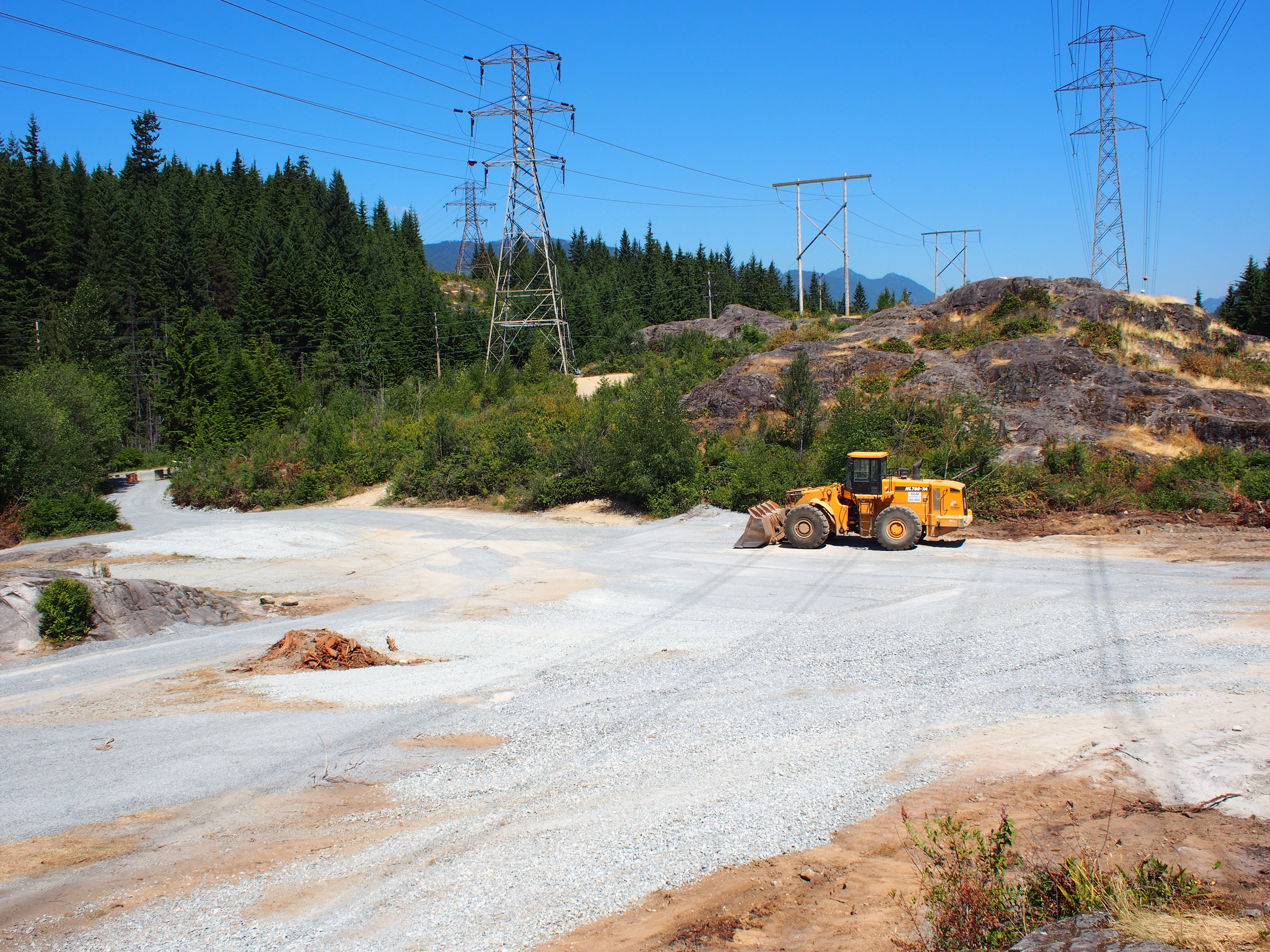 Squamish Trial, June 14th, Spencer Fitschen and Chessy Knight
The Canada Pacific Trials Association held a trial in Squamish on June 14 at Crumpit Woods. It was also one of the 3 rounds of the CMA Provincial Championship. There was a great turnout of 56 riders on a very hot and sunny day. It was not a day to make a mistake as the scores were quite low though the sections had enough challenges to take points. There were a lot of big granite rocks to play on that had plenty of grip, thanks to the dry weather.
Don Doerksen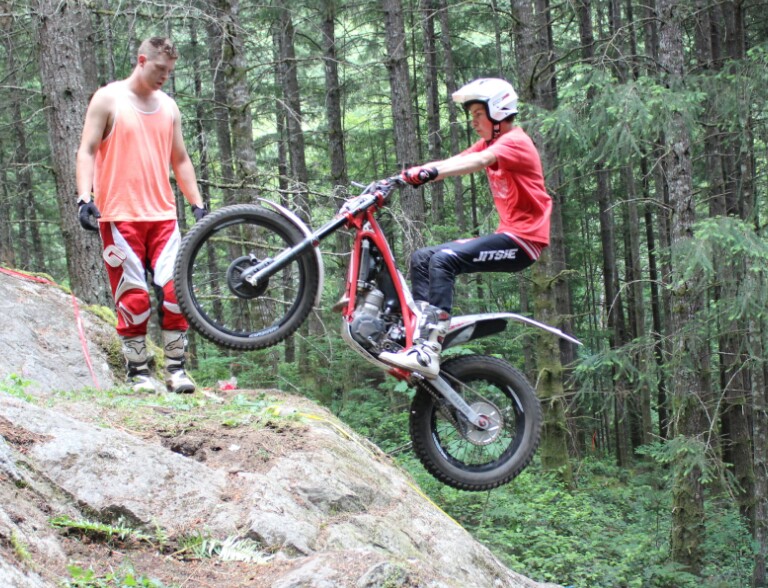 Brandon Volk being spotted by the Expert winner Thomas Cordner.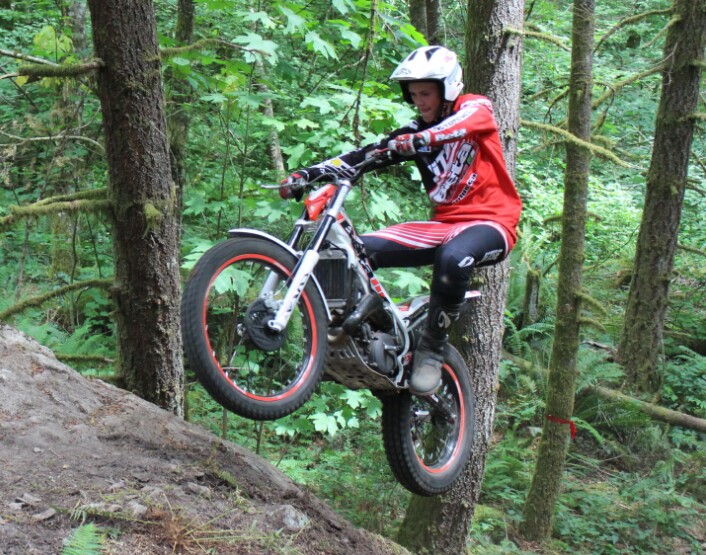 Tanner Nordin teaching his Beta how to fly over granite.
Beta Trial, May 24th. Ted McDowall, Melissa Andrist, Pat Greenan
The CPTA held the Beta Trial on May 24 under cloudy skies. It was warm and muggy with very dry conditions. Thirty three riders showed up and in the Expert class, it was Bill Sparks showing the younger riders how to ride. Scores were very tight in the Senior 45 class except for the winner, Ted McDowall, who just plain forgot to put his foot down the vast majority of the time. From the look of the scores, it was a tough day for the Intermediates and Juniors but all the Vintage bikes finished so that could not have been too bad.
Don Doerksen
Squid Trial at Ioco, April 19th. Steve Day and Chris Walton
Hats off to Chris Walton, Steve Day and the weatherman for a spectacular day at Ioco. Just one week after our Spring Classic Trial, the Club hosted our April Squid Trial. It felt like a pleasant day in June with warm temperatures and dry conditions providing great traction. Chris Walton proved you can put together a challenging Intermediate course with minimum exposure and few "do or die" components making for a very enjoyable day for Juniors, Intermediates and Sportsmen. Intermediate class was closely contested with only four points the difference between first and fourth. Pat Greenan was the eventual winner with one point less than Melissa Andrist. David Dobson was one point back in third and Brent Anctil a close fourth place. Intermediate scores reflected a well thought out event taking just over one point per section average for the winner. Bob Clark had a really solid ride to win the Sportsman class with an impressive two points per lap or six points over 39 sections. Bob Todosychuck and Skip Parker rounded out the Sportsman podium. Top Junior was Brandon Shmidt followed closely by Dave Siefert. Steve Day took advantage of the dry conditions and made things challenging for the Advanced and Expert riders. Brandon Wince was the premier rider in Expert with a convincing win over Alex Walton. Kirk McDowall was first in Advanced and Bill Sparks was the winner in Senior Advanced. All results can be found on the results page.
CPTA Spring Classic Trial a success.
April 12th the CPTA held their Spring Classic Trial. This event has classes for Vintage A and Vintage B riders as well as Juniors, Intermediates and Beginners on modern bikes. The weather was mixed as it started off dry and sunny but deteriorated through the day with an unusual appearance of hail. Guy Smeeth, host of the event, put together 11 sections over a relatively short, well marked course set up to accommodate beginner and junior riders. All riders rode the same sections with well defined A and B lines. The junior course was almost a perfect mix of terrain and degree of difficulty. Top Junior Brandon Schmidt showed good control and poise only giving up 2 points throughout the day. He will be ready to move up soon. Winner of the Vintage A class (there were no Vintage B riders) was Bob Todosychuk with a remarkably low 7 points clearly winning over Bob Clark with 23. Nice to see our Beginner class winner Starla Smeeth completing all three laps for a win. Thanks to Guy for hosting.
CPTA DEMO DAY, MARCH 22:
From our club Secretary Melissa Andrist:
The March 22 demo day starts at 10 AM and will run until about 3 or 4. Demo rides are by donation and there will be a number of different models and displacements available, including electric Oset bikes for kids. The event is usually very well attended so I recommend getting there early if you can. Once you've signed up (you'll need to sign our waiver), we'll set you up with a bike. You will need a helmet (bicycle helmets are ok) and boots that cover your ankles. We also recommend gloves and elbow/knee pads if you have them. We will have 2 loops set up - one for very novice and Oset riders, and another Beginner- to Junior-level one (still easy but with a few more obstacles). Volunteers will be available along the loops if anyone needs help. Our riding area is located near the Burrard Thermal Plant in Port Moody. You can find a map to Ioco on our website, or by searching for "Canada Pacific Trials Association" on Google Maps.
CPTA Donation to Canadian Cancer Society:
We received a nice thank you from the Canadian Cancer Society for our donation for 2014. Thanks to all our members, guests and competitors for your contributions to this worthy cause.
CPTA March Trial:
The CPTA March Trial on March 15 started out cloudy but dry and ended up with steady light rain by the end of the day. In spite of that the sections (which were mostly under the trees) actually seemed to get easier as the day went on. Or maybe we just figured out how to ride them? The beginner course attracted 7 entrants and, from the scores, seemed just the right difficulty. The Juniors and Intermediates appear to have had a bit more of a trial in both senses of the word with some high scores and weary bodies at the end of the day. Bill Sparks held off the young guns again for the Expert win and Carl Muller had the best ride of the day on the Advanced classes.
Don Doerksen
CPTA February Trial:
Riders enjoyed remarkable spring like conditions at our February Trial. Warm, dry weather helped riders in the Junior and Intermediate classes navigate a very technical course with many longer sections. Juniors and Intermediate courses were shortened to two loops as most riders were challenged to keep on schedule. Sportsman riders completed three loops of the 12 sections. Thanks to Alex Walton, Brent Anctil and Brian Pegg for hosting this event. Results are posted on the results page.
New Year 2015:
2015 has arrived and there is lots of activity at the club as we enjoy warm temperatures for January. Is it just me or is trials becoming more popular? It seems like new riders and bikes showing up on a regular basis and demand for used bikes is very high and short supply. New Betas should be arriving soon and that might result in some good used bikes coming up for sale. I am surprised to see so many new brands appearing. Jotagas, Vertigo and TRS are three I have heard about and teaser pictures look exciting. It will be great to see some of these new offerings in real life. Scorpa has a totally revamped lineup for 2015 which looks very promising and the perennial favourites, GAS GAS, Beta, Sherco, Ossa and Honda all have solid products making the choice for riders difficult as no one brand seems to have a big edge on the others. It is interesting to see Honda appearing to move Montesa out of the picture leaving one to wonder the fate of Montesa. Will the brand just disappear? All said and done, trials enthusiasts have more great choices than ever and it seems that you can't go wrong with any of the fine bikes currently offered. The gate key will be changed the day of our first event, February 15th. Make sure you update your membership and pick up your new key so you are not left to park out on the street. Speaking of parking lots, please remember to close and lock the gate when coming and going (except on event dates). Nobody should be parking in the lot if they don't have a key unless it is an event day or they are the guest of one of our members. With all the unattended vehicles parked there we also want to discourage random visitors and it can become a problem if a non-member gets locked in.
2014 Events and Announcements:
Graham Jackson Trial, November 16th:
Results are posted.
Uluru Trial, October 18th.
Results are posted.
Fall Classic Trial, October 4th.
This year's Fall Classic was held under mild, fall conditions at Ioco. Thankfully there was no rain as the sections were quite technical as one can tell by the scores. Although challenging, Dave Craig took care to minimize risks and in some spots provided optional lines that would likely force a dab or two but would reduce the rider's exposure. Well thought out! Kyle Mortensen was the standout winning the Intermediate with only 10 points, the lowest total of the day.
Blue Mountain Trial, September 21st.
The third Sunday in September brought unseasonably warm, sunny conditions to Blue Mountain in east Maple Ridge. There was a good turnout, especially in the Sportsman and Junior classes. The Junior/Intermediate course was shorter than in previous years and it made for a pleasant walk for spectators. Sections were tight and anything but precise choice of lines resulted in points. Thanks to Don Doerksen and Ted Blow for hosting the event and to Dale Coull for scoring. Results are posted on the results page.
Cascade Cultus Lake Trial, August 24th.
Fun event held on a beautiful, privately owned parcel of land just southeast of Cultus Lake. The entire event took place in a length of riverbed with sections featuring lots of rocks of all shapes and sizes along with a few logs to make things interesting. Quite a change of pace from the often well compacted terrain at Ioco. Thanks to the organizers and especially to Fred, the landowner, who has spent countless hours developing this property into a great venue for trials. Find the results from the Cascade Cultus Lake Trial and for other CPTA events on our results page.
Super Stars! Super Stars! Super Stars!
Results are now posted on the results page. Congratulations Christy on another excellent event.
Squamish Trial:
June 15, 2014, Squamish, BC. The Squamish Trial was another success due the hard work of the organizers. Thanks to Spencer and Chessy for putting together another great event. Weather was changeable but heavy rains held off and the course remained quite dry for the day. In the Intermediate and Sportsman classes the degree of difficulty was "tweaked" a bit from last year, which was a low scoring affair. It is amazing how just a slight increment can impact the results. Most sections were fairly long and provided more than one or two technical challenges catching many riders out. The course was typical Crumpit Woods, with nice flowing trails and most sections had rock features typical of the area. Riders who stayed for the results were treated to draw prizes and one lucky guy even won a nice pair of gloves 🙂
Beta Trial: May 25th, Ioco, BC. Weather for the Beta Trial, sponsored by Mountain Motorcycle, was true trials weather with rain on and off all day. The Junior and Intermediate course I would consider a perfect mix of sections. All had their technically demanding components and combined with slippery conditions even the top Sportsmen riders were taking points but all of the sections were cleanable. The event sponsor, Mountain Motorcycle had a table full of prizes which were raffled off at the awards presentation. Thanks to Mountain for sponsoring this event, I will be looking forward to next year's Beta Trial!
Squid Trial:
April 27th turned out cloudy with sunny breaks at Ioco and the club had a good turnout for our April Squid Trial. Thanks to Steve Day and Chris Walton for hosting the event. The Junior/Intermediate course was well laid out with 12 sections and enough technical challenge to take points from even the top riders in the Sportsman class. All sections were cleanable, with varying degrees of difficulty and nothing extreme. Compliments to Chris for a well thought out event. I thought the new "flags" worked well where there was dirt to place them. The club can save both money and reduce our garbage output using the flags where it is suitable. Things looked much more demanding in the Advance/Expert classes with nobody having an easy time of it. Top rider in Expert was Alex Walton with 55 points over the 36 sections. Top Advanced was Andrew Allen who clearly won with 55 points. Senior 45 class was close with Carl Muller emerging as winner with 61 on the day edging out Guy Smeeth by one point. Results are posted on the results page.
April Excitement at Ioco:
April kicked off with two great events. Sunday, April 6th the club hosted our first of two annual vintage trials events. The weatherman cooperated and riders enjoyed sunshine and warm temperatures, quite a change compared to the heavy rains the previous day. Thanks to Guy Smeeth for hosting this event and laying out alternate lines for both Vintage A and Vintage B as well as options for beginners. Beginners, Juniors, Intermediates and Sportsmen joined in the fun on modern bikes. Results on posted on the results page. To add to the excitement the club hosted the first
James Lampkin Trials School
on April 5th and 6th with Juniors and Intermediate students participating Saturday and Advanced and Expert riders on Sunday. I am sure if you ask anyone they will tell you James knows his stuff and knows how to instruct and coach. As a rider who has demonstrated his skills over many Scottish Six Days with a 3rd place to his credit as well as several years minding at the highest level, students were guided through easy steps taking them from basic body position and turning skills to learning how to use throttle and clutch to tackle steps and logs. After a day of coaching I was amazed at how much more control I had and how many obstacles seemed much easier when using proper technique. Let's hope we can encourage James to come back to Ioco to help our members improve and better enjoy our sport!
Visit our group Ioco Trials Riders on Facebook:
March Trial:
Heavy rain the night before the CPTA March Trial made conditions challenging for the field in all classes. Scores didn't get much better throughout the day and in many cases lines become more difficult as surfaces deteriorated. Alex Walton topped the podium in Expert Class with a strong last lap to clinch first place. Bill Sparks and Steve Day battled back and forth with Bill eventually taking second by one point. In Sportsman Class Bobby T posted a convincing win riding his vintage Yamaha proving once again its more rider than bike. Vince Hacker ran a close second only two points behind. Results on the 2014 Results page.
First Trial of the Season:
The February Trial was held under cloudy and wet conditions at Ioco. The rain held off most of the day and competitors enjoyed mild temperatures. There was a good turnout of 31 riders for our first event of the year. It was encouraging to see several new riders joining in the competition. The slippery conditions provided a good challenge for all participants. Thanks to Johan Fourie, Alex Walton and Andrew Allen for hosting the event and to all those that helped out.
Gate Lock Change Notice:
Please make note that the parking lot gate lock was changed
February 9th.
Unless it is an event day, remember to always lock the gate after you enter to insure everyone coming in has a key to get out and to prevent non-members from using our lot and potentially getting locked in.
2014 Memberships:
This is the time we get lots of questions about renewing club memberships. New decals and keys are ready and available from most of the directors. You can often catch us at the club on Sundays and we would be happy to sign you up. If you don't know who we are just ask around. Please consider printing the application and filling it out in advance (). Also, bring along exact cash or cheque made out to Canada Pacific Trials Association as this will speed the process. Remember, those taking time to sign you up want to go riding too! Memberships will also be available at our club meetings and any club event. Until we can provide you with a decal and key you are still welcome to come out and ride. -
Ron Walsh, Director at Large, CPTA.
CPTA 2013 ANNUAL GENERAL MEETING AND DINNER:
The 2013 AGM and Dinner was held December 7th. After a brief club annual general meeting where the directors reported to the members and elections were conducted the club champions were announced. This year the club decided it was time to recognize some more club members for their significant contributions to the club. These dedicated individuals have spent countless hours organizing events, signing up competitors, scoring events, observing, organizing as well as cutting and grooming trails, keeping our areas rideable and safe. Those individuals who were added to our list of
LIFE TIME MEMBERS
, in no particular order are: Kit Williams, Maureen Williams, Ted Blow and Chris Bakgaard. Thanks from all the members for your contribution to the success of our club.
CPTA Makes a Difference:
Finally, I would like to congratulate the club for this year's new initiative. The club decided to put something back into our community. In conjunctions with the Super Stars Trial we collected donations for the Canadian Cancer Society. During the course of the two day event our generous members and friends donated 0 and the club matched that contribution with another 0 resulting in a nice donation of 0 to this most worthwhile organization. The Canadian Cancer Society provides much needed support to cancer victims and their families and is working hard to eradicate this terrible disease. Thanks to everyone for your generous support!

2013 Graham Jackson Memorial Trial:
The Graham Jackson Memorial Trial was held November 17th under cloudy skies at the CPTA club in Ioco. The morning rain tapered and riders enjoyed good conditions considering the time of year. The Junior/Intermediate/Sportsman loop, hosted by Todd and Tanner Nordin, consisted of 10 sections with 3 laps. Todd and Tanner made sure a few of the sections would challenge the top Sportsman riders. Most sections were quite cleanable but a couple of sections really tested riders throttle control and choice of lines. Thanks to Todd and Tanner for a well marked course and a good selection of sections. This concludes the 2013 competition calendar and we will have results from this event and overall scores posted soon. The club will be hosting our Annual General Meeting the first Saturday in December and we hope you can all make time to join us for the meeting, awards and dinner. This is also a great time to renew your membership and get your new key and decal. Remember, the gate lock will be changed at the start of 2014 so you will need a new key to access the parking lot. Our next event is our traditional Boxing Day Trial. This is a fun event and there will be food and lots of time to socialize.
2013 Uhuru Trial: results are posted on the results page.
2013 THE FALL CLASSIC: October 6th, Ioco, BC.
Results are posted. Thanks to Dave Craig for hosting this event. Well laid sections and good course marking combined with unusually warm, sunny weather resulted in a great event. Brett Clark looked at home on the Beta 4T posting a clean ride on the last lap in Sportsman class.
NO-STOP: Will North America go NO-STOP for 2014?
NO-STOP rules are slowly being adopted world wide but it sounds like NATC will continue with STOP rules for 2014. .
2013 Blue Mountain Trial, Maple Ridge, BC, September 15th.
The 2013 Blue Mountain Trial was held under cloudy skies but the rain that was forecast held off for the event and a good thing it did as many of the sections would have proved much more difficult in wet conditions. The event hosts put in a tonne of work... 3 completely different loops; Juniors had a separate loop put on by Melissa Andrist and George Imada. Eleven sections and 2 laps on a 3 kilometer loop. The Vintage class rode the same loop but rode 3 laps. Ted Blow's loop for Intermediates was 10 sections and two laps on a 4 kilometer loop (two K straight up and 2 K straight down!). The Senior 45 and Expert classes rode 3 laps of 10 sections x 3 on 4 kilometer loop laid out by Don Doerksen. Unfortunately, no Advanced riders showed up for the event. Results are posted on the Results Page.
2013 Junior and Intermediate Trials School, Ioco, BC, September 8
September 8 the club hosted our second annual Junior/Intermediate Training Day. Thanks go out to all those that helped make this a successful event. The club would also like to thank our event sponsor,
Vancouver BMW/Ducati
who provided an amazing lunch. Hat's off to Master Chef Kelly for all his hard work in the kitchen.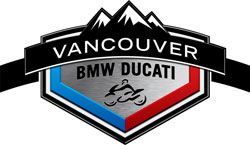 2013 Cultus Lake Trial:
August 25, 700 Frost Road, Lindel Beach, Cultus Lake, BC. The Cultus Lake Trial proved to be a very interesting experience for most riders. Virtually all of the sections were located in a river bottom area comprised of angular rocks with soft loam or sand interspersed. Traction on the rocks was good for the most part but the other surfaces were surprising loose and slippery demanding complete focus. Slight miscues often resulted in errant dabs or worse. Most sections appeared easy but underestimate traction in a critical turn and a rider could get into trouble. Lower classes rode three laps of ten sections, advanced rode two laps of 16 sections and the experts ended up riding one lap of 17 sections. The Expert loop ended with a monster hill climb out of the river bottom where the only rider to succeed was Steve Day aboard his new Gas Gas. With the only expert clean ride of the day he pulled even with Bill Sparks on points and won on the merit of that one clean! Having an event in this unique location is a great opportunity for all competitors to test their skills on ever changing terrain and broaden their experience. Thanks to Kevin and Don for laying out the courses and to Fred for providing the use of his property to stage the event. All club competitors should consider attending in the future to experience this unique location.
2013 SUPER STARS TRIAL, July 20 and 21st at IOCO.
TWO THUMBS UP! This year's Super Stars exceeded expectations. Riders from BC, Alberta, Washington and Vancouver Island made Ioco, BC their destination July 20 and 21st for the Canada Pacific Super Stars Trial. This year's event was both a PNTA and WTC Championship event. Ioco, BC offers a wonderfully diverse selection of terrain. Everything from monster logs to big rocks, creek beds to loamy climbs and descents, Ioco has it all and for the most part under a canopy of huge second growth forest. Dry conditions allowed organizers to pull out the stops with many demanding sections testing riders in all classes. Junior and Intermediate riders rode both mornings with the Advanced and Experts observing the sections. In the afternoon, the favour was returned and riders could focus on the sections riding at their own pace. Many CPTA members contribute to the success of this event but the one person responsible for putting it all together is Christy Williams Richards. Well done Christy!
2013 Squamish Trial, June 16th.
The Squamish Trial took place in Crumpit Woods, south east of Squamish. Spencer and company put a lot of work into building new trail and sections and riders were not disappointed. The forecast was for sunny skies and high temperatures but driving the last few kilometers to the event it looked like the weatherman might be wrong again (like that never happens) but as we rolled into the staging area the brief shower ended and it remained sunny throughout the day. Due to the dry conditions, grip was excellent resulting in low scores for most riders. In the Senior Advanced class, scores were so close the first four positions were determined by cleans with Larry Drawhorn emerging as the winner, edging out Ted McDowall, who took his first of two points on section 3 of lap 2. Alex Walton turned in a solid ride to win the Expert class, taking only two points per lap over 3 laps of 10 sections. It's encouraging to see some of our younger riders starting to challenge the masters. Forty two riders made the short, scenic trip to Squamish to attend the event and it was great to see several riders from Washington participating. I expect we will see this event grow in popularity year over year as the terrain is fantastic, the scenery amazing and Spencer and Chessy always put in the extra effort to make sure it is well marked and lots of fun!
2013 May Trial:
Riders attending the May Trial enjoyed great weather as the predicted rains held off and the sun appeared on and off throughout the day. It was good that the weather cooperated as the course for the Junior and Intermediate classes proved demanding and scores would likely have been much higher if it rained. Expert class was dominated by Stan Bakgaard, fresh back from the Scottish and apparently in good form. Three riders were in the mix for second place with Bill Sparks riding a strong second lap to secure second. Steve Day and Todd Nordin rounded out the top four with only one point separating. Don Doerksen took top honours in Senior 45, with more close scores in the largest class of the day. Greg Patrick claimed Vintage on his tidy Honda TL125 with a very respectable score, considering the course. Thanks to Skip and Bernard for setting the courses, well done.
2013 Team Squid Trial:
For a change of pace, both courses were comprised of 17 sections with two laps for all classes. The morning started out dry and quite warm but as the day progressed the clouds grew darker and rain and hail started just as most riders were completing their first lap. Most riders seemed to take it all in stride but a few struggled on the second lap. Thanks to Chris Walton and Steve Day for organizing another great club championship point event.
2013 Spring Classic Trial:
Riders were greeted by damp and cool conditions at Ioco for the Spring Classic Trial. Guy Smeeth prepared a challenging course of ten sections which proved more difficult due to the weather. Bobby T was the ultimate winner in Classic A with a strong ride on his TY175. Thanks to Guy for hosting a great event with a well marked course. Results are posted on the 2013 results page.
2013 Demo Day and Club Social:
Our first Demo Day and Social was an overwhelming success. I arrived at the club grounds to find the parking lot full. There were line-ups at the dealer tents of folks waiting for a turn on the many bikes offered for testing. The club served up breakfast and lunch and the weatherman couldn't have been more cooperative. Many thanks to Chris Walton, Tom Wood and all of the dealers who contributed to a fun day at Ioco. If you want to learn more about the CPTA or trials feel free to send an email or drop by the club. Visitors are always welcome.
2013 March Trial:
St. Patrick's Day weather was exceptional for mid-March at Ioco and provided great conditions for our March Trial. We had a good turnout with Paul Brodie and Ted McDowall setting the courses. The Intermediate/Sportsman course delivered a good variety of sections ranging from open rock climbs and decents to slippery roots and logs in the heavy growth forest. Tight turns, longish sections with many opportunities to lose points resulted in no total clean rides although young Kyle Mortenson, onboard his Beta, came close losing only two points on his way to the win in Intermediate. It was a close finish in the Sportsman class with the top three separated by single points. Bob Clark narrowly beat out Paul Brodie for the win, Brett Clark taking third. Senior 45 Class was another tight battle for first with Don Doerksen holding on to beat Ron Ringuette by a single point over the 36 section course. Todd Nordin took the win in Expert in another close one besting Bill Sparks by only 3 points.
2013 February Trial:
The 2013 CPTA Championship series got underway at Ioco on February 17th with cool but mainly dry conditions. Turnout, especially in the Junior and Intermediate classes, was encouraging. The Junior/Intermediate loop was a moderate length, well marked course with 9 sections. Several Intermediate sections were quite long, providing lots of opportunities to take points although none of the sections were extreme or dangerous. Most juniors thought the course was great and the sections just right, challenging but safe and fun. In the Advanced class there were only two riders but evidently they were well matched. It was initially reported Kyle Mortensen won by one point but after a recount it was discovered the two riders tied on points and Spencer Fitschen won by two cleans. Ride safe, respect the environment and HAVE FUN! Ron Walsh - Director at Large
ШОКИРУЮЩИЕ НОВОСТИ
Related News
Photography welcome packet template free
The beatles photo blog
Sara remington wedding photography
Wil anderson amy williamson photos
What skills are needed to become a photographer
Old time photos jacksonville fl