Join Our Mailing List
for advance notice
of special offers!
(emails are never
shared or sold)
Join Our Mailing List


PHOTO OF THE DAY





.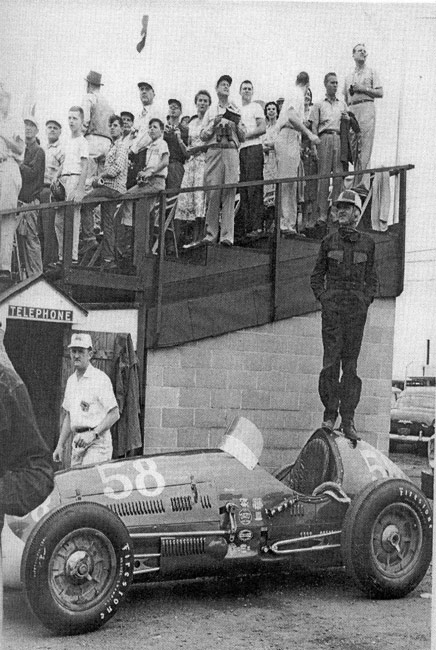 #
1000 - Racer/joker Eddie Sachs, atop the Ray Brady Special at Indy in 1956, said, "In 1954 I returned to the track and failed my driver's test. I became the first man in the history of the Indianapolis Speedway to fail his test twice. There have been some men that failed once and never came back. There have been some men who have failed it once, come back and passed it. But there never has been anyone who has failed twice. In 1955, I failed my test again. I made sure nobody would ever break my records." Quote and Photo from , by Denny Miller.
aaaaa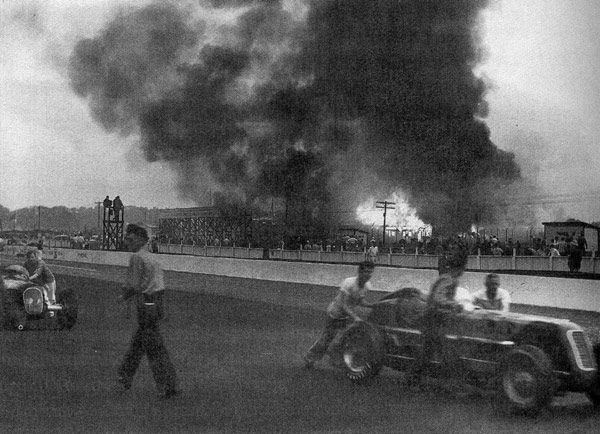 #999 - There seemed to be a strange foreboding at the Brickyard early in the day of the 1941 500. Maybe it was due to the cold drizzle that had met incoming fans the night before or maybe it was the national worry about Hitler's action in Europe. In any case, just as lines formed at the ticket booths, a huge fire swept through the garages. Apparently fumes from fuel in George Barringer's car were ignited by a torch being used in the next stall. Fire trucks were unable to access the inferno quickly because of the huge crowds, and half of one of the two garage structures was completely destroyed. The event, down two cars, started an hour late, and Mauri Rose eventually won the show. From , by Terry Reed. (Ed Hitze Photo)
AAAAA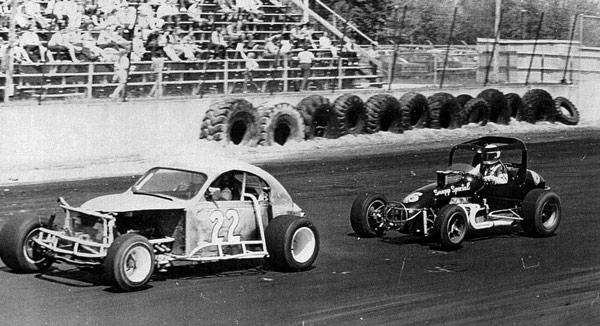 #
998 - It was the early '70s on the oiled dirt at the 1/3-mile Beech Ridge Speedway, just outside Portland, ME. The track had gone to open competition in its top division, and the field was mixed. In the famous Snap 6, an Edmunds sprint car, was Jim Martel, a highly regarded veteran from Massachusetts, who continued on to a stellar career. Leading was Bob Bushley, a local driver from North Windham, ME, in kind of a funky, home-built machine. Bushley, part of one of Maine's most respected racing families, later updated to a sprint car but died in July 1974 when he crashed heavily into that same concrete wall. (Dave Bushley Collection)
AAAAAA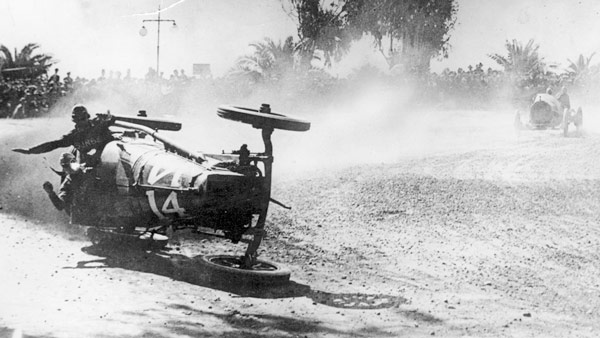 #997 - Things were fairly uneventful at the Fifth International Grand Prix in Santa Monica, CA, 100 years ago last month. That was until the 35th lap. John Marquis and his mechanic, Harry Hough, were leading and lookin' good. They had fueled their Sunbeam big time, hoping to run the event non-stop. However, they caught a rut, and the flipping began. Hough was tossed aside and was uninjured. Meanwhile Marquis rode it out with the car, which ended up right on top of him. He was assumed dead, but was taken to the hospital, where, remarkably, he was revived and found unbroken. He would race again. From RACING CARS RACING CARS, by Paul Hamlyn. (Petersen Publishing Company Photo)
aaaaaa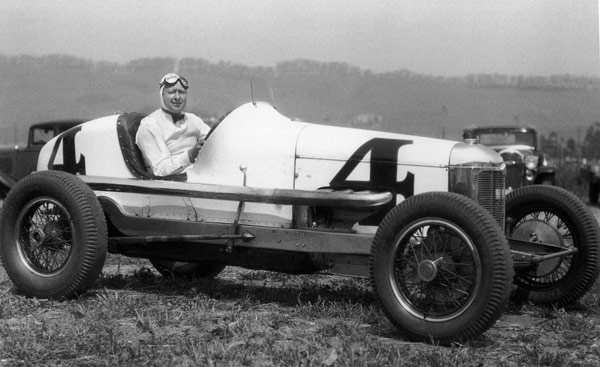 #996 - He seldom pops up in a racing conversation so many decades later, but many old clips refer to Chet Gardner as one of the greatest sprint car drivers ever. From the late twenties to 1938, he competed coast to coast in AAA competition with such unbelievable energy and success that he became known as the "Grand Old Man of Auto Racing." It all came to an end, however, time-trialing at Flemington, NJ, on September 3, 1938. Gardner was flat out when he noticed a child had somehow wandered onto the track. Gardner swerved to avoid him, crashed and died. Many railbirds believed that the suddenness of Gardner's reaction to seeing the youngster in front of him may have been related to an incident at California's Legion Ascot Speedway eight years earlier. Gardner slammed the wall there and a fence board broke loose, killing a 12-year-old boy. From THE EASTERN BULL RINGS, by Buzz Rose. (Jim Chini Collection)
aaaaa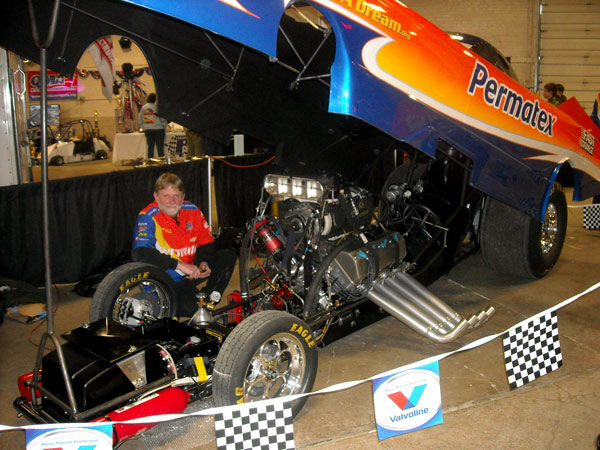 #995 - There ARE some signs of spring. Last weekend the Permatex Follow A Dream funny car was on display right next to the Coastal 181 booth at Frank Maratta's Auto and Cycle Show in West Springfield, MA. Based on Cape Cod, driven by Todd Veney, the 3500hp Hemi won the 2012 NHRA Eastern Region title. Our buddy Tommy Howell was there, actually underneath the car – with tools – checking on a couple of things when no one was looking. "What a winter," he said, "and suddenly it's almost over. We're leaving for the GATORNATIONALS in Gainesville in just a couple of days." (Coastal 181 Photo)
aaaaa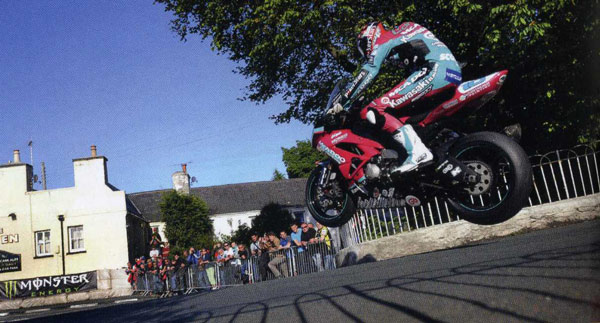 #994 - The Isle of Man TT really has to be the most dangerous motorsports event in the world. It is the two-wheel version of the kind of savagery seen in the Indy roadster era, magnified several times. Over 240 riders have been killed on the course, six in 1970 alone. Conor Cummins, a soft-spoken Manxman, is the local hero. In 2010 he had a horrendous crash, literally launching him 'down the mountain.' . Though Cummins had to fight mightily to overcome depression and to heal his thoroughly broken body, there was little question for anyone that he would be back. There he is back in the saddle the very next year. From THAT NEAR-DEATH THING: Inside the World's Most Dangerous Race, by Rick Broadbent.
AAAAA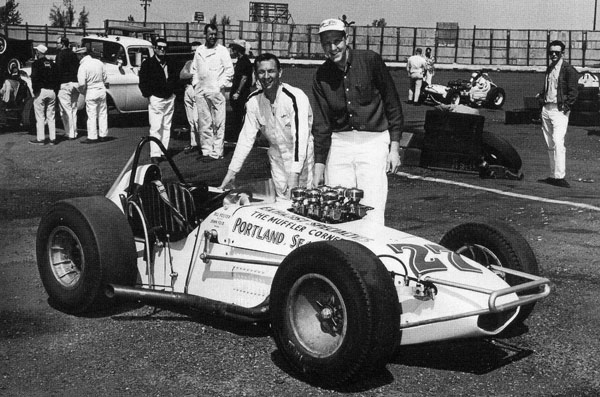 #993 - Around the turn into the 1960s, a buoyant early supermodified wave flowed over the Northwest at facilities such as Portland (Oregon) Speedway. Quite a few competitors used the division as a stepping stone to national competition, Len Sutton, Art Pollard, Bob Gregg, and Les Anderson among them. Billy Foster and mechanic John Feuz, shown here with a pretty, amply carbureted roadster, made it right to the Brickyard, but the effort was short-lived. Foster died in an accident in practice prior to the 1967 NASCAR race at Riverside International Raceway. From , by Jeff Zurschmeide. (Don Robison Collection)
aaaaaa
#992 - This Fuel Altered car, the "Winged Express," ran an impressive 7.29 at 207.00mph at the 1968 Pomona NHRA Winternationals. But in the same event two years later, driver Wild Willie Borsch must have seemed stunningly impressive to photographer Bob McClurg. From , by Bob McClurg, (Bob McClurg Photo)
AAAAAAAAAA

#991 - "Geoff Bodine ran a Pinto-bodied modified in 1981. But he decided to go in a different direction in time for the Thompson 300 in early September, and put a Cavalier body on his #99 'White Tornado.' It was the first ever Cavalier-modified. The new body-style stuck, and by 1983 Cavaliers were everywhere. Fans called them 'cookie-cutters.' For many years, modifieds had been built from junkyard parts and ingenuity, but almost overnight they turned into 'store-bought' race cars. Now the biggest difference from one car to another was the paint job." Photo and Caption from , by Steve Kennedy
aaaa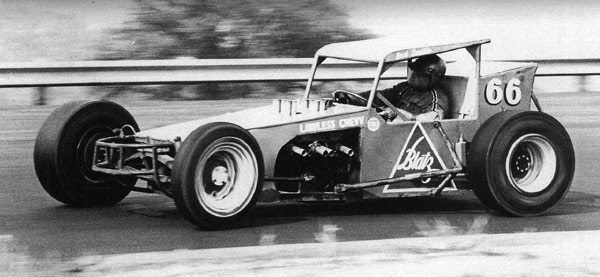 #990 Here's a beefy Bob Smith out of Columbus, Ohio, wheeling this Lawless 66 flyweight small block at the old West Virginia International Speedway in Ona in 1964. He ran this car on both asphalt and dirt. The next year he won the Wynn's Invitational at Ona handily in a Lawless pavement roadster. A couple of weeks later, he pulled enthusiastically into Victory Lane at the Oswego (NY) Classic, only to be bumped to second upon a scoring review. He died in a highway crash in 1966. From ECHOES OF THUNDER IN THE HILLS: Photographic Memories of 1960's Auto Racing in Southeastern Ohio and Adjoining West Virginia, by Tony Martin. (Tony Martin Photo)
AAAAAAAAA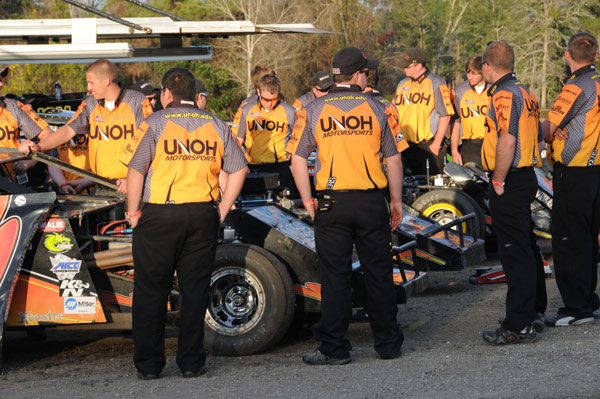 #989 - Thirty-five UNOH students buzzed around the four UMP modifieds in the pits at the Volusia Country Speedway in late February. UNOH students were in Florida for eight days during which they prepared the cars and raced on the dirt track six nights and even fielded a car in the ARCA race at the Daytona Speedway. The University currently has 76 students enrolled in its College of Applied Technologies, students hopeful that their studies will lead to full time employment in motorsports. The school's program is centered on a seven-acre complex in Ohio and includes machinery, engine dyno, skid pad, drag racing launch pad and pretty much everything needed to build and prepare race cars. UNOH's rolling stock inventory currently includes four stock cars, three drag cars and five UMP modifieds which are towed to the tracks in four semis. The school also owns the Limaland Speedway where students test their skills and learn about racing. UNOH offers diploma, Associate degree and Bachelor degree programs. Their website is .
(Photo and caption by Dick Berggren)
aaaa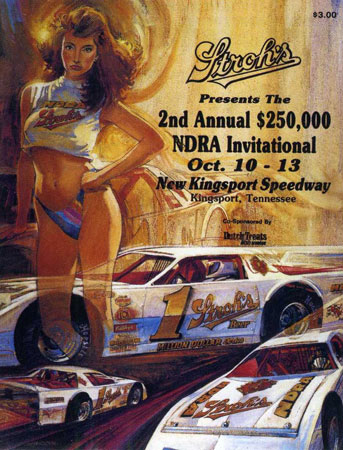 #988 - It was gonna be something really special. National Dirt Racing Association (NDRA) was offering up at Kingsport Speedway in East Tennessee the richest known purse in dirt racing history. It turned out that, while the pits would fill up, the stands did not. Winner Buck Simmons collected his ,000 payout for leading all 100 laps, but there was churn in the background. The season champ, Jeff Purvis, did not receive the ,000 due him for the point chase, and Series sponsor, Stroh's beer, flowed away. It was the black flag for the NDRA, and no attempts to save the once-promising organization were successful. From , by David McGee. (Poster courtesy Tony Morton)
aaaaaa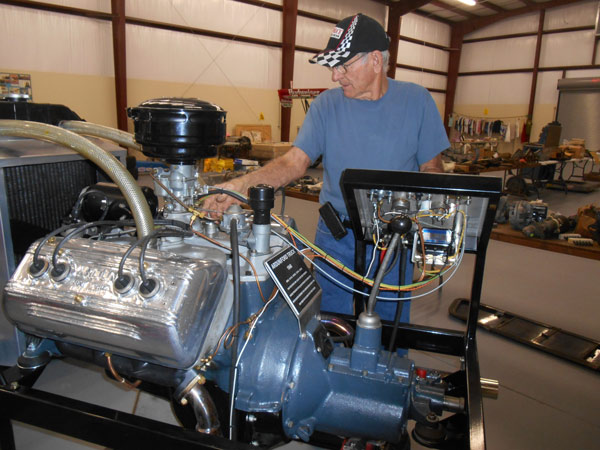 #987 - Many people consider Don Garlits the most successful drag racer in history. The 82-year-old Garlits no longer races but he's as busy as ever tending to his drag racing museum in Ocala, FL. The museum is the result of a lifetime of making history and collecting history. Many of Garlits' cars are on display as well as those of other drag racing greats Shirley Muldowney, Jungle Jim Lieberman, Connie Kalitta, Bruce Larson and dozens of others. There are actually three museums on the property, one with race engines, another housing a magnificent collection of artifacts as well as drag racing cars, and the third largely showcasing vintage automobiles, most of which are not race cars. Garlits has recently restored into running condition several vintage engines, including this Ardun head engine that was originally a flathead. The Ardun was created by Zora Arkus Duntov of Chevrolet fame. He built a head that turned the flathead into a Hemi. The Garlits engine is one of the few that remain, fewer still that run, and it sounds oh-so-sweet. (Photo and caption by Dick Berggren)
aaaaaa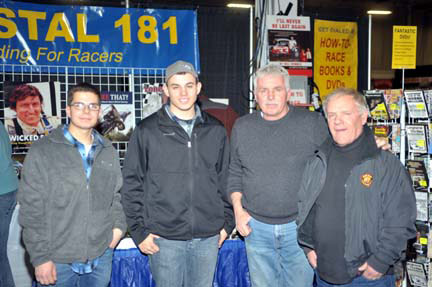 #986 - Best keep an eye on these guys. Even though Fred Rahmer exited the cockpit in such a spectacular way last fall, he's still flat out. Left to right at the Coastal 181 booth at Motorsports 2014, that's Freddie Jr., his twin brother Brandon, and Fred Sr. To the right is Dave Pritchard, their friend and sponsor. He's also our friend and neighbor up here in Newburyport. They are pretty busy guys, with five sprinters out in the garage. Two each for Freddie and Brandon for their 2014 pursuits at Lincoln and one for some special shows with Stevie Smith. (Frank Simek Photo)
qqqqqqq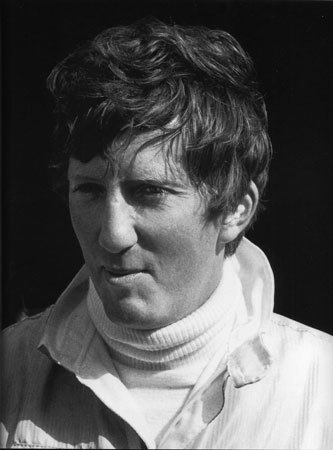 #985 "Jochen Rindt knew that Lotuses were fast but also fragile. He had seen his friends die around him – Bruce McLaren, Piers Courage. The previous winter, at a club in Vienna, he had promised his wife, Nina, that he would quit F1 as soon as he was crowned World Champion. The Lotus 72 was so sleek and graceful, it was unthinkable that it might be beaten in the 1970 season. Nina clung to his promise and counted the Grand Prix races to deliverance day. Time got the better of her. At Monza in practice the Lotus veered off course…and dived under the crash barrier. Rindt died on impact. His only consolation was that he also won: With only four grand prix races left in the season, his lead in the championship points would prove unassailable. And so Karl Jochen Rindt became Formula One's First posthumous champion." Caption from . (Bernard and Paul-Henri Cahier Photo)

AAAAAAAA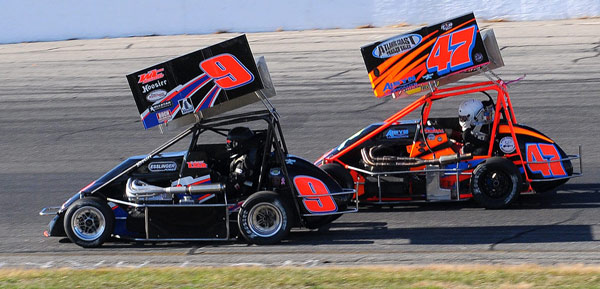 #984 - When John Zych (Zych #9) inherited the lead in the season-ending NEMA 25-lapper at Thompson (CT) Speedway last fall, he knew he had some further work to do. He was just five points behind Randy Cabral (Bertrand #47) for the championship point lead, and he knew Randy was coming through the pack fast. The yellow flew twice, but Zych was able to pull away each time, on the final restart running a sizzling lap of 17.734. He won the race and the title. Cabral was nothing short of gentlemanly. "I didn't hand it to John and I feel good about that. I think everything went the way it was supposed to." (Norm Marx Photo)
aaaaaaaaaaa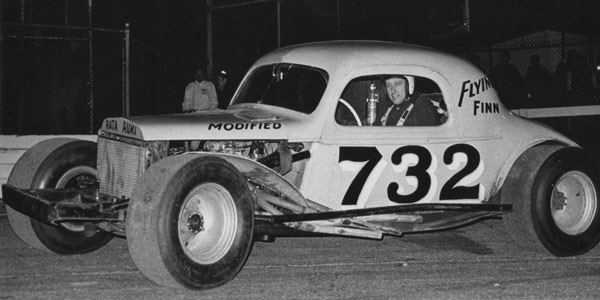 #983 - On February 4, we received this note and photo from John Monaghan about the late, great New England Hall of Famer, Reino Tulonen. "I spoke these words to the folks at Reino's funeral before we left for home. 'We all had different relationships with Reino. Mine was through racing. Reino's modified stock car said 'RATA AUKI' on the front. (Note the hood). One day I asked Reino what it meant. He said with a slight smile, 'Well, loosely interpreted it means – MOVE OVER AND GET OUT OF THE WAY.' I can't help thinking Gabriel better watch out!" (Photo and Quote John Monaghan)
3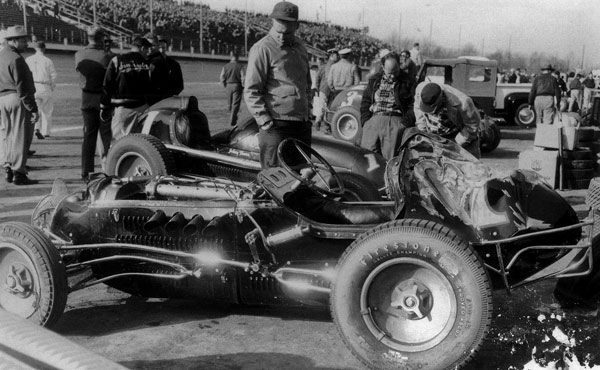 #
982 - Yesterday's Photo of the Day was from a 1954 match race at Roosevelt, NJ, Stadium that served as publicity for the forthcoming 100-mile NASCAR event at the road formed at the Linden Airport. Popular Al Keller went on to win at Linden, wheeling a Jaguar fielded by band leader Paul Whiteman. A couple of weeks later Keller was on the dirt at the circular mile at Langhorne. That didn't go so well. Keller dumped the Sam Traylor Offy big time and donated one of his thumbs in the process. (Ken Edsell Collection)
aaaaaa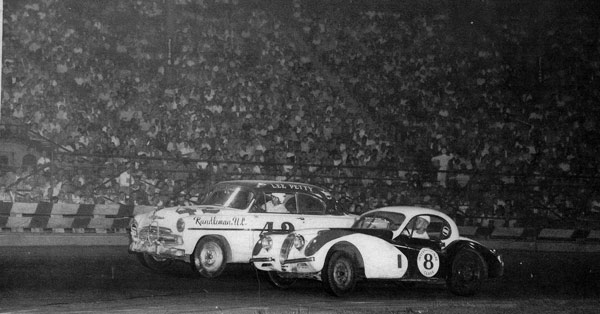 #981 - In June of 1954 quite the contingent of racers towed into the Garden State. A major road race was planned for the Linden, NJ, Airport, promoted by Ed Otto. It was NASCAR's Grand National Division's first road race, and the field of 43 was almost equally mixed with American and foreign-car entries. As part of the pre-event publicity, a match race was held at Roosevelt Stadium, and a very healthy crowd watched dirt-track ace Frank Schneider in a Jaguar XK120 take on Lee Petty in a Dodge. (Ken Edsell Collection)
aaaa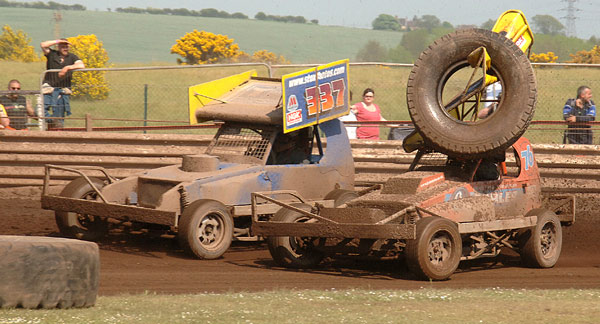 #980 - They sure play hard ball when they race over in the UK. The photographer, Colin Casserley, our new friend who stopped by the Coastal 181 booth at the Chili Bowl, had this to say. "Marker tyres (tires in the USA!) are part of racing throughout the world, but I have never seen this happen before or since. A tyre flipped up and stuck on the wing of Lee Smith. It didn't stop him, though, and he completed the distance in his heat race at Scunthrope Speedway, Lincolnshire, England."
aaaaa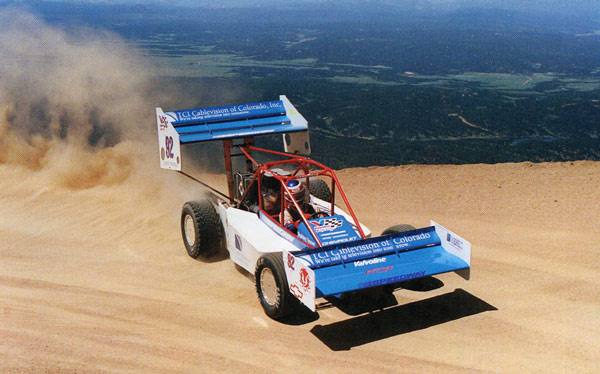 #979 - Like all of his family, Robby Unser, Bobby's son, has been fast in everything he's driven – from local stock cars to the Brickyard. But in typical Unser style, more than anything, he seemed to excel on the frighteningly fenceless ledges of Pike's Peak. Here he is, motoring along in 1994 in a injected Chevy open-wheeler he built with Carson Smith. He won the division handsomely, in the record two-wheel-drive time of 10:04. From THE UNSER LEGACY: Four Generations of Speed, by Gordon Kirby (Robby Unser Collection)
aaaaaaaaaa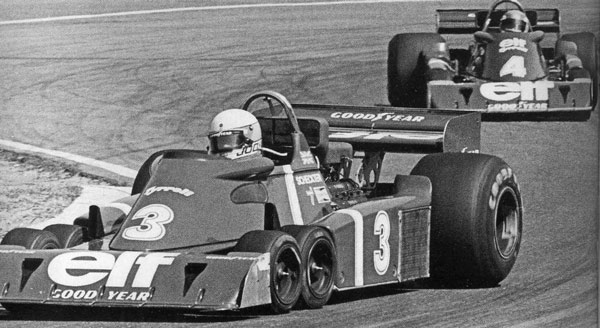 #978 - That is some unusual front end on the Delta Wing car Dick Berggren photographed at the recent Rolex race at Daytona (See Photo of the Day #972). But it may not have been quite as radical as the Project/34 Formula 1 cars produced by England's Tyrrell Racing Organization. The design included four wheels on the front end. Remarkably the initial performance was strong, and Jody Scheckter and Patrick Depailler finished one-two in the 1976 Swedish Grand Prix. Much of the credit was actually given to Goodyear for making some trick tires for the cars in that race, and by the end of 1977 everyone was back to a more standard configuration. From , by Michael Oliver. (Roy Topp Photo)
AAAAAAA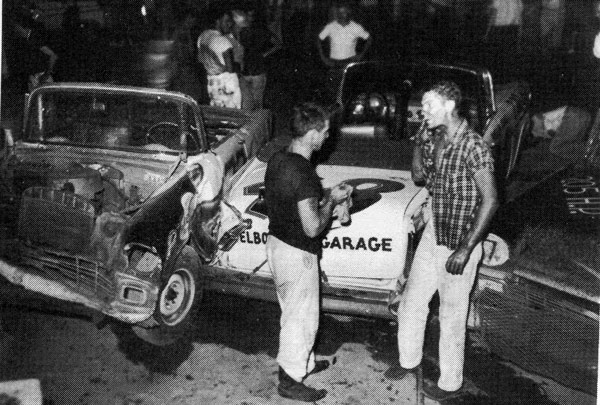 #977 - It all happened on the 181st lap. It was September 30, 1956, and NASCAR's Convertible Race #46 was scheduled to go 200 rounds on the half-mile dirt at Asheville-Weaverville, NC. 4,500 spectators watched as Jimmy Massey broke a hub and plowed into the side of Possum Jones going into the third turn. They locked up, went end for end in parallel, and landed on their sides, right in the groove. From then on it was more hearing than seeing. Literally, the whole field plowed into a dusty pile of mechanical carnage. Curtis Turner, who had been just barely in the lead, won the trophy with his "Margin of Victory" labeled "Red Flag." Meanwhile Art Binkley, Glen Wood, and Jimmy Massey won trips to the crash house. From RAMBLIN' RAGTOPS – the history of NASCAR's fabulous convertible division and the speedway division, by Greg Fielden
aaaaaaaaaaa


#976 - There was one epic battle for the . After the heats, points leaders Cassius Clark (#77) and Joey Doiron (#73), just one point apart, were feeling the heat. In the main they battered fiercely side by side, three wide on three consecutive laps, nose to tail, while Scott Mulkern #84 and DJ Shaw #60 rocked and rolled seeking the race win. Everybody took turns for the lead. DJ did all he could to take the championship along with the win, but Cassius beat him out by five points by staying in third. It was a huge disappointment for Doiron and his Dad who do 90% of the work on the #73. It was a break-through year for them, having won twin 150s at White Mountain, NH, in August and holding the points lead most of the season. (Photos & Caption by Norm Marx)
aaaaaaa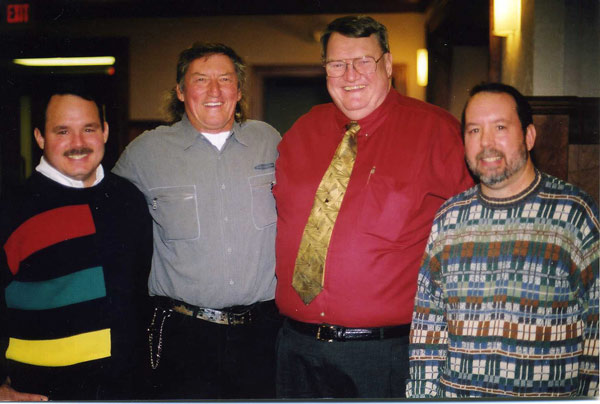 #975 - Four great friends from a few winters back. L-R, Bobby Seymour, Bentley Warren, Stu Murray, and Mike Seymour. Each of the four have stood out big time for their contributions to American open-wheel racing. It still goes on today. This coming weekend, the Seymour Family will be hosting their annual RACER'S EXPO in Marlboro, MA, that has become a favorite February date on any wheelman's calendar in the Northeast. (Coastal 181 Photo)
AAAAAA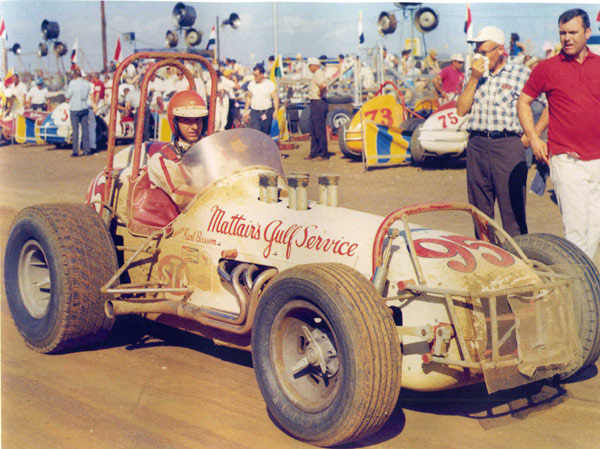 #974 - That's Karl Busson at the 1967 winter show at Tampa. He's warming up the Bernie Cedoz Chevy he manhandled to the IMCA point championship that summer. Given the handkerchief and the facial expression on the bystanders, Bernie just might have mixed up some interesting chemicals in that fuel tank…..From , by Bob Mays. (Beetle Bailey Photo)
aaaaaa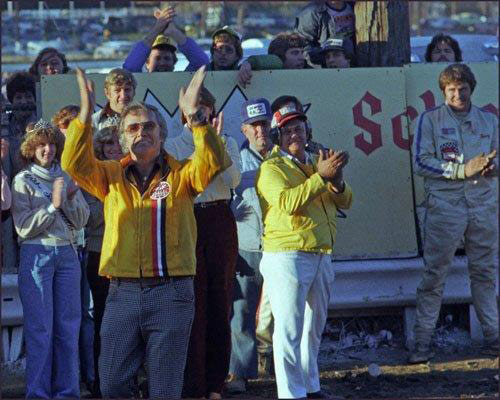 #973 - Bob Yurko sure gets it done with a lens and has been doing so for many moons. This neat shot is from the last 200-lapper at the Reading Fairgrounds, back in October of 1978. That's the late Al Tasnady responding to a standing ovation by waving a kiss to all in the grandstands. And how about this . (Bob Yurko Photos)
AAAAA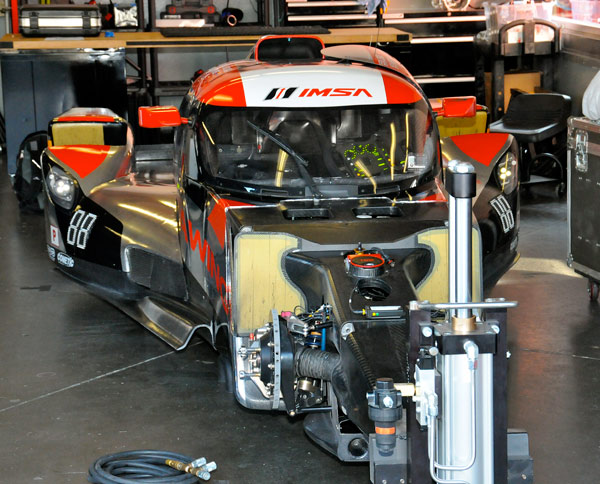 #972 - January's Rolex 24 sports car race in Daytona kicks off every racing season, each year's first important race. This year's event was particularly important because it was the first following the merger of Don Panoz' American Le Mans Series and Jim France's NASCAR-like Grand Am series. A huge field of 67 cars took the green for the 24-hour grind. Infield camping was sold out months before the weekend, and sponsorship was up at every level. The Daytona News Journal, estimated the crowd at 50,000. Several teams and sponsors came up with clever ways to attract the attention of fans, including groups of models in skin-tight outfits who willingly posed for every iPhone carrying fan. Others brought bizarre looking cars like the Delta Wing whose front wheels have less than three feet of track width while the rears are spaced normally. The Delta Wing car failed to finish. The race was marred by a huge crash in which Memo Gidley, driving the pole-winning car, pulled out to pass and instantly ran into a crippled Ferrari he probably never saw until the moment of impact. The Ferrari was hardly moving in comparison. Both drivers went to the hospital with Gidley suffering a broken arm and leg that required prompt surgery and an "unstable" fracture in his back that will also require surgery. (Dick Berggren caption and photo)
aaaaaaaa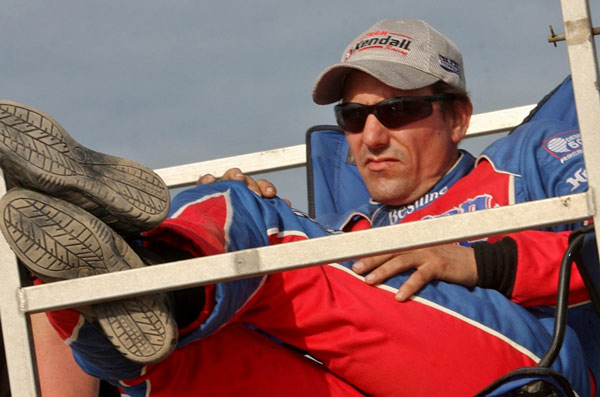 #971 - Poor Bobby Varin really has had some tough laps. The popular and on-the-gas dirt tracker is shown here at Utica-Rome (NY) last summer, still smarting from a horrific sprint car crash at Canandaigua, NY, the season before. With all the racing he does, he never had time to take off to get corrective therapy on his damaged knee. Then, just a week or so ago, he was in an equally dramatic accident on skis. He regained consciousness quickly after the spill, but the next day things started going down hill. He lost movement in his right arm and a trip to the crash house revealed a broken neck. Major swelling around the spinal cord is receding daily, and he is recovering, but it's a long and painful process. Well wishes can be sent to him at 2348 State Hwy 30A, Johnstown, NY 12095. (Dave Dalesandro Photo)
aaaaaaaa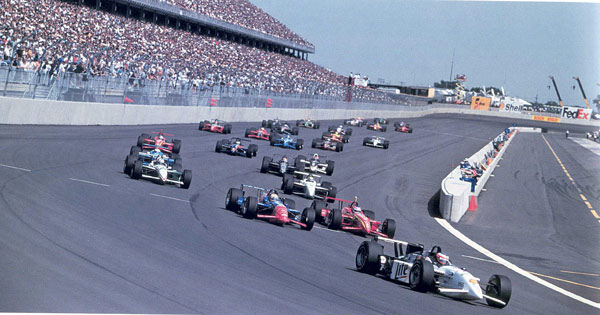 #970 - In 1999, Juan Pablo Montoya swept the first major event at Chicago Motor Speedway in front of a packed house of 67,000. The track, that became known as an uninspiring paper clip, was just marginally popular. By 2002 the crowd was just 25,268, and that was the end. After demolition crews left in 2009, nary a trace remained. From , by S.S. Collins and Gavin D. Ireland.
aaaaa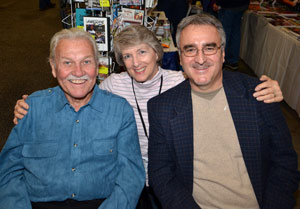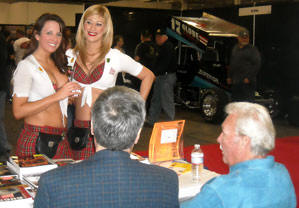 #969 - Bill Simpson and Bones Bourcier came to the Motorsports show in Philadelphia this month to sign books. Cary Stratton (left photo) tried mightily to keep them on task, but it was tough. [Photo (left) Jack Kromer, Photo (right) Coastal 181]
aaaaa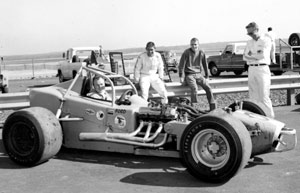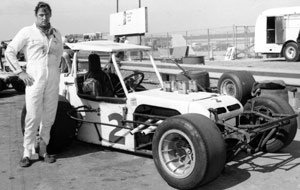 #968 - That's Jimmy Shampine (left) and Bentley Warren at Pocono in May of 1969 for the supermodified showdown on the ¾ oval. It was a wild day with horrible crashes, one a fatal for Troy Ruttman Jr. Shampine went on to win one of the 50-lappers, while Warren flipped on the third turn. After the race, the two climbed aboard a plane on the backstretch to fly to Fulton, NY, for a modified show that night. Bentley was worried because the people aboard were weighted down by many cheeseburgers, but they made it aloft. (Both photos Dale Snyder Collection)
AAAA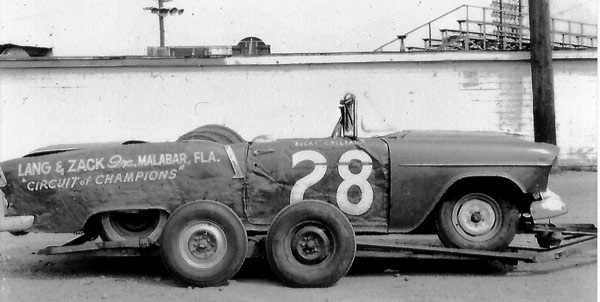 #967 - Bucky Calleaux's new but definitely experienced Chevy is ready to do battle at Baltimore's Westport Stadium on August 27, 1955. The Norwood, MA, resident raced widely on the Circuit of Champions against guys like Indiana's Don Oldenberg, Bob Pronger from Illinois, and Montana's Darel Darienger. Later that year NASCAR purchased the series and would run convertible races from 1956 until 1959.
(Mibest Collectibles Collection, Robert Farlee Photo)
aaaaa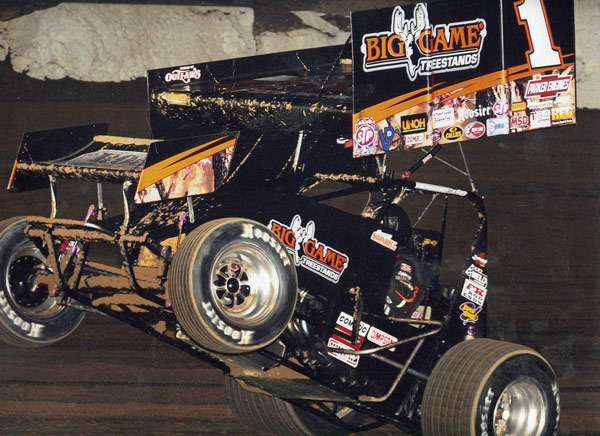 #966 - He's been lightin' up sprinters and midgets for many a moon. Here he is at Fremont, Ohio in 2013. And last Saturday night Sammy Swindel proved yet again that – win or no win – he sure can ignite the crowd at the Chili Bowl. (Rex Staton Photo)
aaa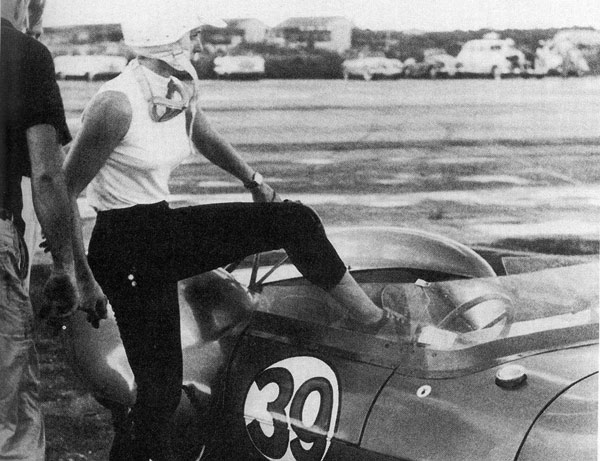 #
965 - Denise McCluggage climbs aboard a Louts XI at Nassau in 1958, as she did do many times. The racer/journalist won the 1961 Grand Touring category at Sebring in 1958 and her class at the Monte Carlo Rally in 1964. She later became the founding editor of AUTOWEEK. From FAST WOMEN: the Legendary Ladies of Racing, by Todd McCarthy. (Bahamas News Agency Photo)
aaaaaaa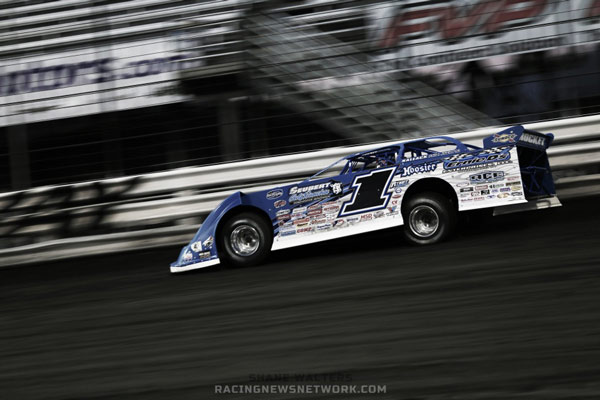 #964 - Shane Walters snapped this neat shot of Josh Richards working hard for the win at the Lucas Nationals at Knoxville last September. It all came down to a dramatic six-lap shootout, and Darrell Lanigan was able to sneak by for the checker, leaving Richards in second place for the third time in this event. Timmy McCreadie rounded out the top three. Check out the location of the rear end in the #1 car. The dynamic movement in these chassis is mind-boggling. (Photo from )
aaaaaaa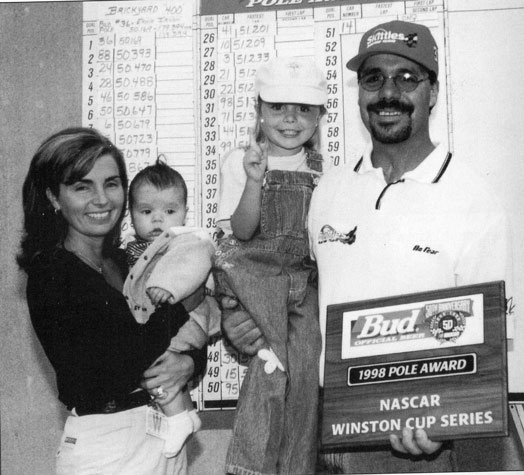 #963 - It was one happy day for Ernie and Kim Irvan and their kids when he won the pole at the Brickyard in 1998. He had come back from his horrible head injuries at Michigan in 1994, had overcome dismissal from the Yates operation in 1997, and had joined the MB2 team in the Skittles car. But racing can be so fickle. That season, five years to the date after his accident, he encountered that Michigan wall again, this time in his own Busch car. This time the injuries were career-ending. From NO FEAR: ERNIE IRVAN – The NASCAR Driver's Story of Tragedy and Triumph, by Ernie Irvan and Peter Golenbock with Debra Hart Nelson.
AAAA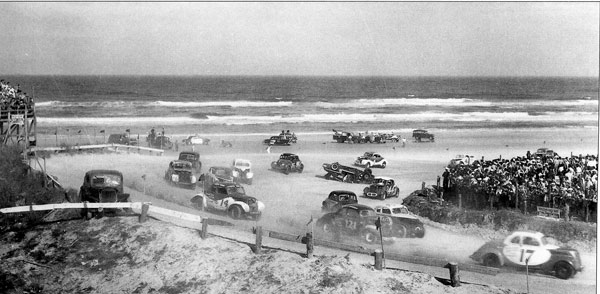 #962 - The Modified-Sportsman race on the Daytona Beach course in 1954 was certainly memorable. It was run in drizzly rain because Bill France had a narrow window, given the incoming tides. The previous year there had been a scoring fiasco with 135 starters, so this February a "reduced" field of 104 took the green. It was wild from the git go. On the opening lap, Dick Kauffman, steering a huge 1949 Olds overhead in a sea of coupe and coach flatheads, broke a wheel and flipped wildly. He is shown here, upside down, at the entry to the turn. He died on the way to the hospital. The 125-miler was eventually won by Cotton Owens in a '38 Plymouth.
From NASCAR: The Complete History, by Greg Fielden
aaaaa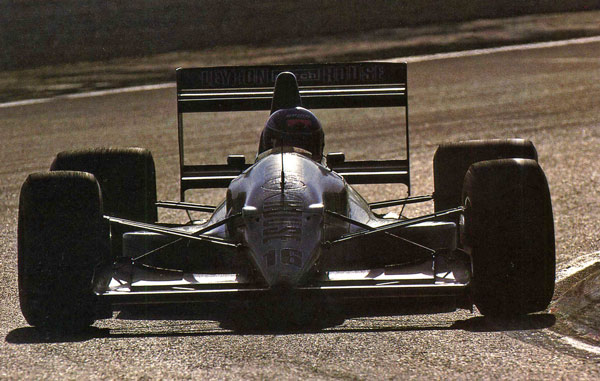 #961 - Some stars shine brightly but fleetingly. Such was the case with Italian Formula 1 driver, Ivan Capelli. He is shown in this captivating image from the 1988 Portuguese Grand Prix, hustling his March-Judd to catch Alain Proust. Though Proust went on to win, young Capelli was very much the man of the day. He would end up in a Ferrari in the early nineties but only once did he regain that groove to the podium. He retired, distraught, in 1993, but later became a popular motorsports TV personality in Italy. From AUTOCOURSE: The World's Leading Grand Prix Annual 1988-1989. (Paul-Henri Cahier Photo)
aaaaaa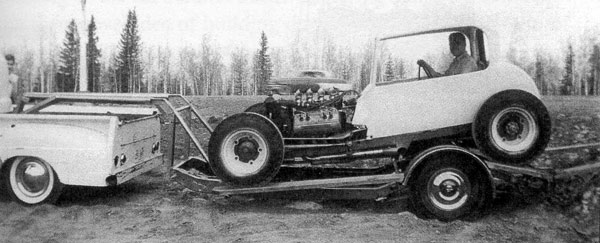 #960 - Way back in 1959, 24-year-old Eldon Rasmussen in Edmonton, Alberta was already showing his mechanical and driving wizardry. He build this gooseneck trailer for his pickup, years ahead of its time. And he used it to tow all over Western Canada and the American Northwest to compete with the Canadian-American Modified Racing Association (CAMRA) in the early 1960s. He then moved to Hoosier country and ran USAC sprinters and a homebuilt "RASCAR" at Indy, qualifying three times, always on the back row. He continued his fabricating work with great renown and success, working with teams such as Dick Simon's and on his own. From THE SPEEDIEST LAND TRAVELER: A History of Alberta Auto Racing, by Richard McDonell (Eldon Rasmussen Collection)
aaaa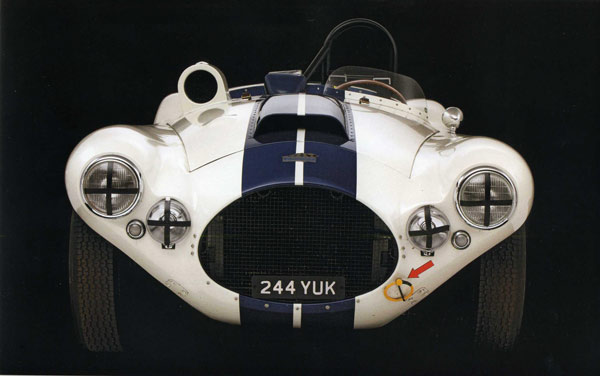 #959 - The late great John Fitch had this to say about the Briggs Cunningham's C5R he raced in Europe in 1953 and 1954. "It's incredible how little we knew about aerodynamics in those days….I was going through the fast right sweep just after the pits (in the Reims 12 Hours), same speed as I had been doing all race, but there must have been an extra gust of wind that increased the air speed over the body beyond the critical point, and the car just took off. Umberto Maglioli was following me in his Ferrari, and he said it flew higher than the telegraph poles…." From ART OF THE LE MANS RACE CAR: 90 Years of Speed, by Stuart Codling. (James Mann Photo)
aaaaaaa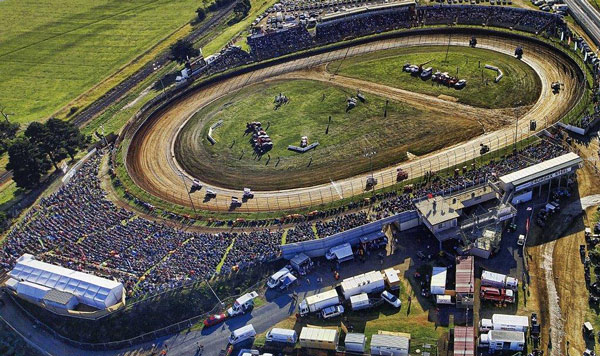 #958 - You can still get there, but you had better get goin'. Premier Speedway is gearing up for the 42nd running of what is now the Lucas Oils Grand Annual Sprintcar Classic. It will be run January 24-26. The facility is located in Warrnambool, Australia, just 7891 miles from L.A. From the 2012 Paul Oxman Sprint Car Racing Calendar.
(Phil Jordison Photo)
aaaa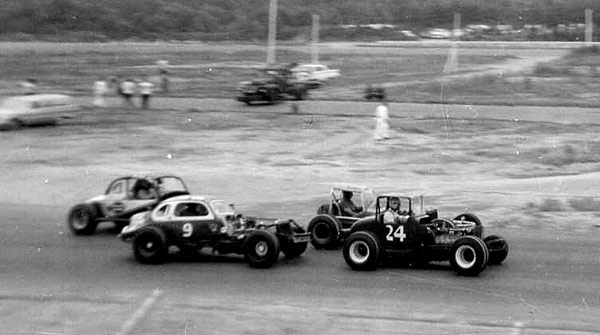 #957 - It was quite the moment in New England racing history back in 1963. Oxford Plains Speedway in Maine was in transition. It had recently been paved and reduced from a half to a one-third-mile oval. The guys from Beech Ridge, the Maine State Stock Car Racing Association, were running the occasional show there, usually open competition, before Bob Bahre took it over in 1964. On this date, all manner of hot rods towed in, and on this lap "Gentleman Jerry" Dolliver still had them covered in the Prescott #24 upright, powered by a Morton-Welch Flathead. That was pretty remarkable, because he had been chased by this group for about 40 laps. On the inside was Smokey Boutwell in the 108" Duggan Brothers rail super powered by a big-block Ford. It was Pete Prescott in the overhead powered #9 coupe and George Welch in the #78. Finally, Dolliver's arms just plain wore out from taking it into the turn far harder than the others, and he dropped back to a third-place finish. That had not happened often. Dolliver won over 100 races with this single engine, which today sits in the Pronyne Museum in Pawtucket, RI. (Ralph Roberts Photo)
AAAAAA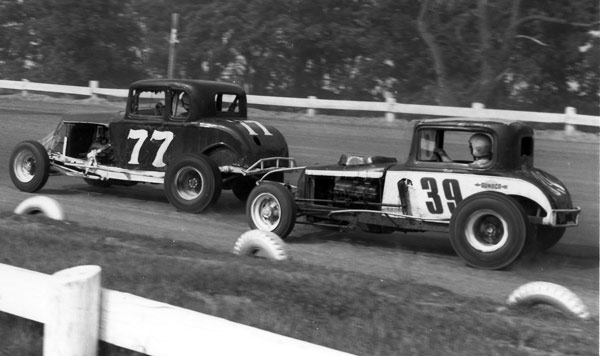 #956 - In the very early sixties, neat machines like these were racing all over the country. On asphalt, often called cutdowns, they were typically precursor to supermodifieds. On the dirt, as shown here, they led the way to sprinters. These two cars were favorites at Williams Grove in 1962 and were known as "bugs" or "30x90s" for their frame size. The drivers were both giants of the era, Gene Goodling in the #77 and Bobby Hersh in the #39. (Dale Snyder Collection)
aaaaaaaaa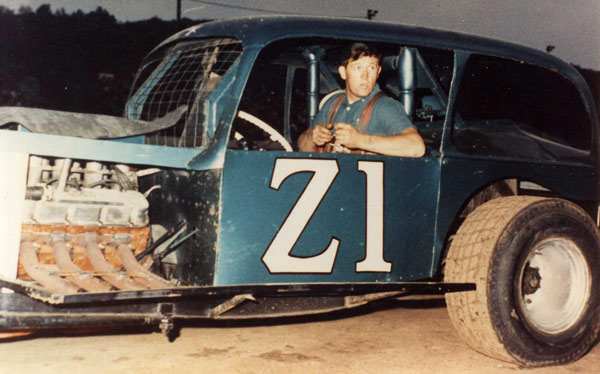 #955 - A farmer and good guy from Lawrenceville, NJ, Lee Hendrickson is remembered as a great modified runner back in the day. He won widely and even ran the All Star League with this coach. It was a flyweight with that minimalist body and sparsely utilized square tubing over a '54 Chevy frame. And Lee sure knew how to make a big block purr. (He's built a bunch of them recently for his very racy son, Wade). As it turned out, we bought this car in 1970 and ran it at places like Lebanon Valley, Lakeville, Fonda, Mid-State, and Beech Ridge. Hully Bunn came out of retirement in 1975 to win a spirited old timers' race with it at Cairo, NY. The car still sits race ready in the Coastal 181 garage – and you can take it to the bank that there still ain't a drop of chrome on it. (Coastal 181 Collection)
AAAAA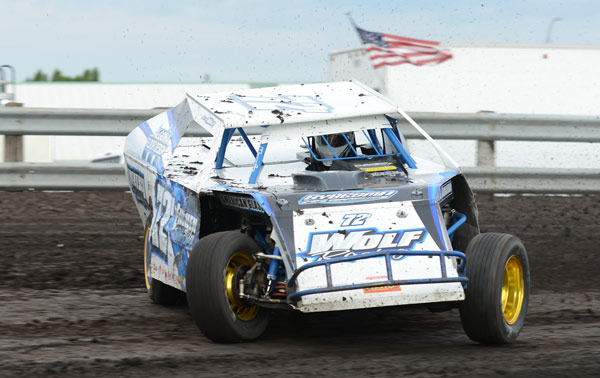 #954 - Iowa's Austin Wolf doesn't have to go too far to act like that. Algona Raceway is right down the street from his home, and as 2012 track champ, he has it figured out. He runs a Harris chassis with a 428 Chevy small block on alcohol. His dad, also a former track champion, says, "Austin really loves that back 'er in feel." Yep, we can all see that. (Ed Wolf Collection, Dave Peterson Photo)
aaaaaaaaaaaaaa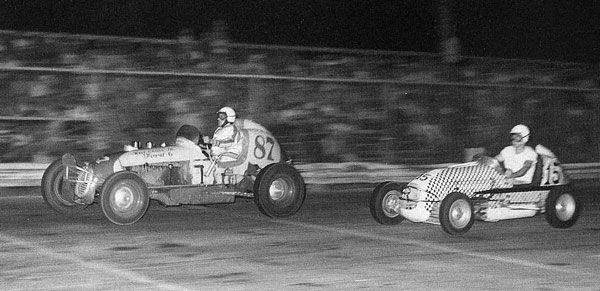 #953 - Here's a special moment back at the long-shuttered Empire Raceway in Menands, NY. On the outside in this 1954 match race in the #87 was Bob Hart, father of the Hart Family of Racers. Bob was aboard a six-cylinder-fired big car, prepared by notable Cliff Wright. On the inside in the #15 Rymsza cross-fire midget was Bobby Boone. The quarter-mile asphalt oval was especially popular for its mid-week stock car show; it operated from 1947 to 1963, when it was dismantled to make room for a Two Guys Department Store. From TOW MONEY – The History of the United Racing Club, Volume One, by Buzz Rose. (Les King Photo)
aaaaa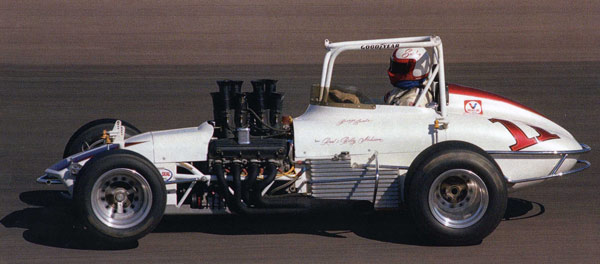 #952 - Beautiful – and very fast. This is legendary George Snider with his Grant King-built sprinter at the 1980 Phoenix Copper World Classic. "Ziggy" had that big block singin' on the mile. He sat handsomely on the pole, leading for 35 laps of the 40-lapper, before being passed by Ken Hamilton for the win. From by Mike Arthur. (Mike Arthur Photo)
AAAAA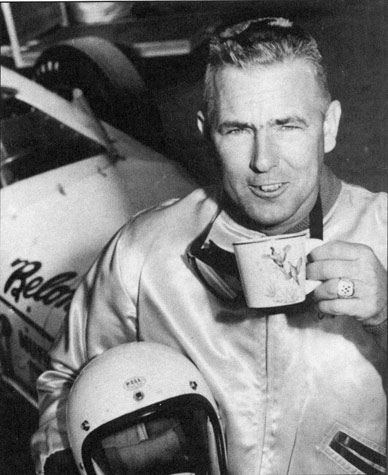 #951 - It is often said that Junior Johnson started the whole thing by bringing corporate America to NASCAR, but in truth it was all brewing years before. Here's a 1958 Jimmy Bryan photo and quote: Immediately following his Indy victory, Jimmy's image was plastered all over newspaper and magazine advertisements endorsing an assortment of products. This one is of "man satisfying coffee." From , by Len Gasper and Phil Sampaio.
AAAAAA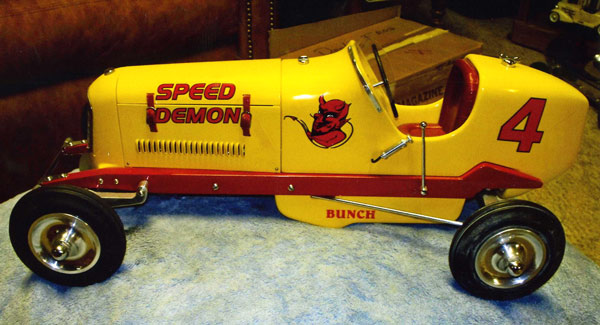 #950 - Pretty as can be. Bruce Pike's replica of a Speed Demon car from 1937, powered by a Bunch .45 model plane engine. (Bruce Pike Photo)
aaaaaa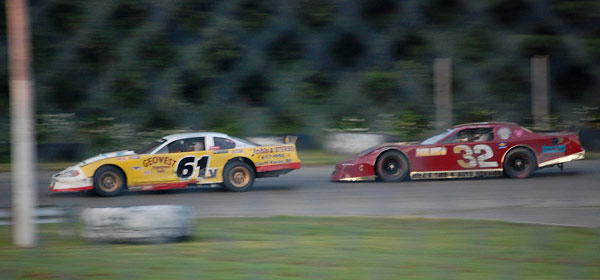 #949 - Jim "The Bounty Hunter" Woodin hadn't been passed all year long or lost a race at Galesburg Speedway (MI). "Rocket" Rich Mersereau had plans to change that on this night. It was mid-season championship and The Rocket had just updated his steering system, thanks to legendary ace Larry Moore. The race was a lead-swapping, fender-banging classic with The Bounty Hunter coming up a few feet short. The crowd was buzzing afterwards with one over-served fan screaming "check his tires - check his tires!" The Rocket Man had this to say, "Buddy, the tires were juiced more than you!!!!"
aaaaa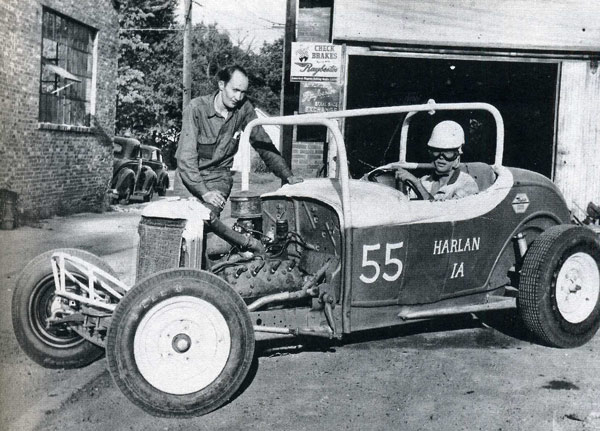 #948 - It was 1947 in the cornfields of Iowa that this used car salesman first went racing in this hot rod. Sure, he had the need for speed, but, apparently he had the need for dollars even more. Somehow it all worked out for him, and in 1959, Johnny Beauchamp was unofficial winner of the Daytona 500 until a review of the finish dropped him back to second, behind Lee Petty. From , by John Havick (Dale Swanson Jr. Collection)
aaaaa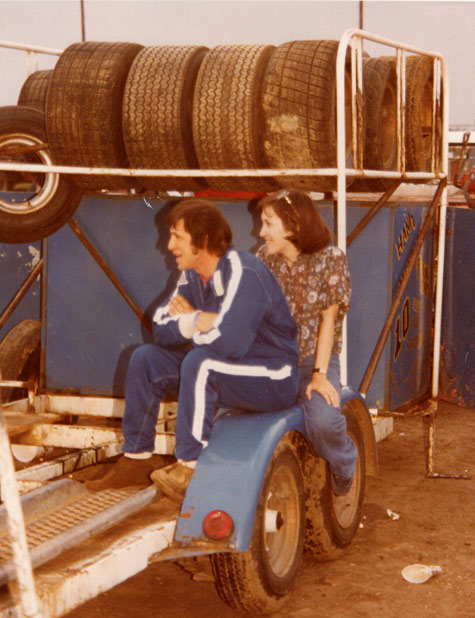 #947 - Folks are really grooving on Joyce Standridge's new open wheel book, They should. Just as the Horcher Brothers and the other lensmen involved sure can shoot a race, Joyce knows of what she writes. She's been around racing for lots of laps. Here she is with everyone's favorite, her racin' hubby, Rick. (Marvin Scattergood Photo, Terry Young Collection)
aaaaaaa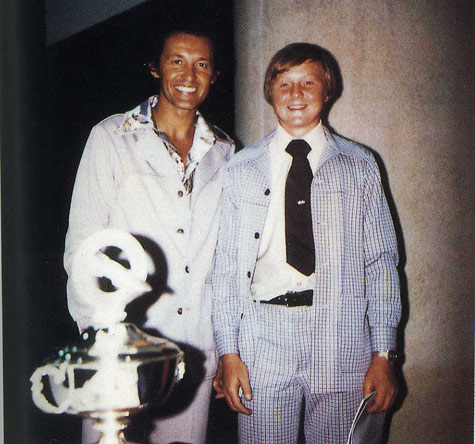 #946 How about that 14-year-old who got all duded up to meet Richard Petty at the Checkered Flag Dinner in Birmingham back in the 1970s? That's quite the suit, Larry McReynolds! From , by Larry McReynolds with Bob Zeller
aaaaaa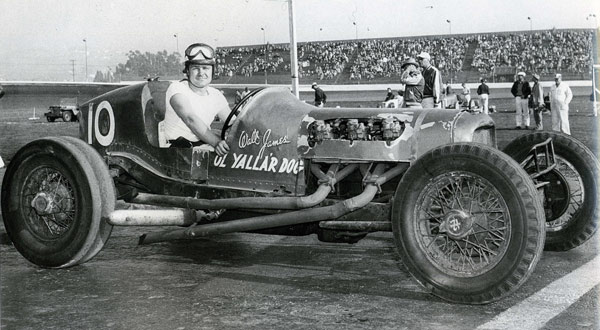 #945 - Walt James was a formidable figure in California racing in the post-War era. Good thing he had formidable biceps as well. Can you imagine what it would have been like to wrestle "Ol Yalla'r Dog" around the ultra-high, ultra-fast banks of the 5/8-mile Oakland Stadium? From , by Tom Motter. (Lafayette Photo, Chini Collection)
AAA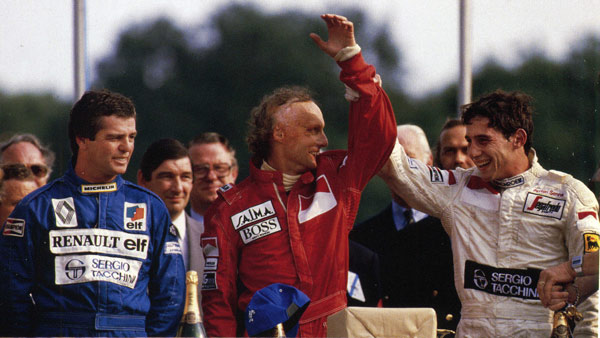 #944 - It's hard to get Ron Howard's movie "RUSH" out of mind. The season-long battle between Niki Lauda and James Hunt just has to have been one of the most dramatic and chilling stories in all of sports. Anyone who has seen the movie will find it hard to conceive that six years later Lauda was racing, shown here after a win at Brand's Hatch. Englishman Derek Warwick (L) was second and an enthusiastic Ayrton Senna third. From , by Paul Fearnley. (Photo L.A.T. Photographic)
aaaaaa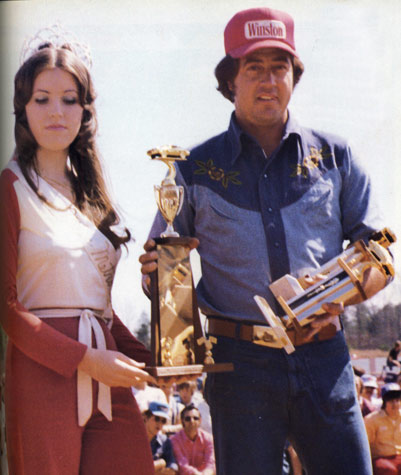 #942 - In the mid-seventies, builder Harry Gant bet that his racing starts could be more successful than housing, and he went on the road. Good move. In 1976 he sat on the pole in 58 of 62 starts. In 1977 his Memorial Day weekend became known as the GREAT MAY ODYSSEY. On Thursday night he won a 35-lapper at Columbia, SC; on Friday night a 250-lapper rain-shortened to 200 in Kingsport, TN; on Saturday he won at 300-miler at Charlotte and got third over at Hickory in a 200-lapper; Sunday he ran 399 miles at Charlotte's World, finishing 30th; Monday he won the 300-lapper at Bristol. The finishing touch was when Darrell Waltrip protested him at Bristol and he had to tear down his engine before gathering up his trophy and his money and driving home to Taylorsville, NC. It was just a little tired out. Harry's good times are shown here with Miss Metrolina Speedway. From 33: THE LIFE AND TIMES OF HARRY GANT, Charlie Keiger, Publisher
aaaa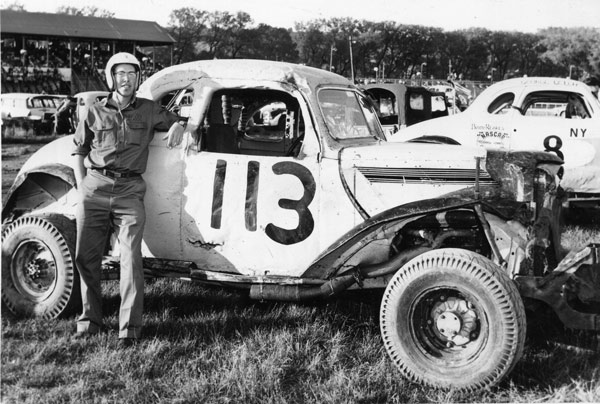 #941 - In 1958 a young dairy farmer from way upstate New York landed a ride in Hal Kempney's Sportsman. The car looked rather understated, but it was potent and had already won Langhorne under the ownership of Bob Mott, with Pete Corey at the helm. Wimble did not disappoint, winning back-to-back shows Memorial Day weekend at Monroe County and Fonda. However, it was not to be in the long run, and Wimble was summarily discharged. Some divorces have a happy ending, though, and such was the case for Wimble. After the untimely highway death of big-armed Don Hendenberg, wiry Wimble worked himself into the McCredy s-33. He would stay put for 11 glorious years, winning feature after feature, leading to track, state, and national championships. (Ramona Feuz Collection)
AAAAA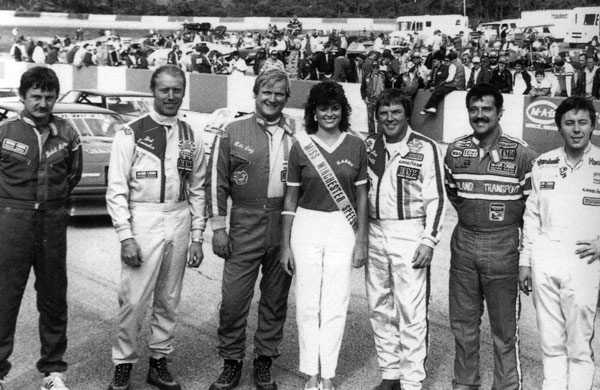 #940 - Here is one heavy duty lineup, straight from mid-America. L-R, Butch Miller, Bob Senneker, Mike Eddy, Dick Trickle, Jim Sauter, and Alan Kulwicki prepare for the din at Winchester in 1985. From , by Rex Robbins with Dave Argabright.
aaaaaaa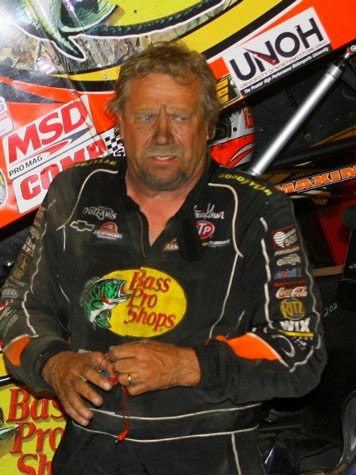 #939 - How about Steve Kinser and Tony Stewart Racing announcing yesterday the "Salute to the King" in 2104! It will be Steve's final year and he will be seeking his 21st WoO championship. Forty years on the road; 576 WoO A-Main wins. Simply incredible. Sponsor Stewart is spot-on: "He's the best ever, and I couldn't be more proud." Dave Dalesandro photo
AAAAAA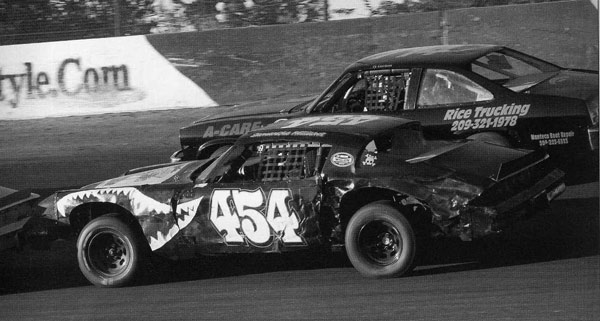 #938 - Sixteen-year-old Samantha Williams was right in the thick of things with her #454 Bomber at Stockton 99 (CA) Speedway in July of 2012. The previous year she racked up three mains. It's in her genes. Her dad Greg, a very popular performer at the track, had won 10 of the 14 shows he had entered just 10 years earlier, but he succumbed to cancer in 2004. From , by Bill Poindexter. (Jessie's Fast Photos)
aaaaaa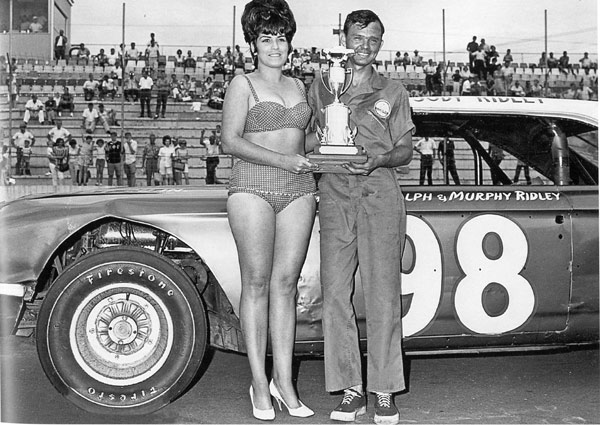 #937 - That's Jody Ridley snatching a Sportsman race at Middle Georgia Raceway. MGR, a 0.548-miler opened in 1966, was quite the place. Folks don't remember a whole lot about the racing, but it did gain quite a bit of renown for the elaborate moonshining chamber found at the end of a 150-foot tunnel beneath a ticket booth. And there was the Second Atlanta International Pop Festival in 1970, which matched fully the rowdiness of Woodstock the year before. The facility was shuttered in 1970 when Bobby Allison won the final Cup race. From , by SS Collins and Galvin D. Ireland.
AAAAA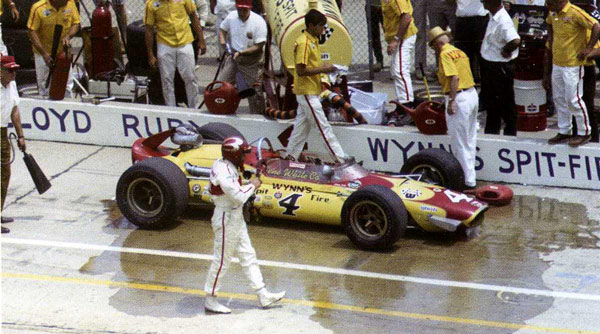 #936 - The slow talkin' dirt driver from Wichita Falls, Texas, was no question one of the nation's best ever, but that Brickyard challenged his soul. Here's what he said of this moment at Indy in 1969: "A little misunderstanding in the pits, a little on both of us, and I run off and left the gas tank hanging and pulled the side of the car off. They told me to get out, but I still couldn't realize what had happened. I got out and saw all the fuel running out and walked just a little ways, had to go back and look at it again….One minute we're in the lead, the next second we're out of the race. I knew it was over and I was just plain sick to my stomach. The car was running beautiful. All I could think of was that I'd been leading this thing four years in a row (actually 1966, 1968 and 1969, ed.) and now this….It was my best chance, and I guess the worst feeling of my life." Photo and Quote from , by John Lingle. (IMS Photo)
aaaaa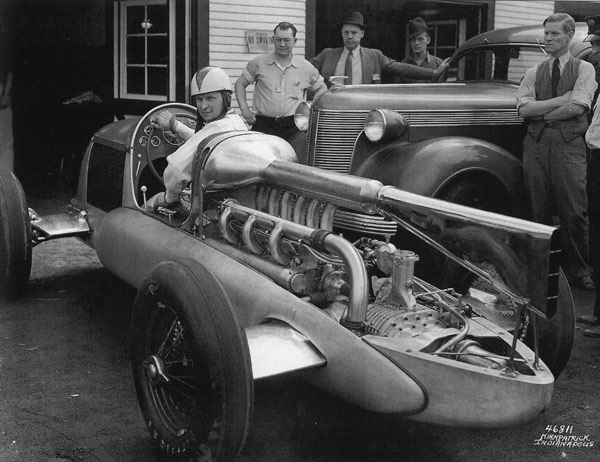 #935 - Harry Miller and the Gulf Oil Company had the pit area buzzing at the Brickyard in 1938 and 1939. Here's Ralph Hepburn perched way up front in a supercharged creation with 4-wheel drive and very early disc brakes. Unfortunately, despite the innovative design, Hepburn was unable to coax it up to qualifying speed. Photo from THE MARVELOUS MECHANICAL DESIGNS OF HARRY A. MILLER, by Gordon Eliot White
AAAAAAA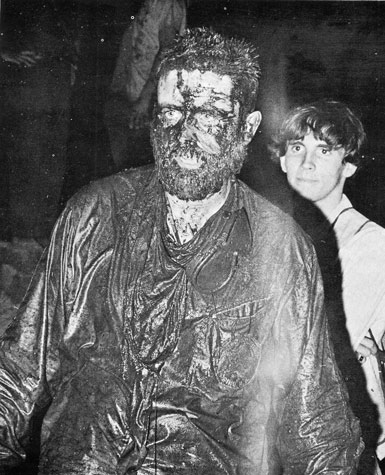 #934 In the 1960s, Mark Lowell, a dirt tracker from Oklahoma, moved up to New England and decided to run with newly formed NESMRA, the New England Super Modified Association. In 1971, his second year, he ran some of their shows on the 5/8th high-banked pavement of Thompson, CT. One of them was just a little problematical. He got to soaring high over the sand banks (there were no retaining walls in the turns back then) and right out of the place. Fortunately, it was a soft landing, though a touch on the soggy side. (Mark Lowell Collection)
AAAAA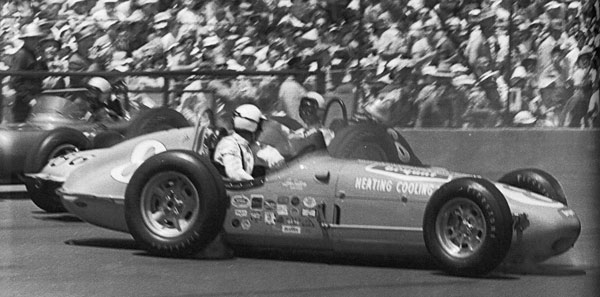 #934 - How's this for a heart pounder? Len Sutton describes a moment at the 1961 Indy 500. "We qualified eighth and were doing well in the race when Jack Turner got tangled up in a crash on the front stretch, bringing out the yellow. It was about pit stop time and I glanced over toward my pit to see if they wanted me in for service. As I turned my head back toward the front stretch, the cars in front of me had really slowed. The brakes were not going to be enough and so I swerved to keep from rear-ending another car. I spun out, but was able to continue. We lasted another 50 or 60 laps until the clutch gave out. We were awarded nineteenth." Photo and caption from , Dave Friedman Photo
aaaaaaa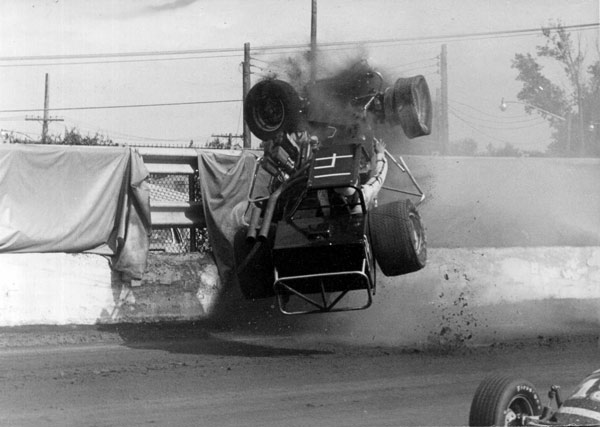 #933 - Hefty Don MacLaren was a rock 'em-sock 'em Northeastern supermodified standout back in the day. In 1978, quite late in his Hall of Fame career, he decided to do a little dirt – at the 1978 Syracuse Supernationals. He was on the hammer on the Mile until this energetic encounter with the third-turn wall. The ensuing flips were spectacular, but the big guy was uninjured - and unfazed. (Coastal 181 Collection, Spekis Brothers Photo)
aaaa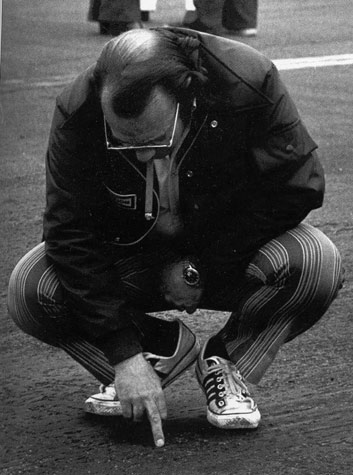 #932 - Who has been a greater identity of contraries than Bill Jenkins? The "Magician from Malvern (PA)" was a Pro Stock drag racer, a mechanical engineer degreed at Cornell, a driver, an engine builder, a guy wildly popular with the fans while diminutive in stature and known throughout the racing community as "Da Grump." Here he was at Pomona's 1973 Winternationals, seeking that exact "sweet spot." From , by Steve Reyes.
aaaaa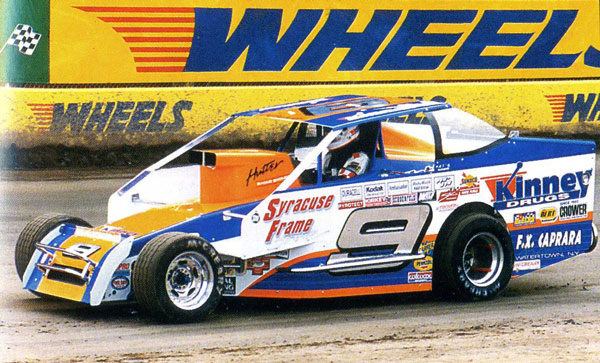 #931 - Everyone's favorite, "Barefoot" Bob McCreadie, father of everyone's favorite Timmy "T-Mac" McCreadie, had everyone guessing about what he would show up with for the 25th Super DIRT Week at the Syracuse Fairgrounds in 1996. Barefoot did not disappoint. His car even looked like a rocket ship, but, unhappily, that prettily slippery front end was a lot different after an accident on lap 98. From DIRT Trackin' Magazine, DIRT Motorsports Photo
AAAA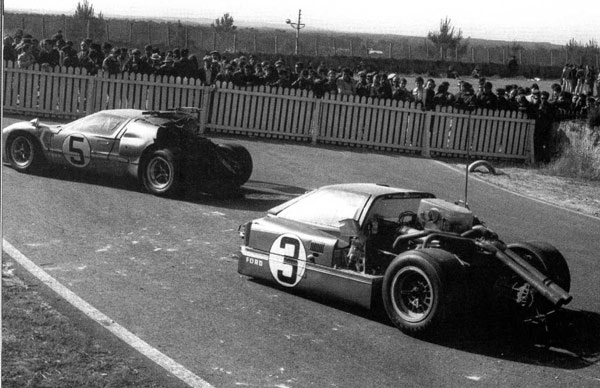 #930 - "This (at Le Mans in 1963) was one of the biggest accidents of (Mario) Andretti's long career….On arrival in the Esses, he hit the brakes and they failed. The steering wheel was wrenched out of his hands…and he hammered the outer bank with such force that the engine broke loose. He was able to get out and clamber up the wall, before collapsing on the grass there. Cue Roger McCluskey (Mario's Ford Teammate). He hit the wall deliberately; otherwise he would have struck Andretti's car, and he assumed (wrongly) that its driver was still inside. Jo Schlesser (another Teammate) then arrived amid the debris at full chat, and aimed for a gap between the two wrecks that wasn't there. Both McCluskey and Schlesser emerged from their cars unhurt. Not so Andretti: his shoulder harness had broken three of his ribs and badly bruised his whole torso. Ford had set up its own surgically equipped medical centre in the Paddock and had instructed its drivers on no account to allow themselves to be taken to the local hospital. When Andretti, shouting in agony, was carried to the ambulance, he refused to get in. An argument ensued. McCluskey resolved it by going to the front of the ambulance, grabbing the ignition key, and hurling it as far as he could into the woods. Then the big man picked up his Teammate, slung him over his shoulder, and crossed the track. He found a marshal who had a Peugeot estate car, and commandeered it." Photo and Caption From LE MANS: The Official History of the World's Greatest Motor Race 1960-1969, by Quentin Spurring, Automobile Club de l'Ouest Collection
aaaaaa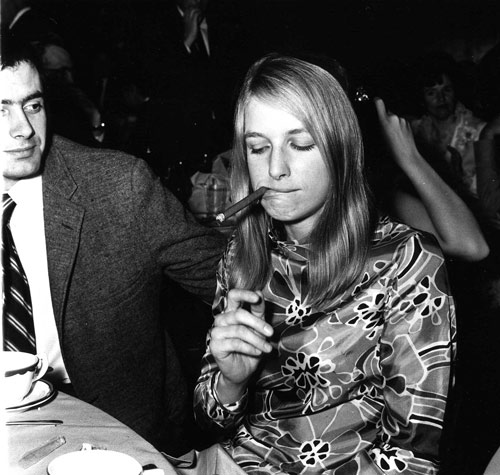 #929 - Anyone who has ever communicated with us knows that Cary Stratton is Captain of Coastal 181. And to keep this site as human as possible, we decided to run a photo of her. She will be SO PLEASED. In fairness to Cary, however, know that the shot was taken at a New England Super Modified Association banquet in the seventies, and you can imagine what they were like.
aaaaaa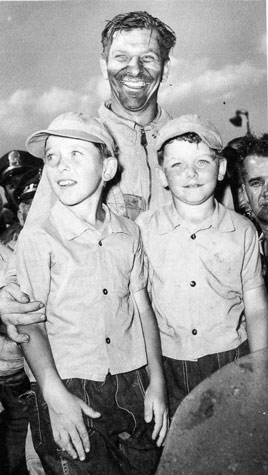 #928 - June 24, 1951 was one hot but happy day for Indy legend Tony Bettenhausen, "The Tinley Park Express." He bested the field of big cars on the gritty mile at Langhorne, PA, out-strong-arming weary second-place finisher, Bill Schindler on the 85th of 100 laps. Tony was met in Victory Lane by his sons Merle and Gary, both of whom had great – if star-crossed – careers. From , by Dick Wallen. (Jim Chini Collection)
aaaaaa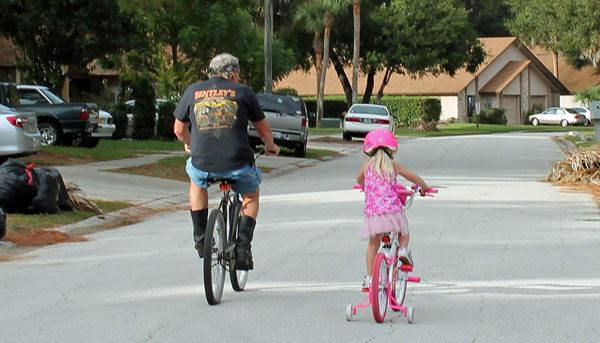 #927 - What are we going to do with that Bentley Warren? We are so busy shipping copies of his new book, but are having to tell folks that he cannot autograph any just now. He said he had to go to Florida racing. Well, we caught him in the act, blastin' down the straightaway with Lisa Zatalava's five-year-old grandniece Zoey. (She's clearly leading). (Photographer to remain undisclosed)
aaa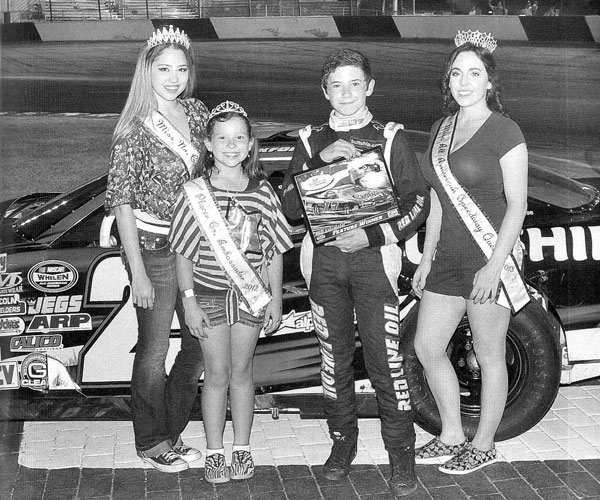 #926 - This kid from California would appear to be solidly on his way. He set a new track record at All American Speedway (the former Placer County Fairgrounds in Roseville, CA) before becoming a victor in the Bandoleros. This year he joined the Late Models division and quickly emerged as the youngest winner ever in that division. He is James Bickford. He is 15. He is also Jeff Gordon's cousin. From , by Bill Poindexter. (Tim Grant Photo)
aaaaa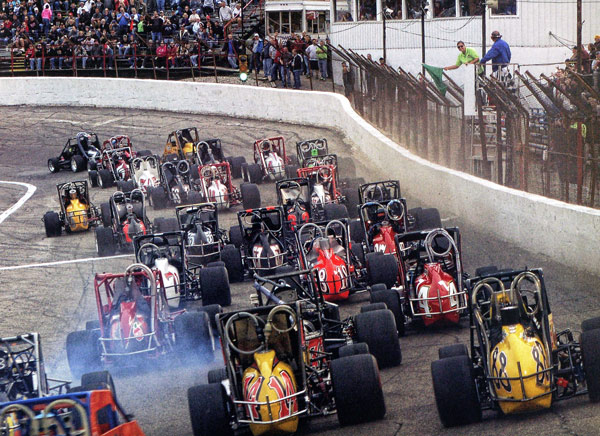 #925 - David Sink caught this great shot of 33 sprint cars taking the green three-wide for the 65th running of the Little 500 at Anderson, Indiana. Note the race-specific fueling apparatus. This stuff is not for the faint of heart. From , Dave Sink Photo
aaaaa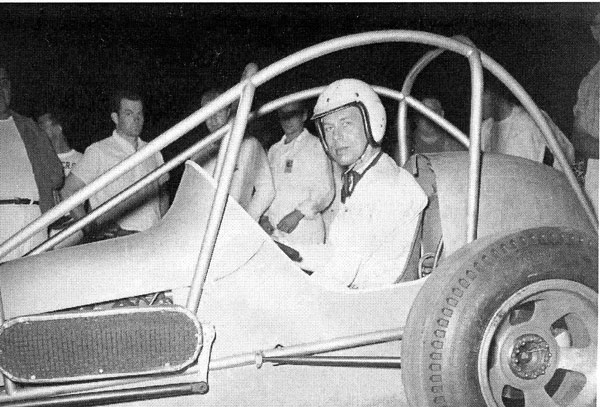 #924 - The 1960s was a decade of major technological change in racing. Here's what West Coast racer George Benson had to say: "In 1966 Vince Conze didn't run the Pikes Peak Hill Climb and he converted his "Down Tube Champ Car" to the "Down Tube Sprint Car." I did the test-driving for this car at Whiteman Stadium 1/3 mile paved track at Pacoima, California. The car was extremely powerful with less than a two pounds per horsepower, power to weight ratio. It actually jumped down the straightaways so violently that the engine bottomed out on the track with a thud when the throttle was shut off." Photo and Quote from , by George Benson.
aaaa
#923 - Our friend Jeffrey Hardifer, majordomo of the cool site, sent along this photo from Yellow Jacket Speedway in Philadelphia from 1949. That would be Tommy Coates in the #91 coupe roughing up Roscoe "Pappy" Hough in heavy traffic, while Pepper Cunningham wisely looks to a higher groove. Take a close look at Coates and Hough, both of whom are working their neck muscles seriously. Head rests weren't in fashion yet, let alone HANS Devices. (Garden State Vintage Stock Car Club Collection, Boyd Harnell Photo)
AAAAA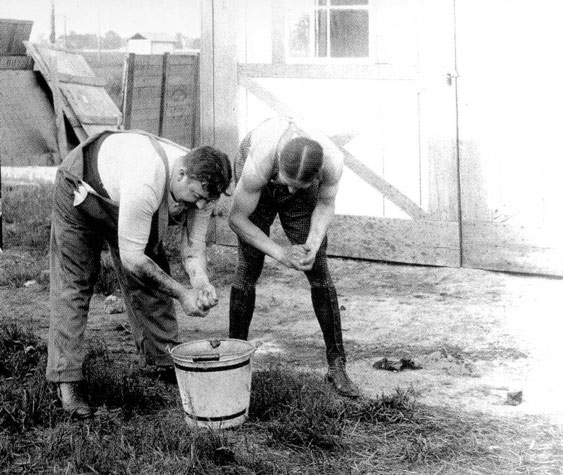 #922 - 100 years ago last May, the facilities at Indianapolis sure were less tony than they are now. Shown here are two Peugeot teammates, Paulo Zuccarelli and Jules Goux (R), washing up after a practice session. Things seemed a tad less regulated, too. During the six-hour, sun-soaked event, Goux made six pit stops, each time taking on a bit of "bubbly." The matter-of-fact Frenchman pointed out that "without the good wine, I could not have won." From , by Donald Davidson and Rich Schaffer. (IMS Collection)
aaaaaaa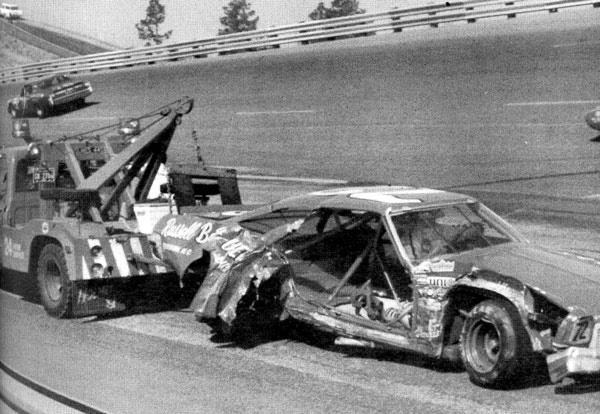 #921 - Here's Benny Parsons on the hook following a lap 13 crash with Johnny Barnes at the late 1973 season American 500 at Rockingham. The #72 Chevy was toasted – even the right side bars were ripped out. And Benny was bummed since he had been leading in points. But the day was not over. A wave of crew guys from a bunch of teams jumped on the case and began welding and installing a new rear end. They were able to get Benny back out there for 300 more laps, and he was able to stave off Cale Yarborough for the title. From
by Rick Houston and Bryan Hallman. (Tex Powell Collection)
AAA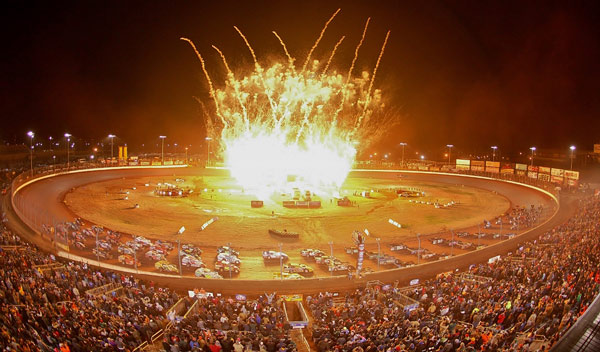 #920 - "Race Pro Weekly" photographer extraordinaire, Dave Dalesandro, captures the moment at the World Finals at Charlotte. (Should they go ahead and put dirt on the track across the street to attract this kind of crowd?)
A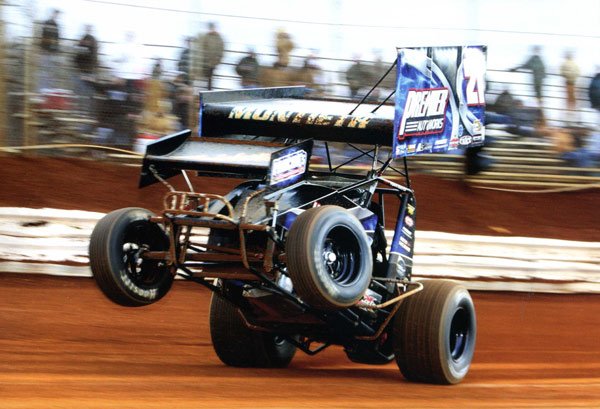 #919 - That's why they call him "the Edge." In his 32 years behind the wheel Phoenixville, Pennsylvania's Brian Montieth has won over 500 quarter-midget events, 47 in the 410s, and the Lincoln Speedway Championship 2008-2011. Photo from 2014 by Rife's Racing Collectibles
AAAA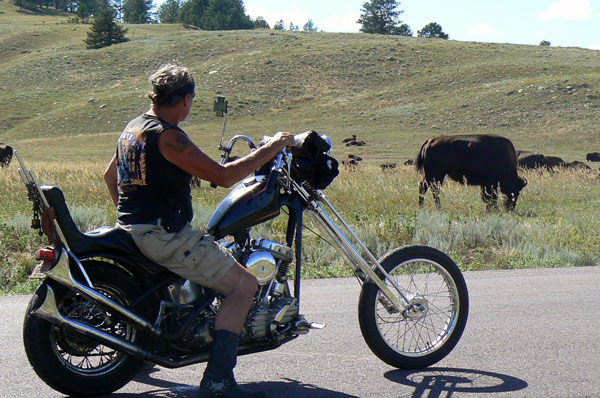 #918 - , Bones Bourcier's incredible new book on the incredible Bentley Warren, has come in! We are thrilled. It would be a serious understatement to say that a wide range of subject matter is covered. Here's travelin' man Bentley checking out a native herd in the Black Hills of South Dakota. (Photo by Lisa Zatalava)
aaaaa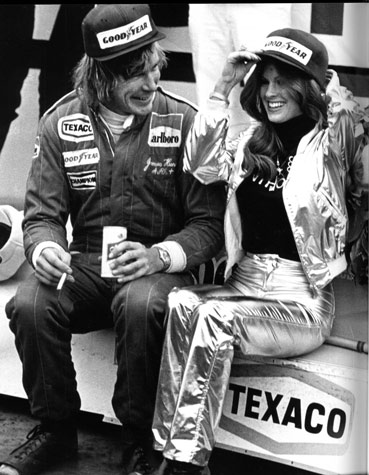 #917 - If you have seen Ron Howard's current and fabulous movie RUSH about the legendary 1976 Formula 1 Championship battle between Niki Lauda and James Hunt, this photograph of Hunt entertaining a Penthouse Pet at Watkins Glen will bring you a knowing smile. It you have not seen the movie, you absolutely must. (You should get the book, too! ) From by Paul Fearnley. (L.A.T. Photographic Archive)
AAAA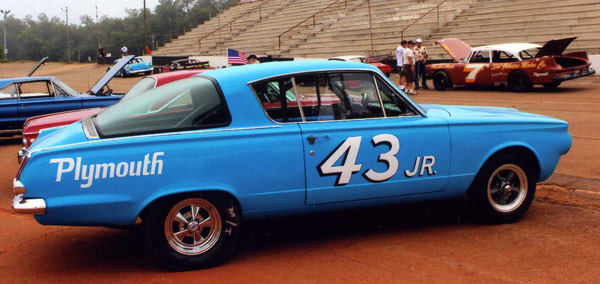 #916 - Our book dealer in Florida, Harold Frederick, went up to the vintage celebration at the old Middle Georgia Motor Speedway in Bryon last August 31 and snapped this photo. Some cars just seem to have an ill wind blowing about them, and this is certainly one of them. It is the supercharged Hemi dragster that Richard Petty raced in the mid-sixties during a brief hiatus from NASCAR. On February 28 of 1965, he flashed down the Southeastern Dragway in Dallas, GA, lost a wheel, and the car plunged into the crowd. An eight-year-old boy was killed and seven others injured. Harold reports that after many years sitting in some woods, the car was recovered and restored. (Harold Frederick Photo)
aaaaa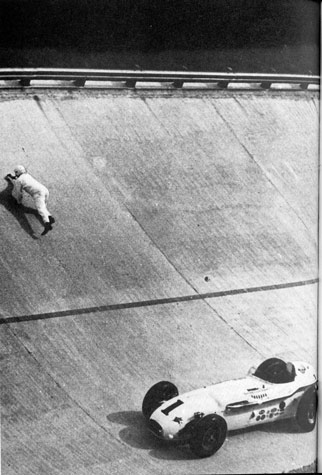 #
915 - In 1957, after the USAC race at Phoenix, a gaggle of roadster drivers headed off to Monza, Italy, to take on some of the top Formula 1 drivers. In practice at over 175 mph on the ultra-steep banks, Jimmy Bryan had the money in his racing suit pocket sucked out by the wind. Here he was, scrambling around to retrieve it. He did miss a few bucks, but on race day it seemed less of an issue. He and his Dean Van Lines team swept the show to the tune of ,000. Few of the Europeans could believe his speed and bravery, especially when they watched him smoke three cigars during the 500-mile run. From , by Len Gasper and Phil Sampaio. (Photo by Publifoto)
aaaaaa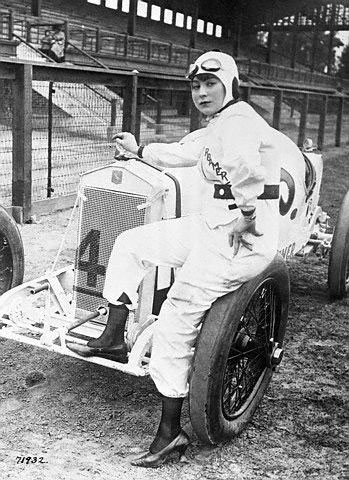 #914 How cool is this? Check out racer Helen Summersby. She was ready, suited-up high heels and all, for the Women's World Championship Auto Race held at the old Ascot one-mile concrete in Florence, CA. The event was run 96 years ago next February. (Photo from Ken Spooner's collection. Ken is author of the neat Long Island racing book, ).
aaaaaaa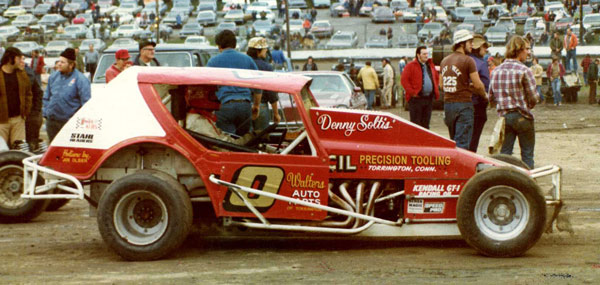 #913 - On opening day, April 1969, three very green rookie teams pitted next to each other at Lebanon Valley (NY) Speedway. They were Corky Cookman, Denny Soltis, and our motley little 181 coupe crew. Corky went on to prominence in the NASCAR modifieds before perishing in a crash at Thompson, CT. Likeable Denny became quite the star on the dirt. He is shown here a decade later at Middletown, NY. Remarkably, he is STILL at it in the big block modifieds at Lebanon. He told us last summer, "To be honest, I am not sure how we keep doing it. I have no money, no crew – I do it all myself, including the motors. I had a bad stuck-throttle crash a year back and hurt my neck. Now I have to wedge it against the seat to keep it unmovable. I guess the brains must have rattled out a long time ago!" (Jo Towns Collection)
AAAAA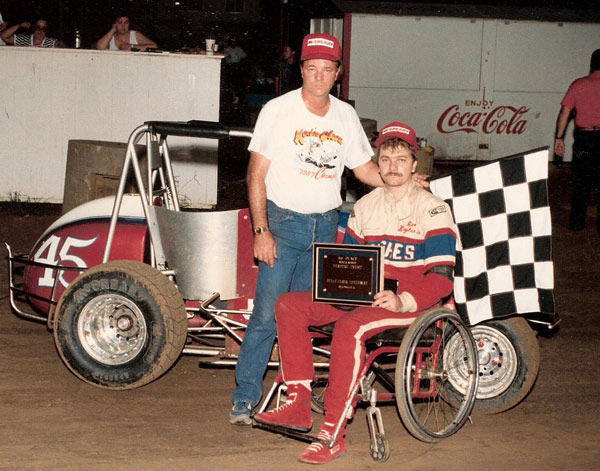 #912 - "After a 1984 racing accident left his son a paraplegic, Ron Hughes Sr. rigged the family midget with hand controls. Ron Jr.'s career included five Texas Outlaw championships, three after the accident. Among the estimated 100 feature wins was this 1989 night that found the Hughes men in Belle-Clair's Victory Lane. Tragically, Ron Jr. was killed the following March in a Devil's Bowl wreck." Photo and Quote from , by Joyce Standridge. (Allen Horcher Photo)
AAAAAA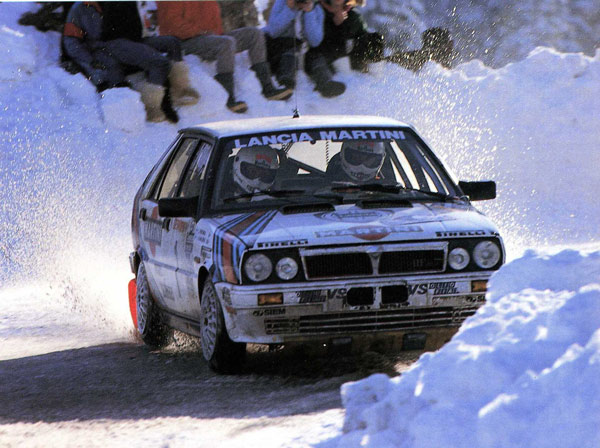 #911 - Clearly Juha Kankkunen set up his Lancia for this turn during the 1987 Monte Carlo rally far before he got there. All four wheels are driving straight as he power-slides through. World Rally Champion though Kankkunen may have been, those folks on the snow bank look pretty daring. From COMPETITION DRIVING, by Alain Prost and Pierre-Francois Rousselot.
aaaaa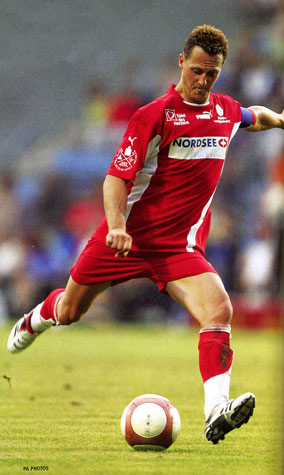 #910 - With 91 Grand Prix wins and seven world championships, you would have to conclude that Michael Schumacher has incredible athletic prowess. But that does not mean it reached to all sports, and, sadly, it did not include soccer (or "football") that was his passion outside of racing. In his words, "With football there is this attraction that I'm not good at it. When I went on to the pitch in a game, for instance, I was sometimes more nervous than when I got into my Formula 1 car. I also had to concentrate harder if I wanted to control the ball well than when I was approaching a corner, even if I was going very quickly. It's funny: in Formula 1 I always had spare capacity in my head. When I play football I think I hardly have any freedom to look at what's around me, take it in and build a move well." From , by James Allen (Photo by PA Photos)
AAAAAA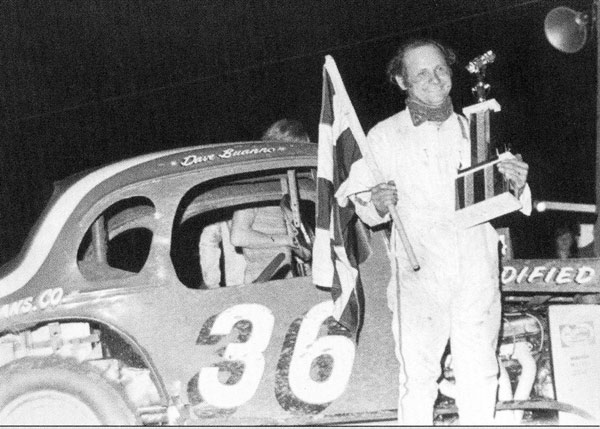 #909 - Please listen up on this one. On Saturday night last August 10, one of those random situations went down that was completely out of the blue and unspeakably horrible. Popular, mild-mannered, 69-year-old Dave Buanno went down to Fonda Speedway to see some of his old buddies. He has a bunch of them. Back in the seventies, he was a journeyman modified runner there at "The Track of Champions" with three feature wins. While chatting it up in the pit area, a wheel and tire flew off a race car, over the fences. David never saw it coming, and it hit him squarely and ferociously. He was med-flighted to Albany Medical Center and declared permanently paralyzed neck down. It has been an awful ordeal. But David is a determined guy with a strong family behind him. Doctors have been beyond amazed that he has begun to get some movement in his shoulders and right arm. There have been all the predictable insurance battles, and David has now been transferred to a spinal rehabilitation facility near Boston. Though the future is unclear, he just keeps digging, his wife Linda at his side fulltime. It's a long way from home, and it can only help for him to have some cheer from the outside. How about taking ten minutes and dropping a real good guy a card:
David Buanno - Floor A-2 - VA Health Center - West Roxbury, MA 02132

(Biittig Collection Photo)
aaaaa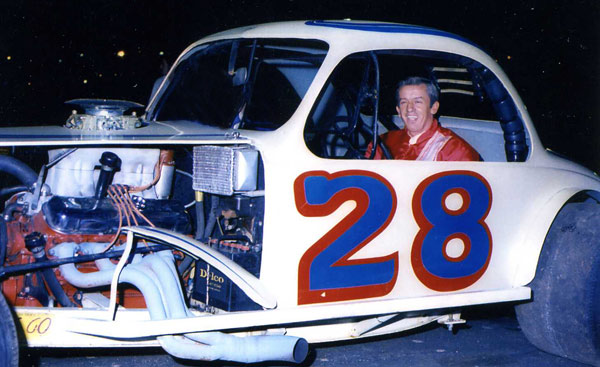 #908 - Here is Eddie Flemke Sr., professorial leader of the East Coast modifieds, in likely the throatiest car he ever drove. It was the beautiful Connecticut-based Garuti coupe that made sweet music with the speediest kit of the day. That lasted until 1970 when aluminum big blocks were outlawed, and the car was retired. (John Grady Photo)
AAAAA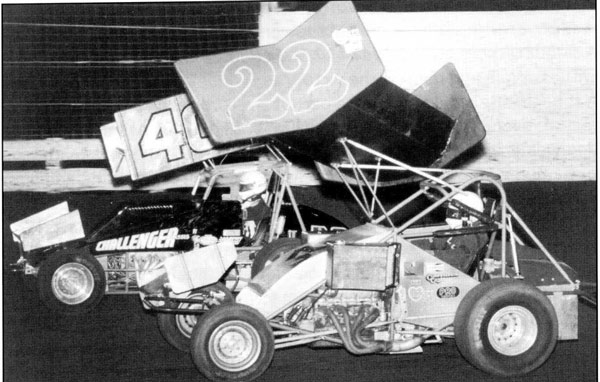 #907 - Generally speaking, a sprint car is a sprint car. But Texans have never seemed big on conventions imposed on them from the outside. Case in point would be Dallas aeronautical engineer Tom Johnson, who used a CAD program to design his hot rod. Here he is at Knoxville in 1985, dicing with Dave Blaney. By all reports the #22 was pretty racy, if a tad temperamental. Just a few weeks earlier – on June 21, Johnson had set fast time at Devil's Bowl in Mesquite, TX, in a show won by Sammy Swindell. It was all soon to come a big end with a big crash, though, allegedly ending Johnson's fling behind the wheel. From , with Eric Arnold and Bob Wilson. (Max Dolder Photo)
aaaaa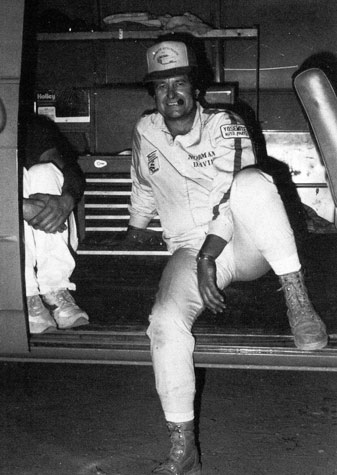 #906 - Stormin' Norman David had quite the career in the 1980s and '90s in the late models at Stockton 99 (CA) Speedway. As you can see, he was pretty attached to that stogie. One night, though, he was hit so hard by Ron Strmiska Sr. that it took off. Some years earlier back East, the late NASCAR champ Rene Charland had also been competing with a cigar when he flipped at Fonda (NY) Speedway. Fellow competitor Bill Wimble ran over to the wreck and found that Rene wasn't breathing. Rene's cigar went the other way and was lodged deep in his throat. Wimble swears even today that, when he removed it, Rene intentionally bit his fingers. (Photo from , by Bill Poindexter, Mike Shafer Collection)
AAAAAA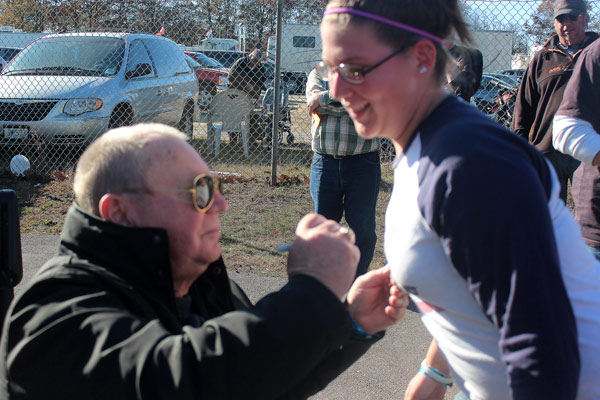 #905 - The great modified champion Bugsy Stevens came to the Coastal 181 display for some book signing at the World Series at Thompson (CT) Speedway last Sunday. Bugsy was widely known for his passion as a competitor and his Olympian command behind the wheel. Some things never change. Here a young lady has come over for an autograph. Note the attentiveness and firm grip Bugsy gives to anything he signs. (Kim Phelan/Charlie White Photo)
AAAAAA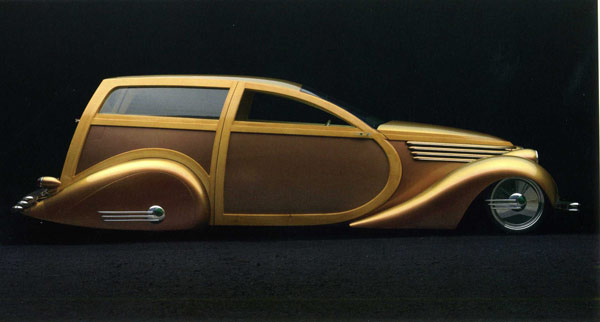 #904 - Ken "Posies" Fenical is in Hummelstown, PA, and, in his words, "I strive for individual cars that are statement-makers". Sure seems he got 'er done with this 1937 Studebaker, now dubbed "Extremeliner." Photo and Quote from , by Ken Gross. (Photo by Peter Harholdt)
aaaa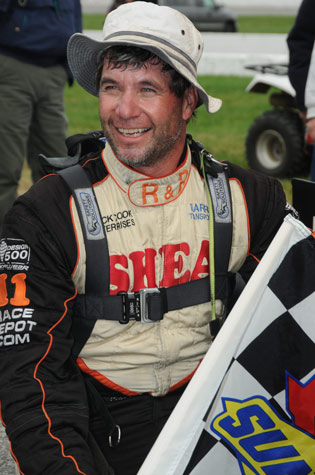 #903 - The World Series of Racing at Thompson (CT) Speedway ran off last weekend to huge crowds, overflowing pits, and a warming autumn sun. There was quite a bit of buzz about the speeds the top divisions – especially the ISMA Supers and the NEMA Midgets – were attaining. Has anyone ever toured the banked 5/8 mile asphalt as fast as Chris Perley did in the Vic Miller #11 while practicing on Saturday? Chris says "The car felt really comfortable. It wasn't moving around at all. I did a couple of 16.2s pretty easily and then backed down to 16.4s to save the tires. You know, I think if we had actually time trialed, we could have been in the 15s." Wow. (Dick Berggren/North East Motor Sports Museum Photo)
AAAAAAA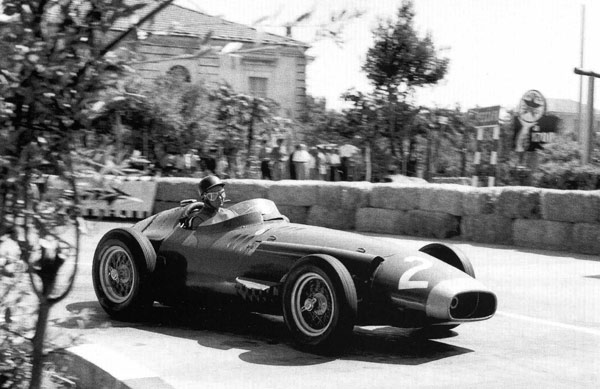 #902 - You can always tell it's Juan Manuel Fangio, wherever, whenever the image was taken. Here he is shown at the ultra-fast Pescara (Italy) Grand Prix in 1957 in his Maserati 250F. There was something about the way the Argentine sat so seamlessly with a race car, upright, head slightly cocked, implying extreme calm and confidence. No question he was one of the greatest Formula One competitors ever. In the 1950s, he won the World Championship of Drivers five times. From (Edward Eves Photo)
AAAAAA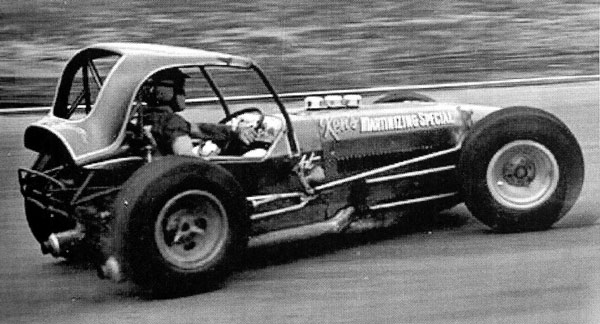 #901 - This was Pacific Northwest great Art Pollard giving Ken Glass' Martinizing Special a serious work-out on the pavement of Meridian Speedway, Boise, Idaho. The team was red hot. In 1961 they won 22 of the 28 shows they entered. But by 1963, when this shot was taken, Pollard's mind was focused on another adventure. By 1965 he was at Indy. From , by Gerald Hodges (Clyde Sullivan Collection)
aaaaaa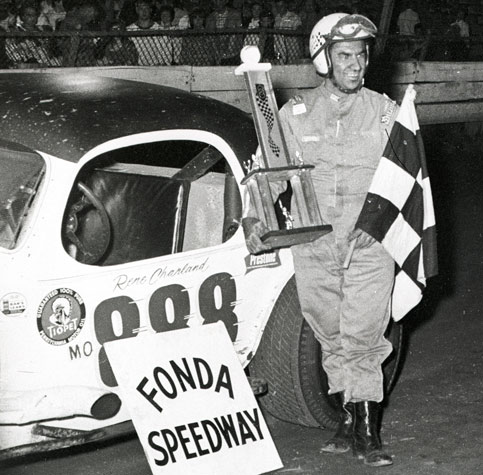 Here's a submission by Denny Zimmerman, a founding member of the infamous Eastern Bandits modified team and an Indy 500 Rookie of the Year. He writes about his buddy Rene Charland, pictured above at his favorite track, Fonda, NY.

Rene's gone, a sad day for sure. Let me just say it was a privilege and an honor to call Rene a friend. During the "Bandit Days" we raced together, traveled together, helped each other when one of us crashed and cheered when one of us won, and of course Rene was always the prankster. We made a lot of friends and we made some money too.

Because I was there and, while I still remember, let me tell you a Rene story. In the early '60s (The Eastern Bandit Days) NASCAR had a contest. The person that sold and was responsible for signing up the most new (NASCAR) members would win the next year's Daytona 500 Pace Car. Rene sez, "I'm gonna win the Pace Car," and he did. Remember we were racing four and five nights a week. Every night (or afternoon) during the intermission before the feature Rene would go up into the grandstands and sell new NASCAR memberships to the fans or anyone else he could talk into it. He sold a bunch of them and won that Pace Car. But that's not the end of the story..........
Daytona 500 was in February, and now it was April and our racing reason was beginning. Rene has the "Daytona 500 Pace Car" and he starts making a "Deal" with all of the promoters at the race tracks that we were running. Remember, it was four and five nights a week. Rene would "loan" the Pace Car to the track for the night (for a small fee). That year he may have made as much money from the Pace Car as he did racing.
Rene was a Racer, a Showman, a Promoter and a friend, he will be missed...O yeah, a prankster too.
Denny Z. (Photo by Frank "the Guy With the Hat" Simek)
aaaaa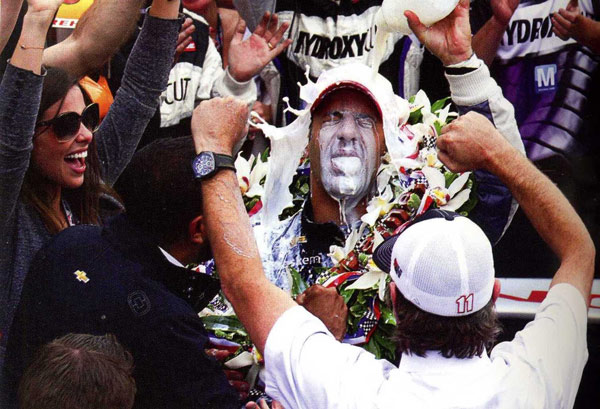 #899 - In their gorgeous and comprehensive new volume , authors Donald Davidson and Rick Shaffer have this to say about the 2013 victor: "Few could remember a winner more popular than Kanaan from the point of view not only of the fans, but also the participants. When the Victory Circle celebration was completed and efforts were made to conduct the lap of honor in the pace car, there was a holdup of many minutes as the south end of the pits was blocked by several hundred well-wishers. Team member after team member came up to the vehicle to greet the new champion, including three generations of the Andretti family. Extremely moving was when the still-uniformed Ryan Hunter-Reay, who had come so close – leading as late as lap 197 only to end up third – worked his way through the crowd and went up to warmly hug the man who had just beaten him." (Indianapolis Motor Speedway Photo)
aaaaaa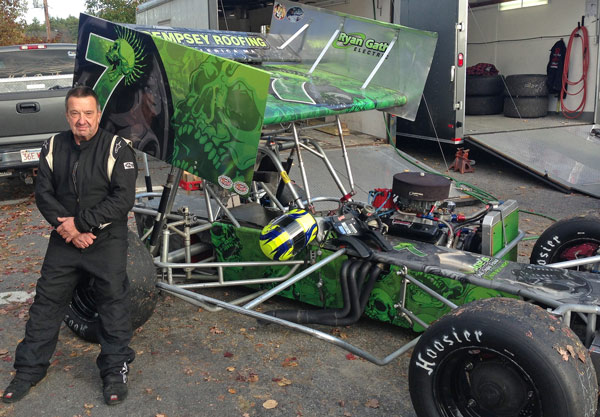 #898 - Three hundred and seventeen drivers of all shapes and sizes suited up last weekend for Lee (NH) USA Speedway's 26th annual Oktoberfest. They came from all regions too – Modified ace Andy Seuss came up from Charlotte and Evergreen Speedway's Race Director Chris Cunningham flew out from Monroe, WA, to wheel Karl Fredrickson's Speedway Illustrated entry. None, however, was cooler than Rusty Caswell from nearby Tyngsboro, MA. The smiling, unflappable Rusty had never driven anything other than some mild drag cars and the occasional kart before jumping into a supermodified for the show. He won his qualifying race. Not bad, especially given that he's 70. (Falconi Brothers Racing Photo)
aaaa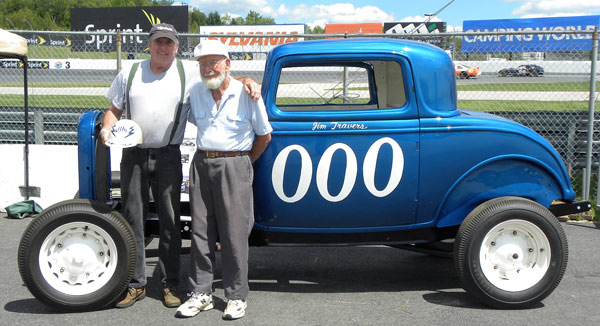 #897 - One of the most cherished members of the Northeastern racing community and the NEAR Hall of Fame is 94-year-old Marty Harty (right). He is sharp as a tack, a brilliant story teller, and builder of some of the best old-time stock cars in the region. He is shown here at New Hampshire Motor Speedway's Vintage Celebration in July with his buddy Howard Towne. They are restoring that coupe, which won widely. When Marty wandered into the garage area at NHMS, he bumped into Parnelli Jones, who was there trying out a modified built by Jimmy Dilamarter, his former crew chief and current business manager. Marty looked Parnelli up and down and said, "You don't look all that dangerous to me." (Photo by Karl Fredrickson, Speedway Illustrated Magazine)
aaaaa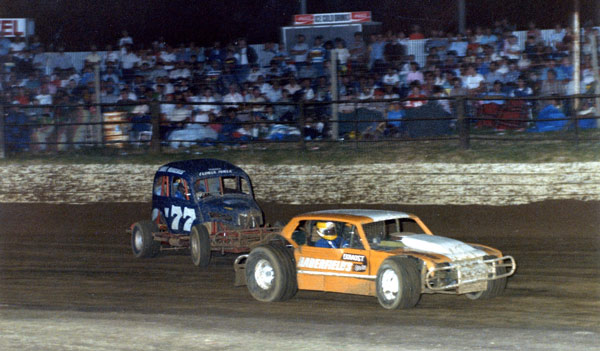 #896 - Here are David Morse (#77) and Peter Shepard hauling it into the turn at Borderline Speedway from very different angles of attack. The photo may look trick, but it isn't. Borderline is in Mount Gambier, Australia, and they run the "Super Rods" clockwise. From 50 YEARS OF BORDELINE IN PICTURES. (Courtesy Andrew Cameron, Editor)
aaaaaa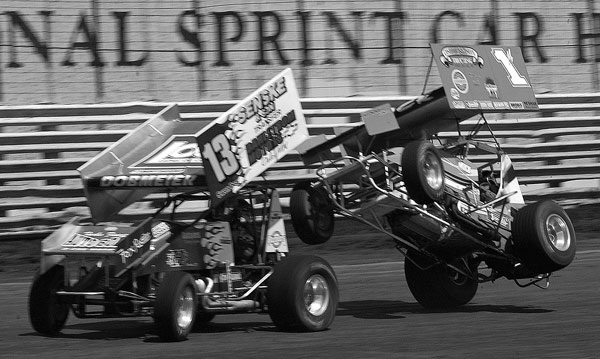 #895 - The photography in Joyce Standridge's new book, DID YOU SEE THAT?, really is incredible. How about this David Hill shot, snapped right in front of the National Sprint Car Hall of Fame Museum, at Knoxville. That's Kim Mock in the #1k riding up over Mark Dobmeier's right rear and into the stratosphere. One great big tumble followed. From , by Joyce Standridge. (David Hill Photo)
aaaaaa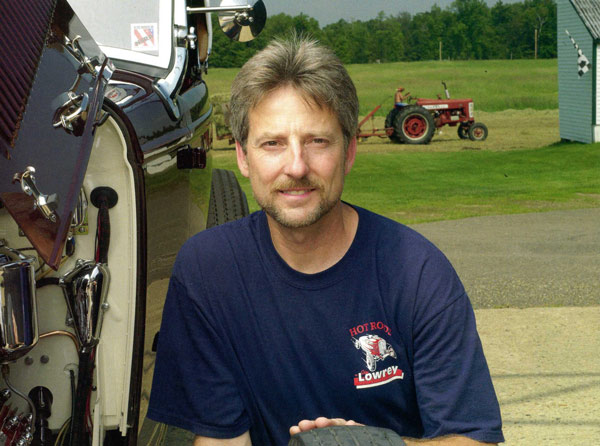 #894 - We will soon be carrying a beautiful Ken Gross book called the ART OF THE HOT ROD. A chapter is devoted to our buddy, Jim Lowrey, who with his dad, runs Lowrey Restorations in Tilton, New Hampshire. They turn out beyond masterful restorations of classic Cadillacs and Packards, but are known especially for their hot rods, often flathead-powered. Jim is a fastidious guy with a laid-back – almost placid – karma, but you should see him in a supermodified, a dirt modified, or a sprinter. He has won in all three. From ART OF THE HOT ROD, by Ken Gross (Peter Harholt Photo)
aaaaa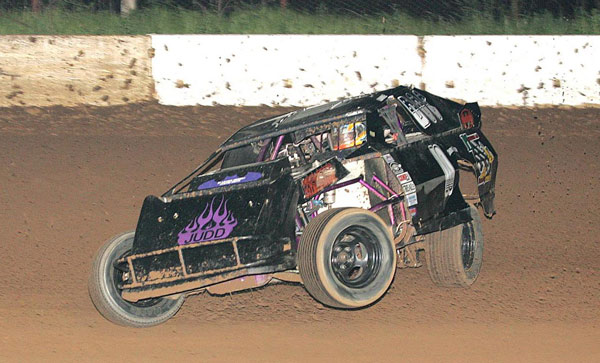 #893 - When our buddy Lenny West moved to Arkansas, he did the right thing. He reenergized a struggling race track, North Central Arkansas Speedway in Yellville. Lonnie Judd, shown here in his USRA A-Mod, has towed down on Fridays from Caulfield, Missouri. "Folks really like it. They are good people. That race was for breast cancer awareness, and everyone had a good time." Look at that photo. No question Lonnie did. (Photo by Donna Gellenbeck, )
aaaa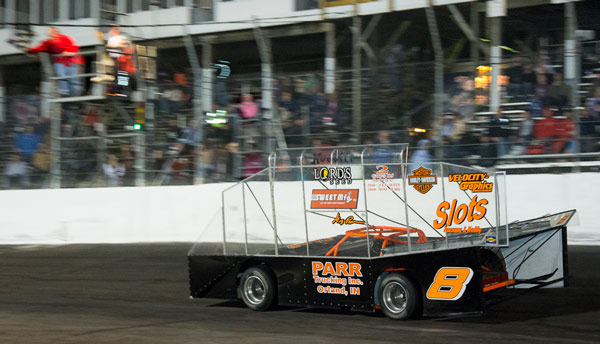 AAAAA#892 - Sometimes, when you put two words together, they become glorious. Case in point – "open competition". Here's Phil Bozell flashing under the checkers at Kalamazoo Speedway on September 14th, beating his dad, Andy, for the "CALL OF THE WILD" win. And did he ever have his super late model amped up. Photo by Nelson Leonard, .
AAAAAA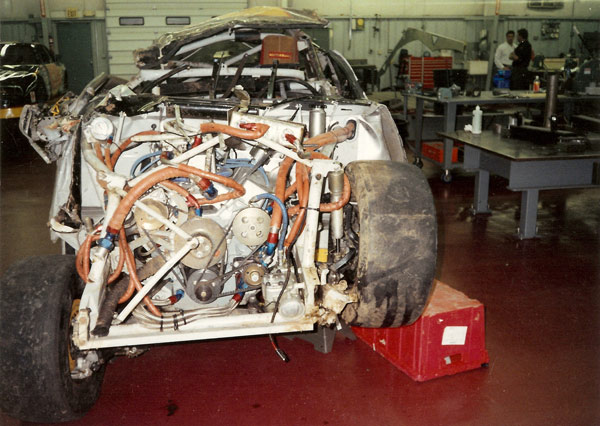 #891 - At the very end of the Talladega race in spring 1993, Rusty Wallace tangled with Dale Earnhardt and went for an end-for-end flyover, flipping about ten times. The wreck resulted in both injury – and safety. Wallace was the one who was hurt, with a badly busted wrist. Penske South majordomo, Don Miller, however, leveraged the experience in a most beneficial way. First, noticing that the welds had held but the tubing cracked, he subsequently insisted that all material be bought from an OEM supplier and made to order, such that car builders would know what they were actually getting, vs. a "hodgepodge" from different vendors. Second, having taken in the frightening airborne nature of the crash, Miller sat down with Bill France Jr, suggesting that there had to be a way to keep the cars closer to the ground in such incidents. The upshot of Don's effort became the roof flap. From , by Don Miller with Jim Donnelly. (Photo Don Miller Collection)
AAAAA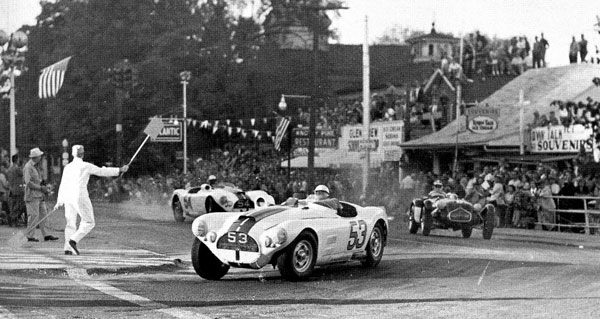 #890 - "Briggs Cunningham (No.53) turns into the corner while leading the 1953 Watkins Glen Grand Prix. Behind him, the Allard of Fred Wacker has, moments before this picture was taken, brushed the crowd on his approach to the corner. The accident resulted in a spectator fatality. The race was halted immediately; racing through the village of Watkins Glen had ended forever." Photo and caption from , by Michael Argetsinger and Bill Green. (Photo by Tom Root, Courtesy of International Motor Racing Research Institute - IMRRC)
aaa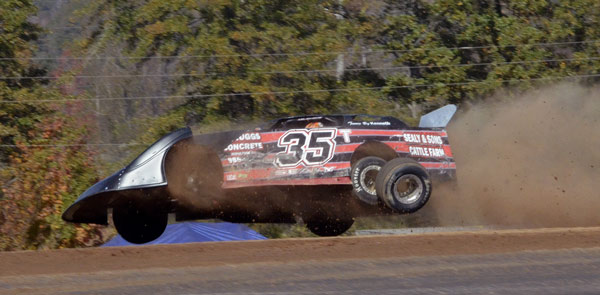 #889 - That's Colquitt County High-Schooler Tristan Sealy, time-trialing at a recent National 100 at East Alabama Motor Speedway. Tristan, only 15 at the time, comes from a serious racing family from Moultrie, GA. As you can see, he's already experiencing racing's unexpected situations. (Troy Bregy Photo)
aaaaa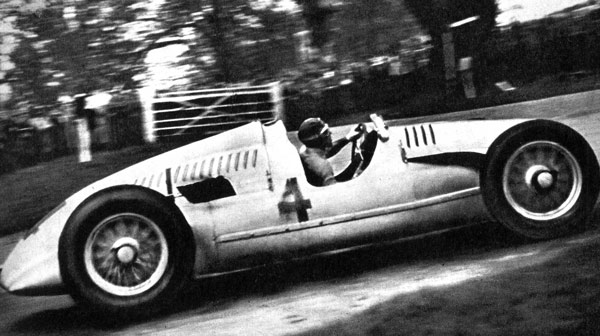 #888 - So many of those who were fortunate enough to see him drive contend that the Italian "Marvel of Mantua," Tazio Nuvolari, was the best racer ever. In his 1972 volume, "BOOK OF AUTOMOBILES," Ken Purdy wrote, "Nuvolari's small structure probably explained everything about him - his terrifying competitive instinct, even his marvelously unorthodox style. When Nuvolari was at his peak, the cars were brutes, the most dangerous they had ever been and, compared with today's cars, very hard to handle. 'I found out early," Nuvolari said, 'that I didn't have enough strength to horse them around the curves like the other drivers. So I worked out my own methods. I let the car go, I let it slide. I found I knew where it was, always.' He swore he knew to a pound the weight on each of a car's four wheels, running straight or sliding." Nuvolari died in 1953 of tuberculosis. That evil illness also took his two sons. From "RACING CARS, RACING CARS" by Richard Hough. (Louis Klemantaski Photo)
aaaaa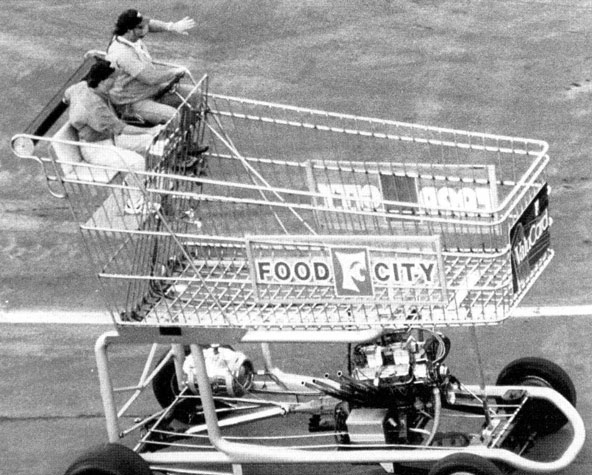 #887 - Someone most certainly had been chewing on some mushrooms before building this remarkable Food City chassis. That's "John Boy" Isley at the helm during pre-race entertainment at Bristol in August of 1997. As you could guess by a peek at his passenger, Billy James, who was gripping any nearby object, John Boy was on the hammer big time, waving people out of the way. He was pretty gutsy, considering the center of gravity, the roll cage, and the seatbelts... From , by David M. McGee and Sonya A. Haskins. (David McGee Photo)
aaaaa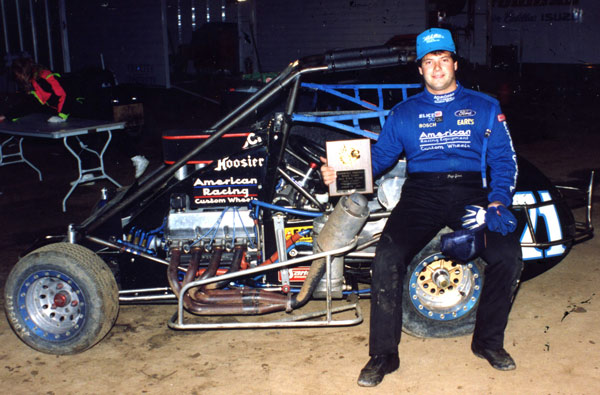 #886 - Here's Page Jones after snatching a midget win in Bakersfield, CA, in the spring of 1994. He was red hot, but his career was cut short by a savage sprint car crash at Eldora on September 25th of that year. Just how good was Page in the cockpit? After watching him blow them off in the high groove at Sun Prairie (WI) one night, Tony Stewart said, "Man, I just hope one day I'll be able to run the cushion like Page Jones." From , by Parnelli Jones with Bones Bourcier. (Parnelli Jones Collection)
aaaaaa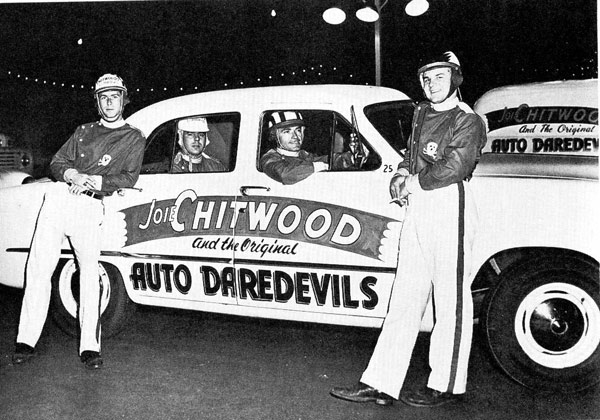 #885 - Launched in 1950, the great American Indian racer Joie Chitwood's thrill show had an amazing 50 - year run. In the background, Chitwood was himself unendingly focused on safety. He was the first driver in the Indy 500 to wear a seat belt, and he and his sons went on to contribute to all kinds of safety improvements for the nation's highways. Like his own racing back in the day, however, the auto daredevil business was not for the faint of heart. Here are some of his original performers, L-R: Jim Wardlow, Snooks Wentzel, Ricky Fisher, and Dick Coob. Wentzel, who was trained personally by Chitwood, died horribly at the Pines Speedway in Groveland, MA, on July 1, 1952. He performed three consecutive rollovers over a ramp in front of a packed grandstand. The fourth time the car exploded in flames, landing on the driver's side. Wentzel never came out. On October 5, 2013 the huge annual Pines Reunion will be held at the original site of the track, attended by thousands of fans and an enormous lineup of old race cars. Who might remember that grizzly night some 61 years ago? From SAFE AT ANY SPEED – The Great Double Career of Joie Chitwood, by Jim Russell and Ed Watson . (Moss Photo )
aaaaa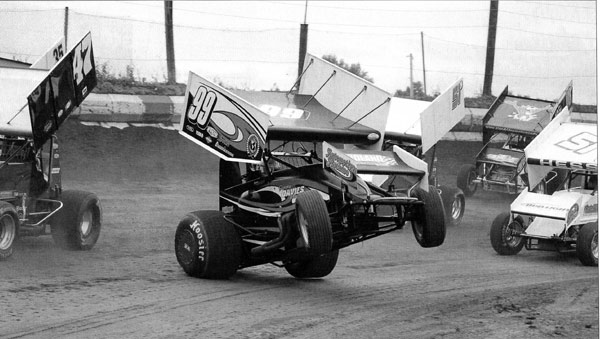 #884 - We really are psyched about our brand new Joyce Standridge/Coastal 181 title, g. Based on extraordinary images from the last few decades, the book includes sprinters, Silver Crown, and midgets. Here's Jimmy Davies in a compromised traffic situation at the quarter-mile in Jacksonville, Illinois. As you can see, sometimes the track has mega-bite. But sometimes, the dust is rolling. Joyce calls the surface "so Sybil." (B&B Racing Promotions Photo)
AAAAAAA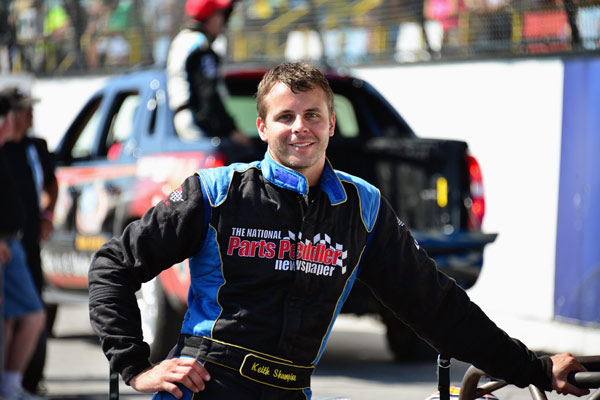 #883 - That's Keith Shampine, super driver, kart racer, motorsports media professional, and nephew of the late, great Jim Shampine. Keith lives in Cornelius, SC, but most weekends wends his way back up North to the shores of Lake Ontario and the infamous "Steel Palace," Oswego Speedway. It's fully understandable. In Keith's words, "There's nowhere quite like Oswego. I appreciate it every time I hit the track, especially in a big block supermodified, the ultimate oval-track race car." (Bill Taylor Photo)
AAA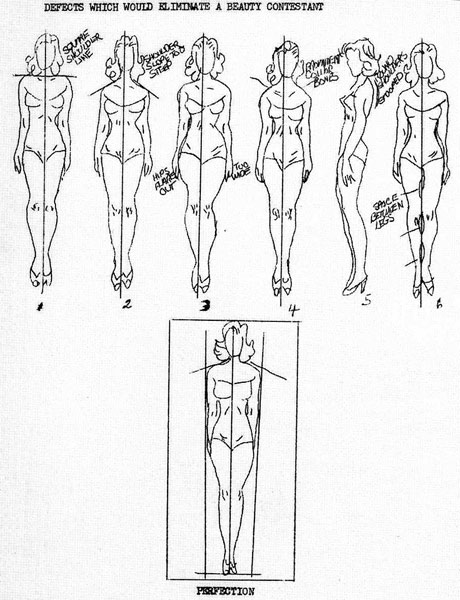 #882 - "In the 1950's, physical appearance was still of the utmost importance at beauty contests. Included in the judges' information package was this diagram explaining how to determine which contestants had the 'form divine' considered necessary to represent Darlington Raceway at the state and national levels. It apparently worked, as the first Miss Southern 500, Martha Dean Chestnut, went on to win the title of Miss South Carolina." Image and caption from by Cathy Elliott. (Courtesy of Cathy Cross Kirby)
AAAAA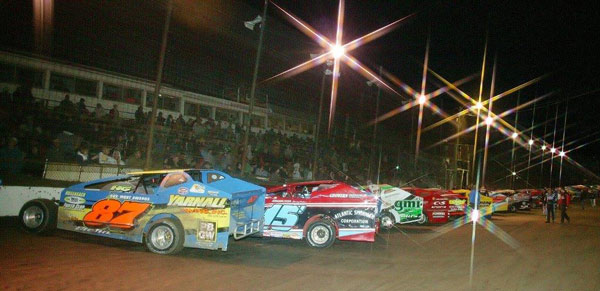 #882 - A bit of last-minute pageantry before the din. For the 43rd time, top-shelf East Coast mods lined up for the annual BPG Freedom 76 at Grandview Speedway in Bechtelsville, PA. The race was called by Ernie Saxton, his final night in the announcer's booth after an astounding 45 seasons. Much of Ernie's attention was on gasser Jeff Strunk who started fourth in the 33 car field. The nine-time track champ motored on to his fifth Freedom 76 victory. (Dave Dalesandro/RACEPRO Weekly Photo)
AAAAAA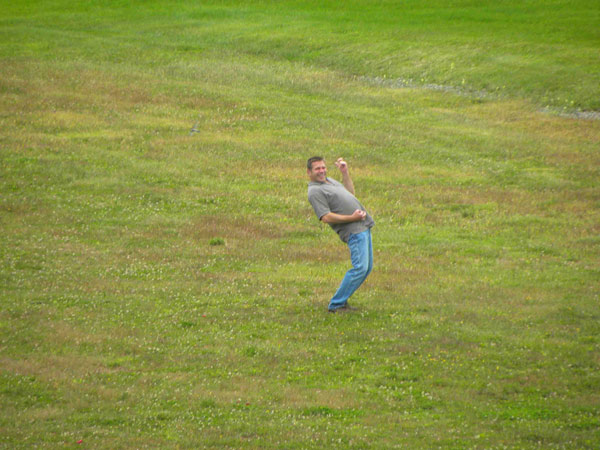 #881 - As we approach 900 consecutive Photos of the Day, we have probably run more of Karl Fredrickson, honcho of Speedway Illustrated magazine, than anyone else. That may be humiliating for Karl, but he deserves it. A week or so ago, he took off for the races at Bethel, NY, with his modified and his comely wife Christine. The neat little track there is right near the infamous field where the Woodstock music festival took place some 44 years ago. On Sunday morning, unable to contain himself, Karl found the spot where the stage had been constructed and rendered a wide open, unmuffled version of Jimi Hendrix 's "Little Red Rooster." We worry so about him. (Christine Worthington Photo)
aaaaa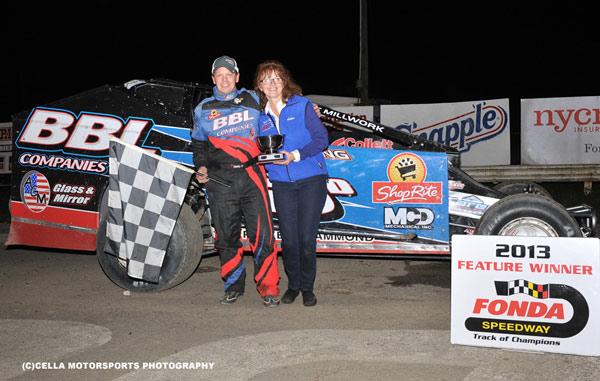 #880 - Last Saturday night at Fonda (NY) Speedway there was a huge and hugely emotional event celebrating Dave Lape's final night. He had raced there at the "Track of Champions" every Saturday for 50 years and won 99 main events along the way. The air was filled equally with joy for David's incredible long-term success and with sadness for the thought that the night signified the end of an era. Dave's wife Jackie is shown here presenting the Coastal 181 Cup to the feature winner Matt DeLorenzo. Curiously, Matty D had also won the other Coastal 181 Cup given out at Fonda, that one on an evening honoring the late Lou Lazzaro, one of David's best friends. We were quite clear with Matty that next time he wins, he will owe Coastal 181 a commission. (Harry Cella Photograph)
AAAAA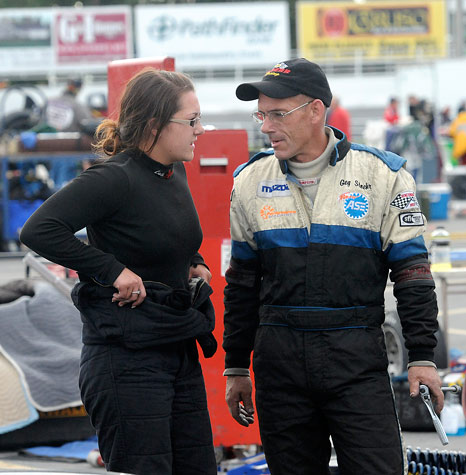 #879 - Surely there have been some great American families fully involved in midget racing, but surely on their podium would be the New England Stoehrs, in action for four decades. Our friend John DaDalt was out at Oswego, New York, over the weekend for the midgets and supers. Here's what he says: "Yet another Stoehr on the scene. Greg Stoehr and daughter Bethany talk things over before the NEMA feature. Bethany won her heat, after losing the power steering on the 2nd lap, no less, with her Dad 2nd. She then went out and led the first 18 laps of the feature before Seth Carlson got by for the win. Bethany hung on to 2nd, with Greg 3rd." Photo and Caption, John DaDalt
aaaaa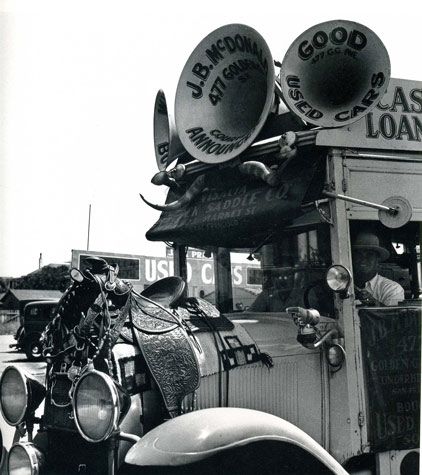 #878 - Just when was it, really, that the Rat Rod movement started? Check this out from Salinas, CA, in 1934. From THE RESTLESS DECADE : John Gutmann's Photographs of the Thirties (John Gutmann Photo)
aaaaa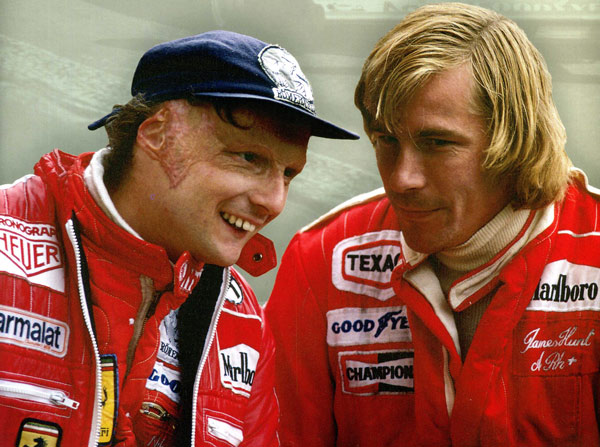 #877 - Niki Lauda (L) and James Hunt, close buddies though they were, engaged in a truly stunning, internationally publicized battle for the 1976 Formula 1 Championship. Hunt, the Englishman, was all over the news for his tirelessly provocative life style, while the shy and calculating Austrian suffered a fiery near-death accident during the season and, incredibly, returned for the final two events. In the end, Hunt's third-place finish at Mt. Fuji secured the title. From by Paul Fearnley. (L.A.T. Photographic Archive)
aaaaaaa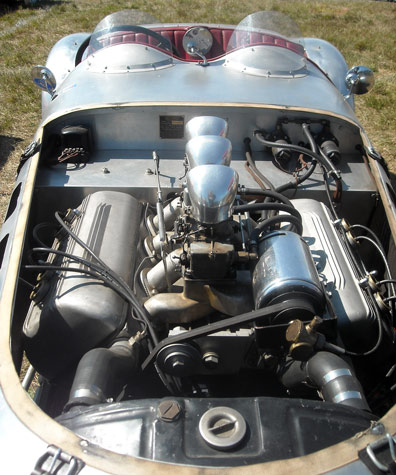 #876 - A historic drag-racing event was held at the Fitchburg, MA, Airport last weekend, packed to the gills with thousands of spectators under a glorious autumn sky. It was also packed with some very cool and unusual cars. Certainly among them was an Allard towed in by Rocky Hill, Connecticut's Gerald Lettieri. Outfitted with a Ford flathead with an Ardun overhead valve conversion, the car has an incredible resume. It was first raced at Silverstone in England in 1949 and was subsequently brought to New York City by Zora Arkus-Duntov. In the fifties it won widely – Thompson, CT; Mt. Equinox, VT; Vero Beach, FL; Burke Mt, VT; and Bridgehampton, NY. (Coastal 181 Photo)
MMMM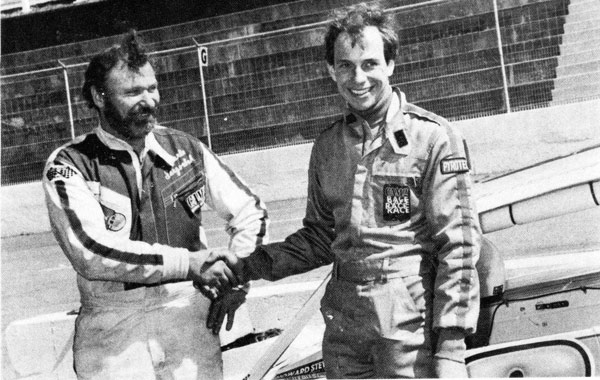 #875 - 1984 was a high time for NASCAR modified racing. That fall, two of the best turned out to be as equal as you can get at Martinsville. Charlie Jarzombek (L) and Tony Hirschman both qualified at 96.435 mph but the Miller Pole Cup went to Tony as he was the first one to run. Charlie was fatally injured at the track on the first day of spring, three years later. From FROM DUST TO GLORY, by Morris Stephenson
aaaaa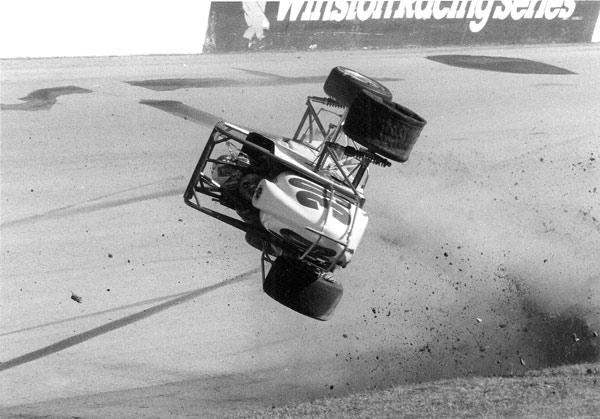 #874 - Ryan Newman was one fast pavement open-wheeler back in his USAC days. One day at Winchester, however, he spun down the backstretch with a flat right rear, got into the infield, and did a little farming. It ended up being a hard hit, but his Drinan midget held up fine. All was well. From , by Joyce Standridge. (Horcher Brothers Photo)
AAAAAA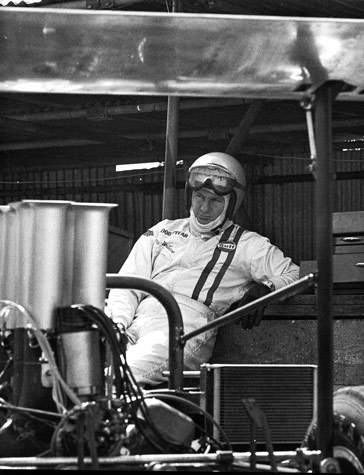 #873 - This is one of many extraordinary photographs in David Bull Publishing's brand new book, McLAREN FROM THE INSIDE. Here's a pensive Bruce McLaren at a 1969 testing session for his new M8B Can-Am at the Goodwood Motor Circuit in England. He tested well. He won all 11 Can-Am shows that year, winning the driving championship ahead of Dennis Hulme. From
aaaaa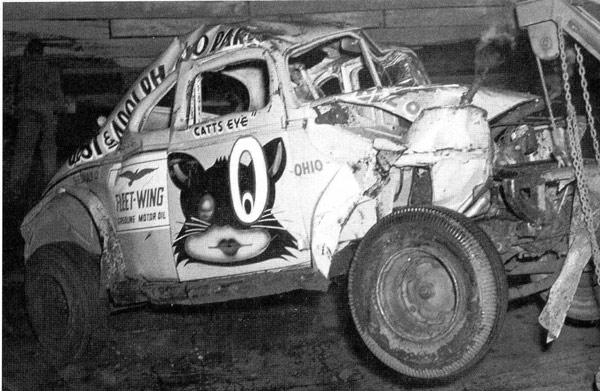 #872 We've got lots of cool new titles in for our upcoming Christmas catalogue. Two of them, , by Father Dale Grubba, and SPORTSMAN PARK SPEEDWAY, by Ron Pollock, cover modified racing in the 1950s and '60s It is curious that around Milwaukee so many drivers had nicknames: Miles "the Mouse" Melius, Kenny "Tweety Bird" Tlougan, Billy "the Cat" Johnson, Fuzzy "the Hound" Fassbender, and Don "the Duck" Schuppel. Meanwhile, a bit to the east at Sportsman Park in Bedford, Ohio, the nicknames went to the cars. Among them were "the Rut Hopper," "the Hoppin' Hare," the Flyin' Saucer," "the Catt's Eye," "Track Tramp," and "Bambi." Even on a rough night there seemed to be a background joy about the whole business of racing. The oval-track community sure could use a shot of it today. From by Ron Pollock. (Don Eggett Collection)
AAAAAA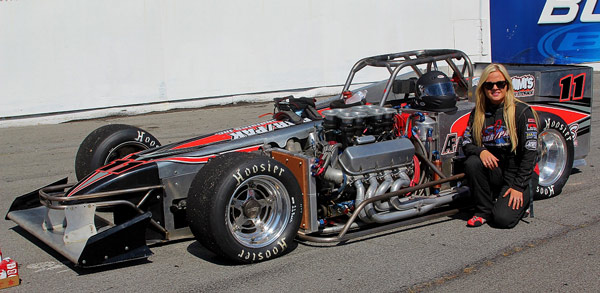 #871 - Yet again the belle of the bullring. A former upstate New York stock car champion and current sprint car standout did something a little different last weekend. Jessica Zemken became the first woman in history to qualify for the International Budweiser Classic at Oswego. She buzzed the 5/8 mile asphalt of the "Steel Palace" in 16.590 seconds, 135.624 mph. In the 200-lapper, says Dave Dalesandro, photographer, JZ "ran very solid in the top ten before brushing the wall, avoiding a spinning car. Damage to the front suspension took her out of the event." (Dave Dalesandro Photo)
aaaaaaa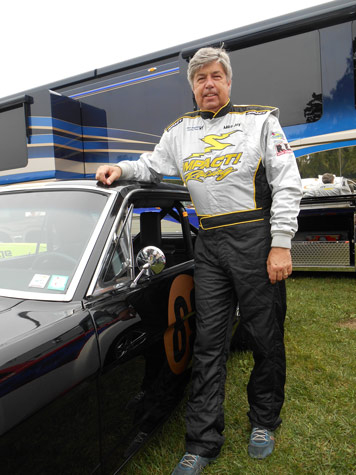 #870 - There is little question that Mike Joy has become one of auto racing's greatest TV personalities ever, whether calling races or conveying the virtues of classics at Barrett-Jackson. He always seems consummately prepared, leaning heavily on his knowledge rather than a teleprompter. And over the seasons, on his off days, he has leaned heavily on the go-pedal. He has won many, many SCCA races. You should have seen him blasting around Lime Rock Park's road course last Saturday in a pack of authentic and thunderous old time TRANS-AM cars. (Dick Berggren Photo)
AAAAAAA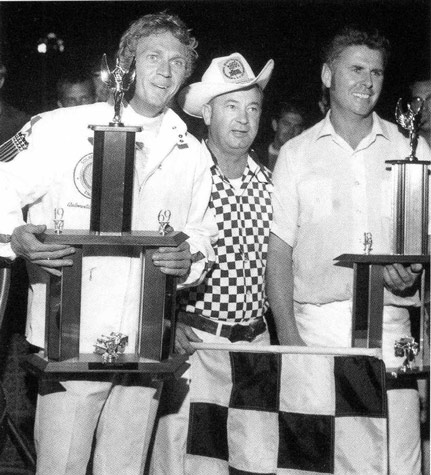 #869 - That Steve McQueen really was a racer. He had done some off-road racing in the Baja 1000, and he heard that they were trying it on a smaller closed course inside Ascot Park in Gardena, CA, in 1969. He went over to give it a shot in a Chevy-powered Jeepster. "It was all much faster than I figured, but I did well enough to want more. In fact, I began competing at Ascot on a regular basis that summer." As you can see, he won, too. Interestingly, Mickey Thompson would further weave the thread started at Ascot, turning "stadium" racing into a big deal. From . (Motor Trend Archive Photo)
AAA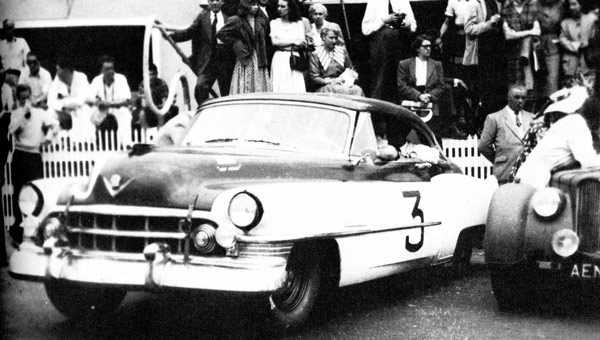 #868 - One of the cars Briggs Cunningham took to Europe in 1959 for his first visit to Le Mans was this unlikely, near-stock Caddy coupe. Cunningham enlisted his buddies Miles and Sam Collier to drive it, and they responded with style. Attired in business suits, ties and all, they muscled it to a tenth-place finish. From AMERICANS AT LE MANS, by Albert R. Bochroch.
AAAAAA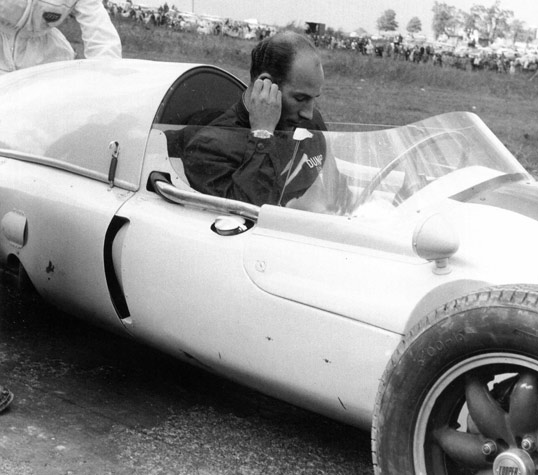 #867 - There's racing in his blood. Londoner Sir Stirling Moss' dad was actually himself a racer, 16th in the 1924 Indy 500. And, when it came time for the 19-year-old Stirling to get off horseback and into cars, success followed immediately. He raced 529 events from 1948 to 1962, winning an astounding 40% of them. He was tough as nails, almost taunting racing's danger. At Belgium's Spa in 1969, he backed it into a wall and was thrown out of the car. He broke three ribs, three vertebrae, two legs, an ankle, and his nose and was told he would be in a plaster body cast for six months. Five weeks later he broke the track record at Silverstone in England. From , by Michael Argetsinger. (Alix La Fontant Collection)
AAAAAAAA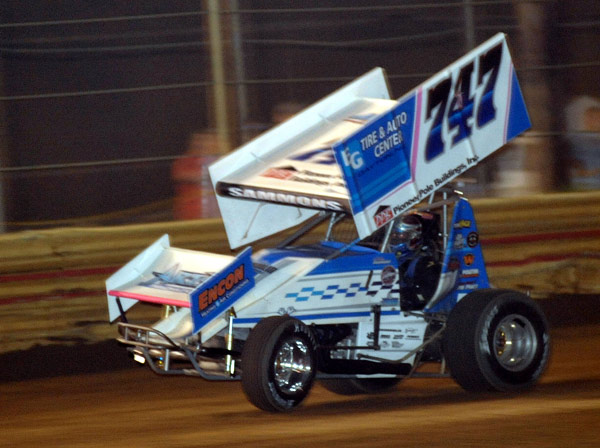 #866 - Davey Sammons is son of Lenny Sammons, respected honcho of "Area Auto Racing News." Davey was running high wide and handsome, leading the heat race in the Jersey Rush at the New Egypt Speedway. He even looked good tri-cycling, when his right front left for the infield. But it didn't last too long before he flipped. Repairs were made and an undaunted Davey brought her home for eighth in the feature. (Frank Simek Photo)
aaaaaa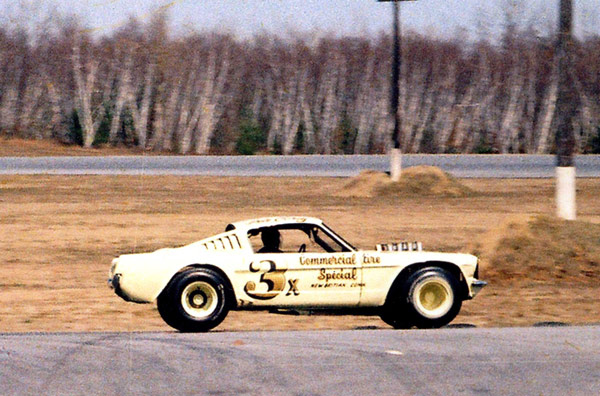 #865 - It was the spring of the year in 1969 but the unsettled autumn of a career. Here the Empire State Legend Pete Corey shakes down his mustang modified at Albany-Saratoga during its pavement phase. Close to his home though it was, Corey never liked that track. He spent the first half of the season running the car up north at Plattsburgh. Then that Siren-like call of the dirt at Fonda grabbed him again. Corey had lost a leg at the tricky Fonda oval, but he had also won there 49 times, and that year it was a juicy 00 to win. It wasn't to work out. Corey destroyed the car. (John Grady Photo)
aaaaa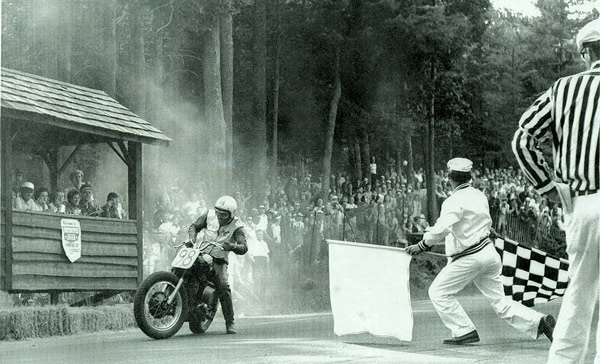 #864 - In a recent Photo of the Day (#846) we showed Californian Joe Leonard motoring handsomely to victory in USAC's 1971 Ontario 500 aboard the Samsonite rear-engine PJ Colt Ford. The number of wheels under him and the location of the race track apparently made little difference. In this shot he was hamming it up just a bit coming across the finish line at AMA's Laconia (New Hampshire) National on a Harley. He won that show in 1954, 1956, and 1957. (Robert Coy Collection/New England Motor Sports Museum)
AAAA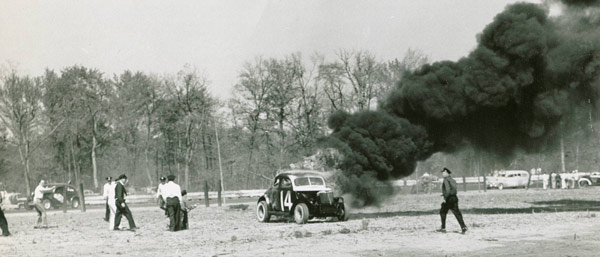 #863 - A frightening incident shocked a springtime crowd (at Old Bridge, NJ, Stadium) on May 16, the fourth Sunday afternoon of 1954. Jamesburg's John Peroni was charging out of turn two and his #14 Sportsman suddenly lit up in a blaze. Peroni unbuckled, himself afire, and leapt out onto the backstretch. Track workers smothered the flamers as he rolled on the ground. Meanwhile, his car continued to motor on, now engulfed, circling scarily around the infield until it stopped and burned to a crisp. Peroni suffered terrible burns to his neck and hands. Years later he told Area Auto Racing News journalist Earl Kraus, "I was a young guy with a family. I said to myself, 'Okay. I see a message here. It's time to quit.' He later became police chief of Helmetta, NJ. Photo and Caption from , by Lew Boyd. (Danny Rhein Collection)
AAAAAA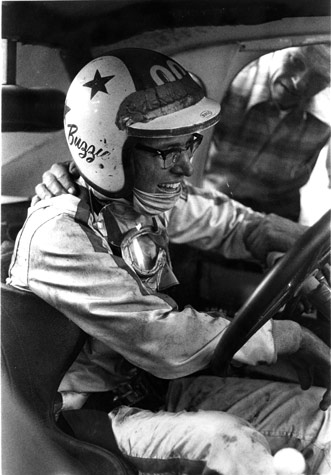 #862 - Back in the early seventies, Buzzie Reutimann was at the top of his game. Here he is following a win with his big block coupe on Syracuse, New York's infamous "Moody Mile." Now he's in his early seventies and still perched at the top of his game. Last Saturday night, Buzzie swept the 50-Lap Larry Miller Memorial for Open Wheel Modifieds at East Bay Speedway, just outside of Tampa, FL. (New England Motor Sports Museum/Dick Berggren Photo)
aaaaaa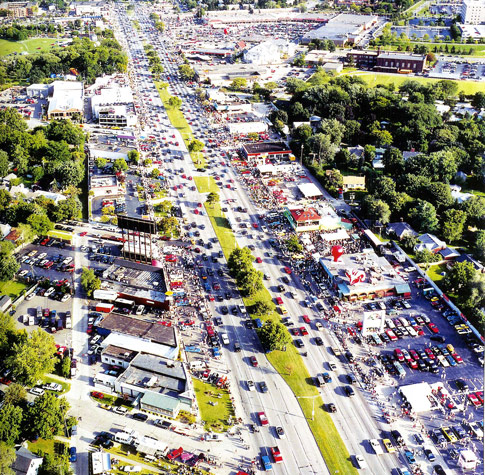 #861 - Since 1995 on the third Sunday of August, the Woodward Dream Cruise has been held in Detroit, surviving even the horrible current economic downturn. It draws upon a cruising tradition along Woodward Avenue, dating back to the hot-rod and muscle-car eras. It is estimated these days that the event draws a staggering 40,000 rolling collector cars, viewed by one million spectators, perched along the sidewalks. From , by Robert Genat. (Robert Genat Collection)
aaaaaa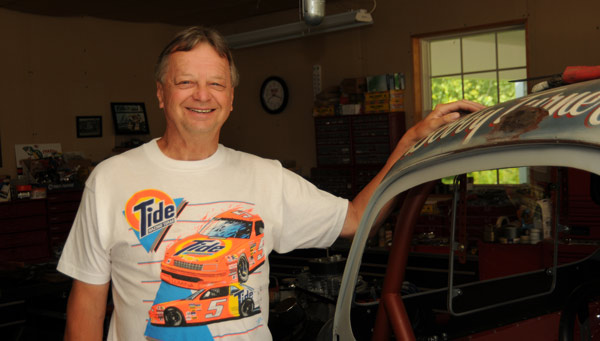 #860 - Here's Bobby Turner, one of Maine's finest racers ever, a month or so ago. He has won widely across the Northeast since bomber days back in the sixties and has produced many a modified, all beautifully conceived and constructed. The pace has slowed in Waterboro, ME, over the last couple of weeks, however. Two Saturdays ago, Bobby ran one of his cars in the STAR vintage event at Star (NH) Speedway, and, while he and wife Anne loaded up, she slipped and broke a foot in three places. She patiently joined Bobby at the STAR show at Hudson Speedway a week ago Sunday, and Bobby crashed – worst ever in his career. He spent a couple of days in the hospital and was diagnosed with a concussion, internal bleeding, a broken sternum, and fractured vertebra. That body cast will definitely keep him out of the garage for a while. (North East Motor Sports Museum/Dick Berggren Photo)
aaaa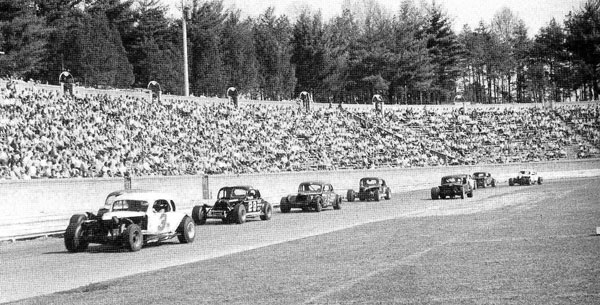 #859 - Back in the day, Bowman Gray Stadium held a New Year's Day race each year called the "Tobacco Bowl." It was mostly a match-up of the best sportsman-modified cars in the Southeast. Often, however, the field was spiced with a few Northerners such as Red Foote, Denny Zimmerman, Rene Charland, and Eddie Flemke. Rene might not have been the best publicity guy for the group, known as "the Eastern Bandits." One day in that pit sign-in line in Winston-Salem, Charland announced in a loud voice, "Hey, Eddie. I just can't understand that General Grant. How come it took him the whole Union army to beat up these Southerners, while now it only takes you and me?" The comment carried a real sting when Flemke won the show on January 1, 1962. (From , by Richard Miller. (Bowman Gray Racing Archives)
aaaaaaa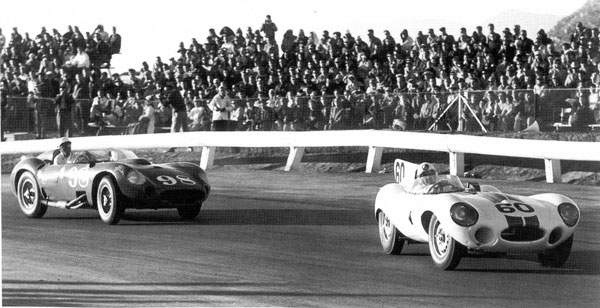 #858 - Sometimes conservative wins. And that was how Carroll Shelby (#98) beat an "on-the-gas" Walt Hansgen in the first National Sports Car Championship at Riverside, CA, in November 1957. Hansgen, a four-time SCCA road racing champ, was on his way to Formula One racing in 1961. He died testing in the rain in a 7-liter Holman Moody Ford GT car. The story goes that he took an escape road only to discover – too late – that a fence had been built across it to protect onlookers. From , by Dick Wallen. (Ken Parker Photo)
aaaaaa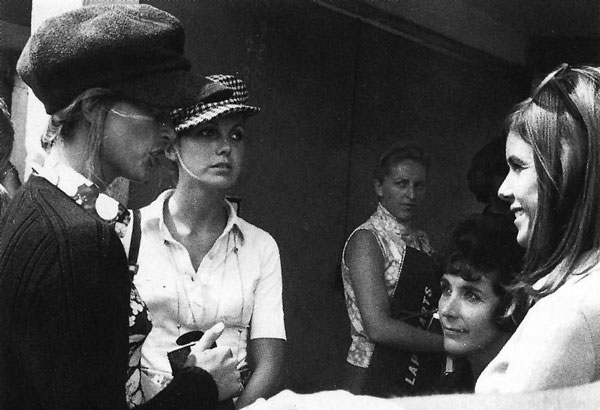 #857 - Think racing was all glitz and glamour in the good old days? Pictured in 1970 are Nina (Mrs. Jochen) Rindt, Sally (Mrs. Piers) Courage, Patty (Mrs. Bruce) McLaren , Betty (Mrs. Graham) Hill, and Helen (Mrs. Jackie) Stewart. By season's end, the first three were widows. (Photo and caption: Bones Bourcier Collection)
AAAAA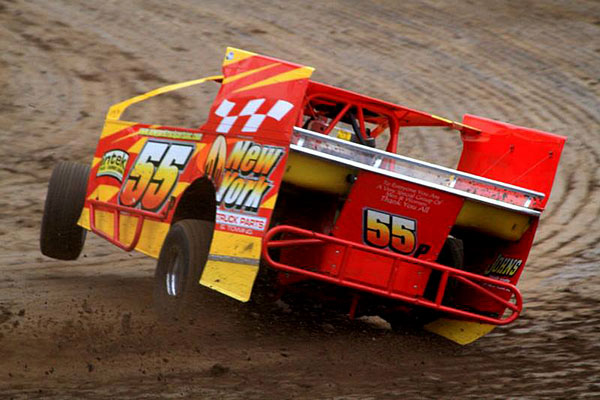 WD-#856 - On Tuesday, August 6, Brett Deyo and the Accord (NY) Speedway management held a "Battle of the Bullring" modified race that must have woken up every Rip van Winkle in those Catskill Mountains. The weather was perfect, the stands overflowing, and the pits full. And to get a view of the intensity of the competition, check out Sportsman standout Anthony Perrigo's attitude about the turns. He was in a New York Truck Parts Hig-Fab big block for the night and he wound up tenth. (Jeremiah Fish Photo)
aaaaaaaa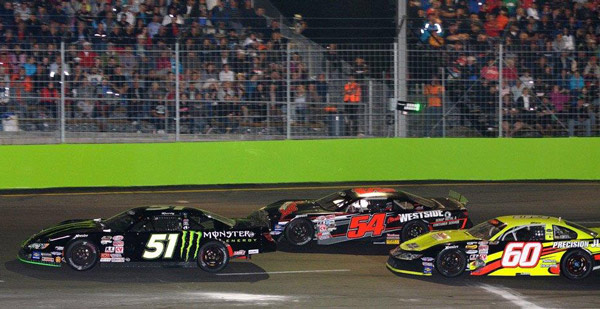 #855 - What can you say about Kyle Busch? Sure, that was a show yesterday at the Cup race at Watkins Glen. But how about last Tuesday night up at Autodrome Chaudiere on his way there? Busch took on the PASS North SLM guys in a rousing Budweiser 150 with all that infamous energy and passion he brings to Super Late Model events. He won following a serious shootout with DJ Shaw (#60) and Johnny Clark. A standing room only crowd stood for a standing ovation. (Norm Marx Photo)
aaaa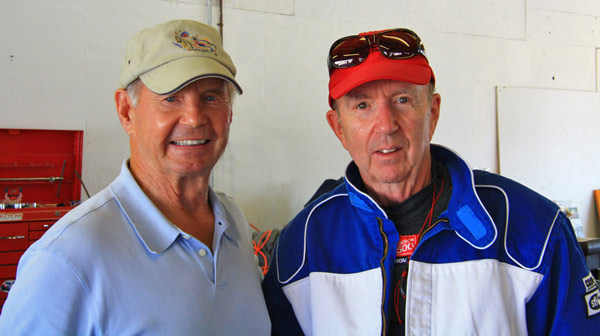 #854 - Good ol' buddies Parnelli Jones and Denny Zimmerman met up at the Coastal 181 garage stall at last week's Vintage Celebration at New Hampshire Motor Speedway. They got to reminiscing about tales from the Brickyard. It wasn't easy for a New Englander like Denny Zimmerman or Bentley Warren to make a lot of progress in Indianapolis back in the early seventies. The place was dominated by Hoosier drivers and those coming in from California. We asked Denny what it was like. What he was thinking on the his parade lap at Indy after a hurried climb up the short-track ladder, in front of that huge crowd, side by side with the most heralded drivers in the world, all wrapped with that eerie sense of danger. Denny's answer: "I was trying to figure out how I was going to win the damn race." He finished eighth and was Rookie of the Year. (Ken Paulsen Photo)
AAAAAAAAAAA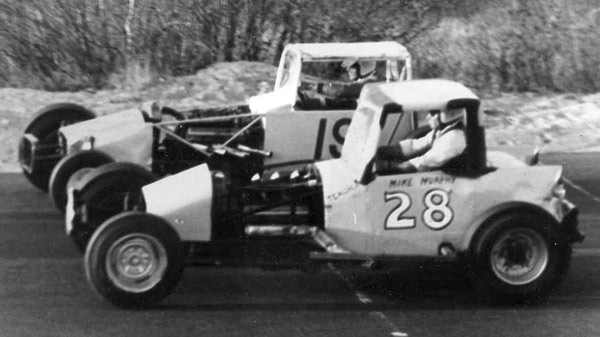 #853 - Here are two of the greatest of the early East Coast "cut down" drivers. That's the early sixties at Hudson (NH) Speedway, just before the split between the United Race Drivers Club and the startup New England Super Modified Racing Association. Outside is Ollie Silva, quite possibly the most noteworthy of all the NESMRA competitors over the years. On the inside is the "Flying School Teacher," Mike Murphy, who quite possibly won more features than anyone in the history of Hudson. Both died way too young – Ollie, after being critically injured in a racing accident, gradually faded away, while Mike was struck down by cancer. (John Halloran Photo)
aaaaaaaaaaa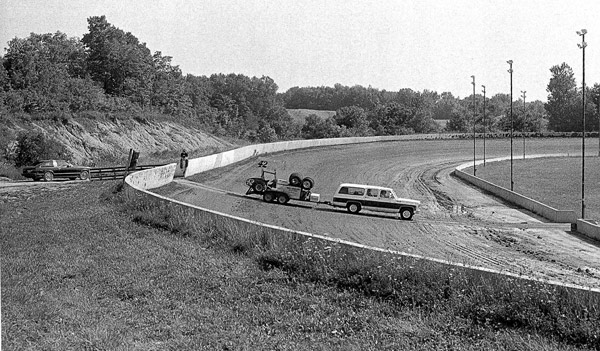 #852 Eldora Speedway. The calm before the storm. (From . (Mike Arthur Photo)
AAAA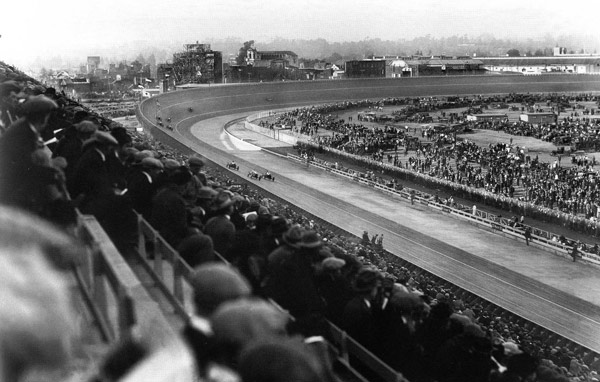 #851 - Here's an amazing shot of Culver City's 1.5-mile board track on April 1, 1925. Those were motion picture back-lots off of turn three and four. Indy winner Tommy Milton was star of the day. However, two years later 23-year-old Frank "Wonder Boy" Lockhart blistered the boards with a qualifying lap of 144mph. Incredibly, it would be another 19 years before that speed was exceeded at Indianapolis. From , by Dick Wallen. (Dick Wallen Collection)
aaaaaaa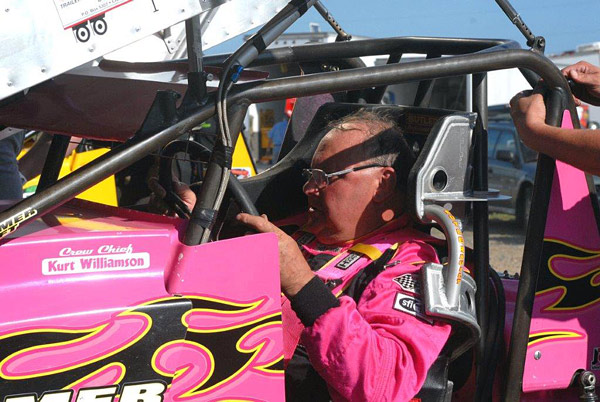 #850 - Rest in peace, Kramer. (Frank Simek Photo)
aaaaaaaa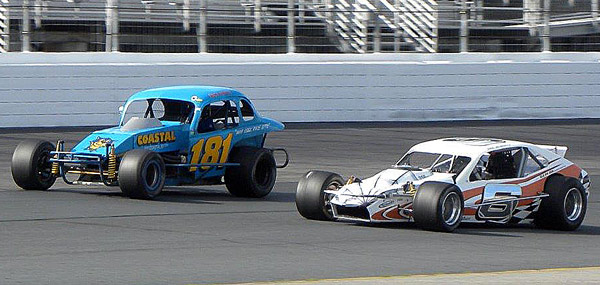 #849 - Every imaginable flavor of oval-track car machine fired up this week during Vintage Days at New Hampshire Motor Speedway. And here, dicing on turn four, were the beauty and the beast. Down low was none other than Indy winner and all-around champion Parnelli Jones. He was wheeling a drop-dead spectacular asphalt modified, built from near scratch, by Jimmy Dilamarter, Parnelli's former crew chief and long-time business facilitator. Jimmy had never even seen an asphalt modified before undertaking the project, and he towed the car all the way out from Redondo Beach, California for the event. Upstairs, in the painfully rudimentary, 35-year-old Coastal 181 coupe releasing clods of old clay, was Kenny VanWert, popular upstate New York racer and racing proponent. (Karl Fredrickson/Speedway Illustrated Photo)
AAAAAAA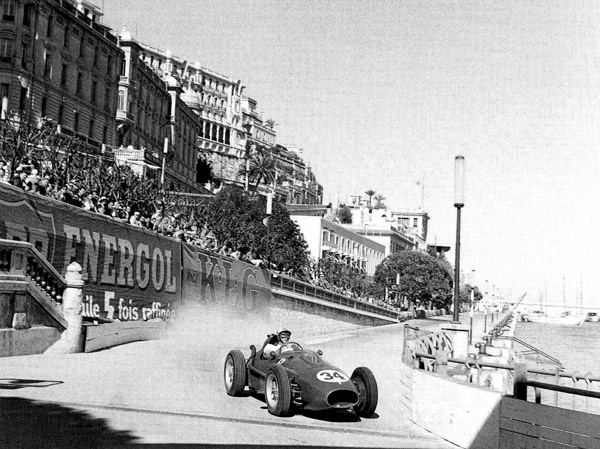 #848 - So much has been written about the transition from roadsters to rear-engine cars in Indy Car racing here in the US. Arguably the same thing went on in Europe, but a few years earlier. In this shot from the Monaco Grand Prix on May 18, 1958, Luigi Musso muscles his traditionally shaped Ferrari into a stone-surfaced turn. He managed a second-place finish, but was significantly behind Frenchman Maurice Trintignant in a Cooper. The writing was on the wall. From (Louis Klemantaski Photo)
aaaaaaa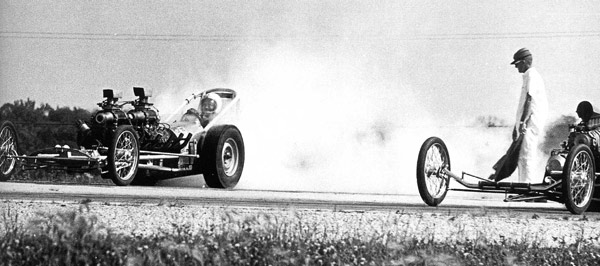 #848 - Oswego (Illinois – near Chicago) Dragway operated from 1955 to 1979 on an abandoned military airfield. The track was unique, kind of like the backstretch at Devil's Bowl Speedway in Mesquite, TX. The surface was the highest point, affording fans and photographers a neat, low-angle view. Here starter Woody Woodrow officiates as Norbert Locke's twin flatheads take on an overhead. From by Tommy Lee Byrd. (Norbert Locke Collection)
aaaaa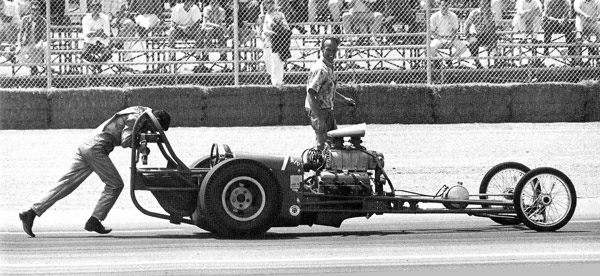 #847 - On June 14, 1964 versatile racer Danny Ongais competed in Top Gas at Hot Rod magazine's meet at the Riverside, CA, drag strip. He busted an axle in an early round and became a bipedal locomotive, pushing his car the whole quarter-mile to qualify – one minute, 35 seconds, at 3.50 mph. In the final, however, rear end revamped, he whipped Bob Keith for the win at 8.77 seconds and 172.74 mph. From RIVERSIDE RACEWAY: Palace of Speed, by Dick Wallen. (Private Collection Archives)
aaaaaa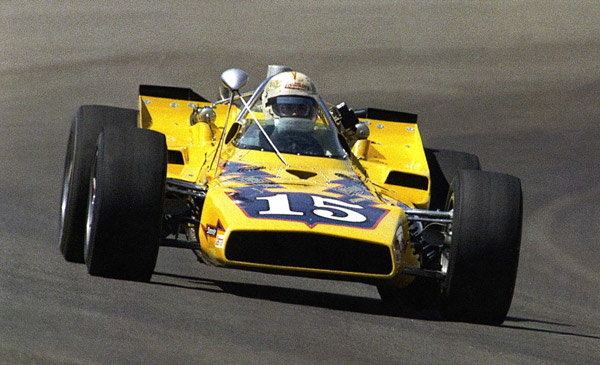 #846 - The Golden State has certainly grown a healthy crop of top-ranked racers. San Diego native Joe Leonard was taught by Paul Goldsmith to ride bikes so well that he roared off to three AMA Grand National Championships between 1954 and 1961. Then he climbed into cockpits. Here he is on September 5, 1971, lapping USAC's field to win the Ontario 500. Leonard is also honored for his dramatic rescue of an unconscious Mel Kenyon from a burning Champ Car at Langhorne, surely saving Kenyon's life. From SEVENTIES CHAMPIONSHIP REVOLUTION: American's Racing Championships, by Dick Wallen. (Wallen/Torres Photo)
AAAAAA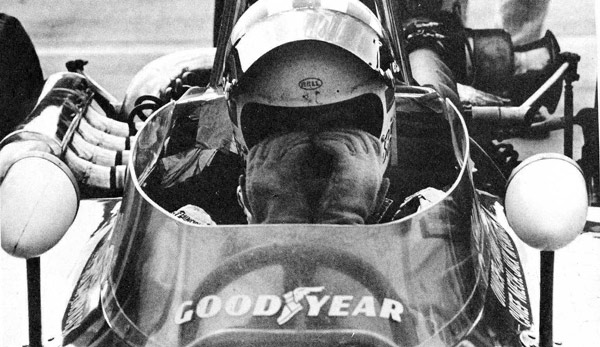 #845 - When Sam Posey came to the Brickyard in 1972, he was smart, wealthy, and had a tankful of determination. He astounded the railbirds by qualifying faster than any rookie ever had. Then in the 500, the day after his 28th birthday, he backed it up with a strong fifth place finish. Here he is – at the interface of fatigue and exuberance. As history shows, he was one helluva race car driver. From The Mudge Pond Express – An Autobiography, by Sam Posey (Ellen Griesediecki Photo)
aaaaaaaa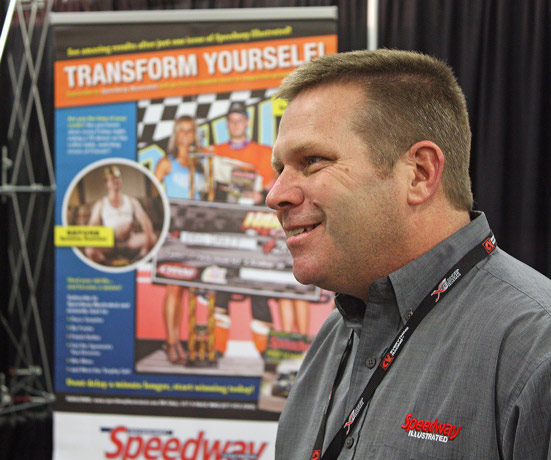 #844 - Karl Fredrickson, Publisher of Speedway Illustrated, and his editorial staff sure produce one great magazine. It is fully inventoried with all manner of things racers can do to transform their cars and themselves – all beautifully, cleverly, and often amusingly packaged in its monthly wrapper. But Karl recently said of himself, "I put the fun in demental," and I think I believe him. (J.A. Ackley Photo)
aaaaaaa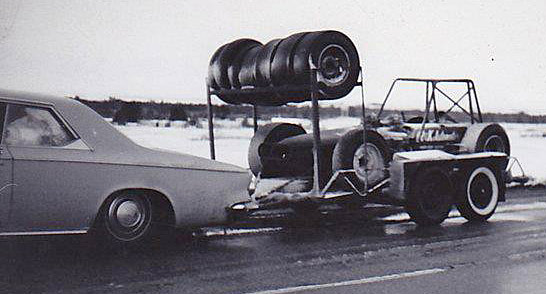 #843 - This seriously open-air image is from former supermodified driver Ralph Monhay, out in Spokane, Washington. He says it was his buddy Reg Kostash on his way to a Canadian-American Modified Racing Association event in 1967. Kostash, a popular racer and car builder, was from Edmonton, British Columbia. "Can't you tell," quips Monhay. "It still snowed there in May." (Ralph Monhay Collection, Courtesy of Gerald Hodges)
aaaa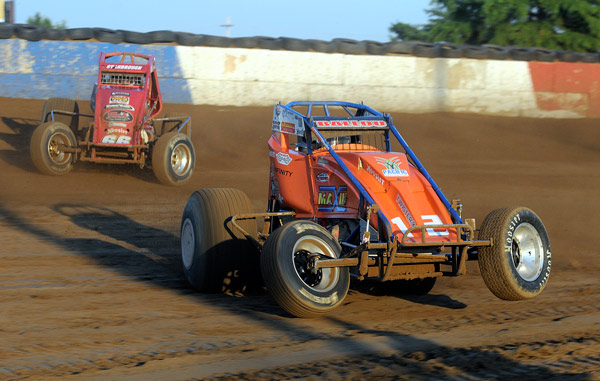 #842 - This photo and caption comes to us from Connecticult's well-traveled racing lensman, John DaDalt. "It isn't hard to imagine the days of Foyt, Jones and Hurtubise while standing in the infield of the Terre Haute Action Track. It's a legendary race track with a long history. The USAC Sprint Cars still make a couple of stops each year at Terre Haute. Action is still alive and well at the Action Track. That Robert Ballou, on bottom, is a hard racer. Always pushing it to the limit, sometimes over. Always worth keeping the camera on." (John DaDalt Photo)
AAAAAAA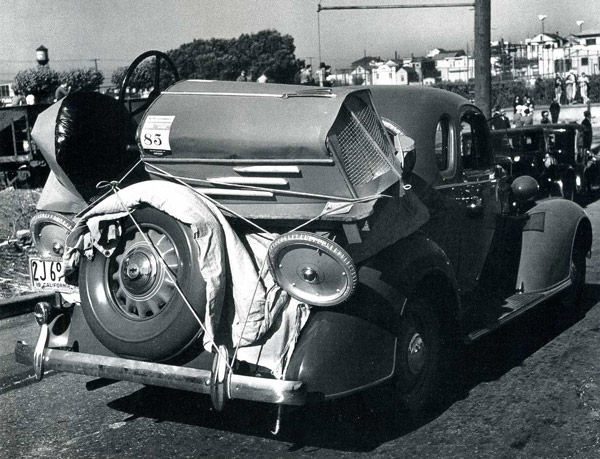 #841 - "San Francisco, 1936," From THE RESTLESS DECADE – John Gutmann's Photographs of the Thirties, Edited by Lew Thomas
aaaaaaaa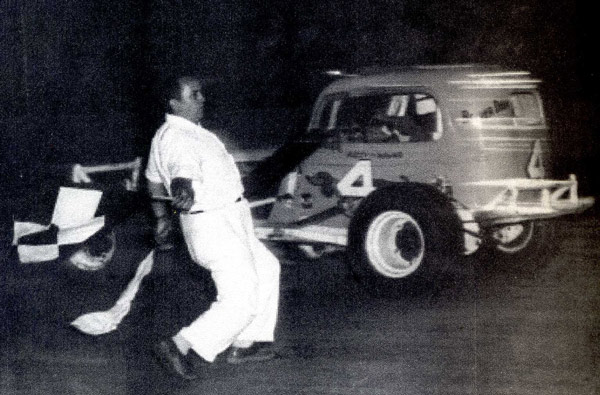 #840 - It is so curious how in certain regions of the country, certain seasons, racing became especially popular and spirited. Certainly that was the case with the fifties era jalopies in California and the "skeeter" supermodifieds in the Southeast, the sixties era Sportsman cars in New York and the Milwaukee Modifieds. Fr. Dale Grubba has just put out an amazing book about those Wisconsin mods, . An exceptionally energetic history, it is full of photos and info on racers like Fuzzy "Hound" Fassbender, Miles "Mouse" Melius, and Donnie "Duck" Shuppel. Those names still resonate nationwide among those who read National Speed Sport News and the other racing periodicals of the day. Their starter, double-sized Duane Sweeney, was sure part of the action, too. From by Fr. Dale Grubba, Patrick Heaney Collection.
AAAA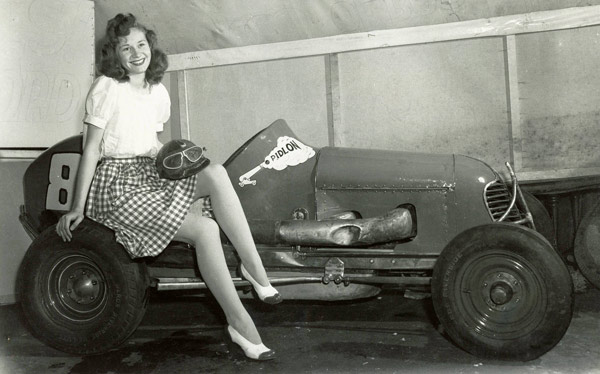 #839 - Old time Northeastern racer Oscar "Cannonball" Ridlon turned down the Marion Milton Alfa Romero ride for Indy in 1935 because he was making so much money on the short tracks. He was a piece of work. His Elto-powered midget was pretty loud, so loud, they say, that with a following wind it could be heard 20 miles away. It was also odoriferous. Oscar was quite the mixologist, brewing up exotic fuels – and he loved to lay smoke screens as he roared down the straightaway. He loved the ladies, too. From by Lew Boyd, Caruso Collection
aaaaaaa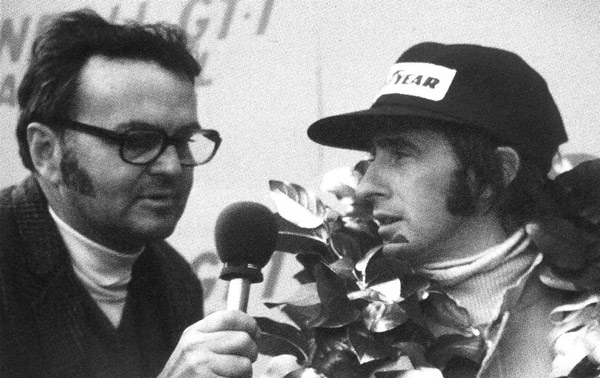 #838 - Chris Economaki, shown here at Watkins Glen in 1972, while having a war with Gillette, interviews the winner, Jackie Stewart. The two were to become friends and colleagues on ABC. Here's what Economaki said in his great book with Dave Argabright, :

"We were strolling through the pit area (at Ascot, CA) when A.J. Watson, the famed championship builder and crew chief, spotted us and waved us over. He was tending to a sprint car that night.
" 'Hey Jackie', he grinned, motioning to the cockpit, 'my driver has given up for the night and I have the seat open. Why don't you drive for me?'
"'Forgot me helmet', he said in his perfect Scottish brogue.
"'That's all right', Watson needled. 'We have a helmet for you.'
"'Forgot me balls, too,' said Jackie."
Quote and Photo from by Chris Economaki with Dave Argabright
AAAAA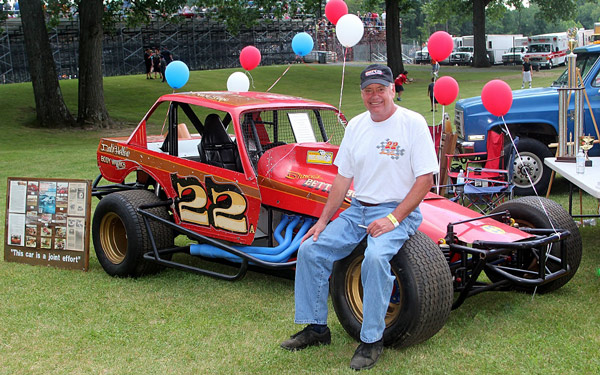 #837 - There was an unanticipated interruption in Dave Lape's 50th-year tour. Here he is at Dave Lape night on July 5 at Albany-Saratoga (NY) Speedway. As you can see, he brought along one of his oldie but goodies from the seventies. His spiffy new TEO got majorly rearranged when a spindle broke the previous week at Fonda, resulting in a spectacularly violent end-for-end. David sure was moving slowly for a few days. The next stop on his tour will be at Utica-Rome Speedway on Thursday night, August 22. He's not sure whether he will be racing again by then or whether his doctor will insist he go with one of his antiques. (Dave Dalesandro Photo)
aaaaaa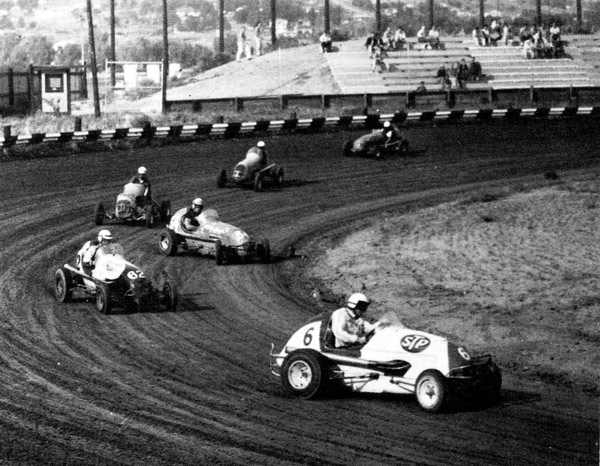 #836 - It does seem that STP's motion lotion has been around forever. In actuality, it HAS a long time. Reportedly its first use in an Indy car came in 1958 in the John Zink Special. We know for sure that the Company was helping some midget teams by then. Here Earl Kouba, "the Ol' Hay Burner", leads the pack off turn two at Englewood CO Speedway that summer in an STP adorned Offy. From , by George Peters and Henri Greuter, Leroy Byers Photo.
aaaaa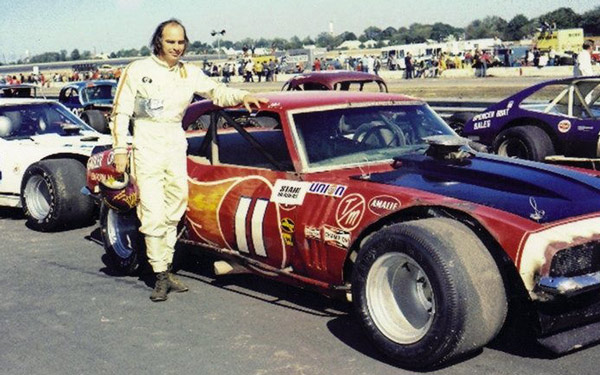 #835 - In the seventies the East Coast pavement modifieds, then a pleasing mélange of coupes and compacts, were steam-rollin' right along. The Trenton NJ race was always a big one, and you never knew just who was coming to town. Wouldn't you have loved to see this? Jan Opperman, one of the greatest dirt slingers of the time, in a mighty Tant-Mitchell flying #11, this one a spiffy Camaro. (Bones Bourcier Collection)
aaaaaaaa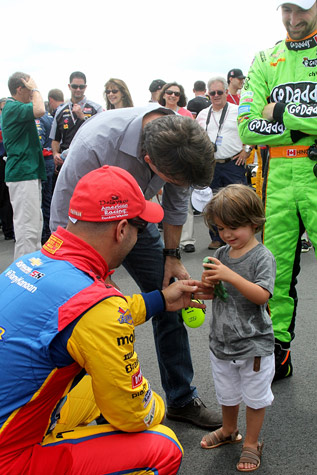 #834 - Here's proof that adoring race fans come from most any family and any circumstance. That's Leo Gordon, Jeff's son, getting an autograph from Indy 500 winner Tony Kanaan at the recent INDYCAR 400 at Pocono. James Hinchcliffe looks like he wants one, too. (Dave Dalesandro Photo)

aaaaa

#833 - Two guys, two two wheel open trailers, two tow cars, a dirt car, and a roadster. Jimmy Bryan, Clint Brawner and the Dean Van Lines team, one of the hottest in America in the mid-fifties. From MY HERO, MY FRIEND, JIMMY BRYAN by Len Gasper and Phil Sampaio, IMS Photo.
aaaaaa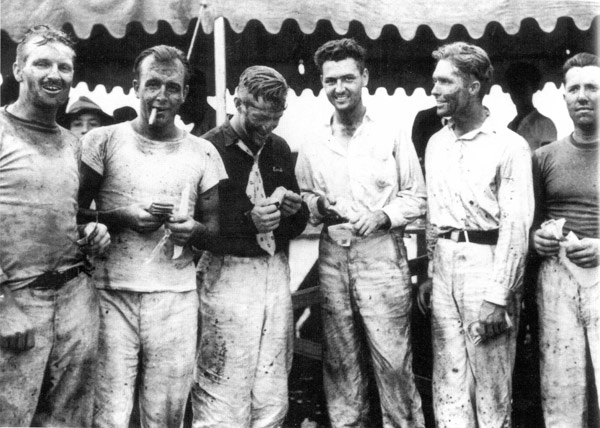 #832 - The boys of summer. 1937 turned out to be a banner year for American auto racing, and one of the most successful circuits hosted the Central States Racing Association and their big car rim riders. Maybe that's why their big dogs (L to R Clay Corbitt, Les Adair, Ev Saylor, John McDowell, Morris Musick, and Peter Albert) looked so pleased -- if a bit motley -- right after the payoff on August 27 at Dayton Speedway. From , by Buzz Rose. (Ed Hitze Collection)
aaaaaa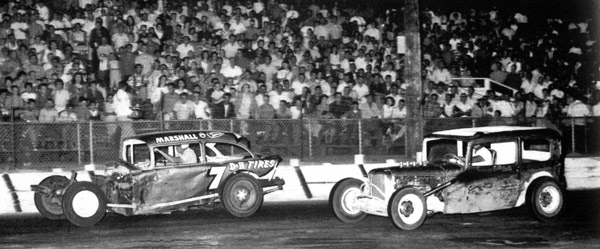 #831 - Marshall Sargent and Al Pombo were big dogs in San Jose in the sixties, and, often racing one another three times a week, they had their share of dust-ups. Sargent's frisky personality surely played a part in it. In the winter of 1964-65, he went to Australia to race, his outrageousness in tow. At the final show Down Under, he is said to have instigated such a riot among the 30,000 fans that they destroyed his race car. No problem. He lost nothing, as he had sold it to a local earlier in the evening. From , by Dennis Mattish. (Bob Mize Photo from Don Mize Collection)
AAAAAA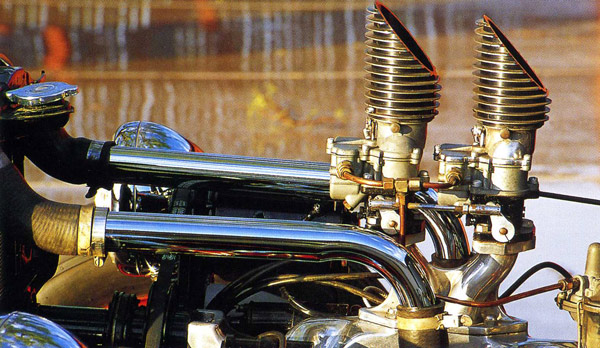 #830 - It doesn't seem all that logical that folks could be nostalgic about carburetion, but that's what happened. Sitting on of this very clean flathead compartment is one neat looking intake manifold with two Stromberg 97 carbs. The Stromberg Company produced them as standard kit for Flathead V-8s 1936 to early 1938. As hot rodders popped up – and hopped up their stuff, they were drawn to the elegant simplicity of the 97. The design made it easy to mate two or three carbs with progressive linkaging. Over time, as flathead cubic inches began to be maxed out by rodders and racers in the late fifties, four – sometimes six – Strombergs were needed due to their low CFM capacity. Then, when the larger overhead, more powerful engines became available, newer products like Holley were far more appropriate. Somehow, though, like the deuce coupe, the ole Stromberg 97 lives on, with both original and knockoff versions available and still used by purists. From , by Dain Gingerelli
aaaa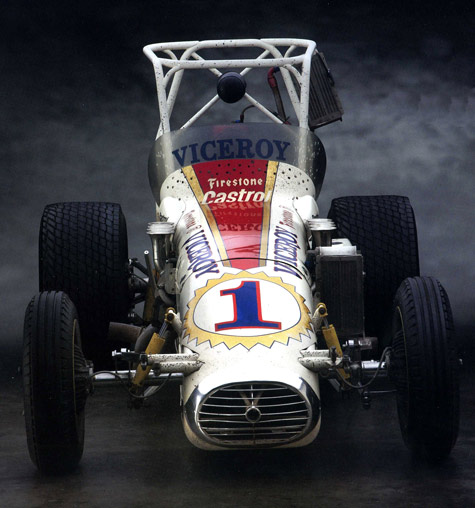 #829 - In 1969 Al Unser really pushed his car owners, Vel Miletich and Parnelli Jones, to get him a dirt car. They came through big time, calling Grant King and asking him to design and build a Champ Car with the input of chief mechanic George Bignotti. The car, upfitted with a Ford DOHC V-8, had some teething problems, but Unser swept the last two dirt shows of the year, at DuQuoin and Sacramento. The next year, sponsored by Topper Toy Company, he won all of them. Has there ever been a more classic race car? From , by Jimmy Dilamarter and Ren Wicks Jr. (Dean Kirkland Photo)
aaaaaaa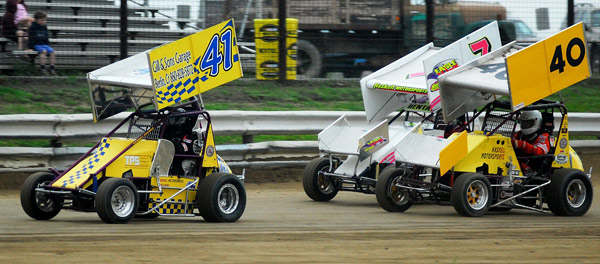 #828 - Those are New England's favorite McKeon Brothers (Mark in the 41, Jack in the 40) at Whip City (MA) Speedway a few years back. There's definitely brotherly love in the family McKeon, but it's entwined with a lighthearted competition that has been going on for some time. When they bring their cars to Legion (NH) Speedway this summer, their combined age will be 129. Jack does admit that Mark is a feature winner, but points out that Mark has so little mechanical ability that Jack has to do all the work on both cars. Meanwhile Mark admits that Jack has been a winner, too, but points out that Mark's two wins came 41 years apart - one at the old Plainville Stadium in Connecticut and one at Whip City. (John DaDalt Photo - The brothers call John "the Bladder" since they noticed he can do a full day's photography at the Chili Bowl and never visit the facilities...)
aaaaaa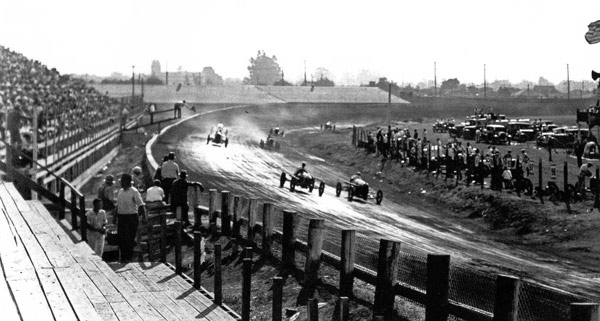 #827 - It had the look of the "big circle," but actually it was about as far away from Langhorne as you could get. It was the original San Jose Speedway out in Santa Clara County in California, a circular 5/8 mile that operated from 1923 to 1939. A pipeline was installed around the outside of the track such that drain oil (often 10,000 gallons worth) could drip onto the surface to prevent dusting up. That surface looks pretty racy – if a little gritty – in this shot taken at an AAA event in 1930. It would definitely not have been a good idea to get to flipping along the top of those rail road ties backing the wooden fence. From , by Dennis Mattish. (Don Bishop Collection)
aaaaaaa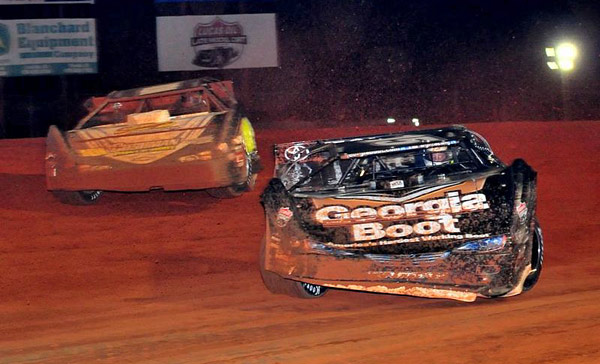 #826 - It seems that interest in dirt racing is becoming tackier and tackier each year. And, of all the cars competing, it is said that nationwide the dirt late models are most popular. Here are Steve Francis (Ashland, KY) in the Georgia Boot #15 and Casey Roberts on high in his #101 doing pretty racy stuff on June 20 at the Lucas Oil show down in Swainsboro, GA! (Craig Whyte Photo, )
aaaaa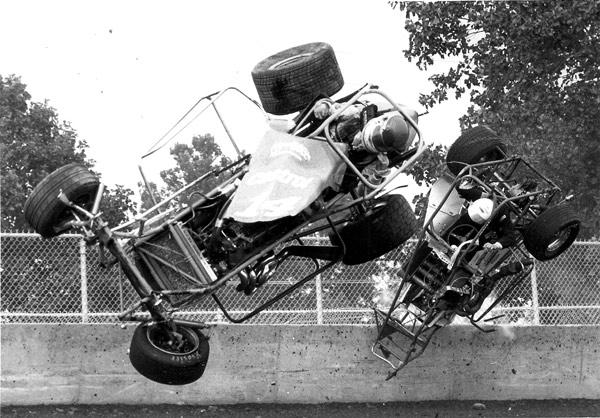 #825 Joyce Standridge is finishing up what will be a very different kind of book for us to launch this fall. is essentially a photographic walkabout of open-wheel racing in America's Midwest. The images Joyce has assembled – and woven together – are absolutely show-stopping. How about this Kevin Horcher shot from the Springfield (IL) miler back in 1992. That's Mark Gerke and Danny Drinan doing the dance. Both spent considerable sheet time after the incident, described as one of the most spectacular at the oval that originally opened in 1927. (Kevin Horcher Photo)
aaaaaaaaa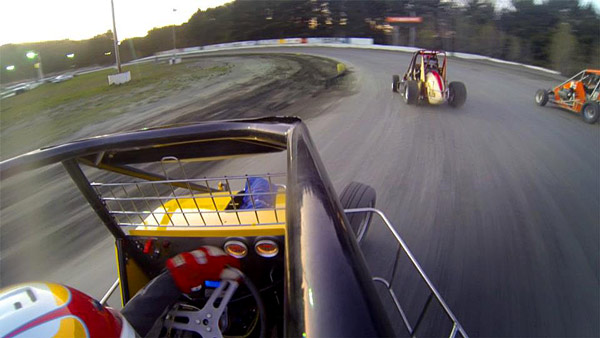 #824 - Remember that about 71-year-old Ray Miller whuppin' the field in a midget race in Vermont this spring? At the bottom of it, there's a picture of Ray and second- and third-place finishers Scott Viets and Kevin Chaffee on the podium. Our friend Mike Petrucci has passed along this neat shot of the three a few minutes earlier, Ray out front with Kevin checking out the stairs and Scotty in hot pursuit. (Photo compliments of Mike Petrucci/)
aaaaa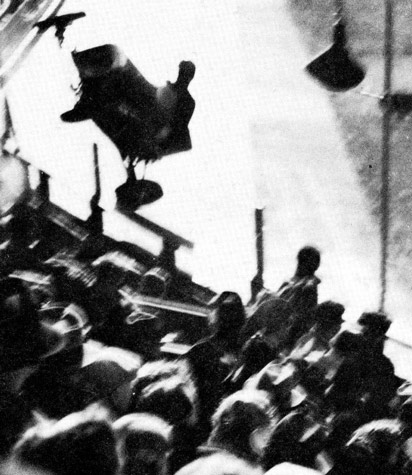 #823 - It was the race promoter Jack Kochman who in 1937 had the idea of bringing Eastern Alliance midgets to the Nutley Veladrome, a little-used bicycle track in Nutley, NJ. In Crocky Wright's book on the facility, he speculates Kochman had little idea "what an awe-inspiring spectacle he was creating….The following two years were to produce the most spectacular phase of midget auto racing seen anywhere in the world." It should have been more obvious. After all, the track was little more than a motorcycle Wall of Death. It was one-eighth of a mile, its boards built to a dizzying 45-degree bank, and speeds were unimaginably fast right from the first lap on April 3rd. And it was unimaginably dangerous. In the semi on opening night, Ken Fowler lost it in his Elto and vaulted the guardrail, as shown above in this fuzzy but dramatic photo. Just one cable kept him from going fully into the stands, but 13 spectators in the front row were injured, and Fowler broke an arm. The track operated for two years, but after the third driver fatality – Karl Hattel in the Pat Warren Offy on August 26, 1939, town officials shut it down, calling the place "homicidal." From THE FABULOUS NUTLEY VELODROME, by Ernest Crocky Wright. (Bruce Craig Photo)
aaaaaa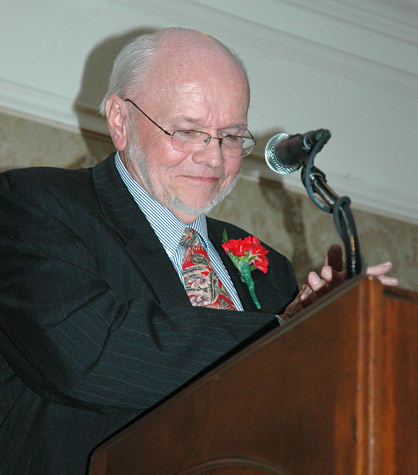 #822 - Our hearts are broken here at Coastal 181. Our dear friend and Coastal compadre Jim Rigney passed away on Monday following a tough three-year struggle with cancer. Jim was a pearl of a man, gentle, dedicated, self-effacing, wise. To put in perspective just how long we knew one another, it was Jim who designed the catchy poster we distributed so widely way back in 1972 when we promoted the first Spring Sizzler, the modified race that still today opens the season in Stafford, CT. Years later when we started Coastal 181, Jim and his wife Sandy were right there to share with us their depth of knowledge and contacts in the educational publishing industry in which Jim built an enviable career. Together we worked our way through the challenges of changing technology and building a company focused solely on motorsports books. We did endless shows, interviews, and editing/layout sessions together, always smiling and, certainly whenever possible, with George Jones in the background and a vodka tonic in hand. How we will miss him. Rest in peace, Jim.
aaaaaaa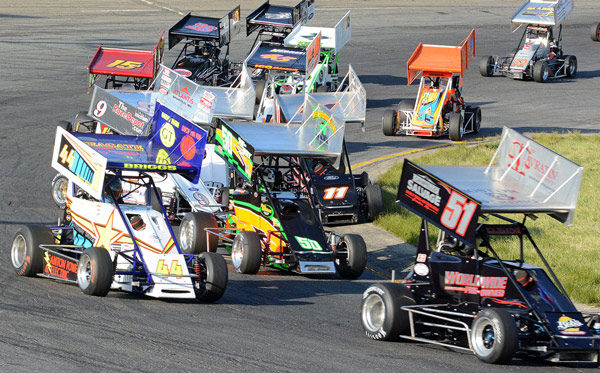 #821 - Early race two- and three-wide action from the NEMA LITES midgets at "The Boston Louie Memorial Classic" at Seekonk Speedway on Sunday, June 2nd. The LITES sweep into turn four with Danny Cugini #51 leading Christian Briggs #44 and Carl Medeiros Jr. #50. The #11 of PJ Stergios gets squeezed onto the grass as the Seymour Enterprises teammates of Ian Cumens #9 and Anthony Nocella #29 touch and get out of shape. Amazingly everyone made it through OK. Stergios in the #11 fought through lap-after-lap action like this to earn the win, with Medeiros #50 taking second and Nocella #29 third. (Photo and caption by Norm Marx / )
aaaaaa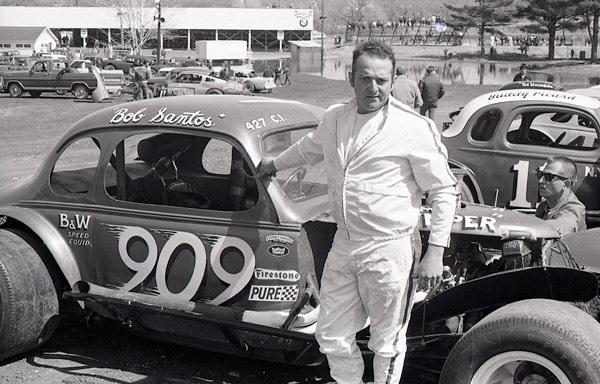 #820 - Here's a 1970 photo of the "original" Bobby Santos. He's the grandfather of a youngster of the same name, today's star of USAC sprint and midget racing as well as the NASCAR Whelen Modified Tour, where he has won a championship. In the photo, the elder Santos (now deceased) is shown with Art Barry's #909. Incredibly, after all these years, Barry still puts modifieds on the track, although these days they are driven to wins by Jon McKennedy. The original Bobby Santos was a big winner on both dirt and asphalt in his day. (Photo and caption by Dick Berggren/North East Motor Sports Museum)
aaaaa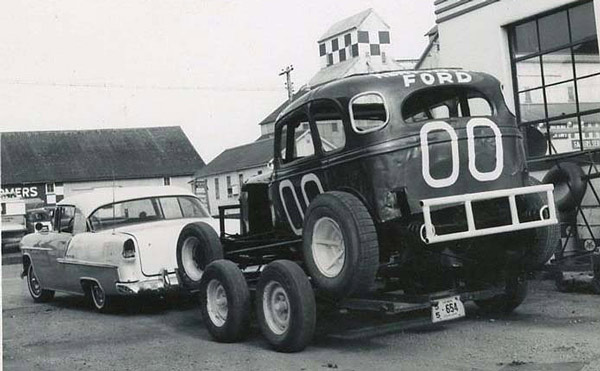 #819 - In 1963, Iowan Wayne Arndorfer was fresh out of high school but was acting like a veteran car owner. Teamed with others, his car had won in 1961 and 1962. The next year he went it alone with top-shelf dirt-tracker Les Wilden at the helm. Here they tow into Kossuth County Fairgrounds for the Tuesday night Fair race in June 1963. They won. And the next night at Mason City. And the next night back at the Fair on Thursday. Would you prefer to have that square top #00 or the tow car in your garage? (Chad Meyer Collection)
AAAAA
#818 - Connecticut's infamous Danbury Racearena was always known for its coupes and coaches and the mile-high stack-ups they often provided. But the facility also had a long history of open-wheel racing. In 1964 a champion hard-top guy, Billy Boo, decided to take a fling in the midgets. He jumped in Harry Wright's Offy, and they were hot from the start. Then came July 4. Billy got to flipping after someone blew a motor and he was launched right atop the wall. "It was horrible," says his wife Sharon. "I remember the whole thing. Nobody believed he could still be alive. He had broken ribs, a broken arm, and the top of his helmet was all scraped off. Later when we talked about it and I told him how his arms went flying when he lost grip on the wheel, he said he was just waving to me." Well, needless to say, Sharon wasn't having any, and, when Billy returned, he was back under a roof and a roll cage. He continued at Danbury until the closure, two decades later, and compiled an impressive win list.
(Bill Boo Family Collection)
aaaa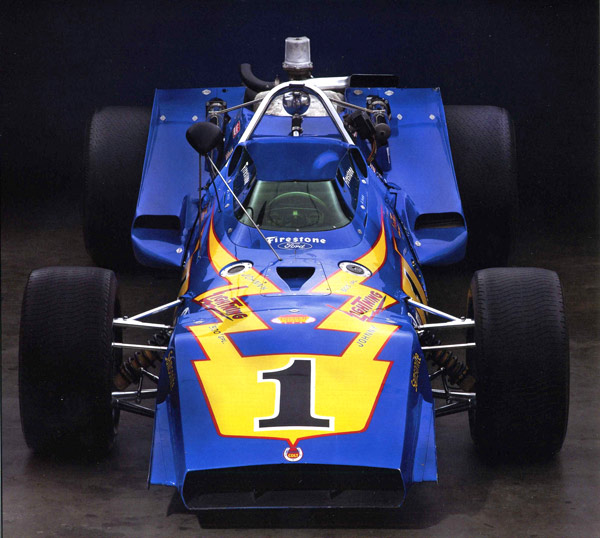 #817 - This is the stunning Johnny Lightning Colt, winner of the 1971 Indy 500, Al Unser in the cockpit. The 1450 pound monocoque was powered by a 800 HP Ford DOHC V8 and carried 75 gallons of methanol. It also won at Milwaukee the next week. After that the season went bad. The team switched to a peppier Offenhauser engine, but that engine's vibrations caused chassis components to wear out and fracture. The car would finish no more races. From , by Jimmy Dilamarter and Ren Wicks, Jr. (Dean Kirkland Photo)
aaaa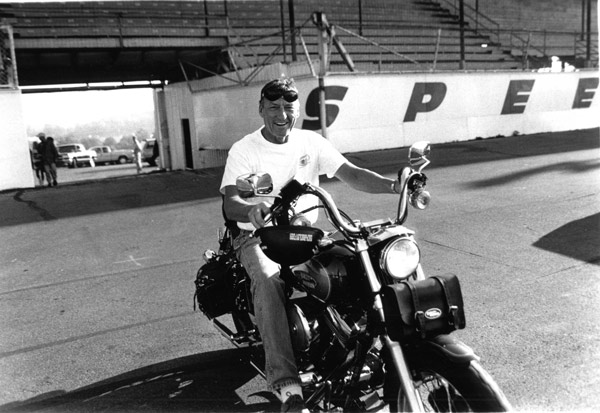 #816 - Here is that irrepressible Bentley Warren at Oswego on his bike. This weekend, 300,000 bikers will be converging on New Hampshire for the annual Bike Week. At any point in time, likely 200,000 of them will cross the state line to party at Bentley's Saloon on Route 1 in Arundel, Maine. We hope it doesn't get TOO overwhelming. Right at this time Bentley is supposed to be very busy with Bones Bourcier finishing up Coastal 181's new book WICKED FAST: Racing Through Life with Bentley Warren, due out in October. (Doug Gore Photo, Dick Berggren Collection)
aaa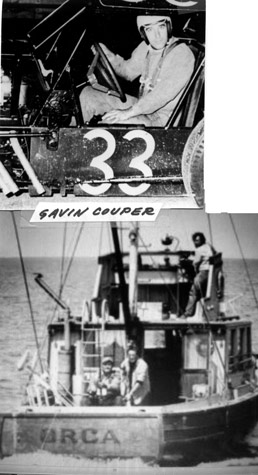 #815 - Here's Gavin Couper, "King of the Cutdowns," sitting in a Dick Valenti-owned, supercharged rocket ship at Westboro (MA) Speedway back in 1964. Like all the cutdown guys, it seems, Gavin danced to his own drum, doing what he had to do to get by. Rhode Island racing historian John Monaghan says that Gavin could sell anything to anyone and he provides proof. When Steven Spielberg came to Martha's Vineyard to film JAWS, he needed a boat for Captain Brody, and Gavin magically came up with the ORCA. Wouldn't you love to know where he got and it what he charged for it! (John Monaghan Collection)
AAAAAAA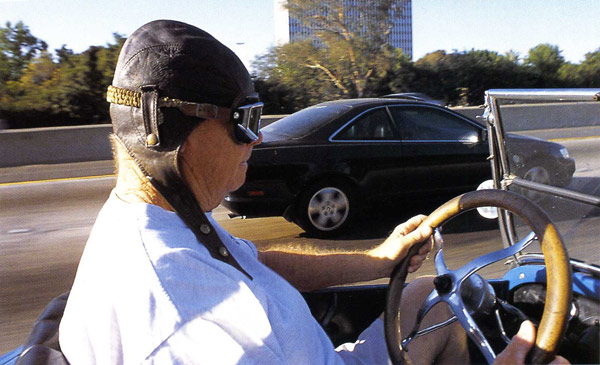 #814 - Here's ex-roundy-round racer, Henry Becker, cruisin' up the freeway in Southern California. He looks like he's all set, thank you very much. He's driving a 1926 Model T that was originally turned into a hot rod back in 1932. Becker has also exercised that car at some vintage national events. From , by Dain Gingerelli. (Dain Gingerelli Photo)
aaaaaa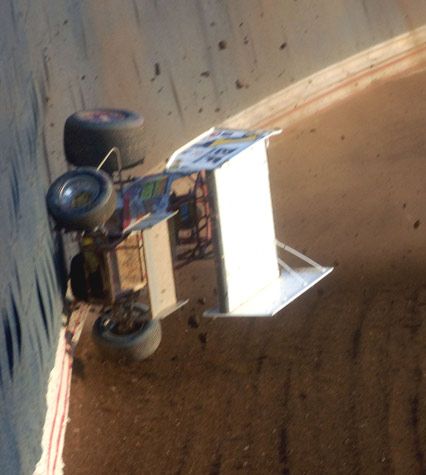 #813 - Photographer for the ages Frank Simek writes, "Joey Biasi (B1) tried to emulate that old 'wall of death' at New Egypt Speedway Saturday night June 1. He returned for feature competition and managed a 15th place." Frank was referencing our TEAROFF from last January (""), (Guy with the Hat Photo)
AAAAAA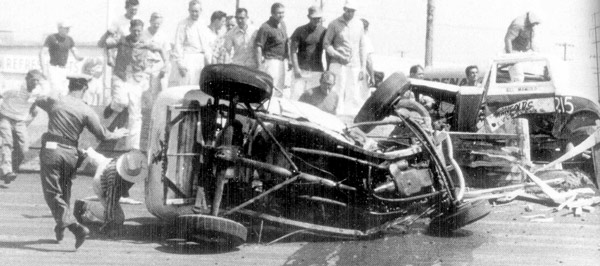 #812 - September 1, 1957 – Gardena, CA: Glen Howard and Bill Mangold got to lockin' wheels heading into the first turn and smashed the pit entry gate at full bore. Neither was really injured, but Bill did end up with a costly case of bent chassis syndrome. He took out a bank loan for 0 the next Monday to build a new jalopy. From , by Thomas D. Luce.
(Bill Mangold Collection)
AAAAA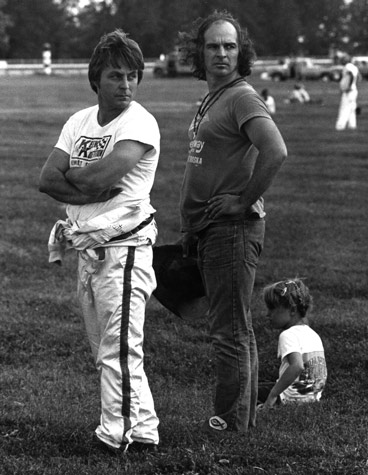 #811 - It was late in the day at DuQuoin back on August 29, 1977. Two world-class sprint car wheelmen, Steve Smith (L) and Jan Opperman, had seen it all in their already legendary careers. But they were all eyes checking out the competition.
(John Mahoney Photo, Rick Whitt Collection)
aaaaa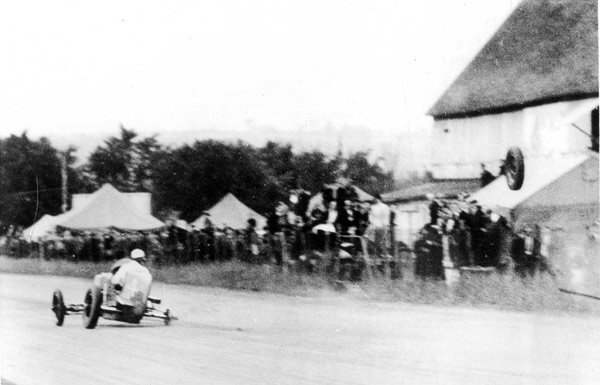 #810 - This image is from the International News Photos service back on September 17, 1935 from Altamont, New York, and here is the caption that accompanied it: "Floyd
Roberts, Los Angeles auto racing driver, showed plenty of intestinal fortitude in bringing his car to a stop after the startling and seldom photographed incident appearing here. He is looking around to watch the flight of a rear wheel as it flies high into the crowd. Floyd finally brought his rocketing car to a halt and thereby escaped injury." (Cal Lane Collection)
aaaaaa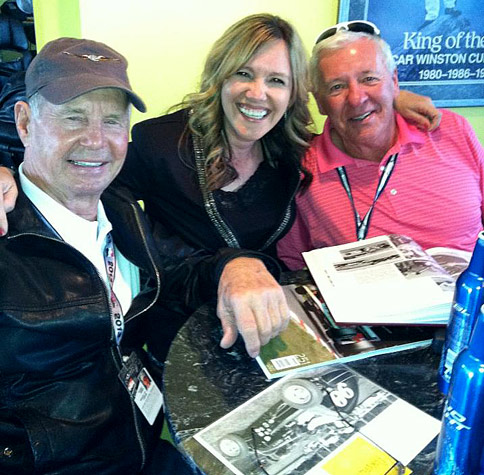 #
809 - That's Dori Noble enjoying last week's fabulous Indy 500 in a suite with Parnelli Jones (L) and Tom Sneva. Dori is Bones Bourcier's girlfriend. You can see now why Bones gets to hang out with all the big boys. (Coastal 181 Collection)
aaaaa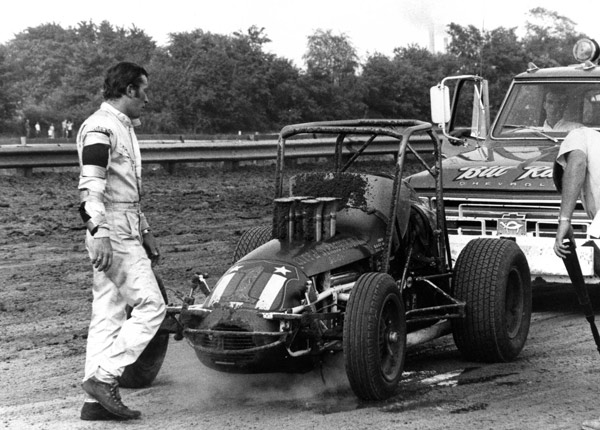 #808 - Here's a very trim though disappointed Gary Bettenhausen at Terre Haute back in 1970. That year he put on such aggressive duels with arch rival Larry Dickson that the USAC Sprint Series was nicked named the "Thunder and Lightning Show." On this day the weather was inside the engine compartment of Bettenhausen's City of Syracuse sprinter. It rained from the oil pan. (John Mahoney Photo, Rick Whitt Collection)
aaaaaa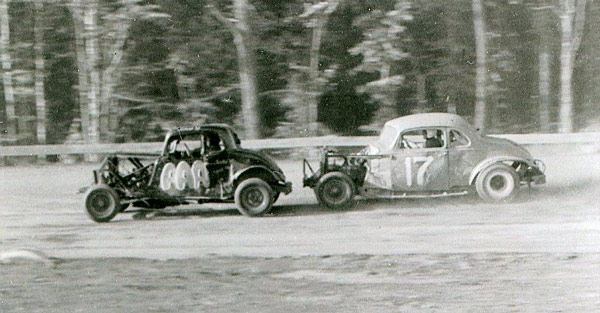 #807 - Back in the first half of the 1960s, a rough and tumble dirt track called Onteora Speedway operated in Olivebridge, NY. One of its foremost performers was a transplanted Carolinian named D.D. "Rebel" Harris, who raced Joey Lawrence's mighty AAA coupe and is shown here leading Ernie Beesmer. It all came to a tragic end the first day of summer in 1963 when D.D. flipped big time, was ejected, and died upon arrival at the Kingston Hospital. Joey, a former top-notch sedan chauffeur himself, continued his career as a highly regarded owner, offering up rides in his Sweet 16 modifieds to guys like Whistlin'' Wilson, Dick Hansen, Dave Buanno, and Jan Opperman. Joey will be inducted into the Hudson Valley (NY) Historic Racing Association Hall of Fame at the Duchess County Sports Museum on June 9.
(Roger Liller Collection)
AAAAAA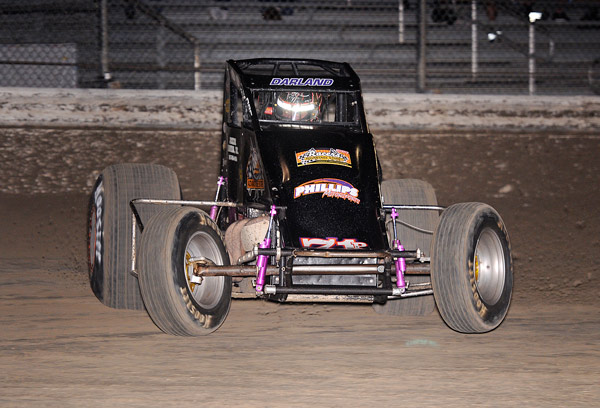 #806 - Here's Dave Darland backing it in at Ocala, FL, last February. Dave won the USAC Sprint car feature at Bloomington, Indiana, on Friday night, May 17. He is nicknamed "The People's Champ" for his personality and popularity with the fans but he could also be called Mr. Perseverance. On more than one occasion in his career he's lost rides to younger drivers, some of whom bring dollars to the table. Most notable was when he lost the Lewis #9 midget ride after winning two championships. Last year he was second in USAC Sprint Car points, but again he found himself out of a ride. Dave found a ride in the Phillips #71p, and at Bloomington he drove it to victory lane, the first USAC Sprint win for the Phillips team. It marked the 21st straight season that Darland has won a USAC sanctioned event. The only other two to do that are AJ Foyt and Mel Kenyon. Not bad company. (Quote and photo from John DaDalt)
aaaaaaa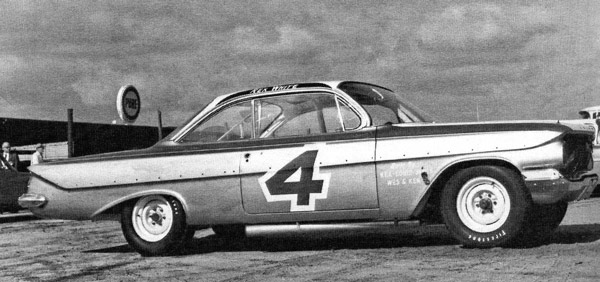 #805 - Rex White and Louie Clements brought one clean-looking Grand National car to Daytona for the 500 in 1961. They had a brand new Chevy, one of those 409ci engines, rated at 360 horsepower, just off the production line, and a truck load of high hopes. They had a horrid qualifying run, however, and started 41st. So, at the end of the day, a 12th place finish wasn't too bad. It paid 0. From , by Michael L. Clements.
aaaaa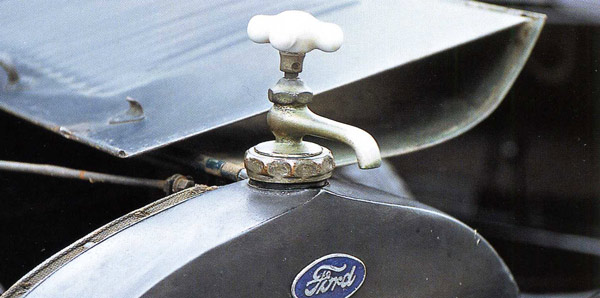 #804 - Totally cool. From by Dain Gingerelli.
AAAAAAA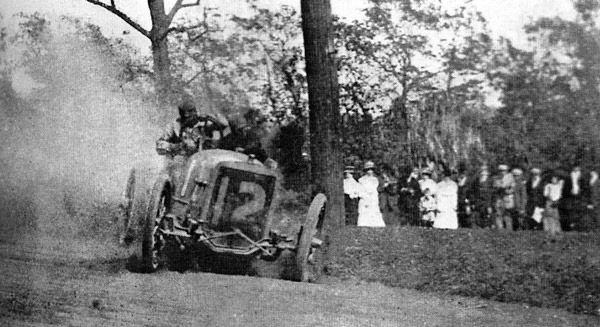 #803 - It is said that nearly 500,000 spectators turned out for the second annual Fairmont Park Motor Race near Philadelphia in 1909. The 23 starters provided plenty of action, certainly including American driver E.O. Hayes and his riding mechanic Arthur Johnson. As shown here, they got just a little wide on Sweet Briar Hill, and despite Hayes' valiant evasive efforts, slammed that telephone pole. Hayes stayed aboard and steered to a stop. Johnson, however, went for a sky ride, landing 72 feet away, right in front of the aghast crowd that assumed him dead. He was gathered up by a horse-drawn ambulance and taken away. It seems he must have been bounced back to consciousness, and he opened his eyes and said "Say, that was a pretty good spill."
From , by Michael J. Seneca. (Photo courtesy of Automobile Reference Collection, Free Library of Philadelphia)
aaaaa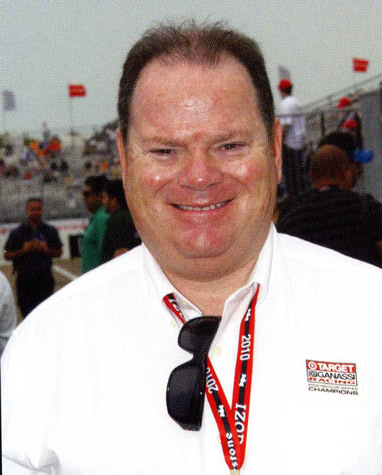 #802 - Chip Ganassi, high-profile chief honcho of Earnhardt Ganassi Racing, sure has spent a few weekends at superspeedways, early on in Nomex but in the more elegant attire of a team owner in recent decades. He began his driving career in 1982 and competed at the Brickyard five times, best finish an eighth in 1983. From , by Ralph Kramer.
AAAA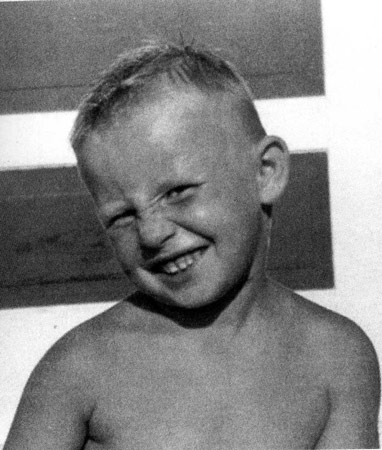 #801 - "Summer time, and I'm about eight years old. I had an ornery look about me, didn't I?" Photo and Quote from , by Doug Wolfgang with Dave Argabright.
aaaaaaa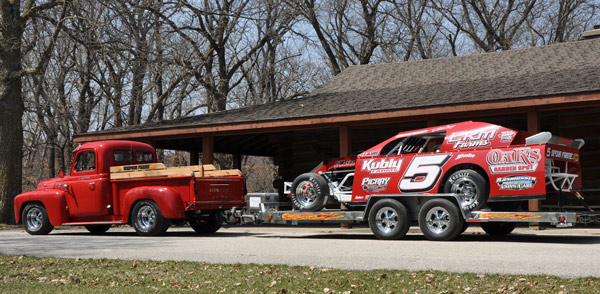 #800 - Here's a pretty package, assembled by two unrelated Simpsons. Richard Simpson is a resident of Algona, Iowa, a legendary 1960s-era driver who raced his way into the Kossuth County Hall of Fame. Still a motorhead today, he tinkers constantly with his sweet-sounding Corvette-powered '55 IH L100 pick-up. Out back is Jake Simpson's brandy-new 2013 Ford-powered Harris IMCA SportMod. Jake is a past Algona Raceway track champ and is gittin 'er dun already this year. He won the IMCA SportMod Touring Series event at Arlington, MN, a week ago, in just the car's third time out. (Chad Meyer Photo)
aaaaaaa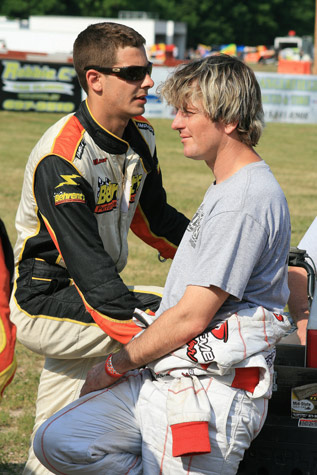 #799 - 2010 was one amazing breakout year for Stewart Friesen (L). He sure had his way at Utica-Rome Speedway in New York, where he won the title handily. He was not so lucky on Memorial Day, however, when the track ran the Victoria 200-lapper that had been snowed out on Mothers' Day. Tim McCreadie (R) was off running WoO late models at the time and had a race in West Virginia the night before. However, he liked the sound of the Victoria purse, he landed a ride in Vinnie Salerno's Modified, and somehow made it up to New York in time. He won the show and the ,000 winner's allowance. From , by Bones Bourcier. (Jay Fish Photo)
AAAAA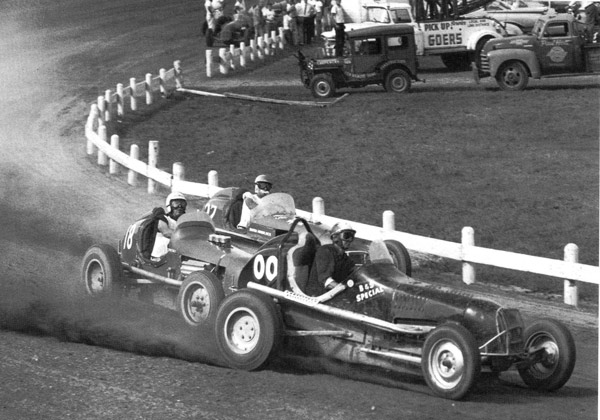 #798 - Big cars, big…bravery. That's Duane "Stoney" Stoneking in the #00 Chevy, Rocky Williams in the #18 DeSoto, and Jim Jones working their biceps in turn one at the Shawano County (Wisconsin) Fairgrounds. It was 1959, and Williams was hauling his way to one of his five Mississippi Valley Automobile Racing Association championships. From , by Bob Mays. (Armin Krueger Photo)
AAAAA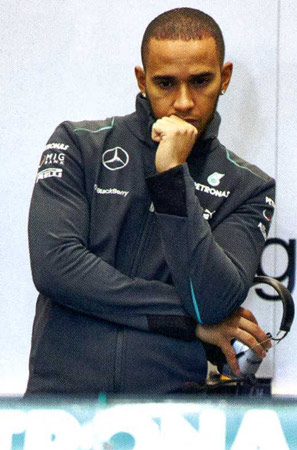 #797 - Has our President donned Nomex? Actually, it's Lewis Hamilton, acknowledged as one of the fastest Formula One drivers ever. Hamilton certainly has an intense look about him. Derek Daly says, "If you asked anyone in the paddock in 2011 or 2012 about their opinion of Hamilton as an elite athlete, chances are they would tell you he needs to control the roller coaster that is his head and emotions." Photo and Quote from , by Derek Daly, second edition.
aaaaaa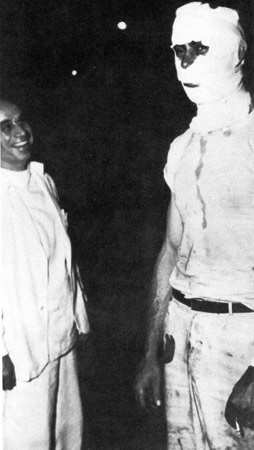 #796 - He was hot at the time, but this night was a little over the top. Before Ralph Moody went south and made such a huge impact on stock car racing with Holman Moody, he lived in Taunton, Massachusetts, and was quite the gasser in pre- and post-war racing. His racer was a Model T, replete with a 2x4 wooden chassis. A few years later he moved very successfully into the midgets, winning widely. On this night, however, a plug blew out of the V-8 60, covering him liberally with scalding oil. By the 1950s he was a top runner in the stock car revolution, running coupes lettered #28, foretelling the day he would give that number to his NASCAR protégé Fred Lorenzen. From , by Tom Cotter and Al Pearce. (Moody Family Collection)
aaaaaaa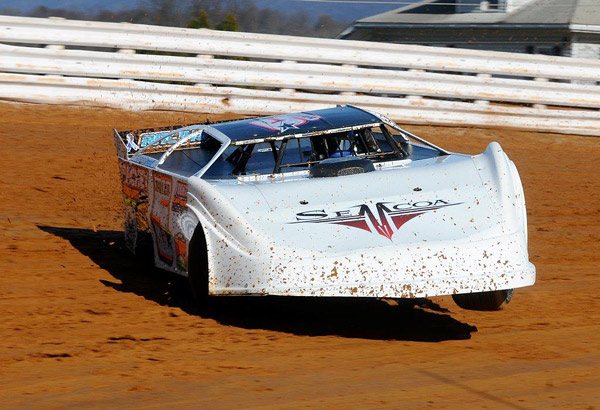 #
795 - It's that precious but oh-so-fleeting moment on dirt. Derek Byler hauls his late model deep into the turn this spring at the half-mile in Port Royal, Pennsylvania.
(John DaDalt Photo)
aaaa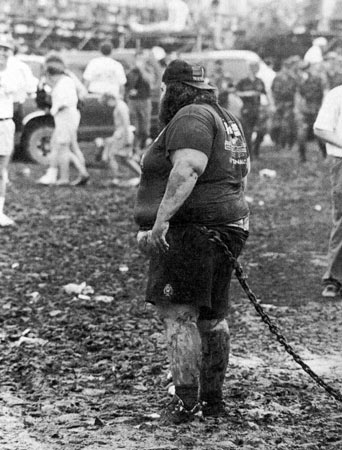 #794 - Over the last 100 years, the Indy 500 has become known for its pomp and pageantry, as well as for the competition. As John Mahoney recorded in 1991, however, the Brickyard attracts all manner of characters – tethered and otherwise – in the swell of a couple of hundred thousand fans. From , by Terry Reed. (John Mahoney Photo)
aaaaa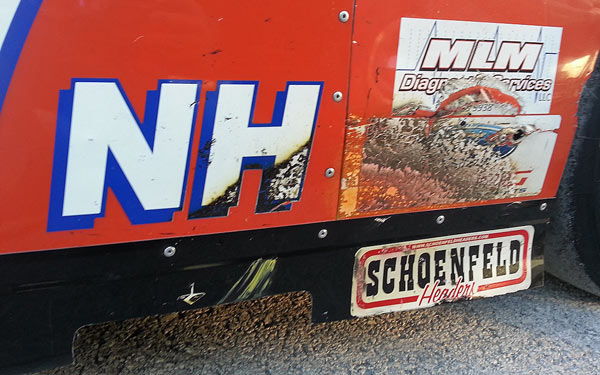 #793 - Justin St. Louis, the energetic media maven at Devil's Bowl Speedway in Vermont, send down this cool photo and quote. "We had our opener at Devil's Bowl last Sunday with the ACT cars, and it was quite the finish. Wayne Helliwell beat Brian Hoar by a whisker (.027 of a second, officially), for the Spring Green win. Those two ran in lockstep the last five laps in the cleanest heads-up match I think I've ever seen – certainly the crowning achievement of their three-year ACT rivalry. They ran so close for so long that heat from the exhaust from Hoar's car melted the decals on Helliwell's door." (Justin St. Louis Photo)
aaaaaa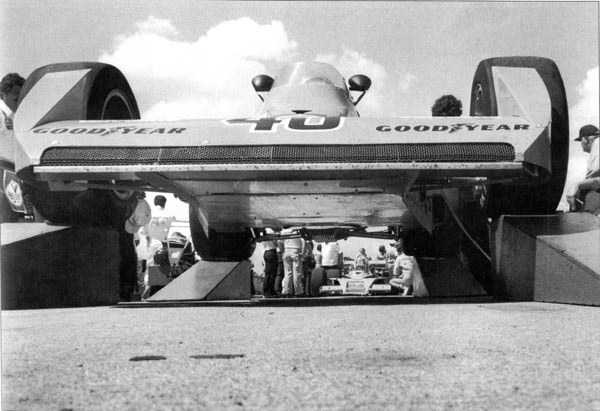 #792 - It was 1976 at Indy and builder George Bignotti was playing with ground-effect. Note the long, smooth Lexan plastic skirts on the underside, allowing the wings to be smaller and cause less drag. Wally Dallenbach hustled this "Wildcat" to a fourth-place finish. From , Karl Ludvigsen, Ludvigsen Library Series.
aaaaaaaaa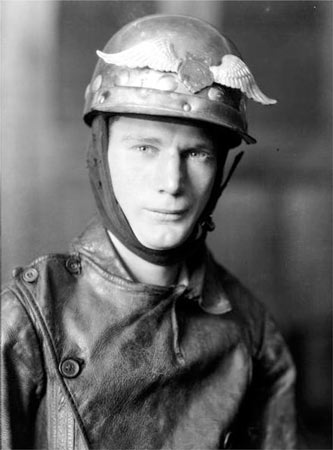 #791 - Australian Robert Coombes (racing name "Bobby Blake") was the New South Wales Individual (motorcycle) Speedway Champion in 1931. A great solo rider, Coombes was a star at the Olympia Motor Speedway in Maroubra, near Sydney, NSW. The track, opened in 1925 before a crowd of 70,000, was an imposing one-mile, ultra-high-banked concrete oval – and it was ill-fated. With both cars and two wheelers touring the facility at lap averages of 100mph, it exacted a serious toll of drivers and was soon labeled a "killer track" by the media. Coombes was the last to die there. Ironically, it was on June 14, 1936, and the track had already closed. Coombes had just stopped by for a practice run.
Mike Kemp Collection from (with additional thanks to OZ customer George King)
aaaaa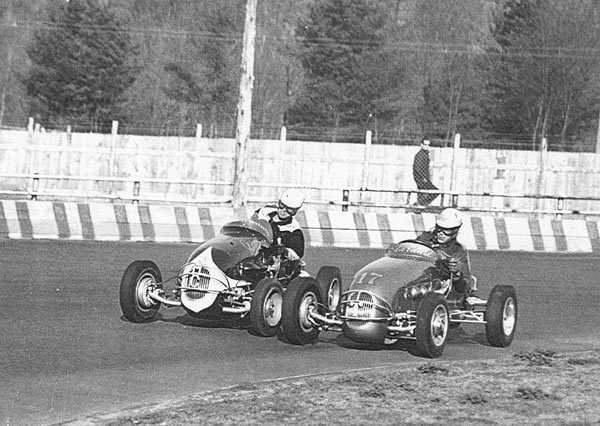 #790 - It was Cherry Park Speedway back in 1948, the height of the pan-national post-War midget boom. The half-mile dirt horse track had been reduced to a 1/5th and was paved to attract the traveling open-wheelers. They responded big time. Here two legends, Bill Schindler (upstairs) and Al Keller show the stuff that made them famous. In the end, neither, however, was able to outrun fate. Schindler died in a sprint car at Allentown, PA, in 1952, while Keller perished in a fiery Champ car wreck in Phoenix a decade later. (Peter Zanardi Collection)
aaaaaaaaa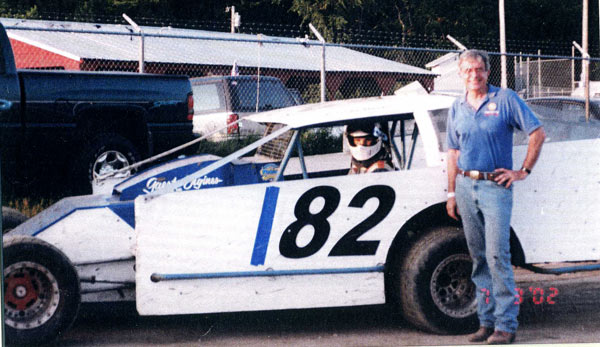 #789 - How about that Bobby Santos III winning the Spring Sizzler for NASCAR modifieds a week ago at Stafford Springs, CT? It seems the kid can drive anything, anywhere, and go VERY fast. Years ago, when he was knee high to a hubcap working his way up from small-block supers, we thought he should get some dirt on his goggles. We bought him a ride for a night in our buddy Randy Howe's dirt mod up at Canaan (NH) Speedway. It was perfect that it was numbered 182. The idea was that I would lead him around in our #181 car to show him the ropes. Well, that lasted about two laps, and Bobby went barrelin' by on the outside. Didn't see him again 'til the end of the race. (Santos Family Collection)
AAAAAA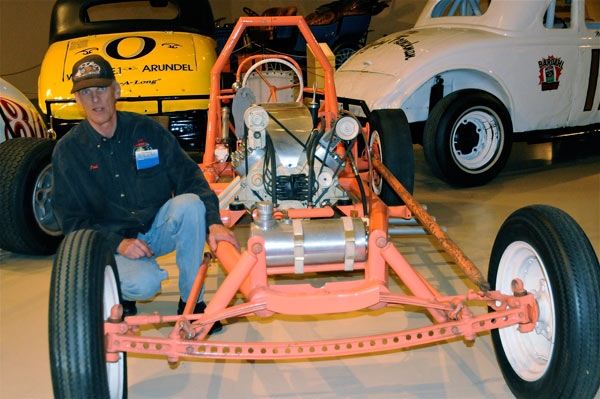 #788 - Paul Aldrich, a Board member of the North East Motor Sports Museum, sure has a flare for those old-time drag cars. From the few pieces that were left, from research on every available image, and from conversations with folks who were there, he has brought the Dave Jackson "Excalibur" Flathead rail job back to life. The minimalist unit was the hot setup in the Northeast in 1958 and was overall winner in NEHRC competition. Its best speed on nitro, driver Bill Peterson at the helm, was 138mph in the low nines. (Everybody move back!) That paint job is historically correct. Back in the day, the 1954 Oldsmobile Salmon color matched the tow car. Paul explains, "You know, most old-time Yankees, with that conversation mindset, didn't get too into flash, but this car was pretty snazzy when it showed up at the strip. Of course, they didn't get too carried away. Both Excalibur and its trailer were painted with a brush."
(North East Motor Sports Museum Collection, Dick Berggren Photo)
AAAA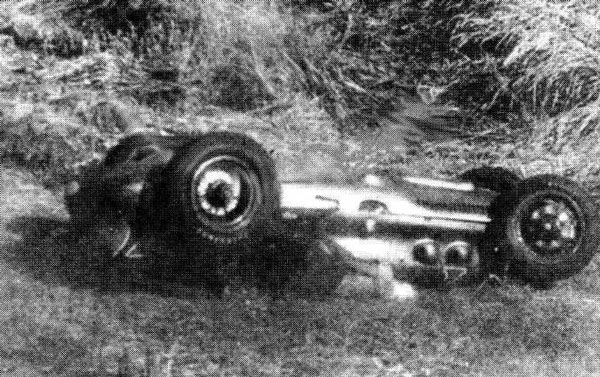 #787 - Troy Ruttman seemed almost inhumanly talented as a teenager behind the wheel. Right after his first shot at the Brickyard, he jumped at the chance of getting into the Blue Crown Special Champ Car at Arlington Downs, Texas, in July of 1949. The car caught a rut and flipped – right out of the place, right on top of him, severely injuring him. His wife Beverly, then six months pregnant, recalls, "After Indy, Troy had to have a Cadillac…Some of the guys took the back off the front seat and secured a piece of plywood that extended from the front seat into the back seat and helped me get him into the car. He could stretch out on the plywood and that's the way he rode all the way back to California." Photo and quote from , by Bob Gates. (Troy/Toddy Ruttman Collection)
aaaaa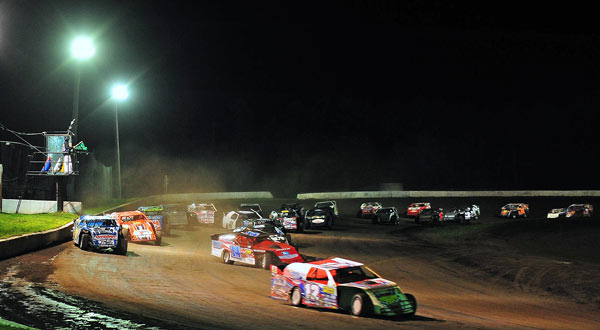 #786 - The mods really get around Mississippi Thunder Speedway. Located in Fountain City, Wisconsin, the track has been completely rehabilitated and is very racy. In earlier years it was nicknamed the "circle of death." (Bruce Nuttleman Photo, )
aaaa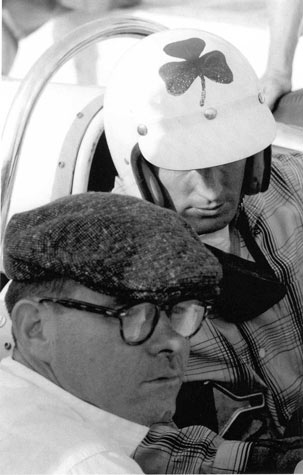 #785 - A curious shot of Indy car owner, Jack Zink, and his driver for 1956, Pat Flaherty. Flaherty had been hired after Bob Sweikert left the ride following a contract dispute. Flaherty looks particularly pensive here, and that squares with his reputation. He was known as a loner, cool and detached, but he was all business out on the bricks. Leaning on his dirt track experiences back in California, he gave that Zink Special some kind of ride, lifting the left front wheel shockingly in the turns, scooping both the pole (a new record at 145 mph) and the accident-ridden 500. He won at Milwaukee the next week, but was subsequently involved in a horrible crash in a Kurtis Kraft dirt car at Springfield, Illinois, that pretty much ended his racing career. From , by Bob L. Blackburn.
AAAAA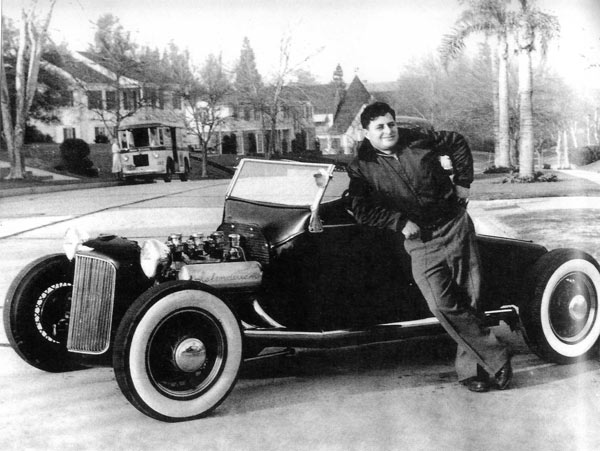 #784 - The hot rod that started it all. Ed "Isky" Iskenderian posed next to his famous '24 T-bucket. He originally bought it in high school in 1938. Ten years later it was the cover car for the brand new Hot Rod magazine in June of 1948. Note the hot set-up custom-cast aluminum valve covers, inscribed. From , by Paul D. Smith. (Ed Iskenderian Collection)
aaaaa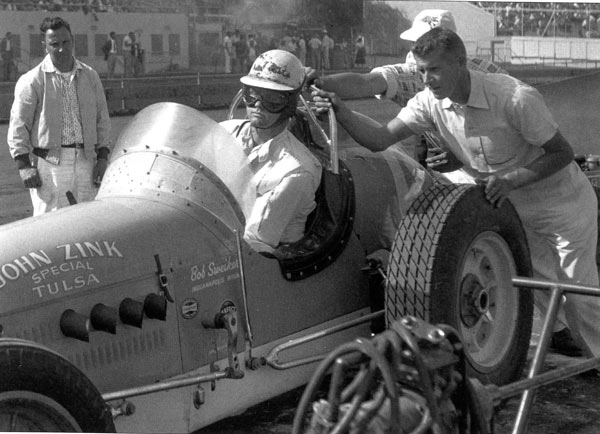 #783 - You can just feel the seriousness in the faces of Bob Sweikert in the John Zink Special and AJ Watson, his chief mechanic back in the fifties on the dirt of the Sacramento Mile. Focus worked then and it still works now. From , by Tom Motter. (Russ Reed Photo)
aaaaaaaa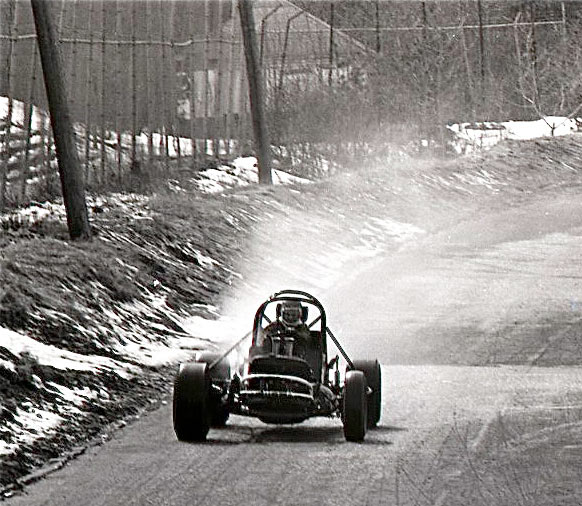 #782 - In today's racing, when there's the slightest bit of water on an asphalt track, the starter throws the yellow and all action stops. Safety first, you know. But back in 1969, at the Hudson (NH) Speedway, snow banks were still at the edge of the track on opening day. As the afternoon sun did its work and the temperatures rose, those snow banks melted and the supermodifieds just kept on racing. Look carefully and you can see the stream of water under and behind this injected direct-drive lightweight super and the spray in the air off its tires. Nobody seemed to lift that spring day and there were no big crashes, either. (Photo by Dick Berggren, North East Motor Sports Museum)
aaaaaaa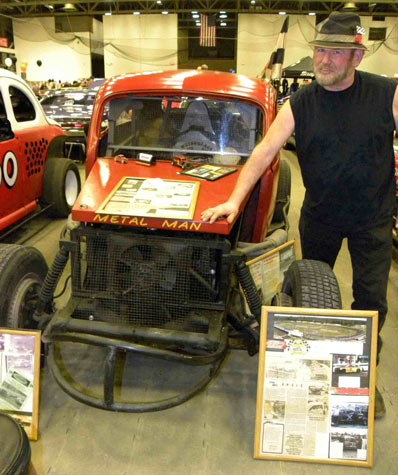 #781 - Plattsburgh, New York's Airborne Park Speedway Promoter Mike Parrotte says he's a huge part of the show, constantly cruising through the pits, blowing ooga horn in his Renegade Monte Carlo. His name is Curt Giventer, but the larger population knows him as just "the Metal Man" for his weighty internal load of steel bracing, installed following various crashes. He's been around racing forever. That coupe behind him was built in the 1960s by his buddy, a tug boat captain off Staten Island, to run at Weissglass Stadium. He later campaigned it on the clay at East Windsor in New Jersey. In the eighties Curt moved northward to Saranac, NY, and was soon competing at Airborne. He won a non-winners' feature a couple of years ago – he thinks he may have been the only car left standing. Nonetheless there was need for celebration. Mike says Metal Man was seen parading through town with his ramp truck, with lights and horns, bells and whistles, spreading the good tidings. (Karl Fredrickson, Speedway Illustrated Photo)
AAAAAAAA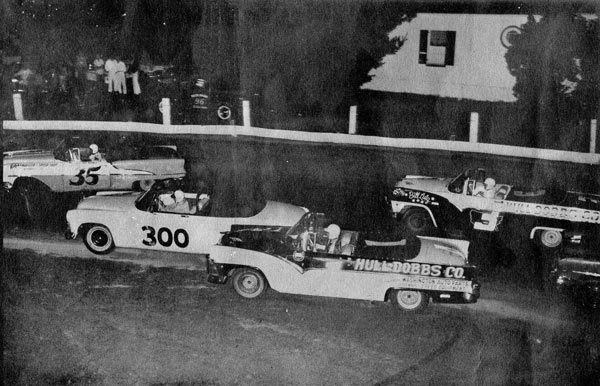 #780 - Things sure looked different six decades back. Here's Bowman Gray Stadium in 1955, featuring the well-traveled combatants of The Circuit of Champions Convertibles Stock Car Races. That's Darel Dieringer in the #35 trying to fill up a hole that Bob Pronger (#300) definitely has his eye on. And the same thing is going on behind Pronger. Jack Harrison, aboard the Hull-Dobbs '55 Ford, gives the infield a shot. That was the hot setup. He won. (Photo by Taylor Warren, Illustrated Speedway News "Breathtakers from the Speedways," 1955)
aaaaa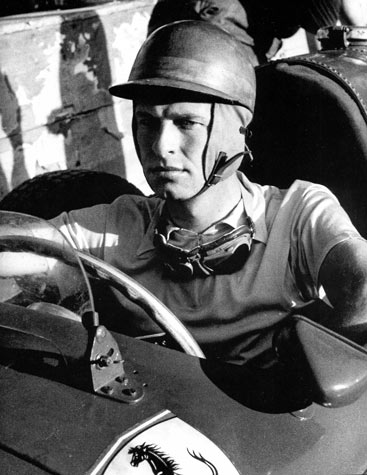 #779 - Life must have seemed pretty easy for Brit Peter Collins. Son of a well-healed diplomat, the young FI driver surely had the bucks to concentrate on racing. In 1956, he was neck to neck with Ferrari teammate Juan Manuel Fangio for the Championship. In the final race, the Italian Grand Prix, Fangio's car broke and Collins stepped out of his and gave it up to the Argentinian, saying "I've got lots of time ahead of me. Fangio should stay World Champion for another year." The next season Collins was in Florida prepping for the Nassau Speed Week when he met the fetching American actress Louise King. In one week they were married, taking residence in a yacht anchored in Monaco Harbor. History will say they did not have that much time ahead of them. Collins died at Nurburgring, edging Tony Brooks for the lead, barely 18 months later. Quote and Photo from , Photos by Bernard and Paul-Henri Cahier and Text by Xavier Chimits
aaaaaa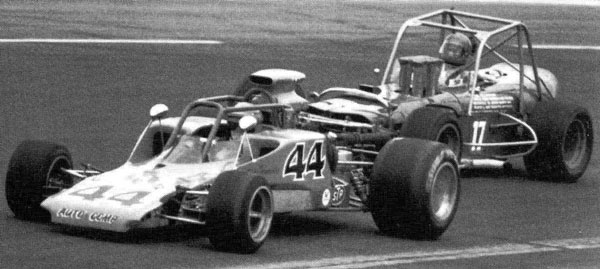 #778 - When his sprint cars showed up for the 1972 Gopher 200 at St. Paul, IMCA's Executive Director Bill Hitz decided to try to spice things up by allowing Jerry Hansen to run his Formula 500 Lola. The circle track guys, represented by Dick Sutcliffe, were none too pleased, and most of a rainy Saturday was spent in argument. In the end Hitz gave Hansen the okay. It might not have been the most popular decision he could have made. Here's Hansen blowing off Bill Madsen in the Madsen-Palmer #17 Chevy sprinter on his way to winning by three laps. From , by Bob Mays. (Phil Dullinger Photo)
aaaaaaa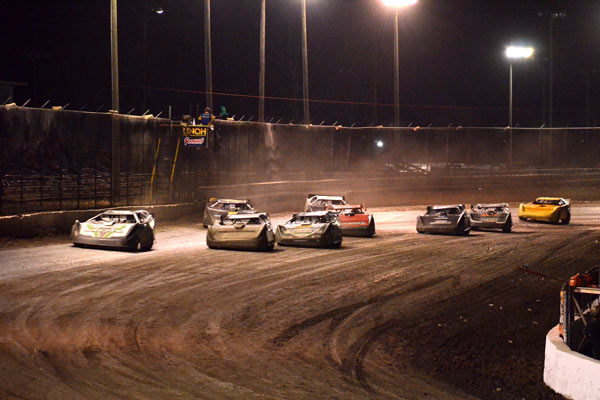 #777 - How can you not feel racy?! The Late Models take the green at Volusia this past February. Racing motors are the music of the night. (Troy Bregy Photo, )
aaaaaa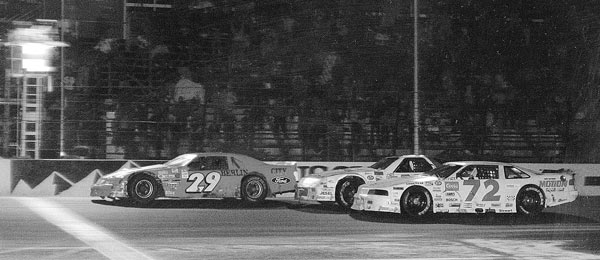 #776 - Wouldn't you just love to see a replay of this one? It was the 1989 ACT "Coors Shootout" All-Star race at Beech Ridge Speedway in Scarborough, Maine. Dave Dion in the #29 scooted by Canadian Junior Hanley in the #72 and Ralph Nason on the final turn of the final lap. David says with conviction that "this was one of the most satisfying wins of my career." We say that publishing Dave Dion's autobiography was one of the most satisfying experiences in the history of Coastal 181. From , by Dave Dion with motorsports writer and announcer par excellence, Dave Moody. (Dave Dion Collection)
aaaaa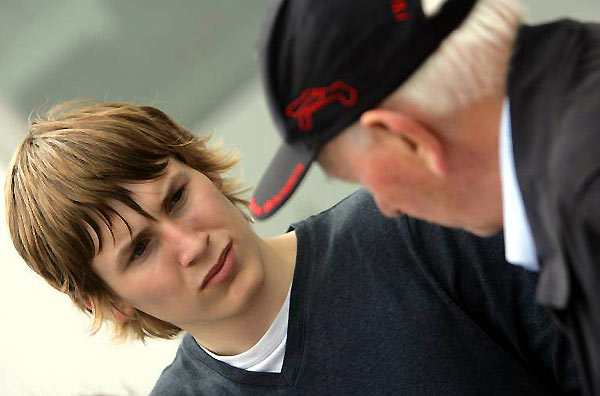 #775 - Sometimes there is that senseless chill in the winds of fate. Surely that was the case on July 19, 2009 at the Brands Hatch Circuit in Kent, England. Promising Henry Surtees, son of John Surtees, the 1964 Formula One World Driving Champion (both pictured above), was racing into the Sheene corner, when a wheel became unthethered from another car. Incredibly, it struck Henry on the head, rendering him unconscious, and he subsequently slammed into the wall and died. Everyone was devastated, including his parents who witnessed the incident. When Henry's schoolmates heard the news, they swam the English Channel as a group to raise money for a foundation in his memory. It continues today, focused on supporting research on brain injuries. (Imago Photo )
AAAAAAA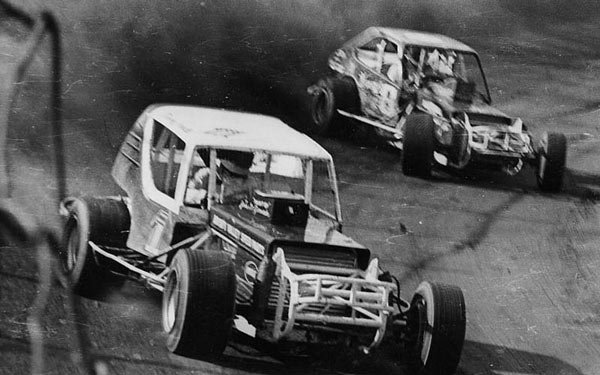 #774 - It's classic fourth-turn action on the high banks of Lebanon Valley (NY) Speedway, now in its 61st season. That's Tommy "Top Cat" Corellis and Mert "Socks" Hulbert dueling with their big blocks back in the mid-seventies. It was the tipping point moment between home-built modifieds and the factory cars so common today. (Otto Graham Collection)
aaaaaaaaa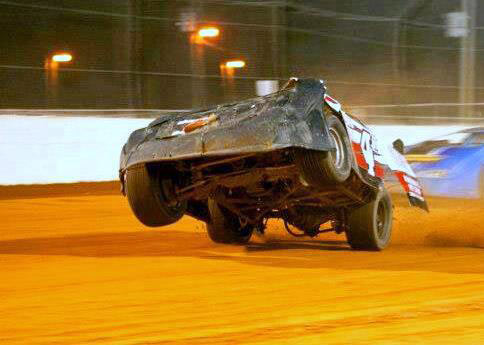 #773 - Wheels up! Racing season is really trying to get started nationally this weekend, despite the cold reaching so widely across the North. Those folks in down in Florida sure had a head start. Mike Sanservino and Vicki Newbern have been recording the action this spring on the clay at Putnam County Speedway in Satsuma, FL. They caught Sportsman shoe Corey Howard on the hammer big time.
(Vicki Newbern Photo)
aaaaaaaaaa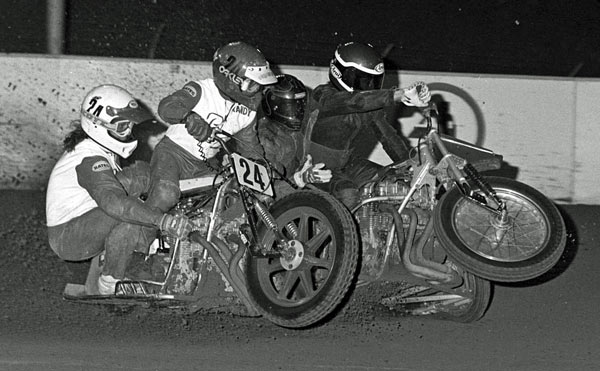 #772 - For the first time since Ascot Park closed a couple of decades back, the AMA US Long Track Motorcycle championship will be held in California – at Perris Speedway on July 27. The extreme side cars will be part of the show, and they sure are extreme. Here's a shot from Ascot South Bay Stadium, the "Speedway" track located just outside the old Ascot Park half-mile. That's Ken and Randy McIntyre on the inside while Phil Wilson and Phil Hardwick are on the outside, all hooked-up in a wheelie. (Scott Daloisio Photo)
aaaaaaaaaaa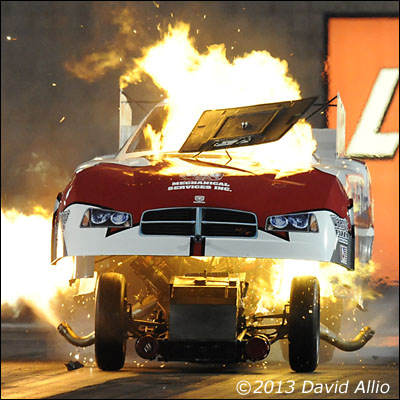 #771 - Talk about blowing your top! David Allio caught Todd Lesenko in the act. Lesenko, driving his Canadian-based Dodge Charger Funny Car, dispatched the body during the second round of qualifying for the recent 14th Annual SummitRacing.com Nationals at The Strip at Las Vegas Motor Speedway. (He had qualified with an earlier ET of 4.302 at 296.57 mph.) (Photo by David Allio, )
aaaa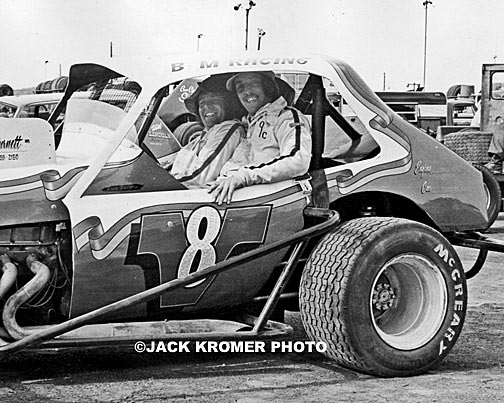 #770 - Some round at the Square. In its 107 years of offering up auto racing, the square-shaped track in Flemington, NJ, was known for wild and popular racing. It was intense and dangerous, but sprinkled with levity at the same time. How about this scene in 1977? Drivers Howie Cronce (r) and Craig McCaughey were well aware that their competitor in the V8, Harold "Bucky" Barker, was a mountain of a man. To take a more careful measure of that issue, both of them climbed into Bucky's seat. Both fit. (Jack Kromer Photo)
aaaaa
#769 Al Consoli remembers shooting from the infield at Williams Grove this day in the early seventies. He heard something behind him, turned around, and immediately snapped a shot. He didn't know what he had got, nor did he know who it was until later. Turns out it was his buddy Bob Shaw, then from Dundee, NY, flyin' high in Harold Hanks' Edmunds car. It was a wing race, but Shaw's was long gone by this moment. He seemed fully engaged in trying to keep his bolt-on cage aboard, let alone the wing. Shaw was not badly banged up. The car survived as well, later to be driven by Jan Opperman. (AL Consoli Photo)
aaaaaa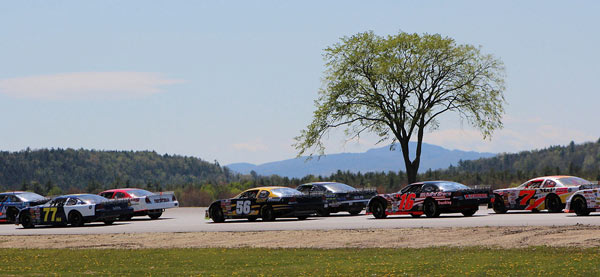 #768 - Vermont's Devil's Bowl Speedway has to be in one of the most beautiful settings of any track in America. A good time to check it out would be May 4 for the 39th annual Spring Green. The ACT cars will be back, and among them for sure will be New Hampshire hot dog Wayne Helliwell in the Bruce Bernhardt #27. Two years ago Wayne crashed. Last year he won it. What's next? (Devil's Bowl Photo)
AAAAAA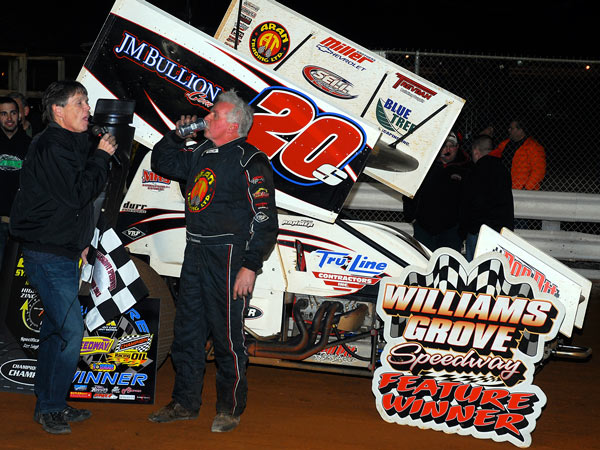 #767 - When 55-year-old Fast Fred Rahmer won at Williams Grove last weekend, it marked the 24th year he has won on that legendary pathway. And it was his seventh win in the season opener. Do you think he earned that beer? (John DaDalt Photo)
aaaaaaaa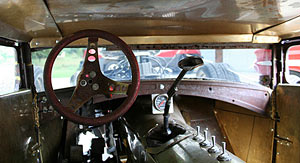 #766 - Is it possible for anyone not to be into rat rods? Both photos from Richard and Katrina Fleener's cool site,
aaaaaa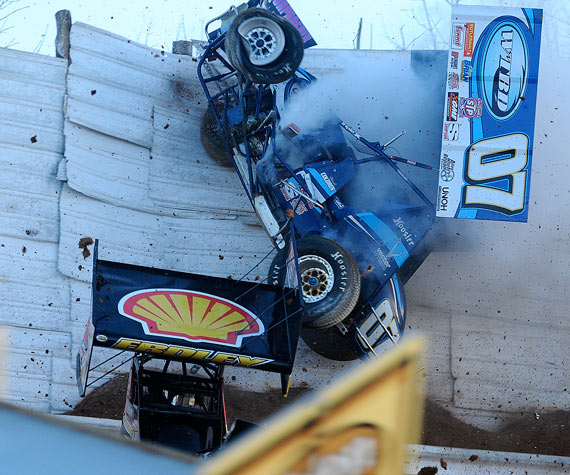 #765 - Dave Blaney, who's been around for a while, racked up his second opening-day victory at Pennsylvania's Port Royal Speedway last Sunday. His first one came on March 17, 1984. The afternoon, however, was not warm and spring-like for Mark "the Ice Man" Coldren. He took this flyer and ended up catching a ride to the crash house in Hershey for a checkup. They did not bother to take the car. (John DaDalt Photo)
aaaaaaaaaaaaa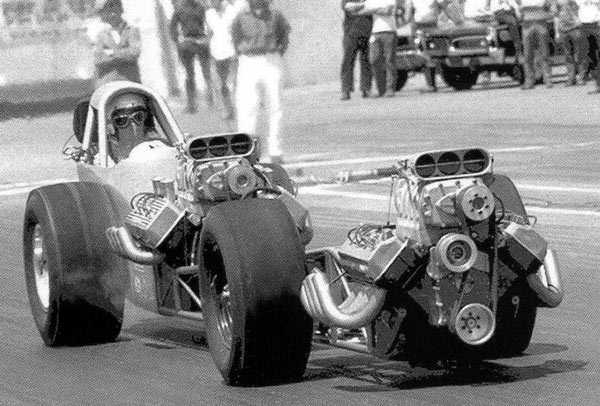 #764 - Top Fuel drag racing was pretty wild throughout the 1960. As fans – and money – poured into the sport, it was serious breeding ground for ideas and innovation, some worthy, some buggy. Noel Black brought out this twin engine, four wheel drive car in 1967 to Fremont in Northern California. Somewhat predictably, there were problems with weight and aerodynamics. From by Tom Madigan. (Steve Reyes Photo)
AAAAAA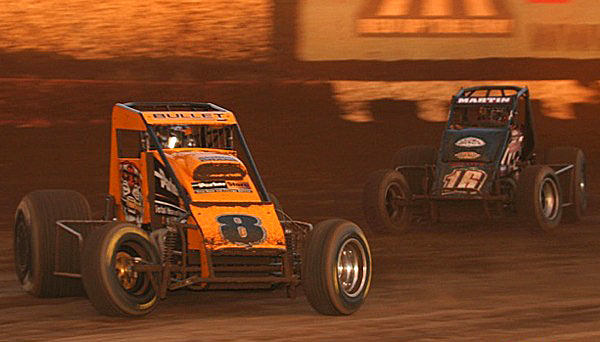 #
763 - ASCS gassers "Bullet Bob" Ream in the #8 and Mike Martin work it out on one racy surface at California's Perris Auto Speedway a couple of seasons back. Is it true that "the fastest way between two points is sideways"? (Perris Auto Speedway Collection, Doug Allen Photo)
aaaaaaa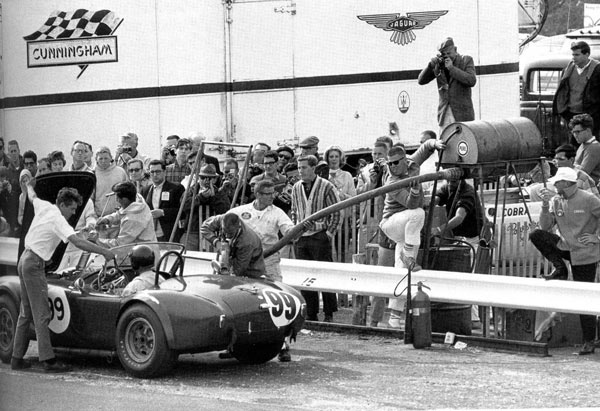 #762 - Dan Gurney made his stop for fuel at the Bridgehampton road course on Long Island for the Double 500 in September in 1963. Certainly, by today's standards, pit lane for that Carroll Shelby Cobra looks kind of primitive. But it was the hot set-up then. They swept the show, the first international championship sports car race taken by an American driver aboard an American car. You can take it to the bank that Shelby, in the white cap on the very far right, was not on his cell phone. More likely a stop watch! From , by Rinsey Mills.
AAAAAA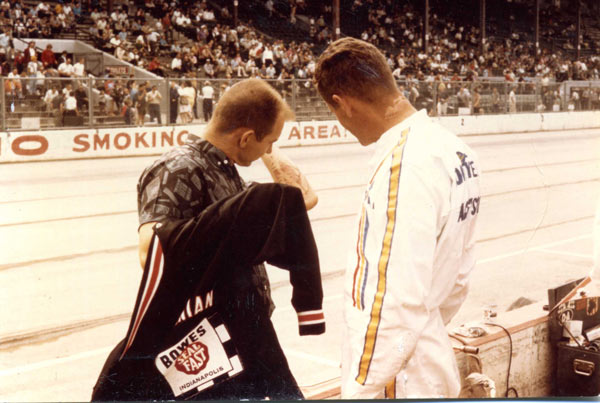 #761 - In our new book AS A MATTER OF FACT, I AM PARNELLI JONES there is probably deeper insight on the horrible frontstretch fire at the 1964 Indy 500 than has ever been presented. Here is co-author Bones Bourcier's caption to the photo: "Milwaukee, 1964: One week after an awful Indy 500, Parnelli shows his burned arm to Bobby Unser, whose neck was visibly singed from crashing through the Sachs/ MacDonald inferno. Not long after this photo was snapped, Jim Hurtubise was badly burned. Hard times, hard men." From , by Parnelli Jones with Bones Bourcier. (Parnelli Jones Collection)
aaaaaaaa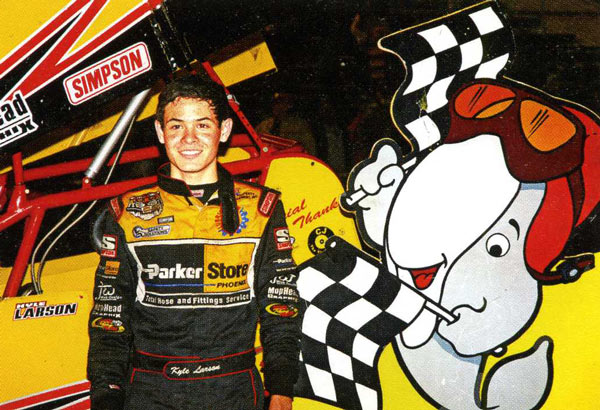 #760 - There's so much carryin' on these days about California driving sensation Kyle Larson. Sure, Larson is short on years, but he's long on experience. Born in 1992, he went to his first race just one week later. He started in go-karts at seven, so, as he attacks the superspeedways this summer, he has 13 seasons behind him. Here is his first win in a Sprinter, a Golden State 410 Challenge event on May 29, 2009 at Ocean Speedway. He also holds the track record on that quarter-mile dirt in Watsonville, CA. From , by Dennis Mattish. (Dennis Mattish Photo)
aaaaaa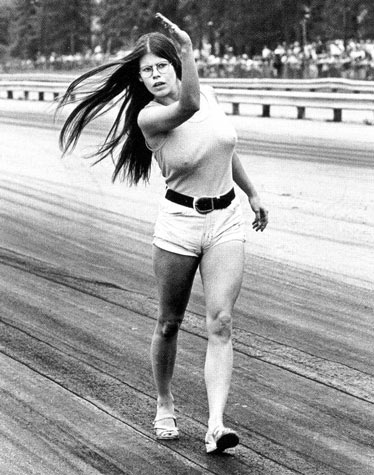 #759 - Russell James "Jungle Jim" Lieberman was the man in Super Stock and Funny Car drag racing in the mid-seventies. According to Timothy Miller, "He was fearless on the track. Aside from wowing the throngs with his burnouts and wheel stands, he personified a rebel attitude that endeared him to the fans in that anti-establishment era. A big part of his show – and Lieberman certainly provided a show – was his constant companion, Pam Hardy. Known as "Jungle Pam," this well-endowed young woman would really get the crowd going as she bounced up and down the track getting Lieberman staged. The skimpier the attire on Hardy, the more the fans cheered." Photo and caption from , by Timothy Miller, (Charles Gilchrist Photo)
aaa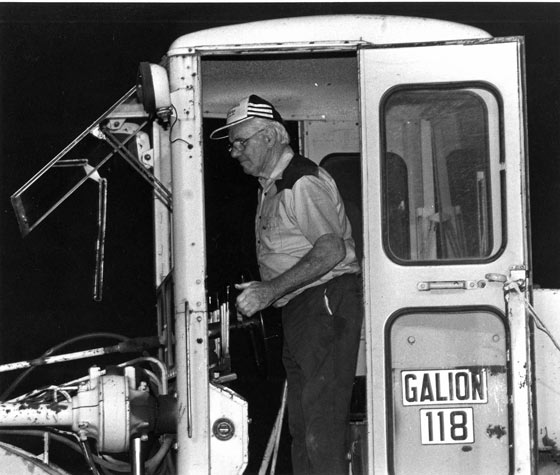 #758 - When Hall of Famer Charlie Elliott passed away last Wednesday, the first day of Spring, so did much of that wonderfully colorful carnie tradition in Northeast auto racing. There are a million stories that could speak to Charlie's life-long obsession with offering up entertainment and to some of the situations he faced. How about the night of the annual Star Classic supermodified race at Star Speedway when someone came running breathlessly up to the announcer to say that Charlie's pet alligator was loose and was seen heading off beneath the packed grandstand? (Photo – New England Motor Sports Museum)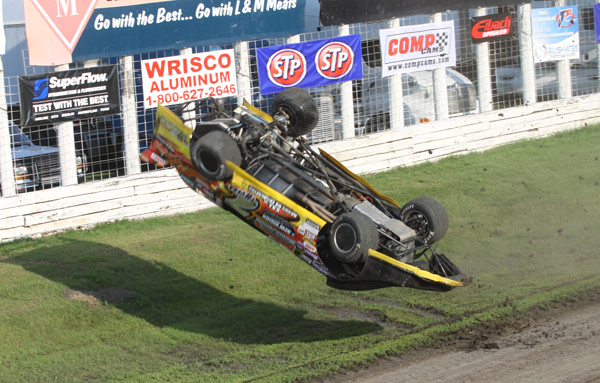 #757 - Ricky Weiss, a 24-year-old from St. Francois Xavier in Manitoba is one gasser. He was National WISSOTA Late Model champ in 2010 and 2011. He's now flirting with the World of Outlaws, while still maintaining his rookie status. As shown above, one of his earlier attempts at WoO time trialing ended up with an argument with the cushion at River Cities Speedway in Grand Forks, North Dakota, last summer. Not to worry. He was back in the B and A mains with the same car. Keep an eye on him. (Chad Spieker, )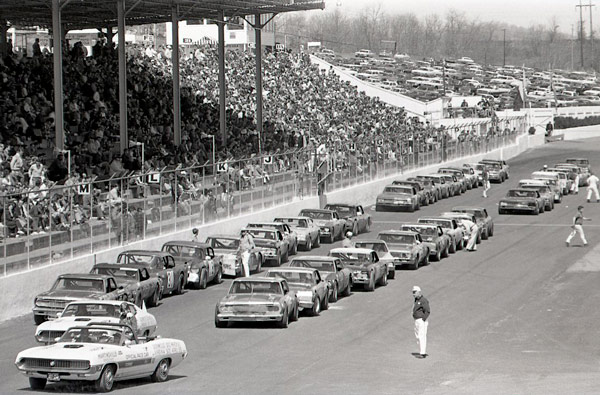 #756 - In the 1960s, Virginia's Martinsville Speedway ran double-header weekends for the East's short track racers. The races were run with asphalt modifieds and late model sportsman cars, many of which were driven by the men who owned and built them. Huge fields of cars and drivers played before capacity crowds who watched the locals from Virginia and the Carolinas battle the New England Yankees. It was a civil war of sorts, complete with absurdly wild parties at the local motels, the epicenter of which was the Dutch Inn. There, a car was once parked in the swimming pool, a driver walked through the packed restaurant with a completely naked woman on his shoulders, another who wasn't given the adjoining rooms he had requested fixed the problem with a chain saw, and crews slept a half-dozen or more to a room. (Photo and caption by Dick Berggren, North East Motor Sports Museum)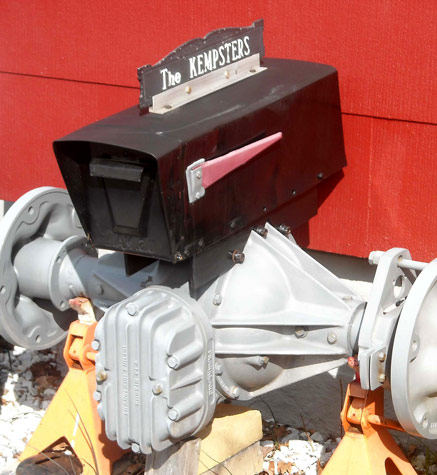 #
755 - The winningest stock car driver ever on Long Island was the colorful Bruno Brackey. He knew how to haul the mail. He was a postman – nickname "Mr. Zip." You have to figure that if he ever delivered mail to racing great Mousey Kempster over in Middle Island, Bruno would know just where to put it. Mousey was the local Frankland dealer. (Coastal 181 Photo, taken at the Marty Himes Museum, Bay Shore, NY)
AAAAAA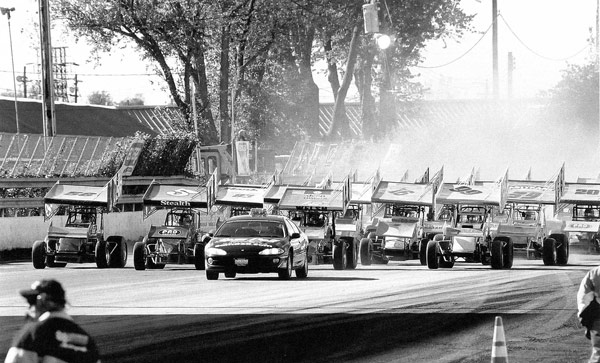 #
754 - Modern-day sprint cars came to Syracuse (NY) Fairgrounds first with some wild open-competition shows in the 1970s and later with Ted Johnson's more organized World of Outlaws. Eventually, supposedly at the request of some of his drivers, Johnson declared the track too fast, and WoO left town. Then in 2000, a combined URC/ESS initiative saw a ten-lap exhibition race on the mile, won by Lance Yonge. The next year URC was back on October 9 for a full show, captured by Curt Michael. The shot above shows the parade lap, a beautiful – if intimidating – scene. Too bad they didn't return. From , by Buzz Rose and Jim Chini. (United Racing Club Archives Photo)
aaaaaaa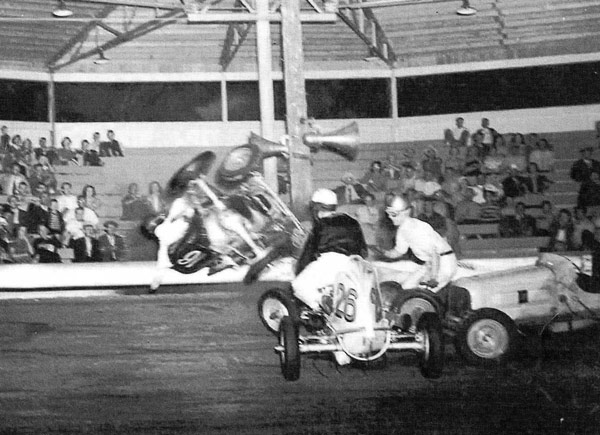 #753 - One of the most frightening scenes in racing is when a driver comes up on an accident he has not seen. It's been that way forever. Case in point was this incident at Lakeside Speedway in Denver on August 10, 1941. The two guys to the right had gotten in a mix-up and one was already on foot and the other climbing out. Then along came Carroll Kelly who tried to miss them, but flipped several times. He was horribly broken and died of the injuries in Denver's Veteran's Hospital six months later. From , by Bill Hill. (Buddy Shay Collection)
AAAAAA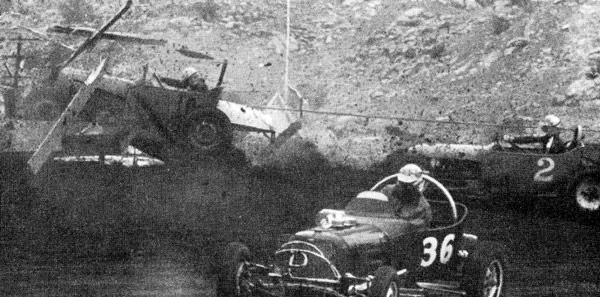 #752 - In-car cameras have shown us that Danica Patrick folds her arms on her chest when she is about to crash in a stock car. That's become quite the topic of discussion in the short track community. Historically, drivers were often told to do the opposite – to keep on sawing the wheel and working the pedals up to the very end, just in case there is a possible last mini-second escape from the impact. Check out this photo of marquee roadster racer Scotty Cain in Porterville, CA, in 1952, almost out of the park, but still hangin' on. From ROARING ROADSTERS, by Don Radbruch.
(Greg Sharp/Vintage Racing Photos Collection)
aaaaaaaaa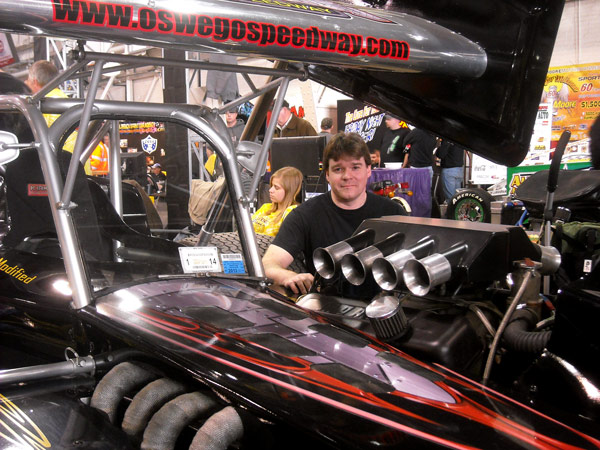 #751 - Dave Hales out of West Monroe, New York, was at the Gater Racing News Motorsports Expo this past weekend, showcasing his beautiful super. He built it up piece by piece and, as an employee of sprint car parts manufacturer M&W Aluminum Products, he clearly knows what he is doing. Take a closer look at that car, though. How about that treaded tire on the left rear? How about the windshield wiper? And how would you like to see it go by you on the Thruway? Yup. It's street legal.
(Coastal 181 Photo)
aaaaaaa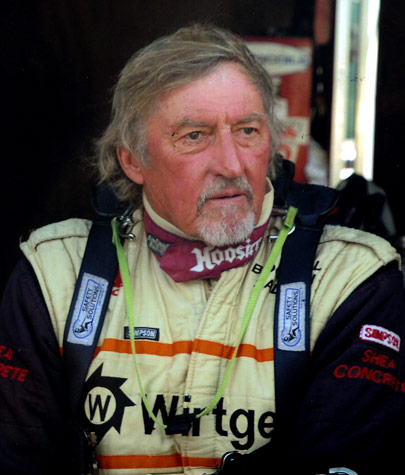 #750 - He's everyone's favorite, the beyond-bionic Bentley Warren. On March 8, 2013, Mr. Warren was in Port Orange, FL, interviewing with Bones Bourcier for the Bentley memoir we will be releasing early this fall. Can you imagine what that book will be like?! Can you imagine how much beer those two will be drinkin'?! (Chris Burgess Photo)
aaaaa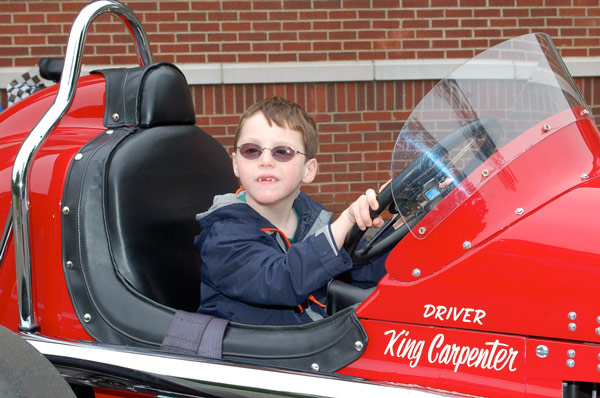 #749 - Al Novotnik, Connecticut's honored racing historian and all-around good guy, makes sure the kids at his daughter Ann's kindergarten class have the proper equipment when she teaches them that R means Race Car. This is Tripp Lyons at the wheel. (Novotnik Collection)
AAAAAA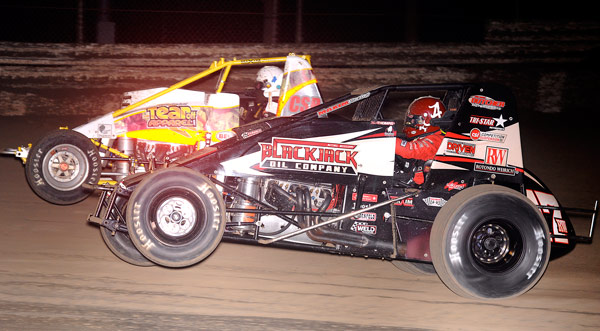 #748 - Spring's coming! Kevin Thomas (inside) and Brian Paulus were clearly groovin' on some moisture coming off turn four at Bubba Raceway Park in Ocala, FL, a couple of weeks back. (John DaDalt Photo)
AAAAAA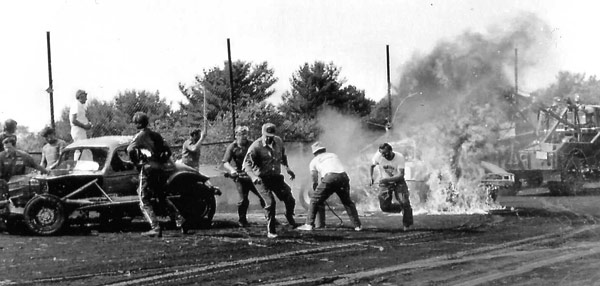 #
747 - Lakeville Speedway, aka Golden Spur Raceway, on the way to Cape Cod in Massachusetts, was a favorite Sunday afternoon hangout for diehard racing folk back in the '60s and '70s. The oil-soaked half-miler was far from polished and, even with its open competition format, seldom drew a world-class field of cars. Instead it was known for some outrageous shenanigans and world-class wrecks. No one seemed to know what was going to happen next. Case in point: Witness the track crew's response when this car caught fire. (Val LeSieur Photo)
aaaaaaa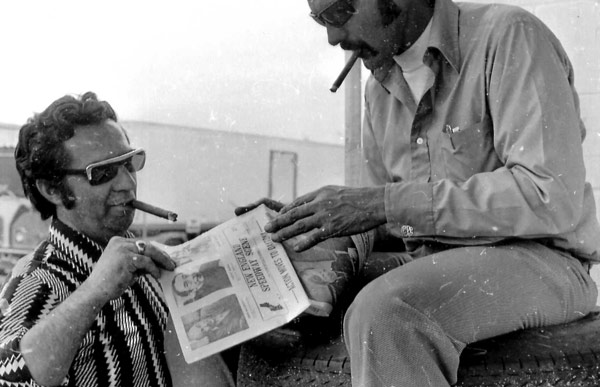 #
746 - Call the sheriff! That's da Champ selling a subscription to Speedway Scene to the King at Daytona in the mid-'70s. How many cigars do you think Richard Petty had left when Rene Charland walked away? (Val LeSieur Photo)
AAAAAA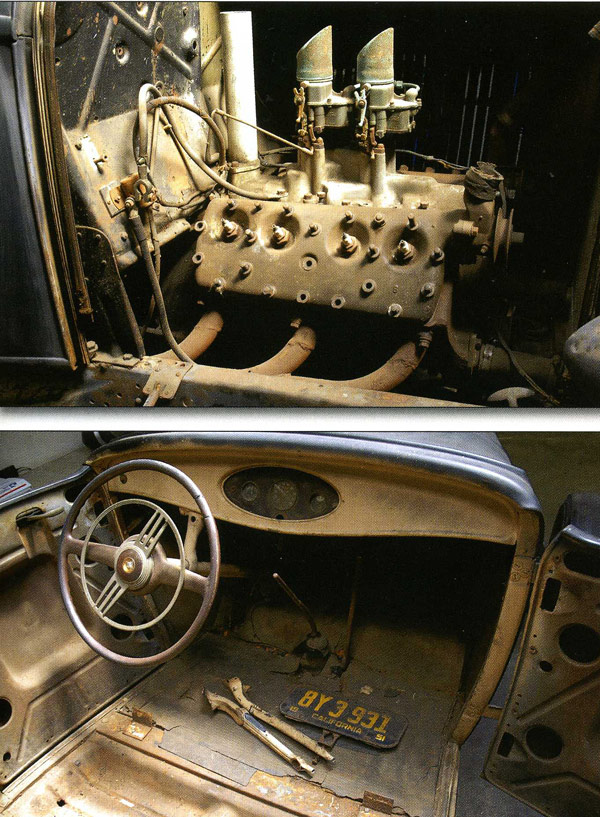 #745 - A hot rod archaeologist's dream – a deuce, the ultimate in garage finds. This hiboy spent five decades in a garage in Lakewood, California, before it was discovered. From , by Pat Ganahl. (Pat Ganahl Collection)
aaaaaaa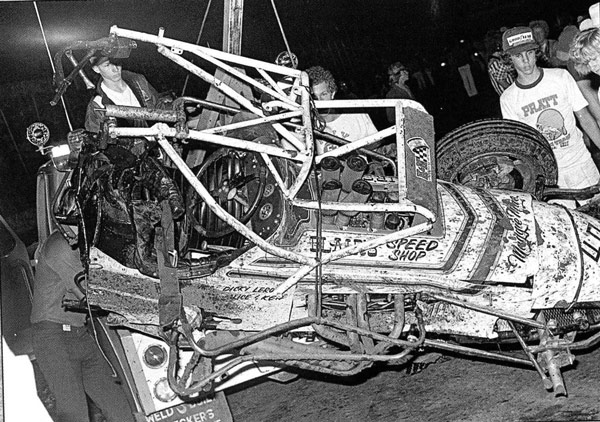 #744 - Dickie Leroy took one serious tumble down the front stretch in the former 1974 CRA championship car Jimmy "Ozone" Oskie drove. Clearly Leroy's cage encountered something very nasty along the way, but he was uninjured. From OLD SCHOOL: 1971-1977, by Mike Arthur. (Mike Arthur Photo)
AAAAAA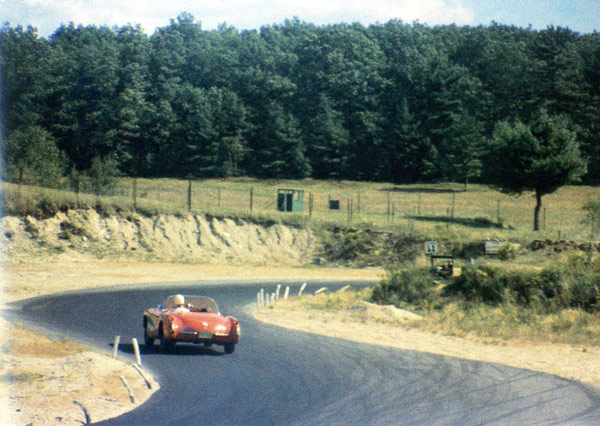 #743 - A lonely shot, but one for the ages. It's 1959 in an SCCA open practice day on the old road course at Thompson, Connecticut. That's a Brown University engineering student showing his stuff in a '57 Corvette with a 283, two four barrels – and no roll bar. Just ten years later, he would win the Daytona 24 and become Rookie of the Year at the Brickyard in the Sunoco-Simoniz Lola-Offy. By the time he died at the Austrian Grand Prix in 1975, Mark Donohue had won fully 38% of the races he entered. From , by Michael Argetsinger. (Dave Lawton Photo)
aaaaaaaa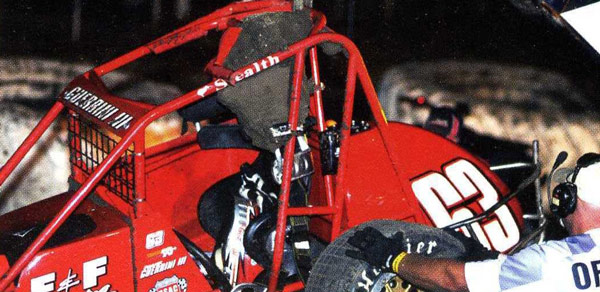 #742 - Frank Guerrini got to flipping last summer when the USAC midgets went to California's Ocean Speedway. He was okay, but he must have had some kind of special tear-off to protect himself from that mud clod. From , by Dennis Mattish. (Dennis Mattish Photo)
aaaaaaa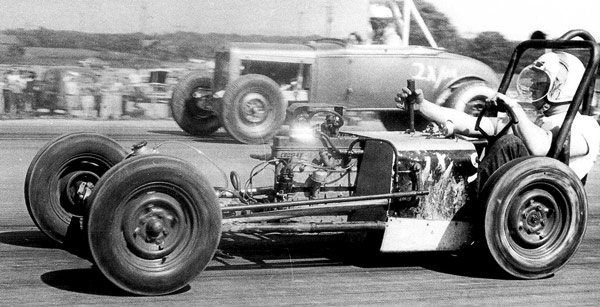 #741 Tommy Lee Byrd's brand new book on worn-out drag strips has some amazing photos and histories of old-time facilities long since closed. There are some pretty incredible cars, too. How about this Crosley-fired rail job at Oswego, Illinois, in the later 1950s?. It likely was no rocketship, but who would want to squeeze into that cockpit at any speed? From . (Norbert Locke Collection)
aaaaaaa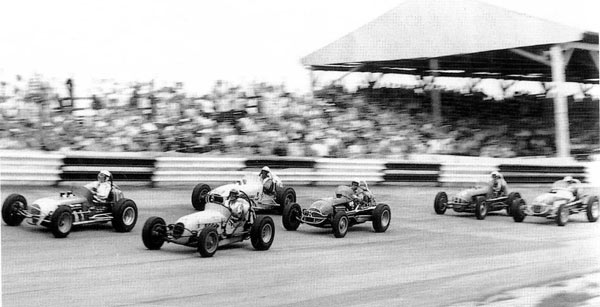 #740 - When Buzz Rose was compiling his very cool open wheel books, he was able to rely on a lifetime of experience. Whether in the East or the West, pavement or dirt, Buzz was right in the thick of it. Here, on the inside back on July 15, 1962, he led the troops into the first turn at the high banks at Salem, Indiana. He wrote, "Over the three years I raced at Winchester and Salem, I will honestly say I never felt comfortable. The hills were something you either liked or tolerated. I guess I fit into the last category." From , by Buzz Rose
aaaaaaaaa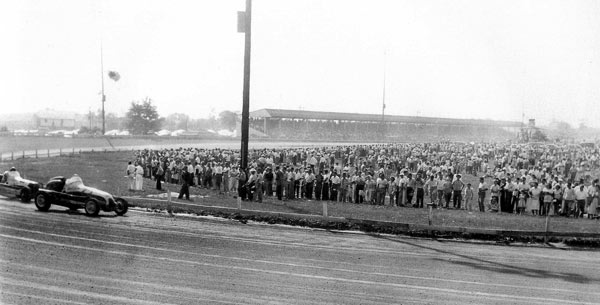 #
739 - Promoter Roy Richwine promised a dream field to ticket buyers on July 31, 1949, the first time Indy cars ventured out to Williams Grove, PA. The fans believed him, and fully 38,500 of them lined up. The field itself turned out to be sparse, with just 12 entries in the pits. However, half of the cars had qualified for the Indy 500, so big dogs were there. Joltin' Johnny Mantz won the 50-lapper, followed by Duane Carter, Rex Mays, Lee Wallard, and local favorite Buster Warke. In the shot above, Milt Frankenhouser leans into the first turn, with Walt Brown sniffing out the inside.
From , by Buzz Rose and Joe Heisler. (Joe Heisler Collection)
AAAA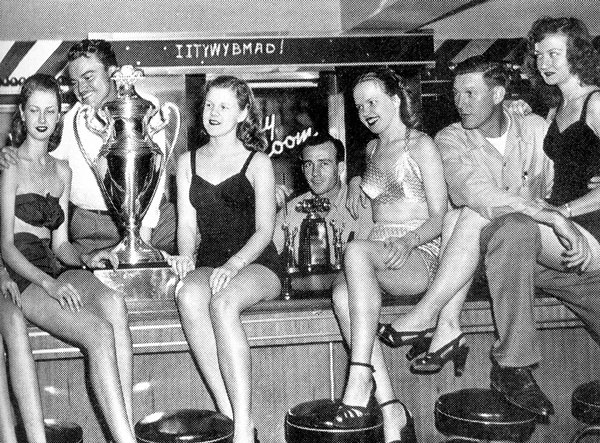 #738 - One of the all time best racing books ever written, we believe, is Neal Thompson's DRIVING WITH THE DEVIL – Southern Moonshine, Detroit Wheels, and the Birth of NASCAR. It has received rave reviews from the media and terrific feedback from Coastal 181 readers. While still available in print form, it has now become an AUDIO BOOK! Among the subjects Thompson covers is that infamous 1947 meeting in the Streamline Hotel in Daytona at which NASCAR was founded. Did you know that Bill France hired girls from a local modeling agency to entertain the two dozen gentlemen present? From by Neal Thompson. (Raymond Parks Collection)
aaaaaaaa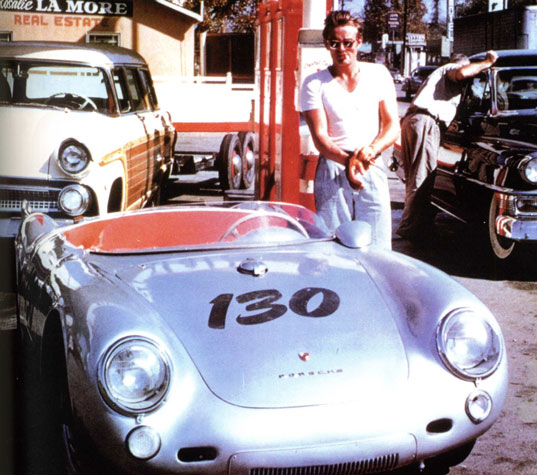 #737 - This amazing photo was taken on September 30, 1955. Dashing James Dean had just purchased this brand new Porsche 550 Spyder, christened it "Little Bastard," and was fueling up for the races in Salinas, California the next day. He took off from the station for the track with his mechanic Rolf Wutherich with gusto, clocked by the Highway Patrol at 120 mph. The fling was to be short-lived, however. Dean crashed mightily and was instantly killed. The aluminum-bodied car was destroyed, but Wutherich, luckily, was thrown out and survived with some breaks and bruises.
From , by Dennis Mattish. (TAS Archives)
aaaaa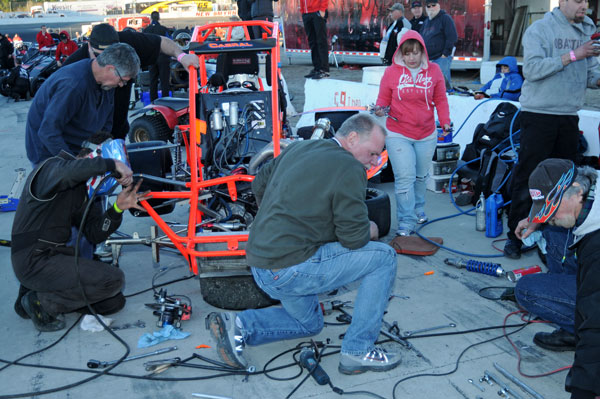 #736 - Sometimes a fellow needs a few friends. When four-time champ Randy Cabral's steering broke in practice for the USAC midget race at Florida's New Smyrna Speedway on February 17, he hit the wall with such force that the front axle broke in two. The coil-over spud was wrecked and virtually everything else in the front suspension was broken or bent. That's when crew members from other teams came to the rescue. Using spare parts, a welder and working quickly they completely rebuilt the car's suspension in time for Cabral to run the feature, where he finished 13th. (Photo and caption by Dick Berggren)
aaaaaa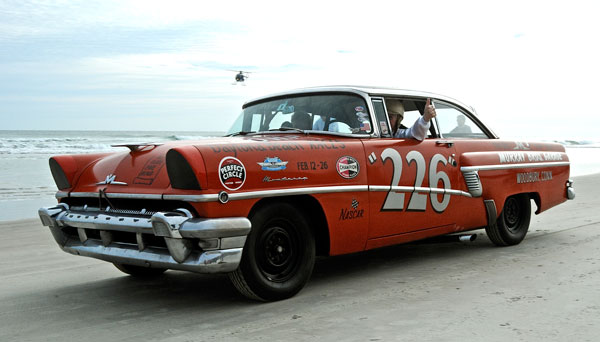 #735 - On Saturday, February 16, 2013, the town of Daytona Beach Shores allowed vintage race cars to run on the old beach-road course, where racing was last held in 1958. A huge crowd numbering in the thousands turned out to see the old cars and their drivers. Russ Truelove ran this car on the old course, actually barrel-rolled it, and returns often to Daytona for vintage events with the restored car. In our photo he's wearing the Cromwell helmet he wore when he was a New England racing regular. (Photo and caption by Dick Berggren, North East Motor Sports Museum)
AAAAA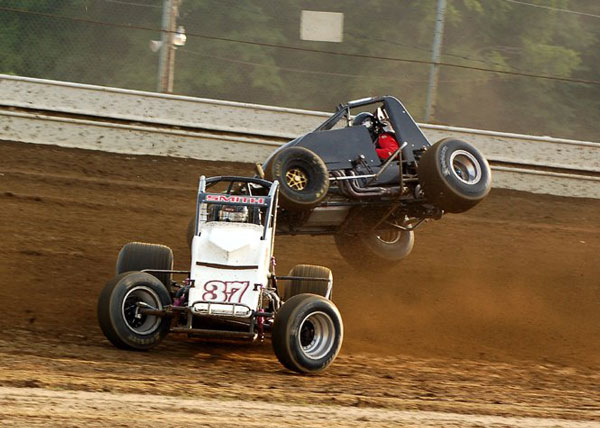 #734 - Let there be no question that Jack Sodeman is completely recovered from his wild misadventure North of the Border on the 4th of July, 2010. () In the photo above, Jack, in black, is motoring along in his determined way to a BOSS win at Sharon (OH) Speedway last July. He and his gal, Catherine Chong, have also been thoroughly wrapped up in their beautiful infant daughter, Samantha. And you guessed it. Now they're down in the Sunshine State, jump-starting the 2013 season with their #23 sprinter. Thanks to Rick Rarer for the photo ()
aaaaaaaaaa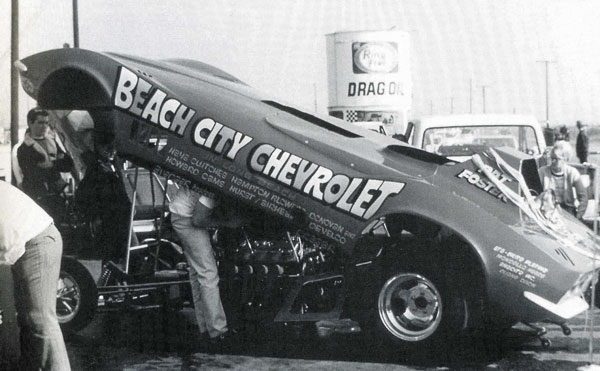 #733 - At the turn of the seventies, one of most famous of the California funny cars was the wild-looking Beach City Chevrolet Corvette, fielded by Don Kirby. Somehow the car was star-crossed and kept Kirby so busy he had to build three of them. The first, run by Croatian-American land speed record holder, Gary Gabelich, burned up completely at Irwindale. The very same ending came to the second one, shown above, while Pat Foster was at the wheel. Then, at Orange County, Ron Goodsell had the throttle stick on the Version 3. Try as he could, he could not shut it down, and they say some passenger cars out on the I-5 Santa Ana Freeway had quite the surprise that day. From , by Lou Hart and Wallace A. Wyss.
aaaaaaaa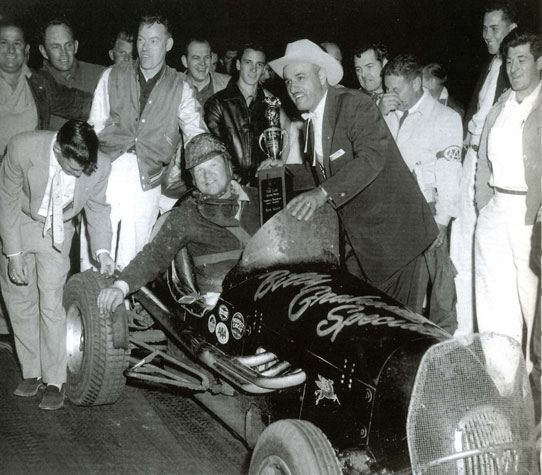 #732 - Californian Dempsey Wilson was known mostly for his business, Wilson Racing Cams. However, he was also one gutsy – and winning – driver. Here he is in Gardena's Victory Lane on April 16, 1955, having swept a 150 lap midget event. That very tired right rear didn't seem to bother him too much! Within a few years he was a regular at the Brickyard. Smokey Yunick once carried on that he had approached four name drivers, Tony Bettenhausen, Paul Russo, AJ Foyt, and Dick Rathman to take his Indy car out, but they all refused. Then along comes Dempsey Wilson who asked to drive it. Smokey went on to say "He jumped in her cold and drove it til he was completely exhausted. No complaints. If I don't know anything else about Dempsey Wilson, he was a strong mother and had plenty of balls." Photo and quote from by Paul D. Smith, Dave Ward Collection.
AAAAAA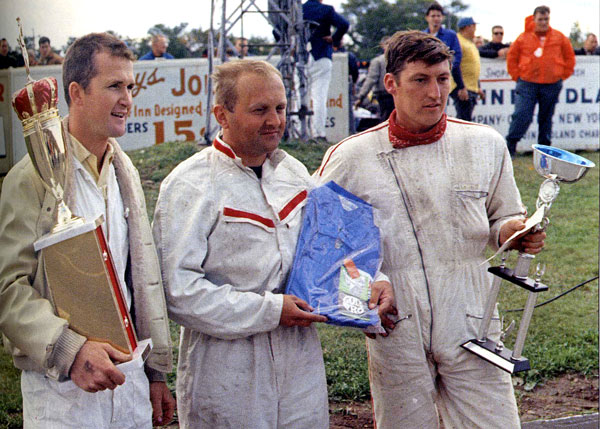 #731 - A historic image of the three fastest qualifiers for the 1967 Oswego International Classic. On the left was popular Gary Witter, the quickest of the Canadians that day. Witter, who had also just won the first ever Oswego Supermodified Rookie of the Year title, met his fate just four seasons later when he slammed through the first turn wall during the 1971 Classic. In the center was outside pole starter, Michigander Johnny Benson Sr, who had snatched a surprise Classic win the year before. And on the right, Bentley Warren. He was on the pole in the Purdy Deuce and was fast approaching the USAC era in his illustrious racing career.
From by George Caruso, Jr., with Carol D. Haynes
AAAAA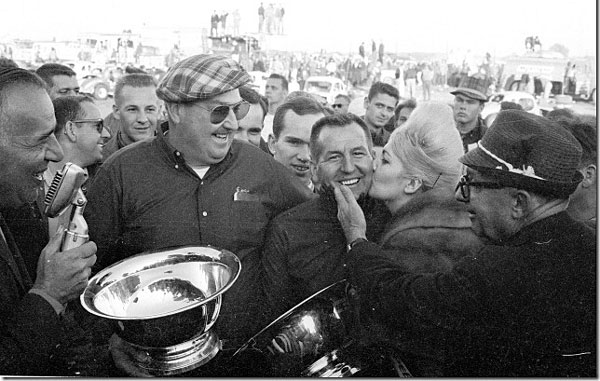 #730 - The entire racing community was saddened on February 1 by the death of Freddy Adam, the "Kutztown Komet", two days after his 82nd birthday. Adam was one of the most bravado of all the Pennsylvania broad-sliders and one of the most popular as well. His greatest win came on October 11, 1964 when he outdueled Bill Wimble, Kenny Shoemaker, and 210 other entries to win the last dirt Race of Champions at Langhorne. The Komet was also completely unassuming. Here in Victory Lane that day with car owner Joe Bullock, promoter Joe Gerber seems to be holding Freddy's head in place so that he will get one good ole smooch from the trophy girl. (Frank Simek - "the Guy with the Hat" - photo)
aaaaaaa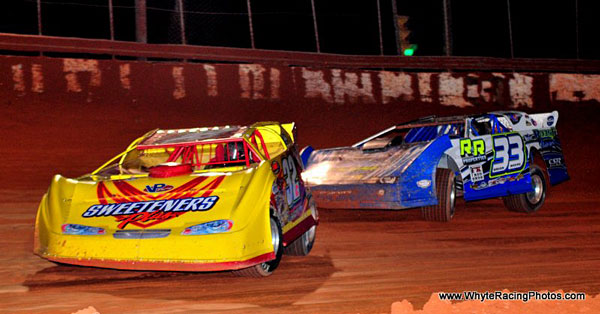 #729 - The surface sure looked better down there in Screven, GA, for the World of Outlaws Late Models than it did up here in snowy Northeast Nemo land. Vic Coffey and Ryan Reese (#33) were both hard on it when that green came out, but their cars had a different attitude. (C. Whyte Photo)
aaaaaaaaaaaa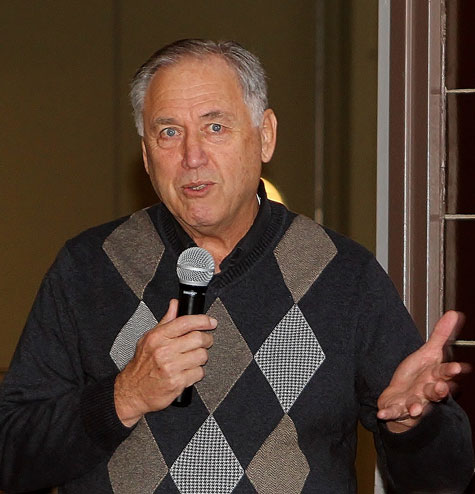 #728 - Following the explosion of social media over the last decade, there has been a tsunami of unsolicited critics of every possible aspect of motorsports. In the meantime, you have to wonder if anyone is actually DOING anything. Certainly, one doer is New York State's Glenn Donnelly. The former GE salesman worked his way into auto racing in the very early '70s and built DIRT into the second largest racing sanctioning body in the country, before selling it to World Racing Group. He is shown here at his recent induction into the New York State Stock Car Association Hall of Fame. He was describing his latest proposed project, Central New York Raceway Park, a million concept involving a road racing course, a drag strip, and a half-miler, hosting both car and harness racing. Donnelly is framing CNRP by the future, rather than the past. He touched upon such subjects as electric modifieds – and even hydrogen as a fuel. (Dave Dalesandro Photo)
aaaaaa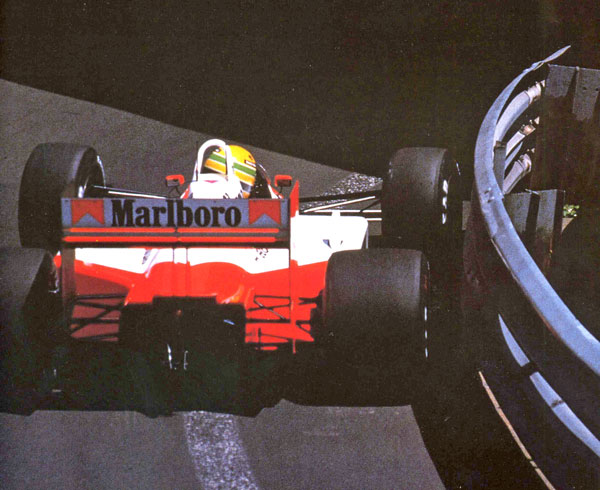 #727 - Do you think Ayrton Senna was precise in his work? Here he is in 1988 on his way to his third straight win at the United States Grand Prix in Detroit. From AUTOCOURSE – The World's Leading Grand Prix Annual 1988/89.
aaaaaaa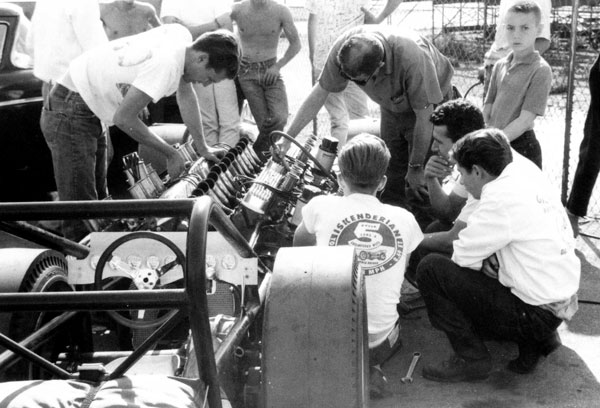 #726 - That's a bunch of cylinders, Tommy! In 1961 "TV Tommy" Ivo (back to camera) decided that Kent Fuller's dragster with two Buick engines didn't have quite enough, so he sold it, and Kent built him one with four. Named "Showboat," the 1856 cubic-inch monster weighed in at 3100 pounds, so heavy that the NHRA decided to outlaw it save for exhibitions. They feared it could crash through guard rails and into the stands. Additionally, "Poison Ivo" found it was a lot of just plain work. There was a lot of pushing up and down the track to get all four engines started, but that was nothing compared to the effort required to adjust 64 valves. From , by Tom Madigan. (Harry "Hand Grenade" Hibler Photo)
aaaaa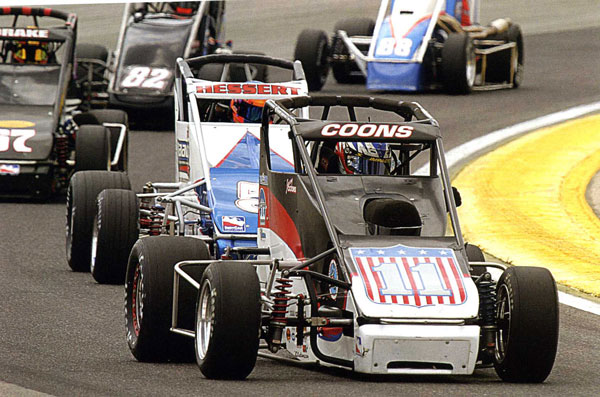 #725 - Here Jerry Coons leads the gang on the Milwaukee Mile in the Wilke PAK Motorsports #11 midget on July 22, 2006. Coons was very fast (what else is new?), earning himself the USAC midget driving title that year. From , by Gordon Eliot White. (WFC/Jeff Arns Photo)
aaaaaaa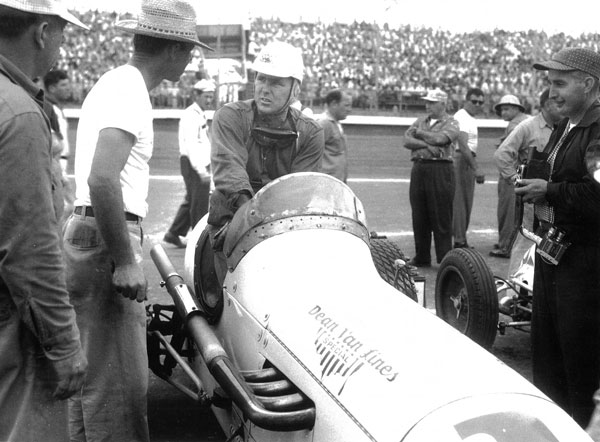 #724 - Garden State auto racing historian Ken "Dirt" Edsell has some very cool images taken by his late uncle, Charles Zulla. This one is from Langhorne, Sunday afternoon June 19, 1955. The AAA cars were in town, and the stands were filled to the brim. Here, a clearly focused Jimmy Bryan, climbing aboard the famous Dean Lines Special, has a quick word with mechanic Clint Brawner. They won. (Charles Zulla Photo, Ken Edsell Collection)
aaaaaaa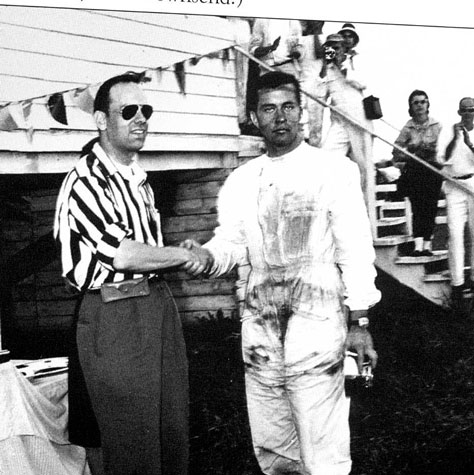 #723 - A rather somber-looking Roger Penske is feted after sweeping the President's Cup at Virginia International Raceway in April 1962. Penske was halfway through his racing brief, seven-year career behind the wheel. He took few prisoners, though, and ran all manner of cars, NASCAR to Formula 1. From , by Chris Holaday. (Leon Townsend Photo)
aaaaaa
#722 - Folks seem to be so passionate about old-time modifieds these days. How about this shot from an early Spring Sizzler at Stafford Springs, CT, including Richie Evans, Roger Treichler, Ernie Caruso, Blackie Watt, Jim Hendrickson, Tommy Baldwin, Don Lajoie, and a few others? If you like it, the thing to do is to leave this blasted Northern cold and go to Daytona. On Friday, February 22 there will be the sixth annual MODIFIED REUNION at New Smyrna Speedway, from Noon until 5:00 pm. It is a warm and way-cool event. Stick around for that evening, and the Richie Evans Memorial 100 will be run for not-so-vintage mods. (Coastal 181 Collection, Eugene Frankio Photo)
aaaaaaaaaa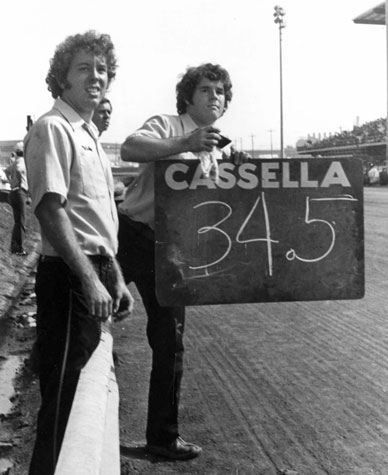 #721 - Few people have done more for racing than Mike and Bobby Seymour, sons of legendary USAC car owner "Boston Louie" Seymour. Here Bobby and Mike (L) guide their Silver Crown driver Billy Casella to the series championship at Syracuse, NY, in 1976. Both brothers went on to stellar racing careers themselves, accumulating a combined 44 feature wins. Very active still today in open wheel racing equipment, their next adventure will be their popular trade show, THE RACER'S EXPO, to be held Feb 8-9 in Marlboro, MA. Check out .
(Dick Berggren Photo)
AAAAAAA
..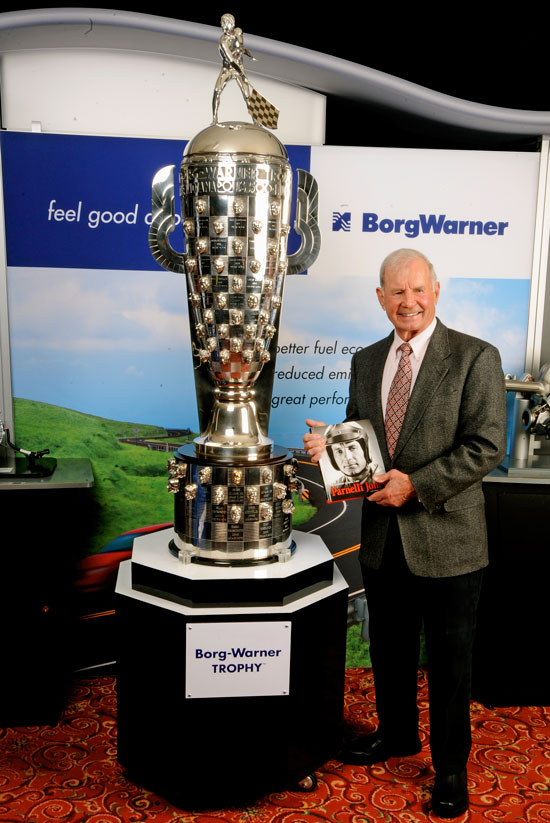 #720 - On his way to the Area Auto Racing Motorsports show the week before last, Parnelli Jones stopped in Detroit to present his friend and mentee Dario Franchitti with a "Baby Borg" trophy, commemorating Dario's 2012 victory in the Indy 500. But everyone involved had a wee surprise for Mr. Jones. When Dario finished his acceptance speech, he turned to Parnelli and said, "Now it is time for yours." Fifty years earlier Parnelli had won the Indy 500, but the tradition of giving an 18-inch tall "Baby Borg" to the winner wasn't started until 1988. As you can see, Parnelli, shown here with the full Borg-Warner trophy and holding , was very pleased! (Photo Courtesy Borg-Warner)
aaaaaaaaaaaaaa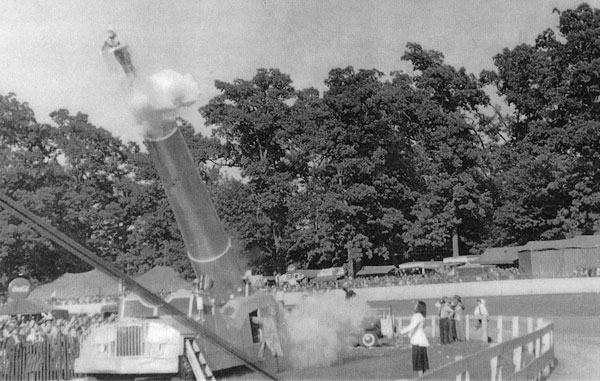 #719 - During a half-century of auto racing on the dirt of Allentown Fairgrounds half-mile, there were some incredible shows. Certainly the most dramatic testimony is that Bill Schindler lost his life there in September 1952 and Johnny Thomson followed suit in September 1960, driving the same car. Things got a little intense in the infield, as well. Reading the body language of the lady to the right, It does not appear that "Rocketman" was any kind of hoax. (Dale Snyder Collection)
AAAAAA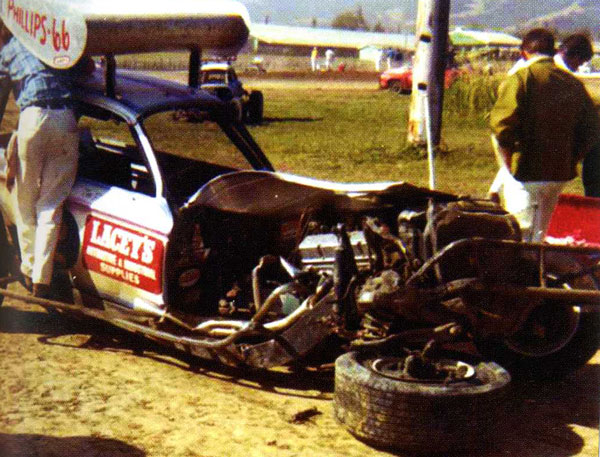 #718 - Early on it looked like the opening day show at Watsonville (CA) Speedway in 1972 was going to be a real score. A hundred and twenty-one race cars in two divisions towed into the pits while a huge throng of fans jammed the stands next to the half-mile dirt. But for Joe Bailey (above) and some others, it didn't work out so well. The show was running really late, the track dried out, and, despite driver pleas, promoter Bert Moreland decided not to water the track for the features. In the sportsman main, dust was so bad that no one saw two cars spin on the front stretch. In seconds, there was the sickening thunder of high-speed collisions as a pack of ten more cars piled into them full-tilt boogie. All the cars were virtually demolished, and five drivers were whisked away to the crash house. At that point, one of the crew members towed his truck and trailer across the track and stole the green flag to stop the show. Racing was subsequently cancelled, and fans were told they would get a rain check but not a refund. By this point, everyone was thoroughly pissed, and the fighting started. Bret Moreland's wife and a helpless female attendant were rocked to the ground inside a ticket booth as the melee grew. Finally, a whole team of sheriff's deputies raced in and eventually restored order, as fans milled around late into darkness. You'd have to say, however, that, horror show though it may have been, opening day did no lasting harm to the Speedway. Likely due to all the publicity, the track had its most successful first month of racing in history. It was standing room only for the next three nights. From , by Dennis Mattish. (Yetter Collection)
aaaaaaa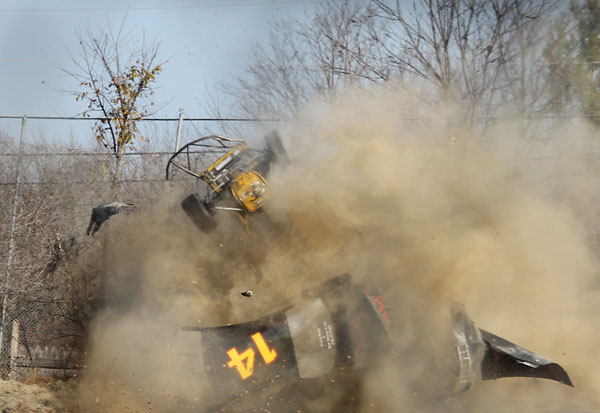 #
717 - Eric Allyn, an architectural designer way up there in Rockland, ME, is a certifiable nice guy. At 38, dad of five kids and a business owner, 2012 was his rookie year and he started out right in the late models. All went fairly well until the last race when he spread quite a bit of dirt back onto the pavement at Unity Raceway. When all had settled down, his car was pretty much demolished. The only things salvageable were the engine, tranny, and rear. "We had planned to build a new chassis over the winter, and I guess that kinda sealed the deal," he says. (Photo by Michelle Bolduc, Fast Track Photography)
aaaaaaa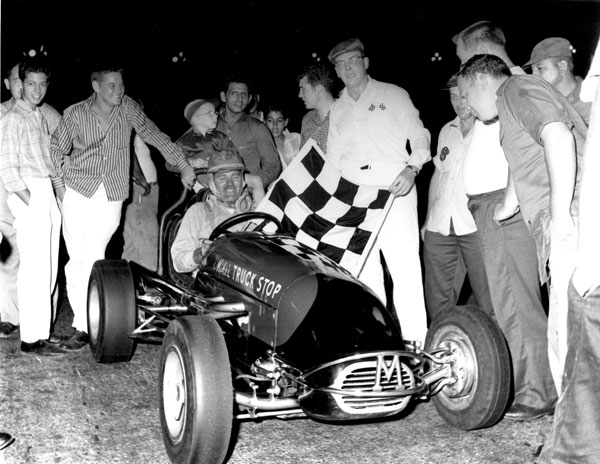 #716 - Go to a midget race these days and you can't help but be impressed with the red hot, fresh-faced kids new to the sport, Kyle Larson, Rico Abreu, and Kevin Chaffee among their number. But it seems there are even more from families thoroughly familiar to racing railbirds, names such as Sheldon Haudenschild, Chad Boat, Bobby Santos, and Kevin Swindell. This is no recent phenomenon. Case in point is this photo sent in by New England Hall of Fame journalist Pete Zanardi. That's Fitchburg's Ray Burke () after a NEMA win on the high banks of the old Norwood (MA) Arena in 1959. He was aboard the Mike's Truck Stop Offy, and celebrating in the background aboard the arms of Blackie LaMacchia was young Mike Scrivani Jr. Mike has grown into a highly respected member of the midget community and was recently re-elected President of the Northeast Midget Association. (Balser Photo, Peter Zanardi Collection)
aaaa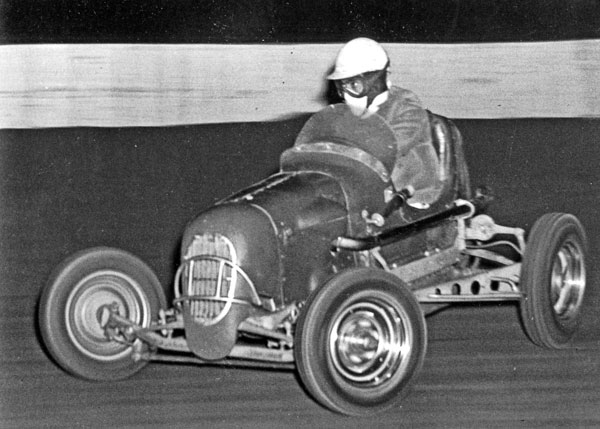 #715 - In 1926 Hughes Stadium was built in Sacramento as a multi-purpose sports facility. It was a massive concrete structure, seating over 22,000. At the end of the War, the dominant activity was racing, whether roadsters, midgets, or motorcycles. Bill Vukovich was a familiar competitor in his red Drake. Here he is in 1946. Doesn't it seem that he is trying to go faster than his car? From , by Tom Motter. (Russ Reed Photo)
AAAAA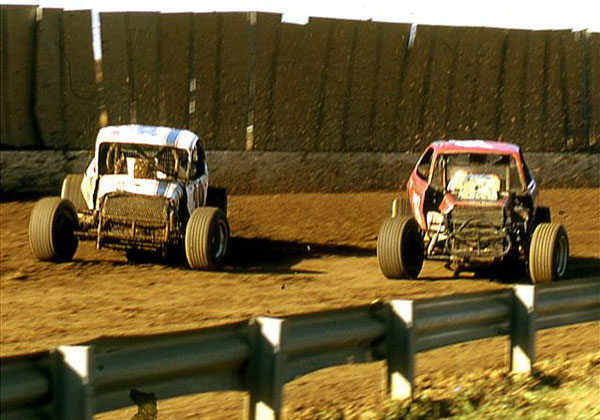 #714 - It was the summer of 1973, and the injected big block modifieds at Reading
Fairgrounds had evolved to their peak of ferocity. Unquestionably two of the greatest wheel-twisters of the era were Kenny Brightbill (L) and Gerald Chamberlain. Anyone lucky enough to have seen them attack the heavy clay on that third and fourth will never forget it. (Bob Snyder Photo)
AAAAAAAA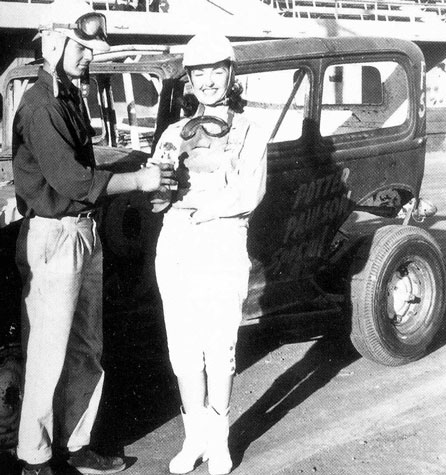 #713 - It's California's Orange Show Speedway in 1953 and two of the hottest drivers, Parnelli Jones and Hila Paulson often engaged in quite energetic match races, as described in Tom Luce's amazing book, . Parnelli will join Coastal 181 at the AARN Motorsports Show in Oaks, PA this Saturday (Jan. 19) to sign his new memoir. Too bad Hila isn't coming, too. (Photo – Parnelli Jones Collection)
AAAAA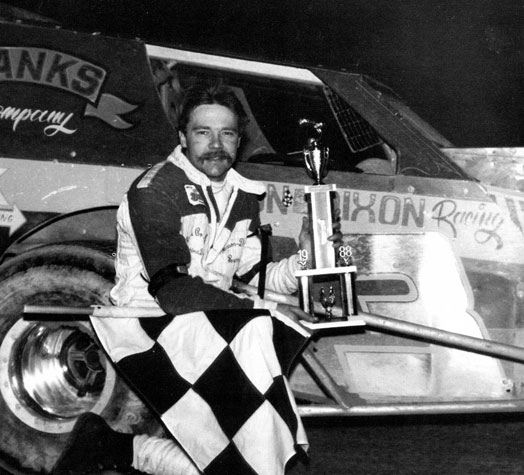 #712 - Bobby Wilkins is, no contest, one of Delaware's most versatile and successful drivers ever. He racked up 118 wins at Delaware International and championships at Georgetown and Bridgeport (NJ) as well. He's been very quick under a URC wing as well. This weekend, though, he will be sitting still – at the Coastal 181 booth at Area Auto Racing's MOTORSPORTS show in Oaks, PA. Along with author Chad Culver, he will be signing copies of on Friday, Jan. 18 from 4-5 PM. Chad will carry the flag alone on Saturday from 5-6 PM. Photo from , by Wayne and Chad Culver. (Helen Banks Collection)
aaaaaaaa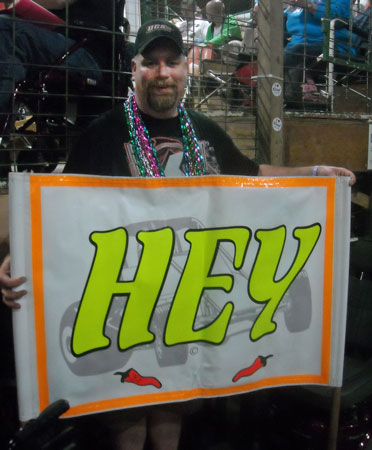 #711 - 20-year-old sensation Kyle Larson sure had the heart of that massive throng of fans at the Chili Bowl last week. The roar of the crowd, however, was loudest of all for someone else. "I'm a nobody," says Wes Goodwin. "No one even knows my name." But mention "the Hey Guy" to anyone there in Tulsa, and you'll see one big smile. Wes has some unique connectivity with the grandstands, and whenever he prances in front of them with his sign and tosses out trinkets, folks holler and yell with delight. In no time, sections of the bleachers compete for the loudest and rowdiest response to his antics. Wes does the whole thing for charity – and has done so at places like Knoxville and Eldora as well. During the summer, though, his role is a tad more serious. He's the flagger at Devil's Bowl, Lanny and Beverly Edwards' ultra-racy oval in Mesquite, TX.
aaaaaaaaaaa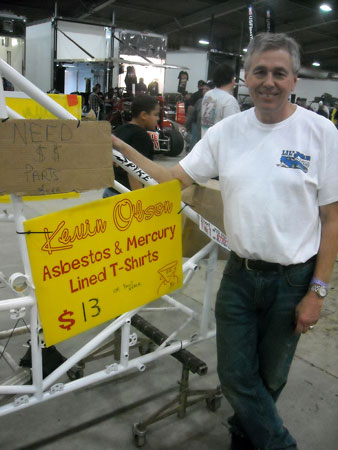 #710 - Some folks say that, with 300 or so midgets and 300 or so beer stands under one roof, the Chili Bowl can be a little tough on the lungs and the liver. Well, good ol' Kevin Olson was there peddling his alternative health tee shirts to help out. They were – or .80 with an autograph. (Coastal 181 Photo)
aaaaaa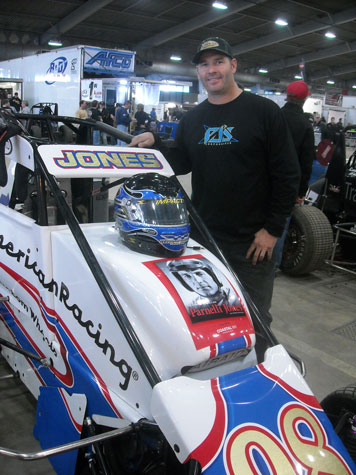 #
709 - Good guy PJ Jones was at the Chili Bowl with his retro-white number 98 midget. On the hood was a big ol' decal of the cover of his , co-authored by Bones Bourcier and published by Coastal 181.
aaaaa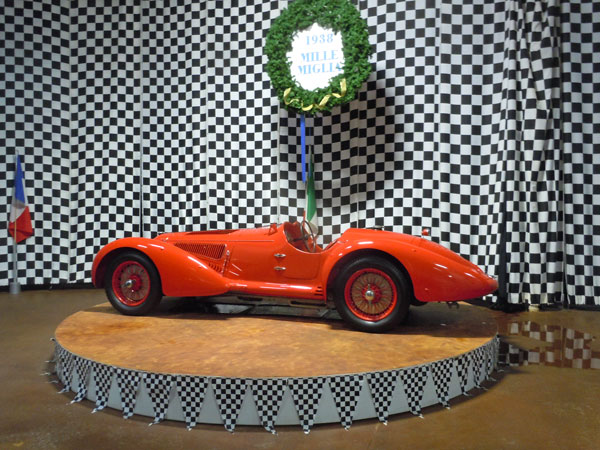 #708 - Philadelphia's Simeone museum, located less than two miles from the airport, contains some of the most spectacular sports racing cars in the world. Among them is this Alfa Romeo which won the '38 Mille Miglia, a 1,000-mile road race from Brescia to Rome and back. The race was run through towns and the countryside on paved and dirt roads. The double-overhead cam eight-cylinder engine had twin superchargers. The car had an independent four-wheel suspension and shocks that were driver adjustable during the race. The museum, which is open to the public, contains an enormous collection of sports cars that raced and won some of the most prestigious events of their time, many of them unrestored and displayed within backgrounds appropriate to their storied history. It's open to the public. From Northeast Motorsports Museum Collection. (Dick Berggren photo and caption.)
AAAAAAAAAA
#707 - Here are Buddy Baker and Ryan Newman a few winters back. When Ryan was recruited for Penske racing, Don Miller knew he had to find him a driver coach. Here's what Buddy had to say during their first test session out at Gateway: "When Ryan came in, I just walked up and said, 'Boy, are you giving us 100%?...My grandmother wouldn't mess up, the way you're running.' With that, he jerked that thing into low gear and went back out, and drove that thing down to where you could see Elvis. I told the guys 'My God, I might have killed him. But if he makes that corner, I think we have a driver.' The next lap was faster than the track record. Then I called Don and said, 'This guy's the real deal. Give him a little time, don't push him too quick, and you'll have a franchise driver.'" From , by Don Miller with Jim Donnelly. (Steven Rose Photo)
AAAAAA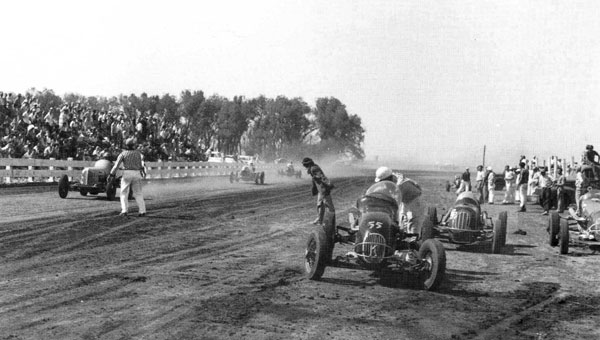 #706 - It was UMCA sprint car racing in Hoisington, Kansas, back in 1953. Racing on the big half-mile was definitely fast, but the starter, out the on the edge of the groove, sure stayed right on top of things. And to make sure everything was going okay, Peanuts the Clown took a close peek, too. Racing there at Cheyenne Speedway lasted only one year. From , by motorsports historian Bob Mays. (L.A. Ward Photo)
AAAAAAA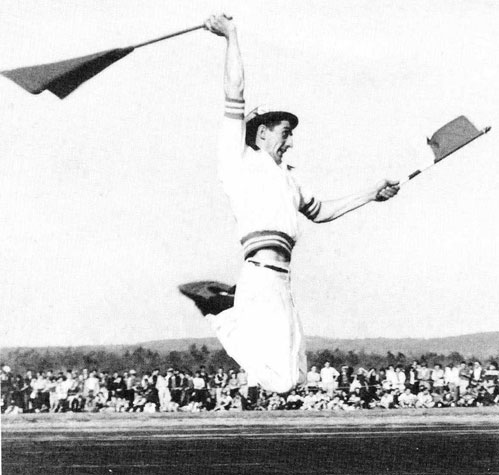 #705 - It was 1955 at the drags in Orange, Massachusetts. Back then, in the pre-tree era, says Bernie Shuman, "starters, the most visible of the strip staff, had to have equal parts showmanship, physical endurance, and courage." "Air Leo" Errara, shown above, certainly had that second one in spades. An active racer on the side, he also flagged at Nationals. From , by Bernie Shuman. (Xenophon A. Beake Photo)

AAAAAAA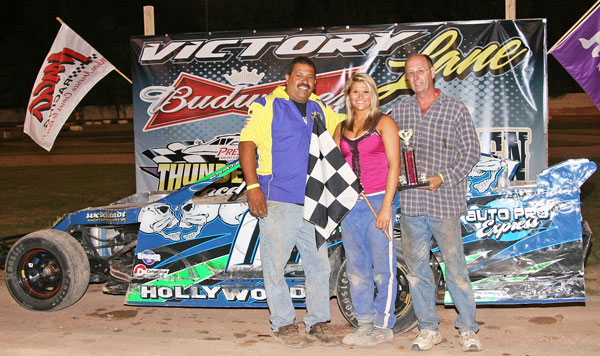 #704 - There has been a bit of buzz this year about some whining on the part of well-heeled kids who have made their moneyed way into big-league racing. But the short tracks do seem to have a crop of young drivers who are doing things with humility and style. Case in point would be a high-achieving student at UW Stout from up in Sturgeon Bay, Wisconsin. She's Kelsey "Hollywood" Hayes. Kelsey, 19, is also a high-achieving and popular dirt track racer who had two wins this year at Oshkosh Speedway and was third in points there and at Thunder Hill Speedway. That's Kelsey's dad, Bill, to her right, and Randy Theys, crewman, to her left. Thunder Hill historian, Tom Wagner, is said to have given her the handle "Hollywood," but Kelsey sent this note with a smile: "It was my dad's nickname when he raced because he wore big sunglasses. I guess it stuck because my phone is constantly in my hand and I'm always texting." (Brad Busse Collection, Dan Lewis Photo)
aaaaaaaa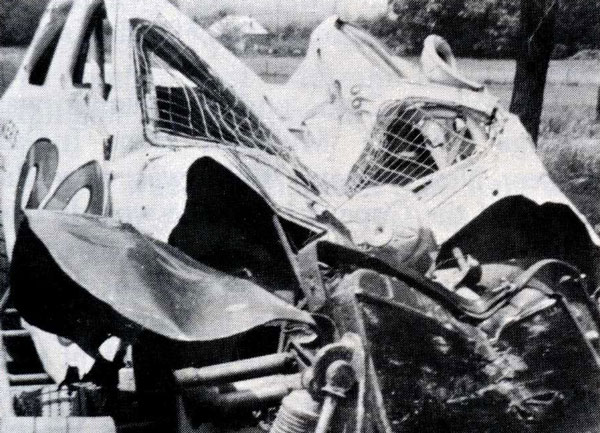 #703 - In 1964 one of the most admired of the East Coast modified wheelmen was Pennsylvanian Otto Harwi. The 41-year-old, known as "King of the Dirt," was driving a Ford-powered Sonny Dornberger coach that Harwi, a professional welder, had put together himself. Shock resonated throughout the racing community when Harwi hopped a wheel in the third turn at Middletown, NY, and hit the wall with his roof. It collapsed. This murky photo from Ray Martin's time-honored book THE HARD CLAY IN ORANGE COUNTY gives testimony to the unsurvivability of the impact, though no weld was broken. Photo from THE HARD CLAY IN ORANGE COUNTY, by Raymond C. Martin.

Our friend and former coupe-era Pennsylvania dirt tracker Tommy Vroom called us and made this correction to what Ray Martin originally wrote about the Harwi fatality in the HARD CLAY book. "I was standing right there in the third turn and certainly will never forget what happened. Otto was driving an injected Chevy-powered coupe owned by the Cramers from Warren, NJ., wrenched by Sonny Dorenberger. He hit oil from Ray Cook's blown engine and had no control at all. He tagged Ray's car and flew probably 25 feet in the air and landed on the crease of the wall. There was no way he could have survived. It was horrible. The car went back to the Cramer's garage and was covered by a tarp for years. Later it was resurrected by Billy Osmun and it became his first #333 at Flemington. Billy used the chassis, but, needless to say, he made a new roll cage."
AAAAAA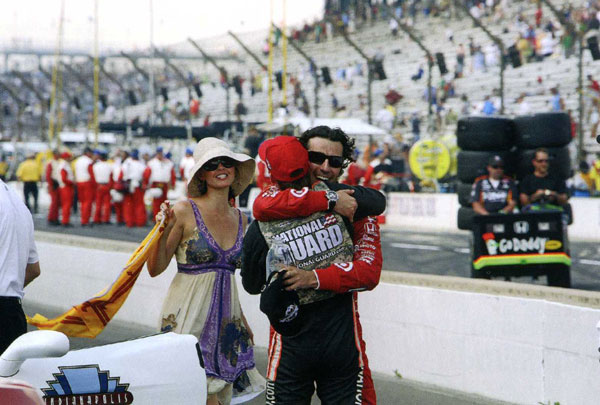 #702 - In 2010 the British were back in these Colonies, and this time they won. Here winner Dario Franchitti, the Scot, and Englishman Dan Wheldon embrace after the Indy 500, as Ashley Judd celebrates with a Caledonian flag. From , by Ian Wagstaff. (IMS Collection)
aaaaaa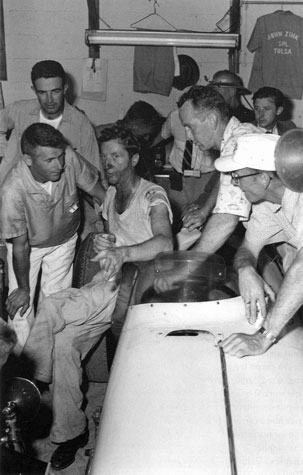 #701 - He was cut from different cloth. More often seen in a starched white shirt and a green tie serving customers in his "Pat Flaherty's Tavern" in Chicago, the lanky Irishman was the center of attention on Memorial Day weekend in 1956. He swept the Indy 500 in a John Zink car wrenched by A.J. Watson, seen here just to his right. He was uncommonly skilled behind the wheel, but curiously less than passionate about auto racing. He claimed he preferred racing pigeons, and that's just what he did for decades after hanging up his helmet. He died in 2002. From , by Dr. Bob L. Blackburn
aaaaaa four




ШОКИРУЮЩИЕ НОВОСТИ
Related News
Outdoor easter photography ideas
Free online digital photography lessons
Bhojpuri hot photo download
Wayne county morgue photos
Hot photos of heroines in tollywood
Shirdi sai baba original samadhi photo